What are some ways to reach only those people who are most interested in what you have to offer?
And most important, how can you create a constant flow of hot-leads and avoid wasting your marketing budget on people who are never going to buy from you?
By the end of this article you'll discover:
how to tap into Facebook's advanced targeting features (step by step print screens)
concrete examples of lead generation ads (and landing pages) that work
the top 3 lead generation tips (and deadly mistakes that can cause many businesses to lose leads).
Ready? Let's dive right in!
How to generate leads with Facebook Ads (the big picture)
Lead generation shouldn't be complicated.
Essentially, all you need to do is:
Get people's contact information
And then nurture your relationship with your leads those leads (a.k.a earn their trust) until they become customers.
And to do this, you have to:
Offer something valuable to people (for free) in exchange for some kind of contact information
Reach people interested in your product/service (a.k.a qualified leads).
In this article, we'll focus more on how to use Facebook to find only those people who are more likely to end up your customer (and avoid wasting your marketing budget on those who will never buy from you).
And Facebook can help you achieve this because they have a lot of information about their users, therefore they offer you a lot of cool targeting features and many ad formats you can choose from.
You can have video ads, you can have just a picture with some text above it, you can have an ad that sends people off Facebook, you can have lead ads forms, etc.
But in essence, there are 2 ways to get people's contact information:
1) You either send people to a special landing page on your website.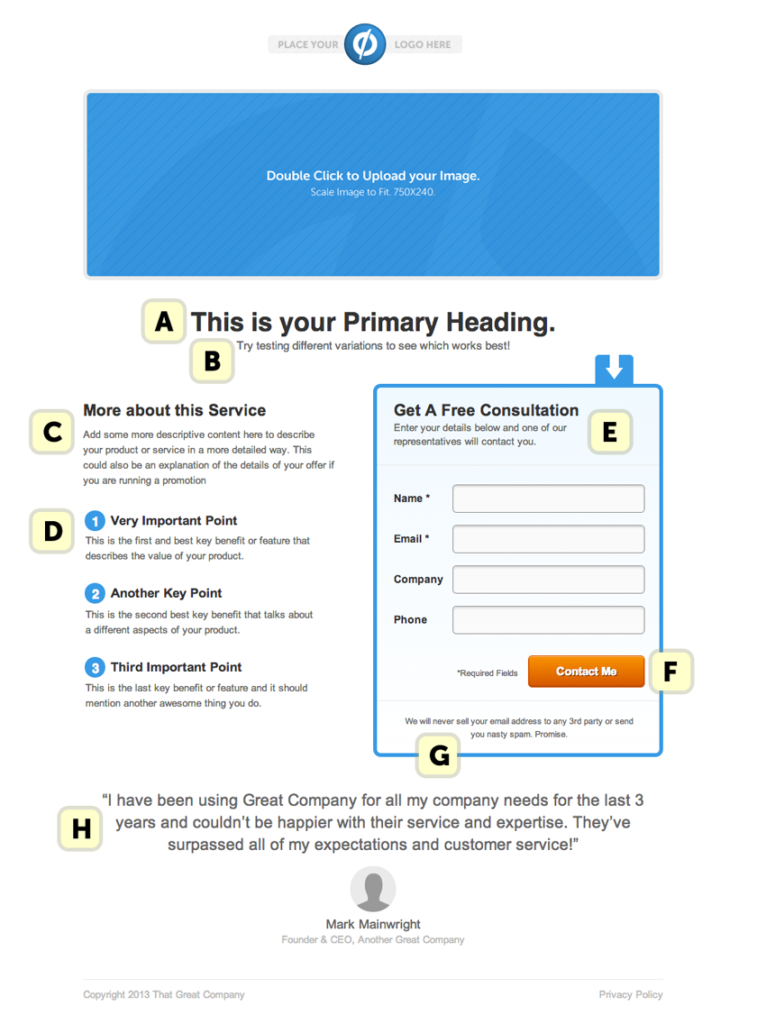 The advantage here is that you can offer a lot of details regarding your offer (lead magnet).
The disadvantage is that you ask people to take another step (another click) to go to your website and then read again the copy on that landing page. So, you might lose some people who are too lazy to do this.
2) You can ask for people's contact information directly from Facebook
Facebook has a really cool ad format called Facebook Lead Ads.
They work the same way usual ads do. You can play with the targeting features, creative assets, and budget to make sure the ad reaches the right audience.
The advantage here is that it allows users to stay on the platform to submit your lead form.
This means that you have much higher chances of conversion because users encounter less friction.
They don't have to leave what they were doing – a.k.a leave the pictures with cute cats and dogs – to complete your form.
The disadvantage is that you don't have so much space to convince a person that what you're offering is really valuable for them.
Both ways are effective, if you avoid some common mistakes we'll discuss in the second part of this article.
Now, let's see some clever ways in which you can reach people who are really interested in what you have to offer (no.3 will be a surprise for you…).
#1 – How to get leads using Facebook's behavior and interest targeting
The platform offers hundreds of targeting options.
I'm not going to bore you with a big long list (you can find them all here), but just in case you're not familiar with them, you can target people based on:
Interests
Pages they follow
Demographics
Gender
Behavior
Etc.
The most dangerous mistakes you want to avoid here are:
1) Don't go too broad with your targeting
For instance, if you are selling something to business owners, don't target people who are interested in entrepreneurship.
Why? Because Facebook attributes the interest "Entrepreneurship" to anyone who liked or engaged with a post related to this subject.
For example, if someone read an article on How to become an entrepreneurt hey are now assigned this interest.
And you will waste a big chunk of your marketing budget advertising to people who are never going to buy from you.
2) Don't go too narrow with your targeting
For instance, if your target audience is around 1000 – 2000 people, you risk your ads not to start or not to go very well.
Why?
Because Facebook needs a certain amount of people in their "targeting pool" so that their algorithm optimizes your ads and finds only those people who are most likely to be in your target audience.
So, how to do this right?
Create your buyer persona. Then use specific information to hyper-target your ideal client
Let's continue our example where you want to target business owners.
Now that you have created your buyer persona, you know that your ideal client isn't just an entrepreneur. You've also drilled down to specific industries.
Your ideal client is:
A dentist
A chiropractor
A restaurant owner
Now instead of targeting people by interests, you can target them based on their job titles.
Or, you can try to target business owners by certain behaviors, like Facebook Page Owners (they are usually admins of their business page).
"Ok, ok, but can you target more specific than that?"
You are right. Although this is quite specific, you can still have a lot of people in your audience that aren't good leads for you.
But here's the catch:
When you target a cold audience, you can go a bit broader with your targeting because you then have some cool options to filter out people who are not a good fit (we'll see a bit later in this article how you do that).
Now we start getting into the cool stuff of Facebook Ads. (No.3 is the coolest trick)
#2 – How to use your existing website traffic to turn strangers into leads
Have you ever noticed this?
You bring some (or a lot) of traffic to your website, but only a tiny fraction of these people actually do what you want them to do (in this case fill out a form)?
Why is this happening?
Well, the reasons could be just about anything.
Maybe they didn't have time to properly read about what you're offering. Or maybe the person was just too lazy to give you the information you asked for.
Or maybe his wife called and he had to leave.
Or maybe he just wasn't convinced (yet) about your offer.
Or perhaps a lot of them weren't a good fit.
It doesn't matter. Because no matter how good is your offer, no matter how convincing is your copy, you'll still lose over 90% of your traffic.
But the point is, you've spent some money on advertising to get all these people to your website, right?
And now they left and you've lost them forever.
Not quite true…
Because thanks to this pretty cool Facebook feature called"Retargeting"… You now have the chance to convince them to return and fill out the form.
For instance, let's say you're selling a sales software to companies. You got a lot of traffic on your website, but people didn't sign up for a free trial.
Now you can retarget all these people and include some sort of social proof to convince them to take action.
Or you can test different value propositions to see what resonates more with your audience.
Or you can even test a completely new lead magnet.
Either way, if you aren't using this feature in your lead generation strategy, you are leaving a lot of money on the table.
Here's how you set up retargeting from a technical point of view.
When you create a new campaign, click Custom audience.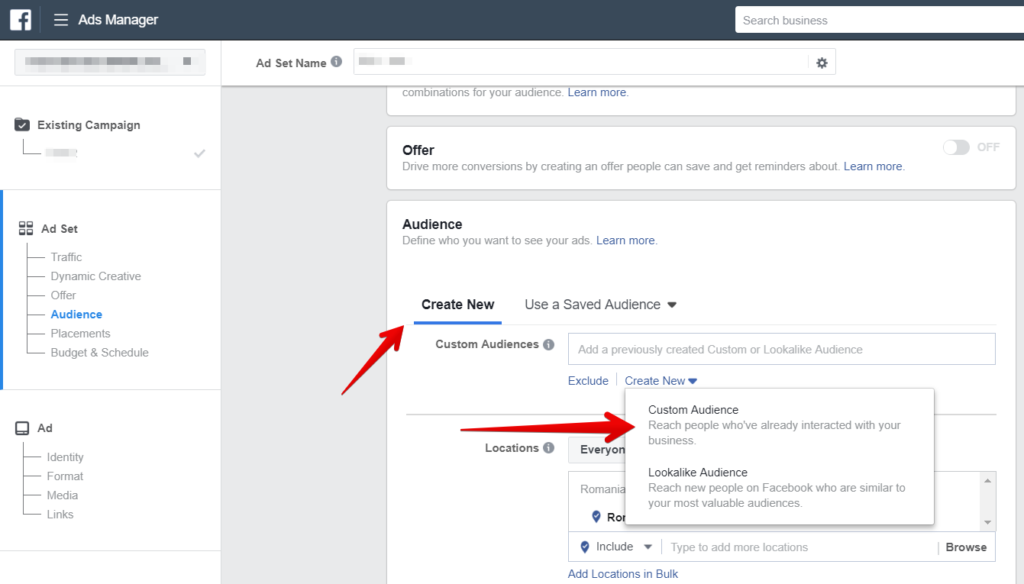 Then select Website traffic.
And now you have several options.
You can show an ad to all the people who visited your website.
Or you can target only people who visited certain pages.
And you can also exclude people who visited certain pages.
For instance, if someone submits your lead form, he is usually redirected to a thank you page.
You can exclude this thank you page from your retargeting to avoid bombarding with ads those people who already converted:
The only difference in the retargeting campaigns are these settings. The format of the ad (and how you create them) remain the same.
Note: Just in case you're not familiar with Facebook Ads, in order for the retargeting feature to work, you have to install Facebook Pixel.
This is a piece of code provided by Facebook which once it's installed on your website, you can track your visitors and then show them an ad in their Facebook news feed based on some criterias you set up.
#3 – How to find people who are very similar to your best leads (and do it automatically)
Facebook offers you one of the coolest targeting hacks ever.
It's called Lookalike audience and what this does is that it finds people similar to a source you provide.
.
This source can be:
Your previous website traffic
A list of emails
A custom audience
People who engaged with your page
Etc.
Here's how to do it.
Step #1 – create a custom audience
Let's say you want to find more people who are similar to the ones that completed your lead form and landed on the thank you page.
In the Ads Manager, you click Create custom audience.
Then select Website traffic.
And now you copy-paste the URL of your thank you page.
Once you've created this custom audience, Facebook will point you the option to create a Lookalike audience..
All you have to do is click Create Audience.
Note:let your run ads for at least 2 weeks because it takes time until Facebook's algorithm optimizes your campaign.
#4 – How to leverage Facebook Messenger Bots to get leads
If you want to get cheap leads, now it's the time to jump on the Facebook Bots bandwagon.
Here's why.
#1 – We prefer to communicate via Facebook
Studies say that 53% of people prefer shopping with businesses that they can message directly.
And apparently, they want Facebook and Whatsapp.
#2 – Open rates are huge (compared to email)
Average email open rates are around 30-40 percent (maximum).
This is because email has been around for a long time and as you know, marketers tend to ruin every channel at some point.
Messenger, on the other hand, it's in its early days and open rates are over 80%. So, if you send a message to 1000 leads, 800 will read it!
#3 – You have the first mover's advantage
If you're the first one (or among the first) using a specific tactic or strategy, you win.
Ok, now let's see how this works and you can leverage Messenger Marketing and Chatbots to get hot leads at a low-cost.
How Facebook Messenger and Chatbots work
Messenger Marketing and Chatbots work pretty much the same way as email: a person has to take some sort of action to become a subscriber.
In case of email, they have to give you their email address.
In case of Messenger, they have to engage in some way in a messenger conversation.
And there are multiple ways to transform visitors into leads.
For instance, you can have a banner on your website where people can download some free, helpful information. But instead of sending this through email, you send it in Messenger.
Once they click the button, it opens up a Messenger conversation.
Now, they are not yet subscribers, but once they send you a message, they are subscribed.
Here's another way you can build your list.
You can create a usual Facebook Campaign that has Messages as an objective.
Once a person clicks the ad, it opens up a Messenger window and when the person sends you a message, they become a subscriber.
Once they subscribe, you can:
Send automated message sequences to people in Messenger
Create a sales funnel that brings in sales right within Messenger
Send downloadable resources via Messenger, to nurture those leads
Segment these leads based on what they are interested in
Segment the leads based on how warm or cold they are
And a ton of cool stuff.
Quick, technical note
In order to build a list of subscribers and then send automated messages, you need to create a Facebook Bot.
Fortunately, it's not super complicated. There are a lot of tools (starting from as cheap as 10-15$) which let you build a chat bot in no time, even if you are not a developer.
Top 3 lead generation tips (and mistakes to avoid)
#1 – Create a strong offer
According to HubSpot: "55% of visitors spend fewer than 15 seconds on your website!"
So, the landing page you are sending people on, has to act as a 24/7 salesman.
If you want to convince a complete stranger to become a lead, make sure you:
Use a strong headline makes the reader understand you have something really valuable to him
Then clearly explain all the benefits of what you are offering (what's in it for him?)
And finally, have a clear call-to-action that reinforces your offer.
Here's how you should not create your landing page:
And here's an example of a well-optimized landing page:
#2 – Focus on the benefits of whatever you are offering (and not on the facts)
Probably one of the most famous quotes in marketing comes from Harvard Business School Professor Theodore Levitt: "People don't want to buy a quarter-inch drill. They want a quarter-inch hole!"
And this translates to just about any product you are selling (or whatever ebook you are offering for free).
People don't want a 10 GB USB, they want 1000 songs in their pocket.
People don't want a quad-core quantum processor, they want a fast computer.
People don't passenger side air-bags, they want increased safety in a crash.
Here's the landing page of a free workbook offered by Hubspot:
See how all the bullets answer to a single question: "What's in it for me?"`
Here's another example of a B2B landing page:
You see how in a matter of seconds you can figure out if it's for you or not?
#3 – Make sure you have a single call to action
If you give visitors too many options, you can sabotage your conversions due to the decision paralysis phenomenon.
Take this example. When you multiple call to actions on the same page (hoping that one will stick) you dramatically reduce the convincing power of your offer.
Before starting your next Facebook lead generation campaign
If you want to be successful with any Facebook marketing campaign, you must never forget that you are interrupting people.
When they're scrolling through their Newsfeed, they don't want an ad there. They don't want to buy anything. They don't want to sign up for a free trial.
This is why you have to focus on the outcome of what you have to offer.
How will your ebook/free webinar/free trial/whatever lead gen you are using, will make your prospect's personal/business life better?
Paint a picture in people's minds, then answer their biggest fears and your leads will start pouring in!
I searched with Google rights for reuse
About the author
Patrik Bindea is a growth hacking marketer and the owner of Strodin Dental Marketing where he helps dentists get more patients. He obsessively tests everything until he finds those details that turn strategies, concepts, and words into sales.