If you want to build a sustainable business, you need to constantly work on lead generation strategies. You need to invest a lot of time and effort into finding new leads and nurturing them.
Through lead generation, you can convert prospects into customers. It's an essential strategy to scale your business and to boost your revenue.
Best Strategies to Attract Quality Leads
While it's crucial for a business' success, marketers often struggle with it. In fact, 61% of marketers consider generating leads and traffic as their main marketing challenge.
Of course, lead generation isn't easy. But with the right strategies, you can attract quality leads for your business. Let's take a look at effective lead-generation strategies that you should try out:
1. Publish Quality Content
You should focus on creating fresh content that delivers value to your readers. Your content can be a great tool to inform and educate customers about your products or services.
Gartner reports that researchers found that prospects who thought they received helpful information from suppliers were likely to experience 2.8 times more purchase ease. In addition to this, they were likely to buy with less regret. So, your content can indirectly affect a consumer's buying cycle.
However, publishing simply publishing new content isn't enough. You also need to focus on quality. Not only will it keep your audience engaged, but it will also help you get better SERP rankings.
To keep your target audience engaged, you can use multimedia elements like images, videos, GIFs, audio files, and other such elements in your blog posts.
You can also repurpose your existing content into a new format and share it on different platforms. For instance, you can turn a blog post into an infographic for social media.
2. Leverage AI for Social Media Marketing
Artificial intelligence can take your social media strategy to the next level. With the help of AI, you can understand your target audience better. By analyzing their online behavior, you can predict what they are likely to be interested in.
These insights can give you an edge over your competitors. With predictive analysis, you can find out which kind of content is likely to perform better. This can enable you to utilize your time to create the right kind of content. It can be a great strategy to nurture qualified leads.
One of the best social media AI tools is Cortex. Through their Content Audit, you can discover which of your content is truly valuable. The AI platform tells you which hashtags, keywords, colors, images, and content inspire your audience. It also helps you schedule posts so that you can reach your audience at the right times.
It even includes a feature to analyze your competitors' data. So, you can find out what kind of content is performing the best in your industry. Based on the results, you can optimize your content to attract more leads.
3. Create Lead Magnets
It's easier to convert prospects into customers when you offer them an incentive. That's the logic behind lead magnets.
If you want access to your customer's contact information, you need to offer them something in return. It could be anything — discount coupons, free trials, ebooks, case studies, webinars or free product samples.
For instance, in the screenshot below, you need to enter your name and email address to get a downloadable copy of a report. It's a great way to grow your email list and get more leads without seeming pushy.
Ideally, a good magnet should highlight your expertise. So, if you are an SEO expert, you could offer a free SEO audit or an ebook on the topic. Your lead magnet should offer to solve a problem that your target customers face.
4. Use Prominent Call-to-Action (CTA)
The call to action button on any web page or email is crucial for generating leads and conversions.
It guides your prospects to take the desired action. Maybe you want them to subscribe to your newsletter or to make a purchase. Either way, a prominent CTA prompts a customer to act.
Ideally, you should place your CTA in such a way that it is easily visible. On your website, it's a good idea to place it above the fold or in the center of the page.
In the screenshot below, you can see an example of a strong CTA that is bold and easily noticeable.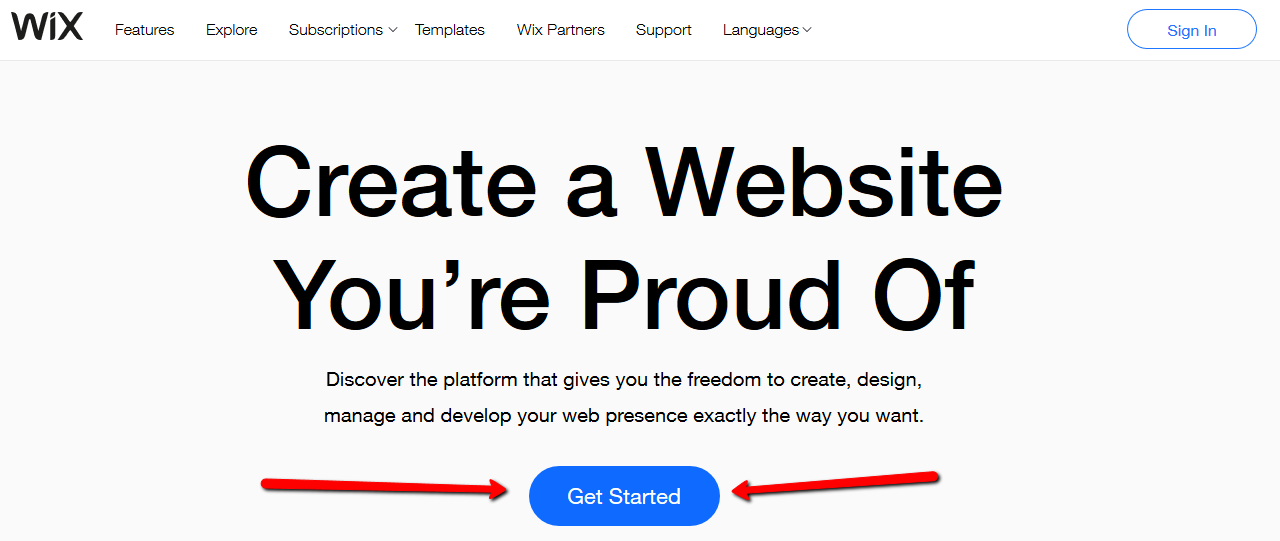 Another strategy to make your CTAs prominent is to change its color. For instance, if your web page background is white, you could go for a red-colored CTA. Similarly, for a dark blue page, a white CTA button could work. The key is to make your CTA stand out on your page.
To get the attention of your audience, you could also personalize your CTAs. You could show different CTAs to your audience based on a number of variables, including their previous interaction, location, and others. They are more likely to take action if they see something that's tailored towards them.
The words that you use for your CTA can also make a lot of difference. Use compelling language that encourages the audience to act. However, try to use as few words as possible.
5. Collaborate With Influencers
Some of the most common goals of influencer marketing are brand awareness and brand advocacy. However, collaborating with the right social influencers can also help you find new leads.
Influencers have a large following on social media. Their followers look up to them for recommendations. When your brand is associated with them, they are more likely to make a purchase.
The right influencer for your brand can help you reach out to your target audience. Here are some ways in which you can collaborate with an influencer to generate leads:
Request them to write a testimonial for your products or services. To make the most out of it, you can feature them on your website too.
Guest blog on their websites
Create sponsored content
Arrange a social media takeover
Organize contests and giveaways
Share content that they create on your social media channels
6. Optimize Your Landing Pages
Smart landing page design isn't just soothing for the eyes. It can also get you more conversions. You can use it to collect contact information from your prospects. With follow-ups, you can nurture these leads and boost your conversions.
Here are some tips you can use to optimize your landing pages:
Write concise and compelling content that is SEO-friendly.
Make sure your page isn't cluttered with too much text.
Write eye-catching headlines
Create short forms that have only relevant questions
If you need to include many fields, you can break your fields in chunks. You can make it a multi-page form. It's also a good idea to show a progress bar.
Use appealing visuals.
Make sure that your page loading speed is good.
Engage your readers with videos on your landing page.
A/B test your landing pages
In addition to this, you can also design multiple landing pages for different offers that you have. To make the most of this strategy, you should personalize your landing pages.
Conclusion
Getting quality leads can take some time. There is no fixed formula for lead generation. Every business is different, and a strategy that works for one company may not work for another. It's good to experiment with different strategies to find one that works for your brand.
What strategies do you use for your lead generation efforts? Please share your views in the comments section.
About the author:
Shane Barker is a digital marketing consultant for 15 years with an emphasis on Influencer Marketing in the last 5 years. He is specialized in sales funnels, targeted traffic and website conversions. He has consulted with Fortune 500 companies, Influencers with digital products, and a number of A-List celebrities.