Every business owner knows that creating content that ranks high in search engines can get a tad overwhelming.
Catchy headings. Intriguing openings. Clinchers. Stories. Questions. Etc. Etc.
You can spend a lifetime polishing your blog post and making it smooth for the reader. But without the right keywords, hand-picked and carefully scattered around the content, all your efforts are no more than just a sticking plaster for a man bleeding to death.
You have to do thorough keyword research to make your blog post visible in search results. And if you want to massively spike your organic search traffic in a short space of time, you'll have to pull up your socks and streamline ALL your SEO efforts.
Fortunately, there is a sea of SEO tools over there that can help you find the right search terms for your next article. And Google Trends is among them. The most straightforward one, I believe.
Read on to better understand what people search on Google and how this valuable information can improve your rankings in search engines.
6 Tested Ways to Use Google Trends to Improve Your Rankings in Google
But First, a Bit of Grammar
If you are new to Google Trends, there are a couple of things you need to bear in mind.
What is this tool for? Google Trends gauges the popularity of search queries over a chosen period.
For example, you can see Google searches made within the past hour, or over the past month, or you can even set a custom time range. All the data is presented on a scale from 0 to 100. The higher the score, the more popular the keyword.
How is the Google Trends score calculated? The best explanation I could find on the web was made by Clifford Chi, a junior staff writer at HubSpot. As he simply put it, the score is just a "single query's search volume divided by all possible queries' search volumes."
Here's a short formula:
Google Trends popularity score = (# of queries for a keyword) / (total Google search queries)
For example, as of October 2018, the total monthly number of all Google searches in the United States was 10,34 billion (Source)
The search volume of the query 'Keith Flint' in the US is 1,6K (according to SEMRush keyword planner).
It means that the relative popularity of the Prodigy vocalist is the ratio of 1,6K by 10,34 billion.
However, sometimes we can see unusual 'spikes' in search interest, depending on what is going on in the real world.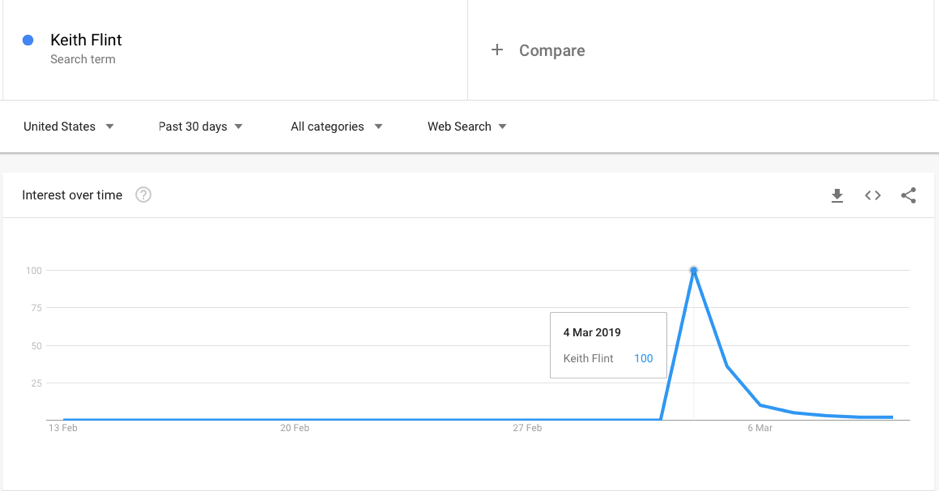 As you can see on the screenshot, the interest for Keith Flint is way higher in March 2019 than usually.
Some people call it 'search interest' and many SEO experts consider it to be ridiculously misleading, as the 0-100 values are relative measures, not absolute.
The results are proportionate to the time and the place of the query, which means that locations with the most search volume will always be ranked higher.
What is the difference between Google Trends search popularity and search volume?
These two scores in most cases correlate with each other.
Let's see how the popularity score and the volume of 'Elon Musk' keyword changes over time.
Here we can clearly identify two spikes — the first one in February and the second, a lower one, at the end of September 2018.
Here's what I discovered after a bit of googling:
February 7th, 2018. Falcon Heavy, world's most powerful rocket, launches
September 27th, 2018. The S.E.C. sued Mr. Musk in federal court for misleading investors
Now, let's take a quick look at the volume trends. Pretty much any keyword analyzer can do it. I prefer to find this kind of search data with the help of Ahrefs keyword research tool.
What we see here are the very same spikes in search volume — in September and in February. It means that the search term popularity changes whenever the volume changes.
But there's more. Sometimes we can see instant spikes in search term popularity when the overall number of searches suddenly increases, even if the search volume of a given keyword is carved in stone.
But that happens quite rarely.
Now that you know the bare bones of Google Trends, it's time to look at the most common ways to use search trends for promoting your business in web search and attracting more paying customers.
1. Predict Seasonal Peaks (And Be Ready to Promote the Right Content!)
Most eCommerce businesses, especially small and medium ones, have seasonal highs and lows.
For example, let's see the Google Trends data for the keyword "snowboard" in the US.
Evidently, winter sports experience peak interest as the year is coming to an end — right after Christmas when the ground is already covered in a blanket of snow.
However, we'll see a completely different picture if we take a look at the very same trends in Australia.
Australian winter sports lovers, living on the opposite side of the earth from the US, start thinking about buying snowboards in July. No wonder, the average minimum daytime temperature in Sydney during this time of the year is around 46°F (8°C), and it is even colder in the mountains.
No matter what products or services you are selling online, the knowledge of seasonal changes can help you build a strong SEO strategy.
Here are a few ideas on how you can apply this information:
Create the RIGHT content

. Wilderness Sea n' Ski, for example, has been selling winter tools for over 40 years. Based in Liverpool (Australia), they start their marketing activities at the beginning of June.

Update existing content.

Even if you've already created lots of seasonal content, it doesn't mean you should leave it as is. Find out when Google Trends shows a spike in search terms for what you are selling online. Then, ask your content marketers to update what you already have on your blog.

Prepare your business for the holiday season. With the help of Google search trends, you can get ready for the hot season. Launch a link building campaign 2-3 months before it starts, and you are likely to get a slight boost in search engine rankings.
2. Find out Your Brand's Health
Google Trends is an excellent tool for big brands, like Coca Cola or Electronic Arts, as it can help understand their brand's health compared to their direct competitors.
Imagine you are working for a video games development company. Sure thing, you have to know your rivals and how well they are performing.
As we can see on the screenshot below, British people are not losing passion for video games. Search queries related to this topic are somewhat stable, with their ups and downs, but stable.
Let's dig a bit deeper. If you scroll down the page, you'll see search topics and search queries related to the chosen category, location, and timeframe.

I'd suggest that you should look at the rising Google Trends topics and queries first. They would give you an idea of what is trending right now online and in social media and where you should work harder to increase your influence.
I see that 'bandersnatch' and 'resident evil' have been the most trending topics over the past 3 months.
What about creating an article about how your video game is better than the Black Mirror?
Top search trends are too general (e.g., lottery, games, lotto, crossword clue, etc.) and will hardly give you enough information about your competitors.
3. Measure the Demand for Your Products or Services in Different Locations
Google Trends is just like a Big Brother watching you. Not only does it record all the search queries, but it also tracks your potential customers' location.
He knows in what countries, sub-regions, and even metro stations this or that search term is most popular.
It looks like people from Oregon adore 'Coconut Milk Powder', as they search for it more often than Texas citizens.
See the trend below.
After discovering the locations where your keyword is most popular, you can launch a Google AdWords campaign in each location or optimize keywords in your blog for each audience during times of high demand.
Here at X-Cart, we regularly use this tool to optimize our Google AdWords campaigns, too. However, the following stats seem to be a bit misleading to me.
Though the major part of our paying customers is from the US, I see that our eCommerce solution is trending among people from Australia, Canada, and the UK.
Good to know that. New opportunities are always beneficial.
4. Find Trending Topics That Are Relevant Right Now
Finding real-time marketing opportunities is what most online merchants regularly do with the help of Google Trends. And you should start getting insight, too.
To begin with, just have a quick look at the Google Trends landing page. Scroll down a bit and find the 'Recently Trending' section.
The table shows spikes in searches for specific topics. These precious hints straight from Google editors can help freshen up your content, rank for more keywords and level up your organic traffic.
You can also check the real-time search trends of a specific category. Health, for example.
Measles and depressive disorders seem to be a 'hot' topic nowadays!
5. Brainstorm Ideas with Google Trends in Reverse
Now the icing on the cake — my secret tip about an unknown and ultimately unused (but REALLY insightful!) tool, called Google Correlate.
Google editors describe it as the opposite of Google Trends. To put it simply, this tool can help you define which topics your potential shoppers want to read about. This, in turn, should give you an idea of what content you should be focusing your attention on. And, what is more important, how to relate this topic to other topics your readers might be interested in.
For example, you sell pajamas online and are planning to create a blog post on the topic related to sleeping clothes
You can type 'pajama' in Google Correlate and find out that pajamas have a pretty high correlation with such search terms as 'gift ideas for men', 'north face gloves' and 'smartwool socks'.
Strange, isn't it? I thought pajamas are what women prefer to wear.
Anyway, this is another way to understand what Google users are curious about and how people around the world react to certain events.
6. Let Google Analyze It for You
There's another underused tool, curated by the News Lab at Google, to help you with storytelling and reporting.
It is called Google Trends Datastore:
The key function of this tool is to analyze Google searches and collect key datasets from Google Trends.
If you are a content creator or a journalist, this data store can be an indispensable tool for you.
Take a look back at the table above. It looks like the search interest in the snow was high all over the world at the very beginning of the year 2019.
If we download the full report, we'll see which regions did a good bit of googling in January to find information about snow and weather.
Wondering why Canillo tops the list? Me too. That's why I did a bit of googling, and found out that there's a popular skiing resort.
What is more funny is that the first thing you see about this town is Google's widget about Canillo's snow conditions. No wonder, weather conditions are crucial for snowboarders and skiers.
To Sum Up
The truth is Google Trends was not specifically created for SEO. It was built to help journalists with storytelling.
But, as you can see, this robust tool can serve for keyword research, too. I regularly use it to get ideas for my articles, and it works.
Have you read that far? Good job. Now that you are equipped with a couple of new tools that should improve your SEO and marketing efforts, it's high time to take a short break.
Here's a bonus for you — a 2-minute video about the year 2018 in search. Enjoy!
About the author
Helen Golubeva, storyteller at X-Cart open-source eCommerce platform. Addicted to yoga, interested in philosophy, and totally mad about copywriting. She loves using the power of words to inspire people and help them grow their eCommerce businesses.