Follow Lilach
How to Grow Your Local Business on Instagram: 6 Cheap Ideas
In an era of 'fake news', traditional advertising doesn't work anymore. Modern customers crave authenticity, and companies have to seek out alternative ways to promote their small businesses online. Being pressed for money, it may be hard to find a platform where your target audience hangs out without spending big bucks.
As a result, brands need to act where their potential customers are, and using social media platforms is a great way to reach consumers without being too salesy. Social media marketing allows companies to find their potential customers, learn more about them, collect their feedback, provide customer support and much more in order to grow business online.
With a big variety of social media channels, it may be hard to decide what platform suits your needs more. However, many brands want to get more out of Instagram, so they opt for using this platform.
And in this blog post, I'm going to show you how to grow your local business on Instagram.
Why? Let's pay attention to statisctics by Business Instagram:
Instagram has 1 billion monthly active accounts
80% of accounts follow a business on the platform
2 in 3 of business profile visits are from non-followers
The bottom line? Instagrammers want to discover new brands on the platform, and they love interacting and connecting with companies to ask about a certain product, find a phone number, or give an idea or feedback.
Instagram marketing has great sales potential, but you should know how to connect with your narrow target audience if you want to promote a local business. It's no wonder brands want to affect the buying decision process on Instagram and start selling more on the platform.
But:
What about local businesses that serve a specific geographic area and sell offline only?
Although you can't sell your products online, you can get more out of Instagram to reach your target audience and attract potential clients to your brick-and-mortar location. Obviously, you can use the best Instagram tools to run your business account with ease, but it means nothing until you know the right strategy behind promoting a local business on Instagram.
Here's the list of ideas how to grow your local business on Instagram:
How to Grow Your Local Business on Instagram: 6 Cheap Ideas
#1. Create a Killer Bio
When you're a local business, you must set yourself apart from the competitors in your area, and using Instagram is a good way to attract potential customers' attention.
However, you need to target the right people who live or work close to your location. There's no need to calculate your odds of turning non-target followers into customers: they never convert.
It's better to attract quality followers, and telling your visitors about your business and its location is a must. Since Instagram bio is your visit card, you need to do your best to create a good description of your business with the location, working hours, and website so that your visitors can learn more.
Let's take a look at Paper&Cup cafe. To attract the right audience, they give visitors a better understanding of their coffee shop. Visiting this Instagram profile, you can get an idea of who they are, what they do, and where they are located.
If a visitor lives in the US, there's no reason to follow a brand from the Great Britain. On the other hand, some Londoners may be interested in the profile if they love finding new places to drink coffee. Plus, it can be attractive for travelers who want to find a good place for grabbing coffee during the trip.
Here's what you can learn:
Keep your bio short and simple
Use emojis to grab visitors' attention
Add a website link to drive traffic
#2. Add Geotags
Wouldn't it be great if you could increase engagement by 79%? Add geotags!
When visitors see your address on a map, it allows them to understand whether they can visit or place or not. It's a way to tell visitors where your business is located, and it also helps to create a unique gallery of information to share with your followers.
When you use a custom geotag location name, users can click on it to see all of the images tagged at that location. What is more, it's an additional opportunity to enter an already-established community when your visitors share a photo with a geotag on their profiles. All in all, it's your chance to spread a word about your business and attract other customers without running ads. Moreover, the word-of-mouth marketing works well these days.
Take Pizzeria Bianco, for example. With 2 locations in Phoenix, the restaurant has different geotags for both places.
When you add a geotag, you tell where your business is, and therefore you can attract 'right' followers. The more detailed your geotag is, the better for your business. And don't forget that you can add a geotag sticker in your Stories!
Here's what you can learn:
Use geotags in posts and Instagram Stories
Create the custom location for your business
Add hashtag locations
#3. Post UGC
Modern users take many photos daily, and it's your opportunity to boost brand awareness, increase engagement, and find new customers online.
Believe it or not, user-generated content (UGC) helps brands save money on content creation.
Look:
From developing a post idea to hiring cameramen and editing the post, relying on professionals can be time-consuming and expensive: just turn to MC2 math assistants to calculate the total price for creating one piece of content in-house.
The good news? UGC is not only cost-effective but it is 5X more likely to create a conversion compared with product content.
For example, Happy Bones NYC posts photos created by the visitors.
Followers are more likely to trust other people's recommendations online, so UGC is a way to increase engagement on Instagram. Moreover, if you're a local business, chances are that your customers visit your physical store and you can encourage them to take photos and share them with you. For example, you can offer a free drink for a social media post.
Here's what you can learn:
Ask permission to post the photo
Tag the photo's author
#4. Interact with Your Visitors
If you want your visitors to spread a word about your business online, take care of them. People want to be heard by brands, and they appreciate when companies (both big and small ones) find time to interact with their private accounts.
To encourage customers to write about you and share photos of your business, it's important to reward them with your attention. Thus, every time you get a notification that someone has mentioned your brand on Instagram, it's time to like and comment on the post.
Here's how it works with the Strings Ramen restaurant.
With a big variety of competitors, your desire to make customers feel valued is your secret weapon to stay one step ahead of other businesses in your niche.
Here's what you can learn:
Like and comment when your brand is mentioned
Check out the customer's following for a chance to find potential clients
#5. Collaborate with Local Influencers
Influencer marketing is another way to enter an already-established community and spread a word about your local business with a help of a person whose following trusts him or her.
When you collaborate with local influencers who love your brand, you get an alternative way to promote your business in the area.
Pizza Piligrims tagged Daniel Young, a micro-influencer, and it gave great results! Daniel reshared the photo to his account so that his followers were able to learn more about the pizzeria as well.
Instagrammers trust influencers, so they are more likely to pay attention to your brand if they have discovered you on their favorite opinion leader's account. However, it's important to find the right Instagram influencer for your business.
Here's what you can learn:
Partner with micro-influencers to save budget
Find relevant influencers within your niche
Invite your true fans to become brand ambassadors
#6. Combine Offline and Online Marketing
When it comes to selling your products, you do it offline only. Thus, Instagram marketing is for building brand awareness and increasing brand trust. As a result, you need to combine offline and online marketing to make the most out of your promotion.
For example, you can learn from Brash Coffee to announce your offline event on Instagram so that potential customers can visit your location when it's needed.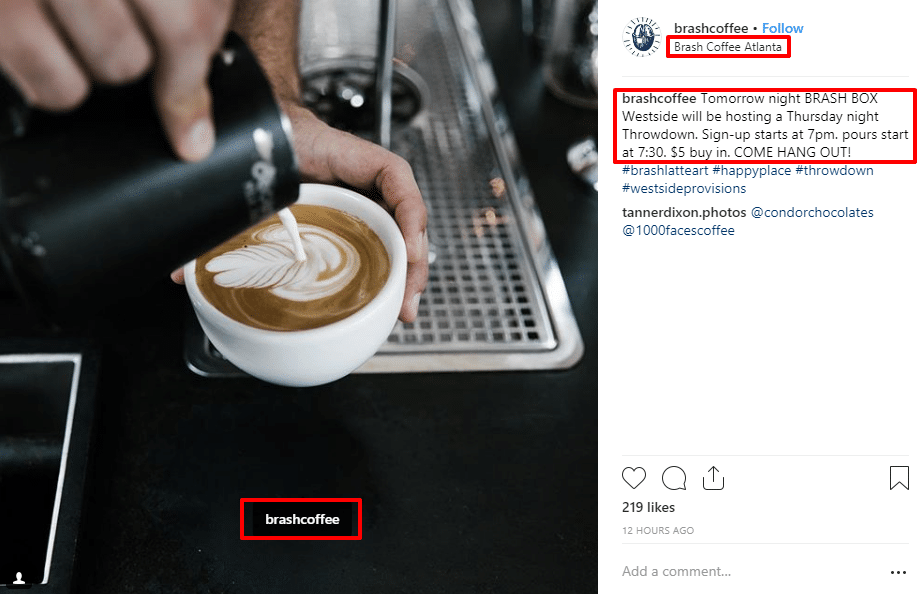 Another option is to reward your followers' loyalty and offer promo-codes with discounts so that they can save money next time they visit your store. All in all, offline and online marketing should be combined if you want to promote a local business on Instagram.
Here's what you can learn:
Announce offline events
Offer discounts for followers
Encourage followers to share their feedback online
The Bottom Line: Growing Your Local Business on Instagram
Instagram marketing is not for ecommerce brands only. If you know how to reach the right audience and interact with your followers, you can boost sales even if you promote a local business.
Moreover, there are many ways to grow your local business on Instagram without spending big bucks.
So, are you ready to give it a try?
About the author: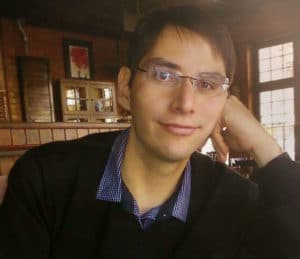 Hugh Beaulac has 5 years experience in social media marketing, and he keeps an eye on current trends to help businesses grow online. He also runs MC2 blog and contributes as a guest author to websites.

Follow Lilach