Follow Lilach
Heepsy: the easiest way to find the influencers you need to work with
Influencer marketing continues to be one of the most effective ways to promote your brand, whether you want to improve your brand awareness and reach more people, generate more traffic and conversions or make more sales.
Basically, whatever your marketing objectives are, a good influencer campaign can help you reach them.
However, in order to run a successful influencer campaign, you need to work with the right influencers:
People who have real influence in their niche
Influencers with your target audience
Influencers that align themselves with your brand values
It doesn't matter whether they're big or small or how many followers they have – it's all about their relevancy to your brand and their actual influence. And this is, in fact, one of the most important factors for running a successful campaign.
The question is, how do you find the ideal influencers to work with?
In this blog post, discover the easiest way to find the influencers you need to work with:
How to find the right influencers with Heepsy
There are several steps involved in developing an influencer marketing campaign:
Establishing your marketing and campaign objectives
Searching for and researching relevant influencers
Reaching out to the influencers
And once you find influencers you want to work with, developing the actual campaign
As I mentioned earlier, finding the right influencers is probably the most important step you have to take in an influencer campaign. Because if you're not, it doesn't matter how many people you reach or how much money you put into the campaign – if it's not the right audience – or not an engaged audience – then they're not going to take action.
But finding quality influencers is more difficult than it might seem at first sight. It's not just about follower numbers – it's about finding someone who targets the right audience and someone who has real influence in their niche (there are a lot of "influencers" out there with fake followers and poor engagement stats).
And the only way to find these influencers is to leverage a tool to help – this is where Heepsy comes in.
I've had the opportunity to try out their tool recently and had to share it, as it's one of the easiest and quickest ways to find quality influencers.
It's a full-suite influencer marketing tool so you can use it every step of the process:
Finding influencers
Researching them and their stats
Creating lists of influencers to help organize yourself
And contacting influencers at scale
It's super easy to use and it provides a tonne of detail – from audience statistics such as locations, ages and interests, to information about the influencers' other brand mentions and the results they got.
In other words, all the details you need to make a truly informed decision about the influencers you want to collaborate with.
Here's how it all works:
How to find the right influencers for your campaign
Let's start at the beginning: finding and filtering influencers.
The moment you sign up, you can immediately start your search. As you might've noticed in the above screenshot, you have multiple search options to help you narrow down your search as much as possible.
To start with, you'll need to choose your platform: Instagram or YouTube.
Then, you have numerous filters you can use to really narrow down your search: their location, their engagement, their audience and many more (which I'll show you in a minute!)
The best place to start is with the location, especially if you only operate in certain areas, as you'll want to reach a local audience. What I love about this filter is that it's not just about the country:
As you can see, you can narrow it down to a specific state and even a certain city, which is imperative for any local business.
To further your search, you can also choose the category – i.e., the niche they're in:
Then, you can also pick how many followers you want them to have (if you want to target micro influencers specifically, for example, or huge influencers with a large following), as well as based on their engagement levels:
But the really exciting stuff is when you get to "authenticity"; here, you can select the type of audience you're looking for, down the smallest details:
You can look for audiences based on several important factors:
Their ages and genders
Their locations and languages
And even by their interests
Plus, you can also add several audience filters (multiple age groups, locations, interests and so on).
One of the big issues when working with influencers is that it's difficult to know for sure whether their audience is "real" or not; there are plenty of social media users who might have impressive followings – but that doesn't necessarily mean that those followers are real. They could be bought or they could simply be passive followers – followers that rarely interact with the influencer. The latter, you can check using the engagement filter; the first, you can check using the authenticity filter:
Heepsy can determine the quality of the audience, as well as the authenticity of that audience; using this filter can go a long way to helping you pick a truly high-quality influencer.
Another very useful (and cool!) filter is the Advanced Metrics filter. The main feature that most businesses will undoubtedly love, is that you can filter your search based on the estimated cost per post:
Which is especially useful if you don't have a big budget for your campaign.
What's more, you can also search based on the percentage of branded posts on their profiles, as well as their average numbers of posts published per week.
And last but not least, you can also filter results based on their contact information and the other channels they use:
This is particularly helpful if you want to run a multi-platform influencer campaign.
As soon as you apply a search filter, Heepsy will also tell you how many results you're going to get – and with a database of over 7 million followers, you're very likely to find a lot of options to choose from, no matter how deep your search goes.
Once you've set up all the filters you want, Heepsy will automatically refresh the results so you can start making your short list.
Researching influencers and picking the right ones
To start researching the results, you can easily use the main Heepsy dashboard to start with:
You can see, at a glance, how many followers Instagram influencers have and their engagement rates, their location, and their niches and interests.
What's more, you can also see their recent posts, as well the engagement they each received:
To further help with your search, it's worth pointing out that you can also order the results based on their followers, growth rate and their engagement rates.
If you see an influencer you've already worked with, you can rate them:
And if you find an influencer that looks promising, you can save them to your lists, as well as leave notes:
All you'll need to do is create a list (or several lists, if you like to be super organized), which you can easily do from the My Influencers dashboard.
Back to the influencer research features though, there's a lot more that Heepsy offers to help you pick the right people to work with. Just click on any influencer you like to see more details about them, their profiles and their influence and audiences:
You can see all of their latest posts at a glance, on the left-hand side of the screen, together with their engagement levels (likes and comments).
Scrolling down, you can also see the links to their other social profiles, their email address, if available, as well as a more detailed look at their core metrics: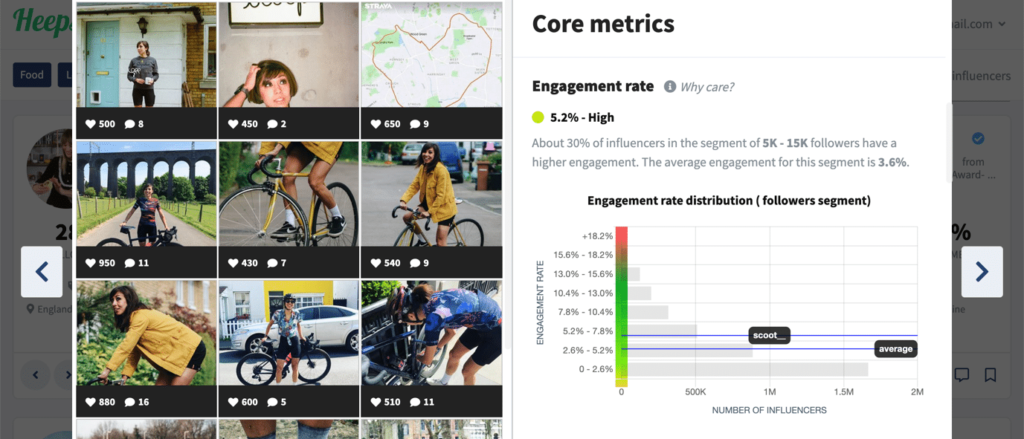 For example, you'll be able to see how their engagement rate compares to other similar profiles, as well as their average likes and comments per post and even their follower growth rate (which is really great for spotting influencers that are starting to blow up in popularity, at just the right moment).
Even better, you can see what their estimated cost of a promotional post is:
And if you want to take things even further and analyse their audience in detail, just click on the Analyze button to get even more information: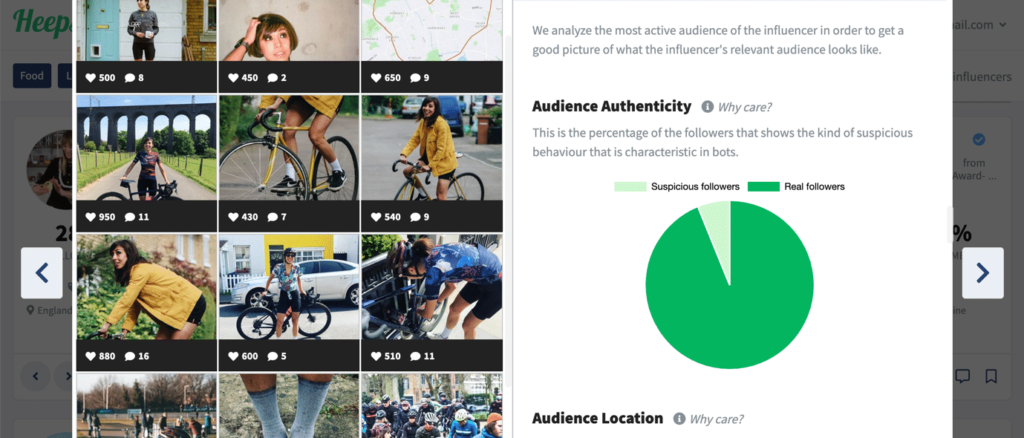 Here, you'll be able to see how authentic their audience is, where they're located, their ages, genders, and languages spoken.
And the best is saved for last:
As you can see above, Heepsy can actually show you, at a glance, how many brand mentions they had, what they were, and even better, what engagement they received on those posts.
This is incredibly helpful as it tells you what kinds of products they usually promote and most importantly, what kinds of results you can expect from a collaboration with them. And you can even see the exact posts where the brand is mentioned:
Once you've finished searching for influencers and added them to your list, you can easily download the list as an XLS or CSV, together with their contact info, as well as their metrics so that you can start reaching out to them about collaborating on an influencer campaign.
Conclusion
Finding quality influencers isn't as easy as doing a quick search on social media and looking at their follower numbers. In order to have a truly successful influencer campaign, you need to target the right audiences and ensure that the people you work with have real influence. And that's easier said than done – but Heepsy truly makes it as easy as possible. And the level of detail you get with their influencer analytics is really impressive.
Not only can you narrow down your search as much as you want, using filters that make a real difference (such as engagement levels and audience analytics), but you can also see how much it would cost you to work with those influencers, the authenticity of that audience and perhaps most importantly, what kinds of results you can expect from working with them.

Follow Lilach