I guess we are familiar with the conversion rate term, but let us remind you what it is. In a nutshell, conversion rate is a percentage of subscribers that complete an action you want them to make. It impacts the return of investment. The very term speaks for itself, this is the conversion of our efforts into profit.
We won't go into the details as dozens of posts are already written on this topic. It's enough to mention that the conversion rate is calculated by the following basic formula — number of people who completed the desired action divided by the number of total emails delivered.
It looks simple. But in fact, this is the outcome of email campaign's performance.
So, what strategies do we need to stick to in order to improve the performance of our campaigns?
Here are the seven ways:
1. Email personalization
Personalization is definitely not a new topic. Moreover, it may seem obvious and not even worthy of talking about.
But suddenly it appears that personalization and hyper-personalization have become the 2019's hot trends in email marketing. So, we need to pay close attention to this the advanced ways of personalizing promo campaigns and providing our subscribers with only relevant content.
Just addressing jus by names cannot be called personalization. The best way to personalize emails is segmenting your contact base by age, location, preferences. Personalized offer will increase conversion by 14% . So, don't hesitate to collect all the possible information about your clients!
Enable subscribers to set/update the preferences right in emails — add respective links to email footer!
You can also address by names in email subject lines — addressing by names in this case increases OR by 29%.
As for trigger emails, they are always personalized — they contain recipient's name, order information, information on booking and delivery addresses.
2. Catchy subject lines
We proceed to another point that seems to be not something new, too. But… There will be no click-through rates and other results at all if our emails do not get opened.
According to the results of the research conducted by eSputnik, ecommerce campaigns open rate is 25-35% on average. Some businesses get only 10%, others succeed to get 40%.
How recipients decide whether to open email or not? Right, the key factor is the email subject line. When the open rate is disappointingly low, the root of evil is obvious — boring or spammy subject line.
That's why we need to make creative and attractive subject lines — otherwise, our emails may be lost among the tons of user's inbox messages. The subject line is the very first thing recipient will see, so make it really catchy! Fortunately, new options are available today — f.ex., use of emojis, hyper-personalized subject lines, etc… Use all that wisely.
Please, be advised that subject line should reflect the content of email. Otherwise, recipients will get disappointed. And the chances are the next time your email will go to the trash bin without being opened.
3. GIF and CSS animations
Adding these animations in emails is 2019 hot trend, too.
As for GIFs, this old good format not only draws attention to certain elements we want to highlight in our emails. It may be also used for educative purposes when it's better to show something, f.ex. how to use devices or software,  — "lite version of the video", so to say.
But traditionally, GIFs in emails help us showcase a few product items at once in one screen.
An important note: be careful with GIFs! Some clients may suffer from photosensitive epilepsy, so use only one GIF per email, or at least per scroll, with a maximum frequency of no more than 3 flashes per second.
While CSS mission is to highlight the main clickable objects. This format is usually applied to buttons or product card snippets. So, they drive higher click-through rates.
The best practice here is to apply CSS-animation to the button.
4. Videos
There's a saying, "better once to see than a hundred times to hear". They are a great solution to congratulate clients on special occasions, provide them with a manual, or so.
Just bare statistics: people are 65% more likely to make a purchase after watching a video. All we need to do is to make the video really informative.
By the way, in the aforementioned post on personalization (please, see the Email personalization chapter above) you could read that videos on special holidays could be personalized. This also has a positive impacts on the conversion rate.
Companies that host webinars or conferences usually send videos of their events to subscribers who could not make it to the webinar.
How can we send video in email?
As a rule, modern email editors offer two options: inserting video link or embedding video in email. Some of them even combine both ways in one.
This way you provide all customers with your video — those with Apple devices can watch the video right in email, while others will see the thumbnail image and the Youtube or Vimeo link hidden behind it. Once they click this link, they will get redirected to the respective site..
5. Interactivity
Email interactivity was email marketing top trend back in 2018, and email marketers forecasted the decrease of its popularity in 2019. However, interactivity is just getting more and more popular. Moreover, the very concept of interactivity has changed fundamentally. Yeah, you're right, this is all about the Google's AMP for emails.
Up to March 2019 when AMP technology was released, interactivity has been typically used to entertain our customers. Now, it performs a different mission — it provides real-time information and dynamic content, saves space in emails, allows users to interact, buy, vote, leave comments, book tickets, etc.  directly in emails.
Naturally, this next-gen interactivity has a positive impact on email performance.
There are still temporary troubles as just some of ESP services and email clients support AMP now. But it's already a trend, so we can be sure that the situation will change for better very soon. Remember that technology is really brand new, and it literally requires the deep "reboot" of the whole email marketing world. So don't hurry, just be patient 🙂
But some email builders like Stripo already offer some advanced AMP-powered techniques. They are available right in the editor.
6. Urgency and timers
This feature wins as it's based on human psychology. People have a tendency to react to urgent things. So, when you build a sense of urgency, the chances that recipients will get persuaded to buy from you get higher.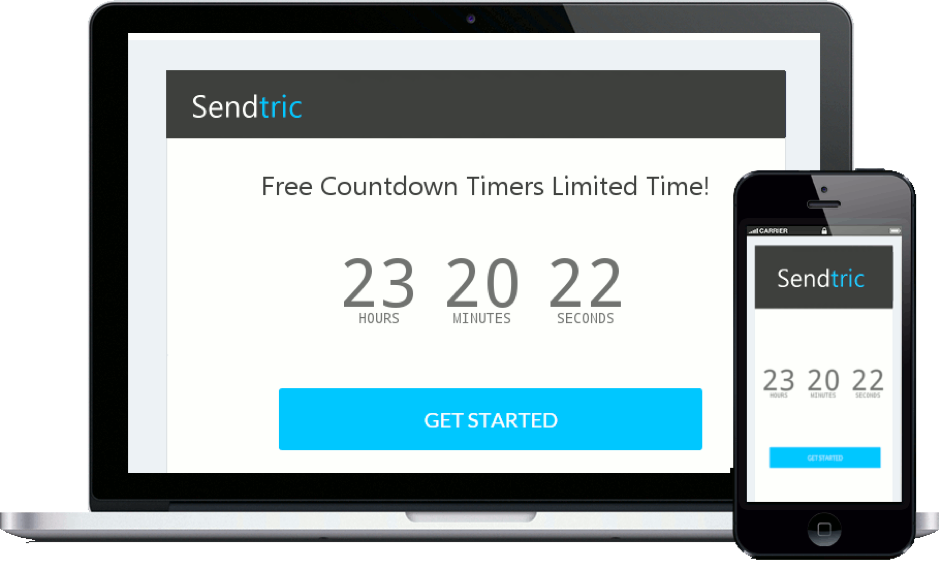 The fear of missing out drives benefits. This simple strategy actually boosts your efficiency and brings impressive profits — increases conversion by 9%.
7. Well-arranged CTA
Last but not least is a call to action.
There are hundreds of posts that teach how to craft a killer call to action button, but you don't need to waste time reading all that. Follow just this basic rule — keep your call to action copy simple and straight-to-the-point. Something like "Watch my video", "Buy now",  etc. work perfectly as the entire email copy supports that CTA.
Buttons may be of any size, shape, color, etc., you can even use GIF animations for your buttons. Just make sure that CTA is clear, noticeable and meets your brand style.
Something to add:
We've just made a brief review of the seven best practices that boost conversion and consequently generate income. Yet, there are three more points to talk about:
Make emails responsive
Emails are very often opened on mobile devices. That's why you are risking to lose a critical number of clicks if your emails layout on mobile screen is broken or twisted. Most people delete or ignore such emails.
Follow-up or resend
How to increase conversion of the same email? Resend it.
It's simple. You may track how many people didn't open it so you can send the same email to this audience. Never give up after your first try.
Test the sending time
This point requires trial and error to figure out the best time for emailing, but when you find the perfect time it will bring profit. The perfect send time differs and depends on your products and your audience.
You need to find your best "sending time" by sending emails at different times.