Follow Lilach
The easy way to monitor your brand name online with Sentione
Social listening is a hugely important part of any successful digital marketing strategy. Through listening, you can keep on top of your brand reputation management, find and connect with potential leads, identify trends, and find top social influencers in your niche – and these are just some of the benefits of using social listening. In this blog post, I want to talk about the easy way to monitor your brand name online with Sentione.
What should you be monitoring?
There are several different keywords that you should be monitoring, in order to help your business grow:
Monitor your brand name – this is essential, and something that every business should do. The reason why is because you need to stay on top of all your mentions, both negative and positive. If you got a bad review, or maybe a negative mention in a forum, you need to know about it as soon as possible, so you can do something about it, rather than let it fester and spread. People often take to the Internet to voice their complaints about the products and services they use and if you know about them as soon as possible, you can manage them and, perhaps, in some cases even put a positive spin on things. It's also very likely that from the people who mention you on social media, a part of them will not use your handle – meaning, if you're not monitoring your name, you're very likely to use this opportunity to interact with leads and existing customers.
Monitor for opportunities – social listening is also a great way to find leads and other business opportunities. Think of the keywords your audience would use to search for products and service like yours (for e.g., business consulting, help losing weight, need life coach, and so on) and create monitoring searches for them. As you check these results, you could find potential leads for you to interact with and try to convert
Monitor the industry – you also need to stay on top of industry news and trends. What are the best articles being shared in your niche? Who are the top social influencers making waves in your industry? What new products and services are being launched that you need to know about?
[clickToTweet tweet="The easy way to #monitor your brand name online with @sentionepl via @lilachbullock" quote="The easy way to #monitor your brand name online with @sentionepl via @lilachbullock"]
As you can see, social listening can be used in a multitude of ways (these are just the main ones) – the best way to make sure you stay on top of all these mentions is to use a professional social listening tool, like sentione.
What is sentione?
sentione is a powerful social listening tool that allows you to monitor your brand name (and whatever else you want to monitor) on the web:
Social networks
Forums
Blogs
Online portals
Opinion aggregators
Photo and video, etc.
The tool can monitor and analyse keywords and brand mentions in up to 26 different languages. Plus, it also provides detailed analytics and reporting.
But now, let's get into how to use sentione:
How to use sentione
The sentione dashboard is extremely straightforward. First, you start by creating a project:
As you can see from above, you have multiple monitoring options that you can set up: monitor a brand, monitor your social media profiles, or create a custom monitoring search.
You can then choose what keywords you want to monitor, as well as what keywords you want to be excluded from the search:
You'll be able to see a quick preview of your results – but, to see them all and browse through your results, you'll need to go to "mentions":
This is where you can see all of your monitored items, as well as browse through them using the filter options. You can filter your results by:
Searching for mentions that contain a specific word/group of words
Domain address
Author name
Date
Source: forums, blogs and microblogs, social networks, photo and video, portals, and reviews
By sentiment: positive, neutral, or negative – all mentions are automatically assigned a sentiment
Male or female
Type of mention: statement or article
Once you've found the mentions you were looking for, you can choose to ignore them if they're not relevant, add tags to organise them, or, if you click on them, you'll go right to the source.
Don't forget to also connect your social media accounts to your sentione account – this way, you'll get your mentions faster, and you will also be able to keep an eye on your private messages on your dashboard.
One of the plusses of using sentione for social listening is that all results are delivered in real time; not only that, but it also works in 24 languages.
[clickToTweet tweet="The easy way to #monitor your brand name online with @sentionepl via @lilachbullock" quote="The easy way to #monitor your brand name online with @sentionepl via @lilachbullock"]
Mention alerts
Depending on what you're monitoring, sometimes it's imperative that you know about certain mentions as soon as they pop up – particularly if anything negative is said about you or your business.
To set an alert on your sentione account, go to Alerts:
As you can see, you can control what types of mentions require an alert. Although let's face it – it's usually the negative mentions that need to be seen to first, as those can be the most damaging to your reputation and your business, especially if you're not quick to react. All alerts can be sent to you via email, or you can set up push notifications.
Reporting
It's not enough to just monitor mentions; you also need to understand what they mean – and how they change over time. Whether you're monitoring your brand or your industry, for example, analytics can help you understand more about your audience, what platforms are being used, how sentiment changes over time and why, and so on.
One of the best parts about sentione, in my opinion, is their reporting feature. They offer all kinds of reports, such as:
A brand overview
Competitive benchmarking
Audience insights
[clickToTweet tweet="The easy way to #monitor your brand name online with @sentionepl via @lilachbullock" quote="The easy way to #monitor your brand name online with @sentionepl via @lilachbullock"]
For example, you can see how sentiment has changed over time:
What caused a spike in positive mentions during March? Why were there more negative mentions in January? By knowing these numbers, it can help you identify their causes – and in turn, this can help you improve your strategy and get more positive results in the future. If the cause for the spike in positive numbers was because you got a very good review from a top publication, then it would be worth looking into getting more reviews from similar publications.
You can also use their reports to find out where people are mentioning you:
This can then help you identify the top platforms where you should be active, particularly when it comes to social networks and forums. Furthermore, you can also see what the sentiment was like in each of the top sources of mentions.
Another useful feature is that you can find out who are the top opinion leaders/social influencers who have mentioned you: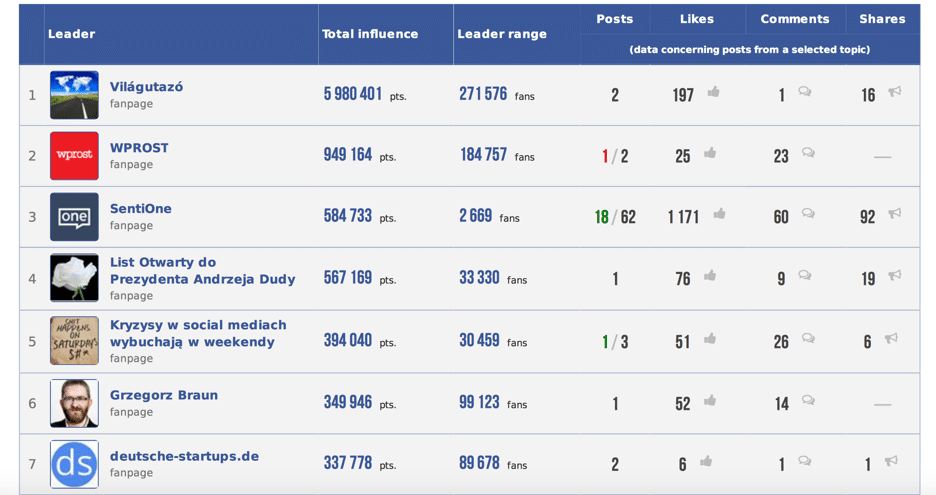 If you're looking to work with influencers and opinion leaders to promote your brand, this is definitely the list to start with. After all, they might already be fans of yours if they've mentioned you before.
All opinion leaders/social influencers are listed in order of their influence score, based on their platform of choice: Facebook, Twitter, or the web.
You also have the option to create a comparative report, comparing 2 different brands, keywords, or products. Find out:
How many mentions each competitor got, along with their sentiment
Changes in social buzz for each competitor
What websites/platforms contained the most mentions
Gender trends
This report can help you identify why a certain competitor got more mentions, or a better sentiment – all of which can be used to inform your future marketing campaigns so that you can get better results.
[clickToTweet tweet="The easy way to #monitor your brand name online with @sentionepl via @lilachbullock" quote="The easy way to #monitor your brand name online with @sentionepl via @lilachbullock"]
Conclusion
There are a lot of very good social listening tools on the market; some are a bit limited (only mentions from social networks, for example), others don't catch all the relevant mentions, and some don't have the best filtering options to help you identify the mentions you're looking for.
That's where sentione stands out – the tool is very quick, you get your mentions instantly, and it covers most of the web (not just social networks, but also blogs and microblogs, forums, and other web sources). Furthermore (and this is where they really won me over), they offer very in-depth analytics for your mentions: audience insights, brand mentions over time, and competitive benchmarking.
What tools are you using to monitor the web? Please leave your comments below and share if you enjoyed the post 🙂

Follow Lilach