Instagram is not merely a photo-sharing application. It also holds the power to influence users in their purchase decisions. So it's no surprise that businesses and influencers want to make the most of its popularity. In this blog post, you're going to learn how to grow your influence on Instagram
If you can engage an audience on Instagram, you can expect to boost sales and get paid more. According to a report by Forbes, famous Instagram influencer, Rachel Brathen, makes roughly $25,000 for a single post. Just like Rachel, many other influencers are looking for ways to grow their influence on Instagram.
One of the main reasons why Instagram offers brands value is because of the audience it provides. It has over 500 million daily active users. Most consumers that most brands attempt to target are readily available on the platform. A research study showed that 72% of users reported buying fashion and beauty products after seeing them on Instagram.
So if you're going to make the most of this platform, here are a few hand-picked tips that will help you grow your Instagram influence:
How to Grow Your Influence on Instagram
1. Pick a Niche
Start off with understanding what you're passionate about and focus on it. The first thing you'll need to do is evaluate whether the niche matches your personality. It should align well with the kind of content you're planning on creating.
There are two primary advantages to choosing a niche that you're passionate about. First, your interest will remain intact. Second, you will build your reputation as an expert in the area over a period of time.
Whether it is travel, fashion, technology, beauty, or fitness, choose a niche that's relevant to your interests and create content accordingly. Over time, you'll see your influence grow as you reach people with similar values and interests.
2. Post Quality Content
It will make a significant amount of difference if you start by fine-tuning the kind of content that you showcase. Think of your Instagram account as one of the products of your company. It is the visual representation of your company or in the case of influencers, your personal brand.
You want to create a certain amount of impact on your audience. To keep people interested, you will need to post engaging content consistently. Posting regularly is important, but maintaining a high standard is even more important. High-quality content is what will keep people coming back to your profile.
You should begin by updating your bio. Make it compelling because it is the first point of contact with your potential audience. Optimize it with relevant keywords so that people can find you in relevant searches.
Next, pay attention to photo framing, editing, and captioning. One of the prerequisites of growing your influence on Instagram is to make sure your account is appealing. Posting content that is visually appealing is a great start. But you also need to pay attention to the overall theme of your profile.
Do you think posting black and white photos is more your style? Or maybe you want eye-popping vibrant colors all over. Whatever your style is, you need to keep it consistent throughout your profile. Your editing and captions can help you maintain consistency.
You can always use the existing filters and editing tools on Instagram. But if you want a more professional editing touch, you should opt for Mendr. This app connects you to professional photo editors who edit your photos for you, saving you time and helping you maintain a professional quality. Just send them your image and tell them what changes you want. You can even share a reference image if you want the editor to maintain a specific color scheme and image tone.
3. Post Consistently
You've mastered the art of posting quality content. However, Instagram influence doesn't merely base itself on posting good content. If you want to have a large number of followers, it is crucial that you interact with them on a daily basis.
It will make a significant amount of difference if you want your followers to notice you. Ideally, you should also post relevant content at least once a day.
You can use Buffer to plan and schedule your Instagram posts in advance to ensure that you post consistently. This will help you boost your productivity as well as your brand's reach and engagement.
Don't hesitate when it comes to letting your followers know that you deserve their attention.
4. Use the Right Hashtags
The main purpose of a hashtag is to collate relevant posts under one umbrella. It helps users to find your content even if they don't follow you on Instagram. If you use the right hashtags, you can reach a larger audience. Make sure you use relevant hashtags for both your regular posts and your Stories.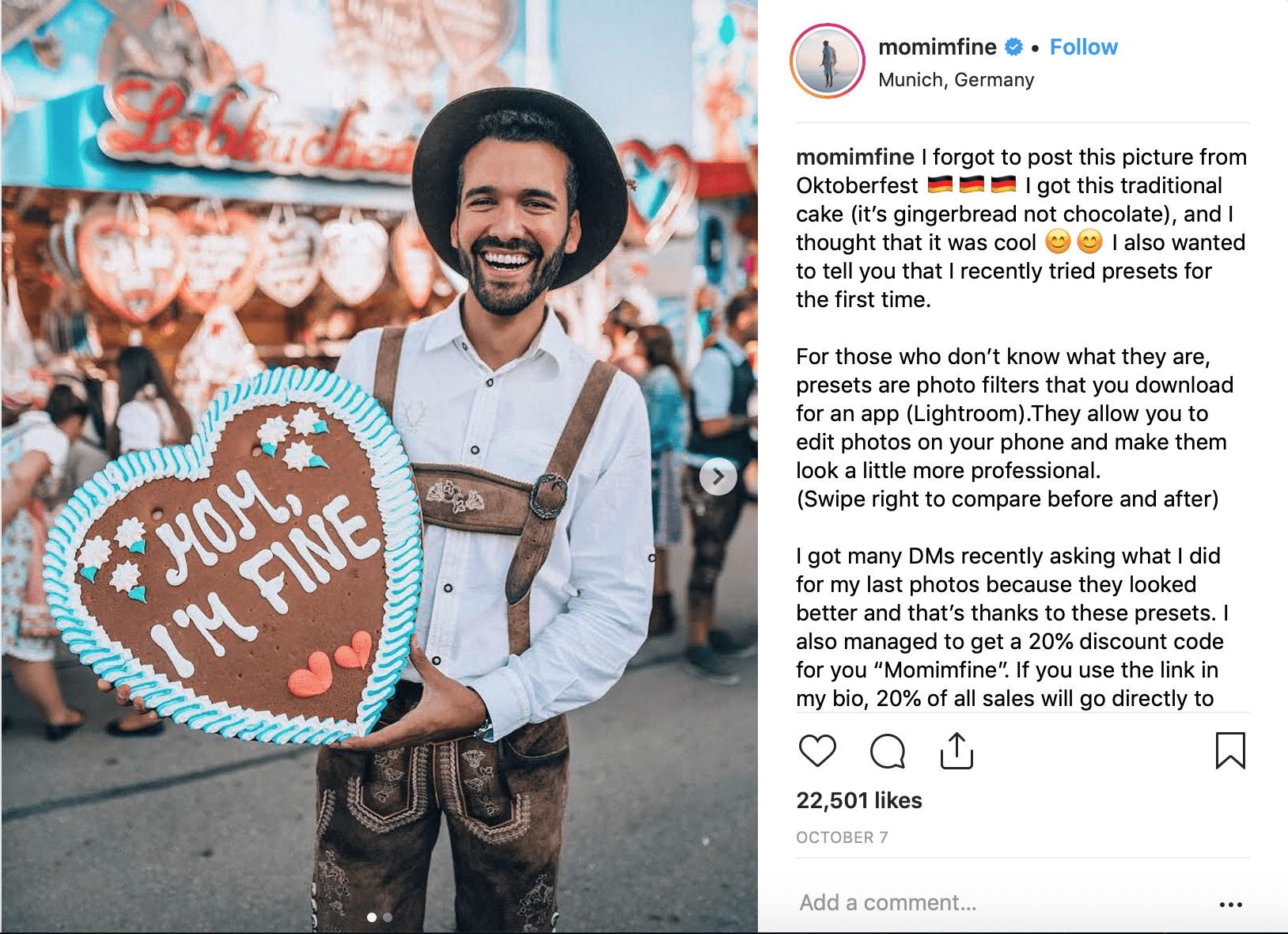 Hashtags are the best way to funnel viewers towards your account. But what kind of hashtags should you use? If you're posting about Oktoberfest, you could use a number of variations of #Oktoberfest. Locations and year are important as they tend to rank higher on the list of trending hashtags. So, you should use #Munich, #Oktoberfest2018, and #OktoberfestMunich.
The event is all about beer, so you may be tempted to use #beer in there too. But this is too generic, so your post may get lost in the hundreds of search results. Your hashtags need to be specific and diverse. Using too many hashtags can also be counter-productive. Although the permissible limit is 30, you shouldn't use more than 10 hashtags for any post.
5. Engage With Your Audience
To keep your profile buzzing on Instagram, engage with your audience. Encourage your followers to comment, share, and like your posts. Respond to their comments to make your followers feel valued.
Aim to grow a community of like-minded people where open discussions about a particular topic can take place. You can also organize contests and giveaways to incentivize more people to participate.
6. Cross Promote
Cross promotion on multiple platforms can get you additional exposure. Don't limit yourself to Instagram. There are plenty of other social media channels, including Facebook, Twitter, and Tumblr where you can show your connectivity. Embed links in your captions when posting online.
It will help attract audiences from other networks to Instagram and vice versa. For influencers and bloggers, cross promotion is a key factor to generating leads.
7. See What is Trending
The best way to get noticed on Instagram is to jump in on trends. Keep an eye out on what people are talking about. Then you can create content on whatever it is that people are interested in. Trends change every day or sometimes even in a few hours. So you will need to keep a constant tab on the trending topics. You can also use tools like Brand24 to identify the trending hashtags on Instagram in your niche.
Some trends can even be predicted ahead of time. For festivals like Halloween and Christmas, it is obvious that they're going to rank high among trending topics. So prepare content keeping these in mind. The more content you have on trending topics, the easier it will be for you to get visibility.
8. Post at the Right Time
Posting content at the right time on Instagram can make a huge difference to engagement levels. A study by Sprout Social showed that the best time to post content every week is between Tuesday and Friday. It also showed that posts that were published between 9am and 6pm got the best engagement.
Posts that were published on Thursdays received maximum engagement. On Thursdays, 5am, 11am, and 3pm to 4pm were shown to be the best times to post content on Instagram. Take a leaf from these findings and prepare your content schedule. See what's working for you and adjust your schedule accordingly.
9. Use Geo-Tags
Whenever you're posting about an event or an exotic location, use Instagram's geo-tagging feature. This is similar to a hashtag. If someone is looking for a particular event or location, your posts and Stories appear in search results if you've geo-tagged them. You can use names of cities, events, hotels, and other landmarks through this feature.
If you are comfortable disclosing your location, you could even pinpoint to your exact address on the map. It informs your followers about your whereabouts, making them feel more involved. This can significantly affect engagement rates as well.
As an influencer, you could also use these tags to advertise a brand's brick-and-mortar location. Geo-tags are especially important for product launches and store openings. They can help you drive more engagement and create better buzz about the brand.
Conclusion
Instagram is a great platform to advertise products and engage with your audience. If you want to grow your influence on Instagram, posting content isn't enough. It takes time to get more followers and better engagement rates. It requires a strong strategy and a lot of patience to get the best results.
Have you used any of these tactics to grow your Instagram account? Please share your experience in the comments section below.
About the author:
Shane Barker is a digital marketing consultant for 15 years with an emphasis on Influencer Marketing in the last 5 years. He is specialized in sales funnels, targeted traffic and website conversions. He has consulted with Fortune 500 companies, Influencers with digital products, and a number of A-List celebrities.