Thanks to modern technologies, in 2019 creating a blog is easy, quick, and painless. You may think that you need particular qualifications like coding or design skills for creating a blog which people would actually read, but in fact, in 2019 everything you need for creating a blog is your desire.
Tips for Creating a Blog which People Would Actually Read

What if somebody told you that you could make a professional perfectly-designed blog just in 30 minutes? Sounds insane, isn't it? Yet it's not only possible, it is exactly how long it takes to create a blog in 2019. All you need is a couple of basic resources and some guidance.
So how do you launch your blog just in 30 seconds? The answer seems to be pretty obvious – with the help of the WordPress themes. WordPress themes are super easy to use, look professional, and have all the features you will need for creating a decent blog, besides, there is a vast variety of different designs. So finding the very design you want among the huge variety of the WordPress themes wouldn't be difficult.
How much does having a blog cost?
In general, the blog can cost you up to $60 a year which is actually not much. Of course, you can create your blog for free, but paid domains and hosting will make your blog professional.
Why do you need a blog?
If you ask anyone whether they want to have a blog or not, there is a high possibility that they would answer, "no." Well, they might be completely right, but if the majority of your friends don't need a blog, it doesn't mean that you don't need it too.
Blogging is actually a great way to make some money. Moreover, if you have the proper skills, it can become your well-paid full time job. Just let us look through some advantages of blogging in order to ensure that blogging is a real and interesting job:
Blogging will improve your writing skills and vocabulary

You can get passive incomes from blogging

A successful blog will become a great addition to your CV of resume

You will be able to share your knowledge and experience with the whole world

You can grow your network with the help of your blog

And last but not least, blogging is fun!
So now since I have already convinced you to start a blog, let us move on to the creating of a blog itself.
Choosing Between a Self-Hosted Blog and a Free One
When you start you blog you have to make a really hard decision – whether to buy a host for your blog or use a free blog. Well, if you need a professional blog, you might want to have self-hosted one.
However, if you do not have money at all, you can use such free blogs as tumblr.com, blogger.com, wordpress.com, or some others. It would be great for the beginning, but after you mastered your blogging skills and got your audience, you will have to create a self-hosted blog.
The main reason why you will definitively want to have a self-hosted blog instead of a free one is ads. Those free platforms will completely mess your blog up with thousands of ads. Of course, you can buy their premium blog plan and get rid of those ads, but what the point, if for almost the same amount of money you can get a self-hosted blog.
However, the worst thing about having a free blog is that you can lose everything due to the Terms & Conditions violations. Just imagine, losing everything you have been working on so hard and for so long just because some website moderators do not like at least one of your posts.
That is exactly why successful bloggers get self-hosted blogs. Nowadays, having a self-hosted blog is really cheap and setting them up is super easy. You can pick any design you like and customize it according to your taste and needs. TemplateMonster, for instance, has a huge variety of WordPress themes that you can use for your blog. But today we will talk about launching a blog with the 24.Storycle – Multipurpose News Portal Elementor WordPress Theme by TemplateMonster.
Getting Domain, Web Hosting and Setting up a Blog
Well, now we understand why free blog platforms are bad and why we need a self-hosted blog. So I guess it's high time to learn how to set up a professional self-hosted blog just in 30 minutes.
So at the beginning you need just 2 things – a domain name and web hosting. Domain is a web address (e. g. www.example.org). Web hosting is a server that will keep your blog online for people to read it at any time and store your files.
Domains and web hosting obviously are not free and you'll have to buy them. One of the companies that provides web hosting service is Bluehost, so you can quickly and easily get your domain and web hosting from them.
Choosing Your Domain Name
A domain will cost you about $15 per year that is why you want to be careful and thoughtful while choosing it. If you want your blog to be reachable all over the world you should make a domain name with a .com, .org, or .net.
Do not take the first word that comes to your mind as your domain. Think about it more and brainstorm some ideas with your family and friends, because your domain is your digital face.
Setting Your Web Hosting Plan
I guess it's clear that nobody is going to host your website for free, so you'll have to pay some money every month for hosting your blog. Fortunately, the webhosting prices are not very high, on average hosting a blog costs $3-6 per month. You can choose your plan when purchasing your domain and web hosting. Of course, more expensive plans give you more opportunities.
Launching a Blog
Once you have got your domain and web hosting plan, you can finally start actually making your blog. So after the registration process you are ready to work with cPanel (or admin panel). The most important thing here is to make sure that your password is super strong. Your birth date will not work, come up with something really difficult and at the same time make sure that you remember your own password.
So you are almost there, yet there are some things you still need to do. Go to the general settings (on the left) and Add Site Title and Tagline (the name of your blog and your tagline). Then change your domain and add your email address (in case you forget your super strong password).
Well…you did it! Now we can finally move on to the most exciting part which is designing your blog.
Designing Your Blog or How to Make Your Blog Stunning
Designing a blog is for sure the most exciting and interesting part of the creating your blog. The design of your blog is the reflection of your personality, so you want to make it simply the best. Fortunately, you do not have to design your blog on your own (which is actually the very thing that makes this part exciting), you can choose any WordPress theme and layout you like and install it just in one click, for example, TemplateMonster offers thousands of themes for quite low prices.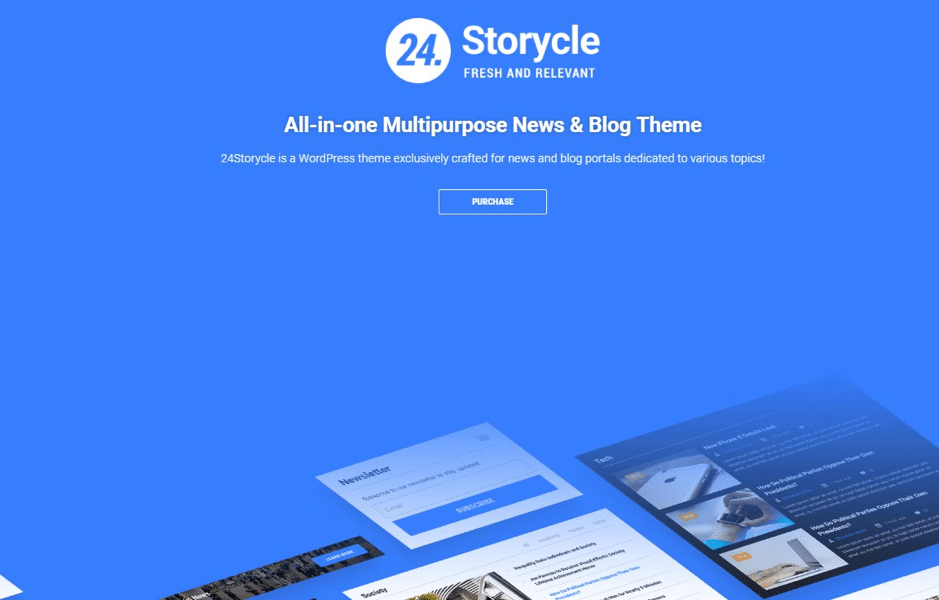 Well, you might want to use 24.Storycle – Multipurpose News Portal Elementor WordPress Theme by TemplateMonster which is perfectly great for any kind of blog and costs just $75.
So after you downloaded 24.Storycle you can choose among all the design options this theme has. 24.Storycle has various layouts, so just pick the one you like the best and move on. TemplateMonster's themes are super easy to install on your own, that is why activating the theme will not take much time. Just one click and your blog looks stunning. If you still have any troubles while installing the theme, you can always contact their free 24/7 support team.
Managing Your Blog Posts
Now it's time to start writing your posts! With 24.Storycle publishing blog posts is super easy. Just write your brilliant post, add some pictures (24.Storycle comes with 50 free HQ images), chose a layout for your post and post it. Moreover, the theme has both vertical and horizontal video playlists, which means that you can add various videos to your blog posts as well.
Besides, you can also make a welcome page for your blog in order to make it look even fancier. In order to do that you have to go to Pages > Add New then create your page. Extremely easy, isn't it?
Creating a Menu
The very distinctive feature of a good blog is, of course, navigation. You want your readers to easily find all your best posts, so you have to create a menu. Like everything else, creating a menu in WordPress is super easy. It is literally a task a child is capable of doing.
So in order to create a menu you have to go to Dashboard > Appearance > Menu. Then add a title for your menu and after that check the pages that you want to be on your menu and click "Add Menu." And that's pretty much it.
Plugins Installation
Plugins are considered to be the simplest (and actually the cheapest) way to improve your blog's functionality and increase the profits from your blog.
Fortunately, there are millions of free plugins inside of WordPress. But what is more important is that 24.Storycle is already equipped with all the powerful plugins you will need for you blog. That's being said 24.Storycle has a Premium Jet Plugins Set that includes such plugins as Jet Elements, Jet Menu, Jet Blog, Jet Tabs, Jet Reviews, and Jet Tricks. And believe me, this is literally everything you might need for your blog.
Blog Customization
Even if you find one of the standard 24.Storycle layouts pretty enough for your blog, you still might want to add something in order to make your blog fancier. Luckily, 24.Storycle is super easy to customize according to your current needs and exquisite taste.
I recommend you spending some time working with the Customizer, because that is how you will discover the whole bunch of fancy things for your blog. After you finished polishing you fabulous blog you have to click "Publish" and then you can enjoy the new gorgeous look of your blog.
Personal Email Account
Since you have already become a successful blogger, the email that you had since the high school wouldn't work for you anymore. So you might want to think about creating a professional email.
The perfect variant of course is a domain-based email (e. g. [email protected]). Getting a fancy professional email is also quite easy, but of course is not for free. However, if you are, as I have already mentioned, a successful blogger, a couple of bucks for a professional email will not bother you at all.
After you got your new domain-based email you can create an "About" page where you can share your contact info as well as your new fancy email.
Congratulations! You Are a Popular Blogger Now!
Well, you did it, didn't you? You have your professional blog and a cool domain-based email now. And you can also approve that creating a personal blog is easy, fast, and fun, didn't you have fun? And I bet it didn't take you more than 30 minutes.
What is the most important is the fact that you can share your knowledge, experience, thoughts, and ideas with the whole world. Can you imagine that a person from the other part of the world is reading one of your posts right now being inspired by the things you say (or maybe by the way your blog looks)? Having a blog opens a vast variety of opportunities for you and at the same time your posts open the opportunities for those who read them.