Follow Lilach
Boost your productivity and close more deals with Daylite
Are you looking for an easy and effective way to manage and keep track of your clients, prospects, and projects in one place?
If you are anything like a lot of small business owners I get to speak to then I imagine one (or more) of these statements might sound familiar…
It's hard to keep track of my client and prospect communications and I waste time trying to find out when we talked – and most importantly, what we talked about
I'm losing too many leads because I'm not being proactive with follow-ups and reaching out to leads and prospects
Hiring an assistant to organize things is a luxury I can't afford at present
I'm losing time (and patience!) because it's so difficult to stay on top of all my projects and tasks
If you answered yes to one or more, you're not alone. And the solution to all of this boils down to one thing – getting organized.
According to market research firm IDC, small businesses lose 20 to 30 percent in revenue every year due to inefficiencies.
And a lot of those inefficiencies can come from being disorganized with your client information.
When you address the challenges of tracking client's information, you can:
Close more deals by contacting your leads at the right time and reaching out to them regularly
Ensure you're staying top-of-mind for your clients and your prospects
Increase capacity and revenue by doing more projects at one time
Keep your sanity!
So now that you know you need an organization, how do you go about organizing your client information?
That's what I want to focus on today and to introduce you to a fantastic CRM tool called Daylite.
This tool, which is designed for businesses of 1-50 employees, helps you overhaul the way you manage your customers and prospects, without things slipping through the cracks.
What is Daylite?
Daylite is a productivity-focused CRM for small businesses who are in need of a tool to track clients, prospects, and projects in one place.
That said, while Daylite is primarily a CRM tool, it's actually a lot more than just that; in fact, you can use Daylite in a multitude of ways:
Collaborate with team members
Manage your calendar
Capture and keep track of conversations with leads and other contacts
Segment your client and prospect list
Close more deals with automatic follow reminders
Manage your tasks and projects
It's a native app for the Mac, iPhone, and iPad and combines the power of a CRM, Project Management App, and Lead Management app, meaning everything is organized and shared with your team which helps you save time and increase productivity.
Daylite can be used by any type of small business, whether you're a consultant, lawyer, estate agent, photographer, designer…you get the gist. It helps you organize and share information, meaning you will save time and get more done.
[click_to_tweet tweet="Boost your #productivity and close more deals with @dayliteapp #businesstips #businesstools" quote="Boost your #productivity and close more deals with @dayliteapp #businesstips #businesstools"]
Getting started with Daylite
So how does Daylite work?
When you first access the home page, you are presented with their Getting Started section which contains their easy to follow tutorial videos and overviews.
I suggest starting out by watching the tutorials listed in the Getting Started section as these will help you get familiar with the app.
Then, you can start setting up your account, start by adding your contacts to the CRM:
Adding Your Contacts to Daylite
Adding contacts to Daylite is a breeze and you have a multitude of options to choose from:
Apple Contacts
iCloud
Google Contacts
Other contact managers
CSV, a spreadsheet or other delimited text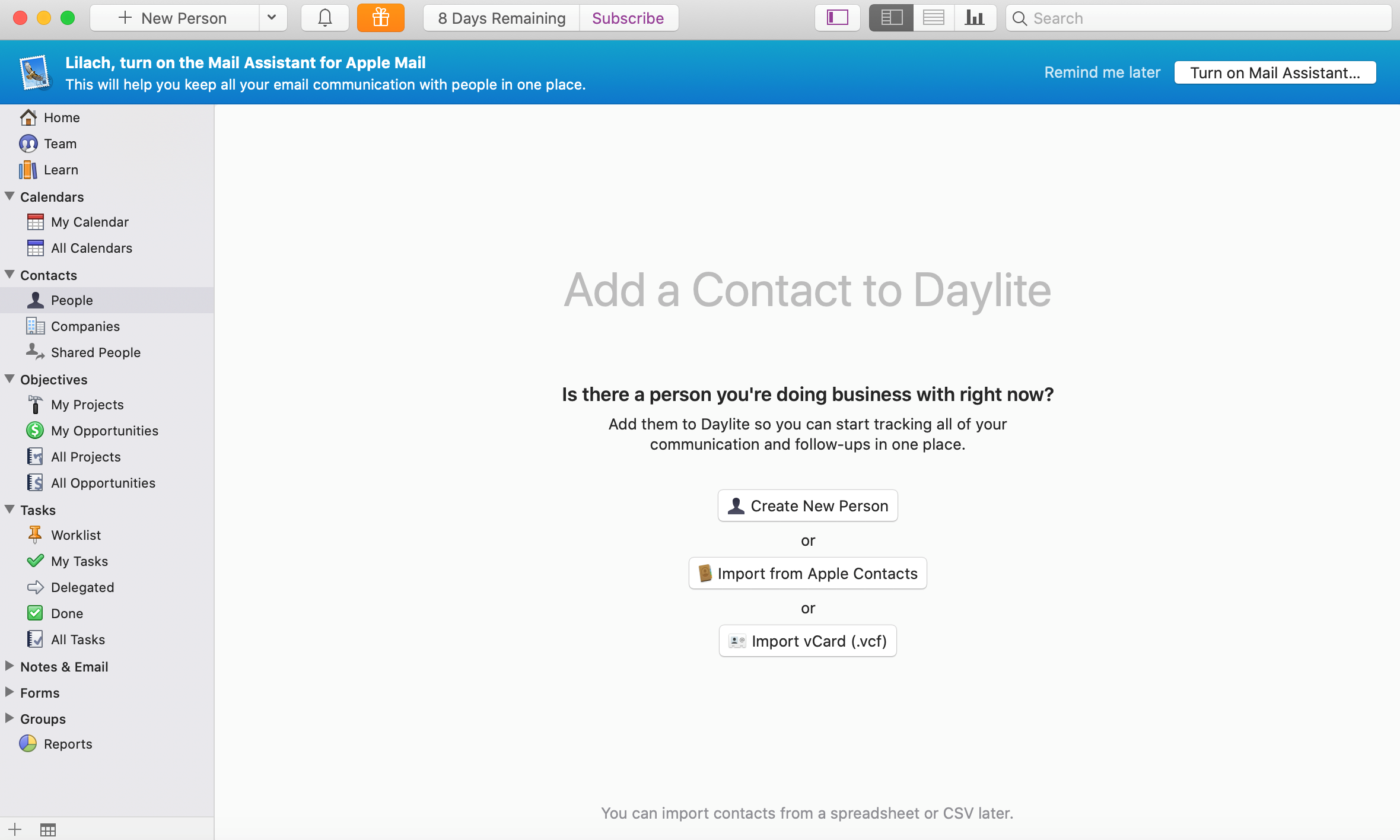 You can add all kinds of information about each contact, including their contact information, the project they're a part of, other relevant people, any opportunities, as well as assign each contact to the right person who will manage their account:
I recommend exporting the file to your desktop and then you simply drag the file into the Daylite App and your contacts are added automatically.
You are able to see the details of the imported names by clicking on the Last Import button as seen in the image below.
Likewise, you can also important companies to track in your CRM:
Get your team onboard
You can add members of your team to Daylite by inviting them by email.
Once you've added your team members to your account, you can further organize things by creating teams; for example, you could create several sales teams to manage different types of clients.
This comes in really handy because each team can have its own calendar, projects, and tasks. Then, as you organize these teams, you'll be able to track the tasks and projects of each team, from the Team tab/dashboard:
As you can see above, you can see each team in its own separate column, you can see:
Today's tasks that they have to work on
Any overdue tasks and when they were due to be done
The tasks from their worklists
Upcoming tasks and appointment for tomorrow and up to 7 days in advance
This manager dashboard pretty much gives you a complete overview of all your team's work, at a glance; which is great for those (like me!) who want to keep on top of everything going in their business, but don't have the time to micromanage every person on their team.
Adding Your Calendars
Another big part of Daylite is the Calendar – this is where you can keep track of all your meetings, tasks and calls and organize your time effectively.
You can create multiple calendars if needed, and import data from pretty much any calendar app, including of course Apple and Google calendars.
To help organize your calendar exactly as you want it, you can go to your Settings and set up/color code your categories, as needed:
Once you're done organizing your appointment settings and adding all of your calendars, you'll be able to use the Daylite calendar to manage all of your appointments, meetings, follow-ups and anything else you might have scheduled in your calendar.
You'll also get notifications, which you can see in the notifications bar in-app; plus, you can also get Daylite for iPhone and iPad and get notifications on your mobile devices as well. You can customize your notifications to your liking, easily, from the Preferences section:
[click_to_tweet tweet="Boost your #productivity and close more deals with @dayliteapp #businesstips #businesstools" quote="Boost your #productivity and close more deals with @dayliteapp #businesstips #businesstools"]
Using Daylite as a CRM & Sales tool
Daylite is primarily a CRM tool – and it has a lot of useful features that you might not expect from a small business CRM.
To start with, if you use Apple Mail, you can integrate so that you can process and manage your emails directly in Daylite.
And I've already shown you earlier how to add contacts and companies to your Daylite account. But what more can you do to nurture these leads?
How does it help you manage and convert your leads?
When you connect Daylite to your Mail app, you'll be able to take all kinds of actions automatically and easily, directly from the email you're currently working on; for example, you can add a new opportunity, set appointments to your calendar and add tasks for that contact:
An "opportunity" is how you keep track of all of your interactions with a lead or prospect, what are the next steps that you need to make, what the deal is worth and basically everything you need to know, at a glance, about your prospects.
You can easily add opportunities from the Objectives tab, by clicking on My Opportunities:
As you can see above, there are a lot of fields you can complete (but don't get overwhelmed – you can add more information about an opportunity as you learn more along the way) and there are several other useful tabs:
Activity, where you can see all the activity that's happened between you and that prospect
Tasks and pipeline, where you can add and keep track of tasks, create task lists and add the contact to a pipeline
Estimate, where you can see a current estimate of the contact's potential sales value
Plus, you can also import files, create notes, set new appointments and much more, for each Opportunity:
Since I mentioned pipelines earlier, it's worth pointing out that you can create your own pipelines – both for opportunities (sales pipeline) and for projects (project pipeline); you can do so easily from Preferences:
Here, you can easily customize the pipeline, add tasks, appointments, follow-ups and even add new stages to your pipeline, if you prefer.
You can also customize each stage and remove any you don't want, from your pipeline.
This makes it much easier to close deals and nurture more leads to becoming your clients.
As for managing your leads, prospects, and customers, you have several useful features to help:
Score your leads to help you focus on the right prospects and close more deals as a result
List management: you can set up moderation rules to automatically add new contacts to different lists, depending on your criteria
Segment your list: there are numerous filtering options to help you segment your list so that you can personalize your messaging and boost your conversion rate in the process:
Basically, you can filter based on any field you have about your leads/contacts.
As you can see in the screenshot, you can also save your lists as "smart lists", which you can then customize and use to prioritize your leads.
Another useful feature is 'forms' – this is to help you collect information from your leads and prospects, by creating client intake forms and other types of forms. You can do this easily from your Preferences by customizing the existing Client Intake form and creating new ones, as needed:
Another really cool feature that I'm absolutely loving (and if you follow our blog, you'll know why!), is the reporting:
There are numerous reports available, for a multitude of categories, all automatically generated.
All you have to do is click on the report you want and you'll be able to see and print out your results; for example, some of the reports you can find, include:
Incomplete tasks by your teams
Opportunity analysis
Won vs. a lot of opportunities
Activity time by category
Companies by category
And numerous others worth checking out.
Project and task management
The CRM is a big part of Daylite, but there's another huge feature: project and task management.
You can use these features for yourself – or as part of a team.
To start with, you can create projects – for example, for specific clients or prospects:
As you can see above, you can easily organize these projects with categories and keywords, assign dates, add other team members to your projects, assign companies and add any other fields you want to help you manage the project as effectively as possible.
Once you've set up and saved your project, you can take all kinds of actions:
Add documents and files for safekeeping
Add notes
Set and keep track Of appointments for that project
Set tasks for that project
Add it to a project pipeline (just like with sales pipelines, as seen earlier)
Plus, you'll also be able to see, at a glance, all activity for that project:
In the tasks section, you can manage all of your tasks and worklists easily; for example, you can start by creating a worklist and setting due dates:
You'll then be able to track all of your due tasks in "my tasks" so that it's all saved up in one place, which makes it so much easier to ensure you never miss an opportunity.
If you work as part of a team, the Delegated tab will be very useful; you'll be able to see all the tasks you've delegated to others, as well as all the tasks that were delegated to you:
[click_to_tweet tweet="Boost your #productivity and close more deals with @dayliteapp #businesstips #businesstools" quote="Boost your #productivity and close more deals with @dayliteapp #businesstips #businesstools"]
Conclusion
Daylite is filled with goodies and surprises all along the way; it's a very powerful tool with a multitude of features – after all, it's a CRM, it's a project management tool and it's a collaboration tool, all at the same time – so going into all of these features would take a very long time; but hopefully, this review has given you a good idea of what you can achieve with Daylite: improved productivity and more leads converted into customers.
So if you want to be more productive this year and convert more leads, Daylite is an amazing choice for Mac and iPhone users: you'll be able to organize your business in a more efficient way and start generating better results and grow your business.

Follow Lilach