Thanks to the internet and advancing technology, we are witnessing substantial growth and progress in the ecommerce industry. Online shopping is not just a fad, rather it has gained huge popularity as somewhat of a necessity. Leveraging the opportunity, many popular brands have established online stores as well.
According to a projection from eMarketer, the global ecommerce sales will reach nearly $5 trillion in 2021. That's a major increase from $2.3 trillion in 2017. This means the global ecommerce sales will witness more than 100% growth in just 5 years.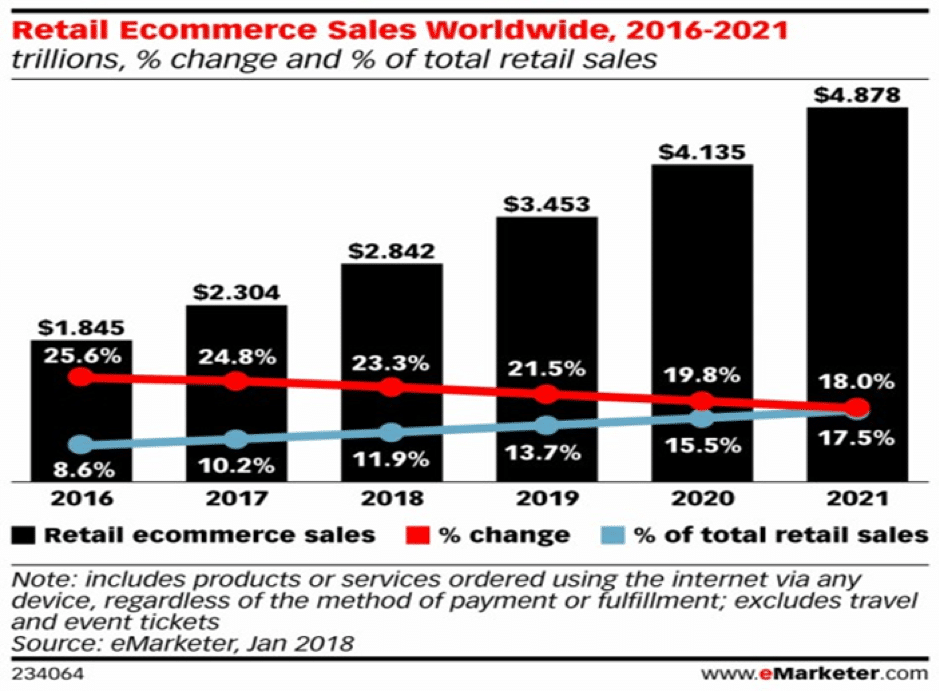 Image Source – eMarketer
The projections are impressive and should motivate you to expand your eCommerce business through trending ways. But there is a lot of competition to attract customers to ecommerce websites and motivate them to make a purchase. Everyone is trying one method or another to increase their ecommerce sales.
How can you stand out from your competitors and expand your ecommerce business and increase conversions and sales? Well, the answer is simple: email marketing.
If you are trying to figure out how email marketing can boost your sales, this post is for you. Let's take a look at some of the easiest yet effective best practices of ecommerce email marketing to increase sales.
Let's get started.
4 Best Practices of Ecommerce Email Marketing to Increase Sales
1. Send Email Notifications Regarding Out of Stock Items
This is one the cleverest ways to boost your product sales, even if the item is out of stock. Yes, you heard it right. If one of your popular products is out of stock, don't remove it from your website.
When you know you will be getting an order request and inventory for the product, just add a "subscribe" button. When customers subscribe to it, you can give them frequent updates about the product.
Consumers will surely be happy when they are informed about the status of their favorite products. This is also the best way to include them in your email marketing network. Once you get their email addresses, you can send notifications about the arrival of the product and lead them to make a purchase.
Later, you can also ask them to sign up for your promotional or newsletter emails. This can help you to drive prospects back to your website and motivate them to make a purchase.
Ralph Lauren is a well-known American fashion retail corporation. They offer luxury fashion for men and women. Regardless of being such a famous and big online retail website, they also follow the same method to boost their sales.
The screenshot below is of a beautiful dress from Ralph Lauren. But they have run out of stock for size 18. And as you can see in the image below, they ask for an email address. Once you give your email address and click "add to the waitlist," you will start getting notifications regarding the availability of the product.
Image Source – Ralph Lauren
2. Personalize Your Ecommerce Emails
Did you know that email has a median ROI of more than 120%? This is way higher than the ROI on other marketing formats like paid search or social media.
Due to email personalization, more than 55% of marketers have witnessed an increase in sales. These numbers speak for themselves and underline the power of email marketing personalization.
Image Source – The State of Digital Personalisation, 2016
But personalization doesn't just mean you send an email and use the subscriber's first name in the email salutation. Effective personalization is about much more than that.
Your emails should be tailored for every single customer. This will make them feel special and may motivate them to make a purchase.
52% of consumers will another online retailer if the email sent to them is not personalized. Now you cannot afford to lose out on such a huge number of potential customers. But how can you personalize and customize emails for consumers?
You can always start by segmenting consumers into groups based on similar interests or needs, such as:
Segmentation Based on Past Purchase Records
You can send personalized emails to your customers based on their past purchase/order records. You can make recommendations of products or services based on their past purchase records.
Segmentation Based on Gender
If the recipient is female, they might not necessarily be interested in emails talking about male fashion or vice versa. You should send relevant emails to consumers. So segmenting consumers into groups based on gender and sending them customized emails is a good way to boost sales.
Segmentation Based on Past Email Engagement
Analyze your customer's past interaction records. That will help you to customize emails accordingly. You can tailor different offers and discounts based on the customer's past interactions and send them emails accordingly.
For example, Amazon is one of the top ecommerce platforms. The brand has mastered the art of targeting their customers based on their recent purchased or viewed products.
Image Source – Amazon
3. Acknowledge and Reward Your Loyal Customers for Referring You
Word-of-mouth is one of the best and the most powerful marketing channels. Prospects find your business through a referral and have social proof from their own network. And they likely trust someone from their own network above anything else.
Obviously, you should leverage your existing customers and their networks to gain new and high-quality customers. There are high chances that leads coming through referrals will make a purchase from your business, which can boost your sales.
But, what is your existing customer getting out of a referral? Why would they recommend you to their friends and family if there is nothing in it for them?
You can motivate your existing customer with discounts or offers to refer your business to their networks. This is one of the best ways to boost sales.
Not only you will get new customers, you are also encouraging referring customers to visit your ecommerce site again, and make a purchase using the discount coupons.
You can also give incentives to both the recipient and sender of the referral. This will motivate the new customers to visit your website and make a purchase.
For instance, the screenshot below is from W Concept, a Korean online fashion website. The brand offers 10% off on the next and first purchase of sender and recipient respectively. The brand successfully generated $20K sales in the first month of introducing a referral program.
Image Source – W Concept
4. Send Emails on Special Occasions
People love shopping during holidays like Christmas or Thanksgiving and special occasions like birthdays or anniversaries. Ever thought of taking advantage of these occasions and sending personalized emails? If you are not already doing so, then it's about time you start.
When done correctly, email promotions during holidays or special occasions can really multiply your sales. So, ensure that you take advantage of these opportunities.
Many email marketing platforms provide easy-to-use holiday templates for your emails. So you have no excuses to send fun emails to your customers and boost sales.
For example, Wekiva Falls sends an email to their customers promoting their holiday event on the eve of Thanksgiving. In the email, they also describe their in-house activities to motivate their customers to visit their website and make a purchase.
Image Source – Wekiva Falls
Ready to Increase Your Ecommerce Sales with Email Marketing?
From the statistics mentioned at the beginning of the post, it is evident that the ecommerce market is rapidly growing. Having said that, there are challenges and competition between brands to attract and convert new customers.
Ecommerce email marketing is one of the best ways to boost conversions and drive sales for your business. Send your customers personalized emails and provide incentives to your loyal customers in the form of discounts.
Take advantage of holidays, and send your customers emails to drive them to make a purchase. When done correctly, all of these best practices can help you increase your ecommerce sales.
If you know any other ecommerce email marketing practices to increase sales, let us know in the comments below.
About the author:
Shane Barker is a digital marketing consultant for 15 years with an emphasis on Influencer Marketing in the last 5 years. He is specialized in sales funnels, targeted traffic and website conversions. He has consulted with Fortune 500 companies, Influencers with digital products, and a number of A-List celebrities.