Every eCommerce business works hard for achieving high conversion rates. The major problem is that most of them just don't know where to start! If you are running an eCommerce venture online and looking to boost your conversion rates, then videos could be the answer for you!
Using video for boosting eCommerce conversion rate is a quick, safe, and comparatively inexpensive method to promote your eCommerce business.
Gone are the days when creating a simple brand video or a TVC commercial was considered a very complicated and expensive task, especially for budding businesses. Modern-day brand videos are very easy to create and strategize. From writing the perfect script to filming it and finally publishing it is very easy.
Whether you are using Shopify as your ecommerce platform, or Shopify alternatives to run your ecommerce business, a well structured video marketing strategy will work everywhere.
These video marketing stats are a testament to how videos are growing and impacting business growth eCommerce:
85% marketers agree on the fact that videos are the most effective way to attract customer attention.
72% customers prefer videos over text to learn more about a product or service.
About 85% of all customers want more and more videos from their preferred brands.
87% of all businesses are already using video content for marketing purposes.
In the world of digital business, if you are not making use of videos in your eCommerce marketing strategy, you are losing out on big money! Need help getting started? We've got you covered.
This hands-on guide elaborates on how you can use videos to increase your eCommerce conversion rates.
Product Video: A Brief Introduction
One of the most important aspects of any video marketing strategy is product videos. Product videos allow all kinds of business owners to showcase the advantages and applications of their products to potential online buyers. They even allow them to learn more about the product and the problems it could solve.
Since product videos are published on different landing pages and store pages, the targeted viewer here is someone who is still in a very indecisive stage of the buyer's journey. Videos help them in realizing the true power of a product and helps strengthen their buying decision.
If you're planning to capture your product videos and use them to build a powerful video marketing campaign for your eCommerce business, the following tips will help you. Each method mentioned here has been tried and tested for some of the best eCommerce products and platforms around the world.
Let's dig in!
#1 Build a Powerful In-Video Lead Capture Form
First things first, you will have to insert a Lead Capturing Form in the first 10% to 20% of your brand video. Now, this might sound a bit tricky but this method is one of the most effective strategies.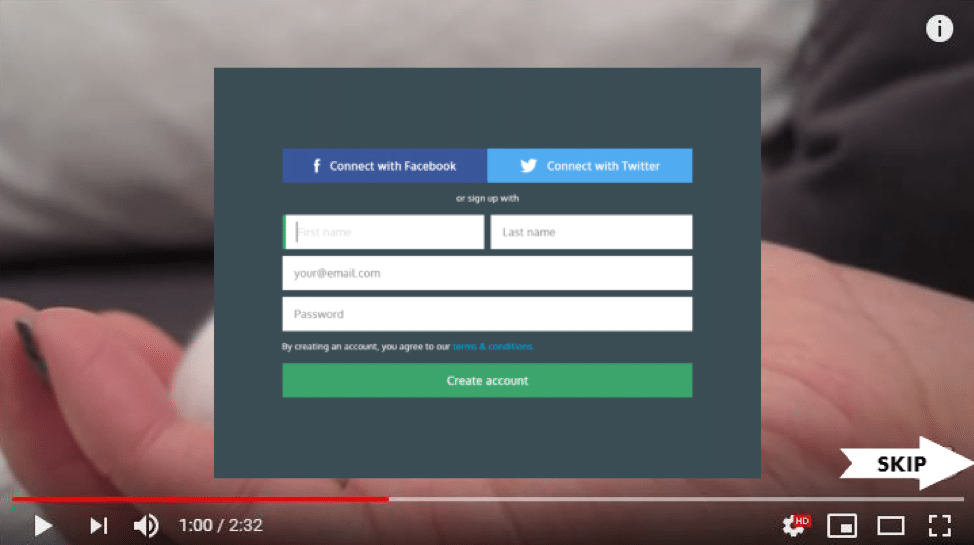 You can use different video tools to add a Lead Capturing form at any part of your brand video. So, all you have to do is to provide a highly informative and engaging introduction and leave them wanting for more before your video asks for their emails. This method will boost your leads faster!
#2 Use Short and Entertaining Product Videos
One of the most faced challenges in video marketing is that the preferred length of a product video is becoming shorter and shorter.
On analyzing the top converting videos online, you will realize that most of the client media files are mind-blowingly short and highly entertaining. Thanks to the constantly declining audience attention span, most viewers lose interest after a certain period of time.
Take this product promo video by Nine Line Apparel for an example. It's short, simple and does the magic in just under 30 seconds.
Modern video marketers are creating super short and straightforward videos that clearly define what the product is and how it can benefit its target audience. Short and sweet is the new normal and videos over a minute are considered "lengthy".
Short and simpler videos are stealing the deal. The idea should be to create a short and concise video that helps you in capturing the highest engagement possible.
#3 Send Your Personalized Brand and Product Videos to Prospects
Another popular method for increasing eCommerce sales is by sending personalized branding videos to your prospects. This method not only boosts your conversion rate but also helps you in boosting customer relations.
Eliminate the hassles in nurturing the leads on phones and emails. Build a powerful sales funnel with the help of personalized videos for engaging potential leads.
Further, this creates a highly personalized way to engage your customers and the potential customers as well. This gives a feeling that your content is authentic and you genuinely care about your audience. With personalized product videos, your customers are more likely to get engaged and eventually convert. Totally a win-win strategy!
#4 Make Use of Interactive Video Ads
Interactive videos not only allow users to interact during the video but also help a brand in standing out from the competitors.
You can even advertise your products on social media platforms like Facebook through interactive ads. Generating about 8 billion views on average per day, Facebook does a great job at video marketing. Although paid, Facebook ads are worth a try!
Though the technology is relatively new, it has performed quite well for all kinds of businesses. As compared to the non-interactive video ads, the interactive videos increase the customer engagement by a whopping 47%.
As of now, there are only a few brands and business organizations that use interactive video ads but the reach and popularity are increasing day by day.
#5 Employ User-Generated Videos to Enhance Customer Trust
Many a time, we see that a professionally developed product video turns a lot of heads and gains huge product awareness. The problem is that most of them get a ton of views but fail in generating sales. The reason? Lack of trust!
For eCommerce brands, things get a little tricky as along with earning customer trust, you have to create different methods of customer interaction so your prospects feel taken care of at every step.
This is where modern video marketing strategies come into play. Brands in all niches and types are using user-generated videos to market their products. A research found that over 50% of all customers in the US trust user-generated videos on their websites.
Though many user-generated videos spreading over the internet are either fake or contain partial information about the product, most videos help a brand in creating a positive brand image.
#6. Invest More in the Quality of the Content Rather than Just on the Equipment
Of course your video making equipment and video editing tools are important, but what's more important is what you are converting in your videos. Invest more in the quality of the content of the video rather than on the type of tools and software used.
Try and learn more about the art of making shareable videos. From the rules of lighting to the basics of cinematography, you can use them all to enhance the quality of your content. More importantly, be authentic, highly valuable and engaging while delivering the content of your video. What you say and how you say it makes a lot of difference.
There are a ton of different video marketing tutorials and platforms available out there that can help you in learning video making and editing in just a few days from the comfort of your home. From animated presentation videos to self recording videos, the options to learn and execute on your video marketing strategy are endless.
#7. Allow Your Viewers to Share Videos Easily
Sharing is caring! By allowing a viewer to share a video on different social media platforms, you can boost the possibility of making your video viral.
This is the power of video marketing that is hard to find in a lot of other marketing mediums. Your product could reach a huge chunk of audience easily if you are able to create videos that capture attention. More than 700 YouTube videos are shared every minute on Twitter and over 500 videos are watched on Facebook daily. It is your chance to be one amongst them.
If you have your video embedded on your custom landing pages, then make sure that the sharing features are available close to the video as well.
Pro Tip: Stats say that social media is mostly accessed on mobile, so create vertical videos specific to the dimensions of mobile to maximize shareability.
#8. Videos Boost Conversion by Answering Customer Queries
Most people landing on your sales page have some basic questions about the product and the overall brand. From questions like "can this product do that?" to the questions related to its after service, videos can help users in clearing all of their doubts quite effortlessly.
This is the reason some brands provide video tutorials and explanatory videos to their users that help in boosting conversions.
If done with the right strategy, your videos can be your sales representative.
#9. Boost Customer Engagement with Video on Landing Pages
Landing pages are not only a piece of luxury for a website but also a necessity for capturing more and more leads. Some of the major traditional elements of a landing page for an e-commerce website include:
A Big and Bold Headline
Subheadings
Photos and Videos
Bullet Points
Call to Actions for making a sale
Videos simply boost the chances for enhancing the conversion rate but the sad part is that even today, many businesses don't include it as an important element in a web page, especially for the landing pages.
Whether you have a very short and simple landing page for your products or a long-form version to catch leads, a video can increase your chances of making sales, especially for eCommerce business owners.
#10 Use Explanatory Videos with a Story to Promote the Products
We all love stories, especially the clients who visit your product page looking for something new and powerful. Make use of the imperative human quality of paying attention to stories for boosting your eCommerce conversion rate.
Explanatory videos are an amazing tool to engage the audience of all ages, simply because everyone loves illustrations and animation. Make use of explanatory videos to tell stories on your platform.
Explainer videos for storytelling need to be very straightforward and short. Make sure that none of the videos are longer than one or two minutes.
The key here is simple, you have to tell a story about your client's brand, the journey of your product, the challenges you overcame in developing the final product, and so on.
Various eCommerce platforms and online eCommerce solution providers have embedded videos into their platforms for maximum user engagement.
You can even enhance your video marketing by conducting virtual events or webinars. They can impact your brand/product effectively and cover a wider audience circle. These virtual events can be similar to normal explanatory video but live, where you can answer the questions put forth by your audiences to make sure your product is reliable.
#11 End your Video with a Call to Action
A strong call to action option is as important as the video itself. Make sure you add a simple, visible, and clickable Call to Action button urging the user to buy a product from your eCommerce store after your product video/brand video is finished.
The audience engagement rate is highest when the video is ending, and the people who've watched the whole video are clearly engaged. Make use of this opportunity by sharing a persuasive call to action with them at the end of the video.
You can also use CTA to make your customers sign up for a newsletter, or redirection to some other page.
All you have to do is simply overlay the video with an image once the video stops playing. Try this out!
Bottom Line
eCommerce is a booming industry so make sure you are up-to-date with strategies like video marketing. These methods can come in handy if you want to achieve great results and high eCommerce conversion rates.
Also, it's not enough that you simply embed a video into your landing page or publish a video on your social media, what's more important is how you promote the video and eventually determine if the video is working for you or not.
Make sure that you have the right tools, the right knowledge, and the right methods to use videos for increasing the conversion rate.