Follow Lilach
Animoto: the perfect video tool for the non-technical marketer
Without beating around the bush, video has become a huge deal online. And that's because it's one of the best ways to get your messages across to your audience.
As a result of the growing popularity of videos, your audience now expects videos from you. In fact, according to a HubSpot study, 54% of consumers expect videos from brands.
And the best part is, marketers and businesses can easily create their own videos now, as video creators are more accessible than ever.
But what are the factors to consider to pick the right video tool for you?
Your needs: most video tools you'll find today are created for making videos of different complexities. Do you just need to crank out videos for social media or need to make something more complex?
Features: what kinds of videos do you need to create? Do you need templates to help? Do you want access to images and video clips so you don't have to film anything yourself?
User experience: how easy is it to use? You don't want to spend a month learning about a tool when you need a video today.
Pricing: your budget will determine the tool you can purchase. The more complex and powerful video tools will usually be more expensive.
In this blog post, discover how to create beautiful and engaging marketing videos using Animoto – even if you don't have the editing experience.
What is Animoto?
Animoto is one of the most popular video makers around and for good reason (as you'll soon see!); it's very easy to use, built specifically for those who don't have a lot of experience with these things and it offers a selection of features to help make your life easier: from ready-made templates, you can use to an extensive media library where you can find a plethora of images and video clips to use in your video.
Getting started with Animoto
After logging in to your account, Animoto displays templates you can use to start creating a video right away:
At the left sidebar, there are various types of templates to create your videos: promo videos, motivational videos, About Us videos, and even behind-the-scenes videos, among many others. Plus, as you can see above, you can also find templates for upcoming holidays, such as Christmas or New Year.
Alternatively, you can start from scratch if you have the creatives you want to use and the necessary design skills. If you're starting from scratch, you'll have to select one of the 9 styles available on Animoto.
After you do that, you'll have your blank canvas to customize as you wish.
It's also worth mentioning at this point that you can also get the Animoto app for iOS and create, edit and share videos directly on your smartphone.
And, just like with the online software, you can easily edit your video, add images, video clips, voiceover and captions and share it out on any social channel you like.
The app is particularly perfect for creating powerful Instagram Stories, as well as any other quick videos that you want to share on your social media channels.
Creating a video with Animoto: how does it work?
When you select a template, Animoto will play the video and display some details about the video. The details you'll see include:
Features of the video
Platforms you can share to
Video style
Best industries for the video
If you like the template review, click on "Choose template" to begin. Otherwise, check another template. Once you select a template, you can begin editing.
One thing you'll notice on Animoto is how simple and minimalistic the interface is. Even for a beginner, it looks simple enough. And to make it even simpler, Animoto will take you through a tour if you're creating your first video.
On the editor, you'll see a breakdown of the templates into smaller videos and the period of each. You can edit each of the small bits of the video. Below each of the bits, you can record new audio, change the text or upload a new image.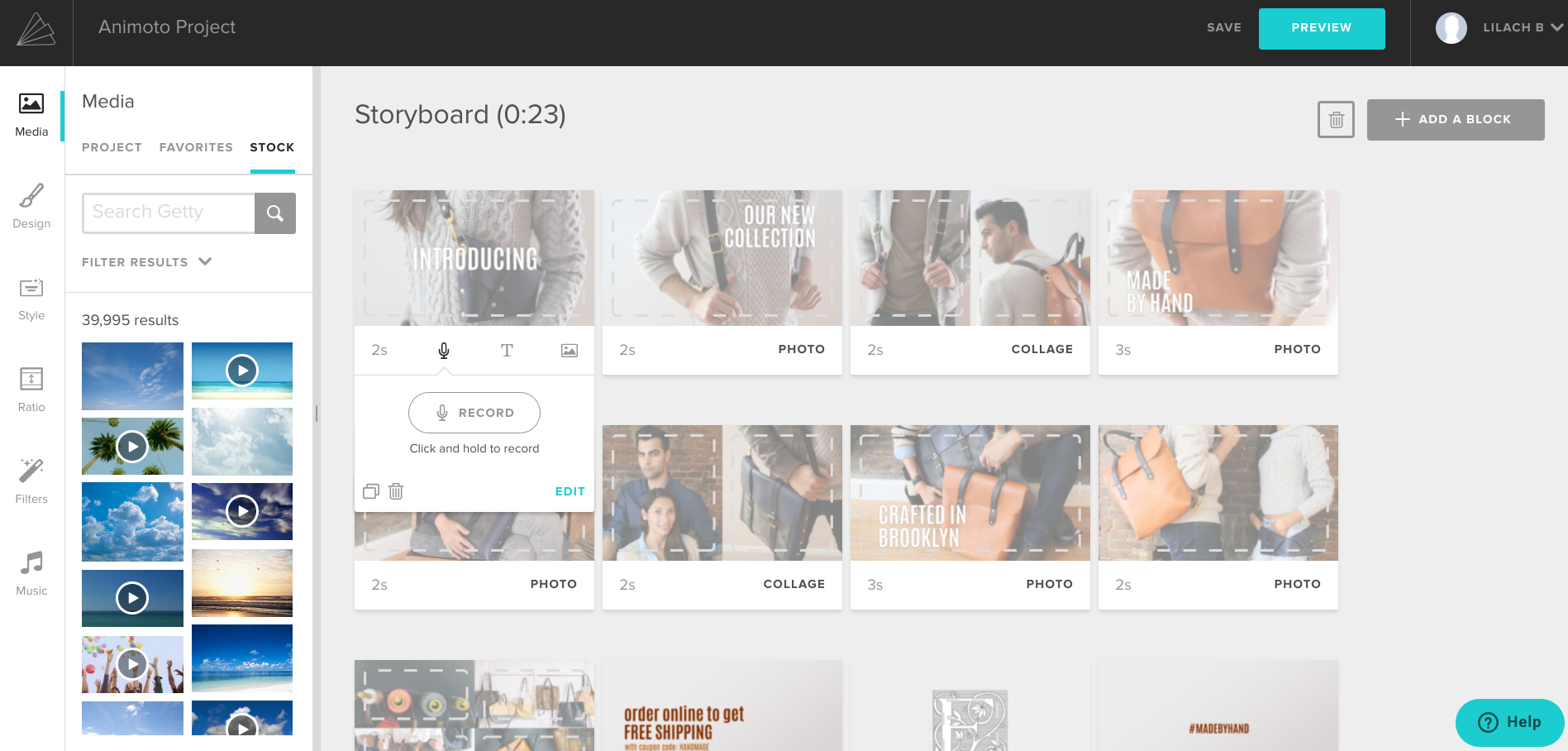 If you have an image on your computer, you can easily upload it to replace any of these images. Otherwise, you can use Animoto's media files that have been licensed for public use.
With over 1 million stock images and videos, it's safe to say that you'll find suitable files for your video. Also, the search bar helps you to find media files based on the topic of your video (e.g. Christmas). Likewise, you can filter according to media type or orientation.
After adding an image, you have the option to click on each block for more editing options.
Another option is to add a block to your video. By clicking on "+ add a block" at the top right corner of your interface, you'll see all the types of files you can add.
Below the media files are the design options. Here, you can add a logo to the corner of your video for unique branding. Furthermore, you can pick the color of the title, subtitle, and video background as well as the text size of the title and subtitle. Below that, you'll find a font that fits your branding among the various fonts.
Having said that, another consideration to make is the style – something that can help turn your video from just OK, to great.
Below the design options, you have styles. This shows how your texts will move on the page and how images will translate while the video is playing. When you hover on a style, you'll see its preview.
Depending on your preferences, you have the option to select a landscape or square ratio for your video. Furthermore, you can apply filters to your video. Some of these filters include cool, warm, denim, fade, etc.
Another huge feature of Animoto is the music files. You can trim the song, set the volume, and select the loop option. You can also change the song if you want.
First of all, Animoto makes this easy as it shows you the top song for the style you've selected. Also, there's a tab for songs that are popular for businesses as well as another for your favorite songs. Lastly, you can upload your own music if you have the right to use it.
When you're through editing your video, you can save and preview it. Animoto will show you a low-resolution preview, so you can expect better quality when you finally produce your video.
But before you can produce your video, you have to replace all the images in your template with unique images. These could be images from Animoto's database or your computer.
Once you're satisfied with the preview, you can now produce your video. Otherwise, continue editing. If you click on "Produce," you can then enter details about the video before you complete the process.
Sharing your video
Whether you're marketing a product or making a helpful tutorial, how do you get your videos across to your audience?
This is where sharing options become important. Fortunately, Animoto provides enough options that will likely meet the needs of any user.
You can share the video to Facebook, Twitter, YouTube, Instagram, and 10 other platforms. Furthermore, you have the option to copy the video link or even embed the video into your website.
However, if you're creating your video for personal use and would like to keep it, you can download it directly to your computer.
The tool allows you to download in 4 different resolutions which are 360p, 480p, 720p (HD), and 1080p (HD). Added to that, in the "Details" tab, you have the basic details about the video.
One other interesting detail is the stats. With this, you can track the number of page views and plays of your video. In the "Settings" tab, you can set a default playback quality, allow social sharing by viewers, and set a call-to-action button that directs to your preferred URL.
The social sharing option helps to increase awareness for your campaigns while the call-to-action button can lead to a landing page where you can capture leads during your marketing campaigns.
Creating a slideshow
Creating slideshows is one of the most popular Animoto applications. How do you create a slideshow with Animoto?
In your account dashboard, click on "Create." At the left sidebar, you'll see different types of templates. Click on "Slideshow."
Here, you'll find different slideshow templates that are for personal and business purposes. Alternatively, you can start from scratch.
Here, I've selected the "Happy Birthday Slideshow" template. After all, there's always a special person to wish a happy birthday. After selecting the template, there's a preview of the slideshow and details about usage.
On the next page, you can replace the images and videos with that of your loved ones. Furthermore, you can add unique texts to the slideshow and the celebrant's favorite music.
Within a few minutes, your unique birthday slideshow is ready and you're just about to make a loved one's day. With the sharing options, you can send the video secretly to the celebrant or share to social media pages.
Apart from doing this for friends, businesses can also do it for their employees. With the range of templates on Animoto, it has important applications in businesses (especially for marketers), photography professionals, and just any person who wants to create videos for personal and professional use.
Animoto pricing
If you're going to use Animoto to create your videos today, how much are you going to pay? The answer is: it depends on your plan.
There are 3 Animoto plans which are:
Personal
Professional
Team
Apart from the plan you pick, it also depends on whether you're on a monthly or annual subscription.
If you only use Animoto to create birthday videos for your family members or make a few business proposal videos, the monthly payments could be the best fit.
However, if you need social videos regularly to market your products or increase brand awareness, an annual plan is the best. Likewise, if you create explainer videos for students to aid learning, you should go for an annual plan.
If you're paying monthly, the personal plan costs $9, the professional plan costs $65, while the team plan costs $94.
However, with an annual plan, you get a discount of almost 50%. For an annual subscription, the personal plan costs $5 monthly, the professional plan costs $33 monthly, and the team plan costs $49 monthly.
Considering the vital role videos play in marketing (and education), Animoto is so affordable that you could get a positive return on investment (ROI) from just a single video you create.
Conclusion
Video marketing is not just a fad – not only is a video here to stay, it's very much taking over the Internet. If you want to be a successful marketer, then you need to use video in your strategy.
You need video on your social media channels, on your website and landing page and in your email campaigns – basically, every channel loves its videos.
And luckily, you don't need to outsource video creation to create powerful and professional-looking videos. With a tool like Animoto, you can create new videos every time you need them, in literally minutes, even if your experience with video creation is negligent at best.
So if you want to get started with video marketing – or simply want to take it up a notch – I would definitely recommend Animoto and its beautiful and easy-to-customize templates.

Follow Lilach