Web forms are an extremely important part of your business website; they allow you to collect contact information from your audience (i.e. get more leads for your business!), to handle your orders quickly and efficiently, and to provide your audience with an easy way to contact you – and these are just some of the most popular ways to use them. In this blog post, I'm going to talk about 5 best online form builders to help you find the right solution for your business website.
What makes a good online form builder?
Two of the most important things to look for in a web form builder are ease of use and, of course, its capabilities – can it help you create all the different types of online forms that you need to create?
Consider what you'll need to use your web forms for; for example:
As a contact form
To gather feedback from your audience through surveys
To generate sales leads
To handle your bookings and appointments
To handle orders and payments
To allow your audience a way to ask questions of you or make complaints
So, without further ado, here are 5 top web form builders for your business website:
123FormBuilder
Types of forms: contact form, enquiry forms, contest forms, surveys and questionnaire, complaint forms, sales leads forms, event registrations, etc.
I've talked about 123FormBuilder before, but it's definitely worth another mention here. Why?
For a multitude of reasons.
For one, it's very easy to use and build web forms with it, even if you have little to no experience designing. The tool features countless templates for all kinds of different web forms which are super easy to customize to your liking using the drag and drop builder:
Apart from all the usual fields and add-ons that you might expect from a web form builder, you can also add all kinds of widgets, such as YouTube videos, TED talks, Facebook posts, and Soundcloud audio clips, as well as social sharing buttons, Google maps, passwords, and many more.
There's plenty more to say here, but you can read all about it in detail in my full review here.
However, I do also want to bring up the rules and automation that you can set up with 123FormBuilder, as I think they make a big difference:
For example, you can use them to only show certain fields when the responder takes certain actions, or to redirect your visitors to a link if they meet the conditions you set.
And a personal favourite feature is that you can actually qualify leads as they complete your form; just assign values to all of your different fields, just like you would with Google Analytics.
Oh, and if you're using WordPress as your CMS, definitely make sure to check out their WordPress plugin, Captain Form to quickly create and publish all types of forms directly on your website.
5 best online form builders for your #business @123formbuilder
Click To Tweet
Zoho Forms
Types of forms: contact forms, email subscription forms, complaint forms, software evaluation, online order form, delivery feedback, industry-specific forms
Zoho offer a huge selection of all kinds of useful business tools, including web form builders through Zoho Forms.
So, how does it work?
There are multiple templates to choose from, for small business owners, e-commerce businesses, for HR, but also some industry-specific forms (for example, medical or construction forms).
The actual builder is quite easy to use; as you can see in the image a little further up, there are multiple field types that you can add to your template easily, by dragging and dropping them where you want them.
Zoho Forms also aim to help those who work as part of a team; with it, you can add your team members, set access permissions for each one, and easily assign tasks so that you can all collaborate.
Additionally, you can set up rules; for example, so that your respondents only see the fields they need to see:
Or, you can redirect your visitors automatically to a certain page, or show them a personalized message, based on their actions on the form:
5 best online form builders for your #business @zoho forms
Click To Tweet
Typeform
Types of forms: contact forms, job application forms, suggestions forms, surveys and questionnaires, registration forms, lead generation forms, delivery orders, polls and quizzes
Typeforms' forms look a bit differently compared to the previous tools covered in this list. But, they can be just as effective and easy to create: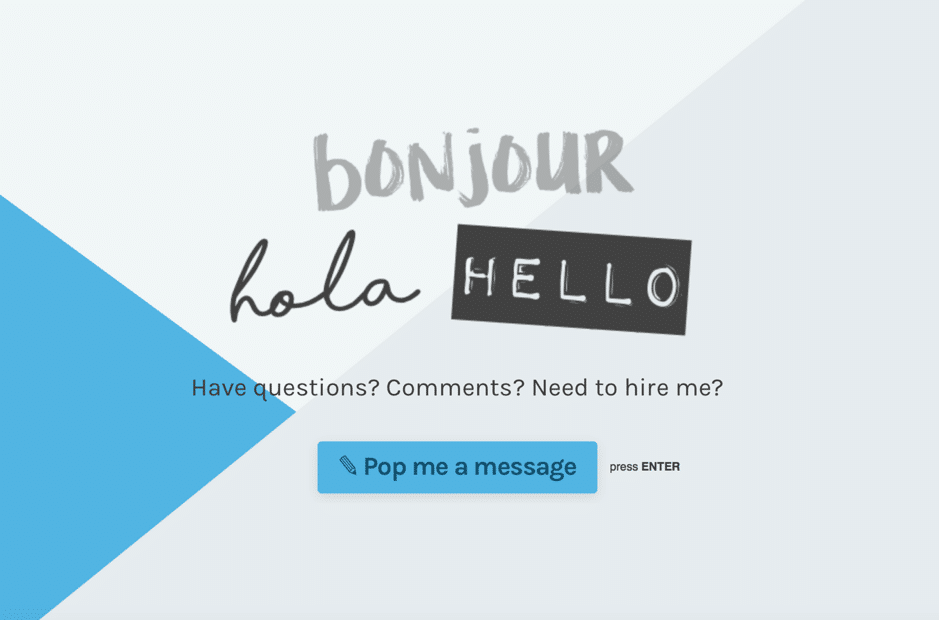 To get to the next question, you need to answer the one you're on – and so on.
Like the other tools, they have a great selection of templates for all kinds of different forms, most of which I mentioned earlier.
As for customizing them, you can easily do so by using the notepad-like form builder:
Just select the type of question you want (like adding multiple answer options, for example), and write down your questions to update the template accordingly.
With the Pro version, you have more useful options, such as setting up payments via Stripe, integrating with tools Like MailChimp, Google Sheets, or others through Zapier, and adding the option to upload a file.
Bottom line, it's very easy and quick to use and the end result looks beautiful.
5 best online form builders for your #business @typeform
Click To Tweet
Wufoo
Types of forms: contact forms, online contracts, even registration forms, surveys, online orders, lead generation forms, invitations
Wufoo from Survey Monkey is another easy to use online form builder with over 400 templates to choose from in a variety of categories.
The forms are easy to create and customize with your own branding and theme, and are all device-responsive, so you can rest assured they'll work on websites and mobile devices alike.
Additionally, you can also receive online payments through Stripe, PayPal, and Authorize, as well as accept file uploads.
The tool integrates with Google Analytics for better reporting and tracking your conversion rates, as well as other useful tools (over 60), such as Salesforce and MailChimp.
If you want to customize each users' experience, you can easily do so by setting up conditional rules.
5 best online form builders for your #business @wufoo
Click To Tweet
Cognito Forms
Types of forms: contact forms, sales forms, donation forms, surveys, event registration forms, payment forms
Cognito Forms might not have as many types of templates as some of the other tools in this list, but it's still a very good online form builder.
Plus, like the others, it's very easy and quick to use. And in terms of other features, it definitely has most of what you'd look for.
For example, you can accept payment from your respondents through PayPal, Stripe, and Square, as well as allow multiple file uploads.
To customize the experience, you can use conditional logic rules to show and hide fields (or sections) based on their answers, require payment only when necessary, and control who and when gets notified or gets a confirmation email.
Other useful features include electronic signatures, data encryption and integrations with all kinds of tools, most of them through Zapier, as well as WordPress plugin.
5 best online form builders for your #business @cognitoforms
Click To Tweet
Conclusion: 5 Best Online Form Builders
Online forms need to be easy and quick to create; in many cases if you have a website, you'll find yourself needing to create a new form quite often and so you need to find a tool that you're comfortable using and that can help you generate all the types of forms you need as quickly and efficiently as possible, while not compromising on quality.
What online form builders are you using? What are the best online form builders out of the ones you've tried so far? Let me know in your comments and please do share your favourites 🙂