In recent years, social networks have generated some serious chatter. With more than 1 billion new users logging on each day to connect with friends and share pictures of food, it's no wonder that many companies consider social media to be essential to their digital strategy – but how should you use social media in your next campaign, exactly?
According to Social Media Examiner, 92% of current marketers say that they've enhanced their brand exposure through social media posts, while 80% say they've seen positive results for traffic. In other words, when used correctly, your social presence could be the key to unlocking the full potential of your business.
Of course, just like any other marketing strategy, your social efforts need to be carefully planned and implemented to deliver truly exceptional results. Here, we'll be looking at how you can boost your brand presence before, during, and after a social media marketing campaign.
How to Use Social Media in Your Next Campaign
Establishing Social Strength: Before Your Campaign Begins
Like many techniques in the digital marketing world, social media marketing is a commitment. For many businesses, taking the time to regularly update and enhance their social profiles is a real challenge. After all, it's hard to find and grow the perfect audience, design consistently great content, and generate engagement. Many companies end up giving up on social media after just a couple of months.
Before your campaign begins, make sure that you're ready to give it the attention and time it needs to thrive. While social campaigns can be highly lucrative, they only work well when they're thoughtfully designed and maintained. Once you're sure that a social strategy is right for you, consider each of the following factors before you begin writing content.
1. What Are Your Social Goals?
Defining what you hope to achieve with your social media strategy is crucial. It helps you set a sufficient budget, select the right platforms, and create the most engaging content. Your goal might be to cultivate more engagement from your customers or spread brand awareness. Whatever you choose, take the time to think about how you can connect your ambitions, with what your customers want from you.
For instance, if you want to improve company recognition with social media, then a great way to do this may be to write valuable content about industry trends your audience are interested in. This shows your authority in the marketplace while giving your followers the information and entertainment they're looking for too!
2. Create Buyer Personas
One of the great things about social media marketing is that you can target each post to the perfect customer. Creating a user persona can help you to identify exactly who you want to speak to when you're writing social content.
Your user persona is the fictional representation of your ideal audience, based on demographics like gender, location, job title, and age. Remember, as you learn more about how to use social media, you may need to adapt your personas, or create new ones to address alternative customers.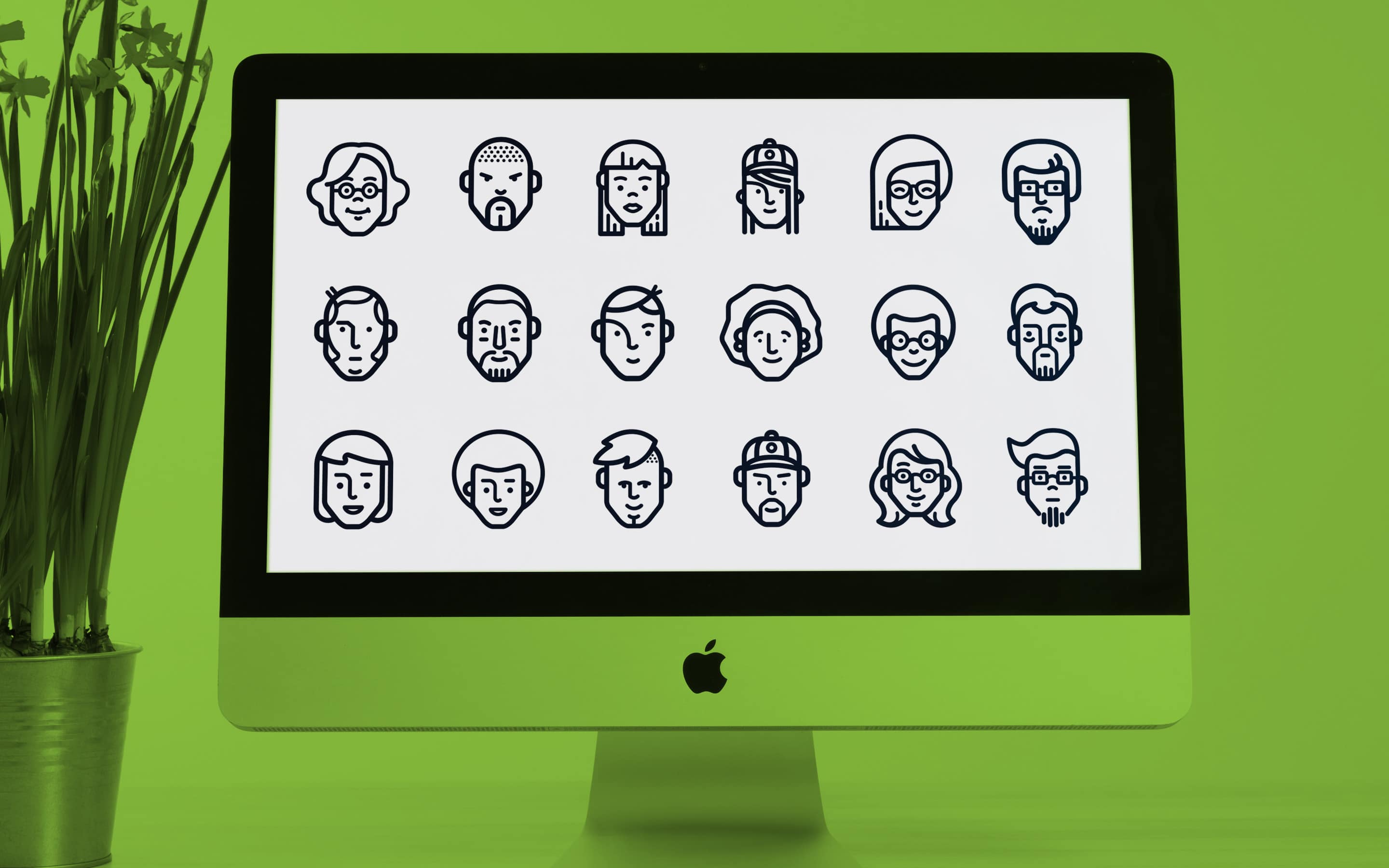 3. Choose The Right Platforms
Perhaps the most important thing you can decide before you begin your social media marketing campaigns is where you're going to promote your content. There are dozens of social networks out there, and they won't all be relevant to you.
Facebook recently surpassed 2 billion users, but companies targeting B2B customers might get more success from a niche platform with fewer users, like LinkedIn. Remember to start with only one or two key channels. You can always expand in the future if you find your customers are branching out to other platforms.
4. Perfect Your Profile
Great branding is essential to any marketing strategy. If you want to make sure that your company is easily recognizable to both existing customers and new prospects, you'll need to ensure that every touchpoint your company maintains is set up to maximize brand consistency and awareness. Create profiles that share the same brand voice, logo, colors, and information, wherever your company goes.
On some platforms, like LinkedIn, it will be important to pay close attention to your page name and bio. On others, like Instagram, the most crucial feature of your profile might be your picture.
5. Establish A Timeline
Finally, make sure that you know exactly how long you want your new campaign to run. While using social media as a marketing strategy is a long-term process, each campaign you create will come with its own definitive start, and end date. You can even include a publishing schedule in your strategy if you find this helpful.
When establishing your timeline, it may be useful to work in stages. Each level of your campaign can have its own direction when it comes to goals and content. There are plenty of tools out there that can help you to more efficiently schedule posts if you're having trouble fitting everything onto your calendar.
What to Do During Your Social Media Campaign
Once you've successfully prepared for your social media campaign, you'll need to make sure that you're putting the right strategies in place to give your company the best possible chance at success. After all, while a lot of companies do social media marketing, few get it right.
With care and attention, your social strategy can scale a business of any shape or size. The following tips on how to use social media in your next campaign could help you to access the full potential of your chosen platforms.
1. Curate and Create the Right Content
Social media marketing isn't just about posting links to your products and pushing your own content. If you really want to grow your audience, then you need to show them the value you have to offer. For some brands, this will mean designing thought-provoking articles that demonstrate their leadership in their niche. For others, it's all about sharing content from other creators that might interest your followers.
While finding the perfect content can take a great deal of time out of your day, there are plenty of content curation tools out there that make the process a little easier. If you need a little help getting started, look at the content your competitors are sharing on their pages. This will at least give you some inspiration to work with.
2. Engage Social Influencers
A report from Nielsen Catalina Solutions found that influencer marketing creates 11 times the ROI of your standard digital marketing efforts. With an influencer on board, you can instantly access the popularity and trust of a pre-existing authority in your niche. This means that you don't have to spend as much time convincing your customers to trust you because they value the opinions of the people giving you "shout-outs".
Use your social media marketing strategy to target influencers and ask them to share content with their audience. An easy way to do this is to tag people in your posts. For instance, you might write something like "@influencer, we thought your audience might like this post" then link your content. You can also reach out through emails and direct messages.
3. Keep Track of Current Events
People don't just use social media to post cat videos, they also turn to their profiles for help interacting with companies, and reading up on the latest news and information. If you can offer some unique insights into trending topics, then you might be able to grow your following. Make sure you listen out to what your customers are talking about and keep track of trending hashtags on Twitter.
You can also use solutions like Facebook trending topics, or even Google Trends to see what's popular at any given moment. This might help you to brainstorm some content that you can create on your website too so that your blog posts start to gain more organic traffic alongside your social pages.
4. Show Off Your Personality
Remember that social media is all about making a connection with your audience. People don't want to communicate with faceless brands, they want to establish relationships with other people. With that in mind, make sure that you show your human side by expressing your brand personality.
The tone of voice you use on your social pages should be consistent with the style that's present on your emails, website, and blog posts too. With a little luck, the more you post, the more familiar your company will become.
5. Engage Your Audience
Often, when companies are just getting started on social media, they can quickly forget how important the "social" part of social media is. While it's one thing to fill your social feed up with posts, it's another thing entirely to engage with your audience on an active basis. The more you actually take part in your customer's conversations and respond to their concerns, the more satisfied your followers will become.
Remember, over 50 million businesses are using Facebook for advertising. The best way to make sure that you stand out is to give your customers an experience they won't forget. Using engagement strategies in your social media marketing will help you to uncover issues that people in your network are facing, and respond faster to complaints so that you can keep your reputation in check.
6. Use Automation Carefully
Finally, many of today's fast-paced organizations often turn to social media automation to improve their chances of running a more consistent campaign. After all, there's a lot to do when you're running a business, and it can be easy to forget about that Facebook post you meant to write, or an update you intended to send.
Automation can be useful, but only when you use it correctly. You don't want to be blasting promotional offers out all day, as this could lose the respect of your customers. Try mixing automated posts with manual, carefully-written updates to give your social profiles that "human" feel.
After Your Campaign: How to Measure Success
As we mentioned above, social media marketing is a long-term strategy, like content marketing or using your email list to nurture new leads. This means that a successful social media strategy doesn't stop the moment you hit "post" on Facebook or Twitter.
Like most digital marketing initiatives, figuring out how to use social media to your advantage means understanding which of your posts are having the best impact on your audience. The only way you can do that is to set strategies in place that allow you to measure the engagement and interactions your customers have with your posts.
Constantly measuring the response that people have to your content will leave you with useful data that can inform your follow-up campaigns, or even give you insights into how you should interact with new users in the future. Here are a few ways to maximize the success of your social strategy, even after your campaign has ended.
1. Remember to Track and Measure Everything
When you first began planning your social media marketing campaign, you'll have established a couple of goals that you wanted to achieve by the time the program was over. Use those to figure out what kind of KPIs and metrics you should be looking at to gauge your success. For instance, if you wanted to encourage engagement on your social profiles, then you might need to measure things like likes, shares, and comments.
Remember, some of the metrics that you look at will be more telling than others. For instance, if you got plenty of likes, but not a lot of shares and comments, then this could mean that your followers are just "glancing" at your posts, instead of actively engaging with them.
Regardless of whether your campaign was a flop or a success, the data you analyze can help you to make changes for your future efforts. The more you're willing to constantly optimize and test your strategies, the less likely it is that you'll waste your marketing budget on ineffective techniques.
2. Broaden Your Network Strategically
Part of your social media marketing strategy might be to attract as many relevant followers to your profile and website as possible. However, it's worth remembering that you don't always have to wait around for people to follow you. Your brand can also be proactive about building the kind of audience you want, by following certain influencers, groups, and individuals strategically.
Browse through your chosen social channels to find people who frequently talk about topics related to your niche. There are tools out there that can help you do this more efficiently, but you can always try using keywords and twitter hashtags too. For instance, if you're in the digital marketing industry, try looking for #digitalmarketing or #onlinemarketing.
3. Maintain Passion and Dedication
Finally, remember that the best way to make a splash and improve your social strength is to dedicate your time, and passion into creating a strategy and a portfolio that really works for you. Achieving success on social media can be a long road, but it feels a lot smoother if you put your heart and soul into it.
Some companies suggest that the average social strategy takes around 8 months to come to fruition. Make sure that you don't spend that time posting content you don't care about. Follow your passions and have a little fun with your campaigns. This is the best way to help your personality shine through and generate a following that's invested in your company.
Mastering Social Media Marketing
Whether you're a small brand working on a budget or a huge enterprise with a large team at your disposal, it always pays to plan your digital marketing strategies in advance. A social media marketing campaign can be a wonderful way to give depth to your brand, highlighting the personality that you want customers to associate with your company.
Remember, regardless of whether you have your own social media profile or not, your customers and competing companies are already talking about your business. The best way to preserve your reputation and tap into the potential of the online buzz is to become a part of the conversation.
About the author:
Stewart Hodgson is the co-founder of Fabrik Brands, a brand strategy and digital design agency based in London, UK. He and his team have produced work for the likes of VISA, Macmillan, Aviva, Royal Albert Hall, Adidas, and more.