Updated May 2021
Looking for productivity tools to help you get more done in less time?
In this blog post, I'm going to share 10 of the best productivity tools that can help you better organize yourself and help you achieve better results for your business.
10 Productivity tools to consider for your business:
Slack
Asana
ZOKRI
Trello
Toggl
Blink
RescueTime
Sanebox
IFTTT
Zapier
Habitica
1.    Slack
Slack is an extremely useful tool for team communication. Where Skype and other tools can be quite un-reliable (especially Skype, in my case!) with Slack, you can not only communicate more efficiently with your team members, but you can better organize your communication by setting up different channels, including private channels for those more sensitive and private conversations.
You can also add and share all kinds of files with your team members and connect all of your different tools, such as Dropbox, Google Drive, Twitter and more, so that you don't have to switch between them every time you need to use one; plus, you also get your notifications directly on Slack, which makes it much easier to keep track of them!
Another bonus? There's also a native iOS and Android app that you can use when you're on the go.
The 10 best #productivity tools @SlackHQ via @lilachbullock
Click To Tweet
2.    Asana
Asana is another team collaboration tool, used for setting up tasks and projects and then tracking these projects' progress, as well as your team members' time.
You can also communicate with your team members, create and edit your team calendar and use their iOS and Android apps to keep on track while you're on the go.
The 10 best #productivity tools @Asana via @lilachbullock
Click To Tweet
3.  ZOKRI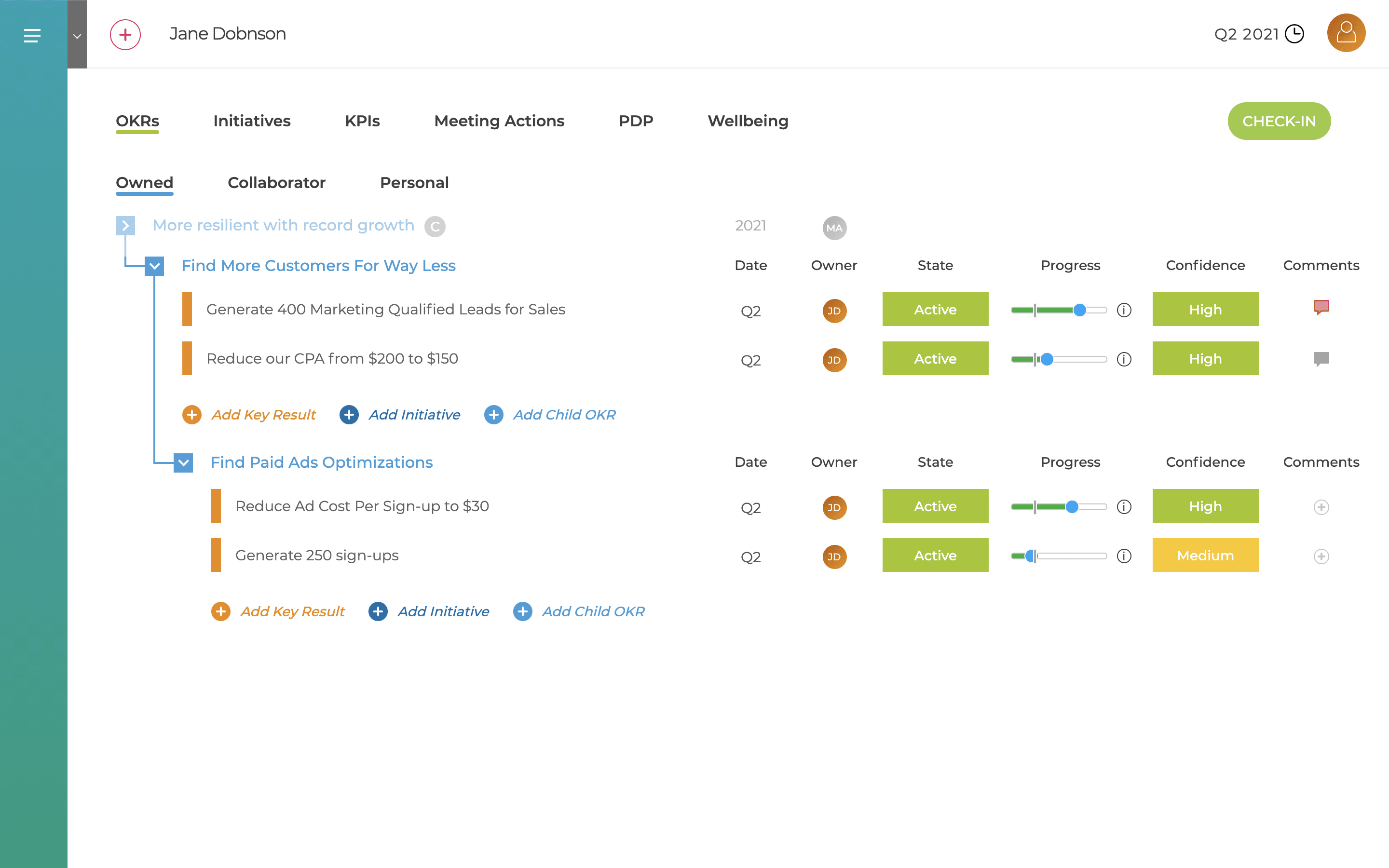 ZOKRI is goal setting software for companies that want to move away from goals created only by management and then stored in spreadsheets. The type of goals that aren't looked at by the teams doing the work. These don't work. High performing teams are trusted and empowered to discuss, propose and create Objectives and Key Results that align with company objectives, then deliver. This way of setting goals as evolved over 20 years and has been adopted by pretty much every start-up and fast growing tech company. ZOKRI has a free plan for SMBs and small teams with paid plans starting from just $5.
3.    Trello
I've tried out a lot of task management and tracking tools, but my favourite is probably Trello. It's a great tool for setting tasks and keeping track in a clean, organized matter: use boards, colour codes and due dates to organize your tasks, upload any file directly in Trello, create checklists for separate tasks and so on.
You can also use so-called 'power-ups' to integrate with different apps, such as Dropbox, Evernote, Google Drive, Salesforce and MailChimp.
Just like with the previous tools mentioned, there are also iOS and Android apps that you can use for your mobile devices + desktop apps (so you don't have to keep the Trello tab open to access your account).
The 10 best #productivity tools @Trello via @lilachbullock
Click To Tweet
4.    Toggl
Toggl is one of the top time-tracking tools that I've tried to date. It's very easy to use it, so it doesn't hinder your work, plus it has apps available for all different types of devices. There are desktop apps for Mac, Windows and Linux users, as well as for iPhone's and Android phones, so whatever device you might be working on, you can still track your work, easily.
The 10 best #productivity tools @Toggl via @lilachbullock
Click To Tweet
5.    Blink
Blink is a mobile-first employee engagement tool – think Slack, G-suit, and all tedious paper-based admin tasks (e.g. payslips, holiday requests, etc) packed into one powerful app. How do they do this? With some really helpful integrations including your favourite tools like Salesforce, O360 and Zapier as well as native micro-apps that let you create forms that meet your specific business needs and eliminate boring admin tasks. Best of all, your Blink provides a two-way channel for instant feedback through its chat function which means your staff will have the right information to always delight customers.
The 10 best #productivity tools via @lilachbullock
Click To Tweet
6.    SaneBox
The name of this tool is extremely appropriate – SaneBox can save your sanity by helping you organize and filter your emails better, so that you don't drown in hours-worth of emails every morning when you open up your email.
SaneBox has a lot of different, very useful features, the main one being its ability to accurately tell which emails matter to you and which don't, helping you to eliminate any unnecessary distractions. Other cool features include SaneSnooze, which allows you to defer emails for later, SaneNoReplies, which lets you quickly see all of your sent emails that didn't receive a reply, as well as SaneReminders, which, you've guessed it, lets you set up reminders.
The 10 best #productivity tools @SaneBox via @lilachbullock
Click To Tweet
7.    IFTTT
IFTTT (If this, then that) is a very impressive tool that basically lets you automatize some of your smaller tasks by connecting all of your different tools and apps (social networks, Dropbox, Google Drive and hundreds more!). The way it works is, you first need to meet a condition (if this) and then the tool will take the action you want it to (then that).
Browsing through IFTTT, you'll likely be surprised by the impressive amount of small and big things that you can automate and that can make a huge difference to your productivity. For example, you can make it so your phone automatically mutes when you get to work or that its Wi-Fi turns on once you get home (or turns off when you leave home, to save your battery). Or, whenever you receive an attachment on your email, the tool can automatically save it to your Dropbox or Google Drive. The possibilities seem endless, and I would recommend using Rescue Time when browsing through IFTTT or you might be lost there for hours!
If you want some help setting up your first IFTTT automations, check out my blog post where I list 20 super-useful IFTTT recipes, here.
The 10 best #productivity tools @IFTTT via @lilachbullock
Click To Tweet
8.    Zapier
Zapier is an incredibly powerful automation tool that can make a big difference to your overall productivity. The way it works is, you can connect all of your different apps, over 750 to be more exact (I think it's safe to say that most apps you could be using would be included) so that you can then automate tasks and save time. First, you set up a trigger, say for example when you receive a new email, and then the tool takes action for you, such as adding your attachment to Dropbox and alerting you about it in Slack.
All you need to do is spend a few hours setting up different automations, and then you can just sit back and enjoy all of the time you've managed to free for yourself.
The 10 best #productivity tools @Zapier via @lilachbullock
Click To Tweet
9. Habitica
Habitica is a very ingenious tool, that basically helps you turn your goals and tasks into a game. It's a tool designed to help you not only become more productive, but also to motivate you.
You can use it for all of your tasks and chores, not just the work-related ones, so that you can free up more time, get more done in less time and generally help you be less stressed and panicked about deadlines and the amount of work that needs done.
Every time you achieve your goals or deadlines, or on the contrary, you don't get them finished or even started, Habitica rewards you or 'punishes' you, similar to a game. It's definitely a much more fun way of making sure things get done!
The 10 best #productivity tools @Habitica via @lilachbullock
Click To Tweet
10.     Rescue Time
One of the biggest issues faced by entrepreneurs and small businesses is that there's never time to do everything that needs to be done. You might not even realise how much time you're losing on some of your daily tasks, or on different distractions and this is where Rescue Time comes in to help.
The way it works is, the tool runs into the background of your computer and tracks all of the time you spend using different apps and websites so that you can see exactly where your time is going every day.
As you identify where you're spending too much time, you can set alerts so that you know you're spending too much on a certain activity, and you can even block websites that are likely to distract you, so that you can be more productive.
The 10 best #productivity tools @RescueTime via @lilachbullock
Click To Tweet
Conclusion: what are your favourite productivity tools?
There we go, the 10 best productivity tools you should get right now! For entrepreneurs and small businesses, these tools can be life-savers and can make the difference between a good, productive day or a very stressful day that leaves you physically and emotionally drained.
What are some of your favourite productivity tools? Which apps and tools make the biggest difference to your overall productivity? Let me know in the comments section below, as I'm always on the lookout for awesome tools that make my life easier:)