The modern customer expects a speedy response whenever they have a question or an issue with a product or service. One of the best ways businesses can handle this is to use live chat software to make the experience run as smoothly as possible – as well as help you get more customers in the process. In this blog post, I'm going to review the top 10 live chat tools for your online business.
Top 10 live chat tools for your online business
1. Jumplead
Jumplead is a powerful online all-in-one sales and marketing software for inbound marketing automation – which includes marketing automation features, landing pages and forms, as well as live chat and messaging tools.
Their live chat feature works great for both one user, as well as for teams – you can see all chats and conversations in one inbox and you can assign conversations to particular members of your team:
Every time someone starts chatting with you, Jumplead will automatically create a contact record and you can rest assured that your conversations are all stored. Plus, you can also easily continue talking to your contacts via email.
One of the features I love most, though, is that they offer "visitor identification" – meaning, you can easily identify new, unknown visitors, as well as returning visitors that could turn out to be potential clients – if you jump in and chat with them at the right moment.
Top 10 live chat tools for your online business @jumpleadapp via @lilachbullock
Click To Tweet
2. LiveChat
LiveChat is a live chat tool that aims to help businesses grow; and with the multitude of features they have on offer, they can certainly help you do that.
With LiveChat, you can have a live chat window always ready to go on your website, so that your visitors and customers can easily and quickly ask you any questions. Or, you can always try to get people to talk to you; with this tool, you can gain a better look at who is browsing your website, in order to find the best way to approach them, with chat invitations. This is an extremely useful feature, as it can help you gain potential customers that would otherwise be lost.
You can set up automatic greetings, or personalized greetings for a better chance at closing the deal; other useful features include Facebook chat, robust ticketing features, detailed analytics and useful integrations with tools like Salesforce, Facebook and Google Analytics, among others.
Top 10 live chat tools for your online business @livechat via @lilachbullock
Click To Tweet
3. Freshdesk
Freshdesk offer a host of different useful business tools and software, including a live chat tool. Plus, they even offer a very good free plan for live chats.
With Freshdesk, you can add a live chat window to your website, which your visitors can easily access no matter the device they're using. You can set your chat availability ahead of time, for those times when you're not online – you can either choose to allow messages, or hide the window altogether.
You can also be more proactive, if you wish, and initiate a conversation with your visitors. Once your conversations are over, you can easily click a button and convert the conversation into a ticket that you can keep for later reference, as the tool offers unlimited chat history.
Furthermore, they also provide analytics, in order to help you improve your strategy.
Top 10 live chat tools for your online business @freshdesk via @lilachbullock
Click To Tweet
4. Chatra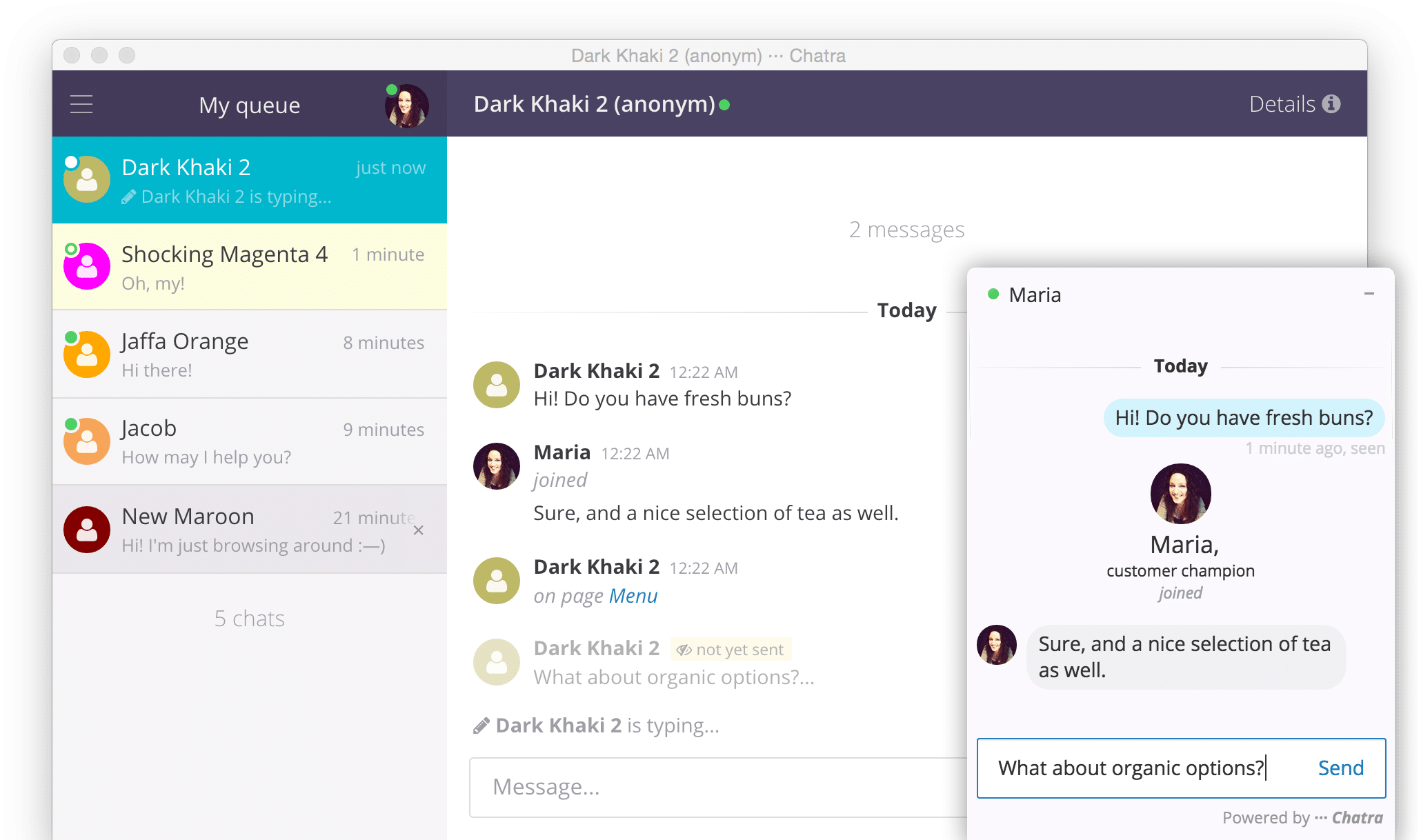 Chatra is another great option for live chat software; the way it works is very straightforward: you add live chat to your website, wait for your visitors to ask a question or, alternatively, initiate an automatic conversation with them, you answer their questions and then you gather one more happy customer to your list.
If you're not online to answer questions, Chatra will get their email and store it for you for later use – great for building a stronger email list.
As a plus, Chatra supports 6 different languages and several different devices – and if you want to continue a conversation you started on your browser, on to your iPhone, you can easily pick it off where you left it.
Top 10 live chat tools for your online business via @lilachbullock
Click To Tweet
5. Pure Chat
Pure Chat is a live chat tool built for businesses who want to improve sales and customer support, as well as for marketers who want to improve their engagement.
Whenever you're ready to chat, click on "available to chat" on your Pure Chat dashboard and you're signalling that you're ready to answer any questions from your visitors.
You can easily see transcripts of past conversations, tag and organise transcripts and contacts, as well as chat with other fellow chat operators.
Pure Chat have also recently introduced The Engagement Hub, which is basically a way to put all of your preferred communication forms in one place, easily accessible to visitors and visible on every page on your website:
Top 10 live chat tools for your online business @purechat via @lilachbullock
Click To Tweet
6. Smartsupp
Smartsupp is a free live chat solution for your website. Although free (there are some paid plans as well, much cheaper than most other options), this software has all the main tools you need to get started with live chat.
Set up the live chat window on your website and you will get a notification every time starts a conversation. Or, you can also set up automated messages, based on different triggers:
Smartsupp also lets you watch video recordings of the visitors on your website; basically, you will be able to see exactly what people are doing on your website, where they're moving their mouse and where they're clicking.
Top 10 live chat tools for your online business @smartsuppCOM via @lilachbullock
Click To Tweet
7. Live Person
Live Person is one of the pricier options on the market, when it comes to live chat software; but, it's also one of the best and most popular options, as one of the first software of its kind.
Although it's a great tool, and I couldn't not mention it here, the truth is, it's better suited to bigger brands, as evidenced by their client roaster, which includes brand like RBS, Microsoft and IBM.
With Live Person as your live chat, your visitors and customers will be able to reach you across multiple different channels, easily, such as a mobile app, by text or your website.
They also offer "smart agent routing" for automatically routing conversations to the best team member, as well as tools for gauging customer sentiment, and very robust reporting and analytics.
Top 10 live chat tools for your online business @liveperson via @lilachbullock
Click To Tweet
8. Userlike
Userlike is a live chat software solution for web and mobile, designed to help businesses offer better, more effective customer support.
You can easily customize Userlike chat windows to match the look and feel of your website and rest assured that it will also work beautifully on mobile phones.
You can also create different types of chats, such as proactive chats for when you want to automate and start a conversation, forward chats for when you need to pass it off to another team member, a survey form where you can be the one to ask the questions, or a register form for gathering email addresses:
Top 10 live chat tools for your online business @userlike via @lilachbullock
Click To Tweet
9. Zendesk Chat
Zendesk Chat is part of Zendesk's customer relationship products solutions, designed to create a better, more efficient customer experience, that would lead to improved sales.
Like the other live chat tools in this list Zendesk offer live chat windows where you can wait for the customer to wait for a question, or you can set up different triggers to automate the conversation.
The chat works on your website, in your app, as well as on mobile and you can easily handle all of your conversations from within the Zendesk dashboard. You can even handle multiple chats at a time and decrease wait time, as well as switch from chat to phone, email or social media messages.
Top 10 live chat tools for your online business @zendesk via @lilachbullock
Click To Tweet
10. Live Agent
Live Agent is a help desk and live chat software for improved customer service; like the other tools in this list, it offers a live chat window, as well as automated invitations.
All conversations you hold on live chat are saved as tickets, so you can always have them handy; plus, Live Agent will automatically sort your conversations in order of priority so you can see at a glance the conversations you should focus on first.
With Live Agent, you can also provide a 24/7 support portal, where you can answer anytime, anywhere, even when you're offline. The tool connects with Twitter and Facebook, as well, so you can listen and communicate with customers even if they are on a different channel.
Additionally, Live Agent lets you connect phone numbers, for those customers who prefer communicating this way.
Top 10 live chat tools for your online business @liveagent via @lilachbullock
Click To Tweet
Bonus tool: Zoho SalesIQ
As you might've noticed, I've recently added a live chat window to my website – courtesy of Zoho SalesIQ.
Zoho SalesIQ is primarily a live chat software, however, it also has some very useful extra features that are ultimately there to help you get the most out of your live chat – and generate as many leads as possible, as well as convert more into customers.
One of the standout features is that you can track your website visitors in real time – see when they started browsing your website, what pages they've viewed, what page they're on right then, and what actions they took; and if you identify any potential leads, you don't have to wait for them to contact you – in fact, you can easily start the conversation yourself and ask them if they need your assistance.
If you have a mobile app, you can also get Mobilisten – basically, an in-app live chat window. By using it, customers and leads will be able to easily ask you any questions they might have, without having to leave your app.
Top 10 live chat tools for your online business @zoho via @lilachbullock
Click To Tweet
Bonus tool: Kayako
Another good option, Kayako, is a help desk software with various useful features built for customer service, such as website chat support (or in other words, live chat!), a self-service portal, social media customer service integration with CRM software and numerous helpful integrations with different apps and tools.
In terms of the live chat software, it has several useful features worth noting, such as:
It works on mobile as well, plus you can add it to your iOS or Android app
Customers get automatic emails if they stepped away from the live chat window so you don't lose opportunities
Start conversations exactly where they were left off
Bonus tool: Acquire
Acquire is all about helping you offer real-time customer support:
You can respond faster by leveraging co-browsing and live chat together
Use intelligent bots to respond to common questions easily and quickly
Ability to reach out to users either via your website of via your mobile app
Conclusion: top live chat tools
When choosing the right live chat tool for your business, there are a few different things to consider; for one, there's the size of your team, as well as of your inquiries. Secondly, you'll need to find out what platforms your customers prefer using; if your audience is very active on social media, for example, it would be worth looking into a live chat software that connects with social platforms.
As for the best one in this list? It's very difficult to say; not only does it depend on your needs, but many of the tools offer very similar features. That said, I'm a big fan of Jumplead as it goes way beyond a live chat tool and can actually be used for all your inbound sales and marketing needs, removing the need for a plethora of different tools for a million different tasks.
Are you using live chat software on your website? What are your favourite tools? Let me know in your comments and please share 🙂