Most businessmen and women nowadays can't be at their computers 24/7, so their smartphones and tablets need to keep up with their needs. Without good apps that make working on your smartphone easier, I honestly don't know what I'd do – especially now that it's holiday season. So in this post, I'll be covering 10 of the top iPhone apps for business that make it so much easier to keep up with work on the go and improve your productivity.
Free
One of the biggest parts of being in a business of any kind, really, is a lot of conference calls. Go to Meeting not only allows you to hold conference calls with up to six people, but you can also use it to manage all your meetings and schedule more.
When in a conference call, you will also be able to see the presenters' screen. Go To Meeting integrates with most file sharing apps, so you too can present your own documents from the cloud.
Another cool feature (although only on iPads) is that you can brainstorm with the other callers with the on-screen whiteboard.
One of the top #iPhone apps for #business @gotomeeting via @lilachbullock
Click To Tweet
Google Sheets/Docs/Slides
Free
Although these are different apps, I thought I would just bundle them together as their purpose is quite similar: giving you access to your spreadsheets, word docs and presentations. You can use these apps to access your files easily from your phone or tablet, create new ones with just a tap, share them and save them for offline use. You can also edit your files at the same time as the other members of your team. So basically, you can do most of what you can do on your computers' browser.
£3.99
iScanner is a really useful tool as it turns your phone into a quick document scanner that you can use on the go. You can scan any document you want, and store it as a PDF or JPEG file, which you can then store in your phone, Dropbox, Google Drive, etc., share it with others or print it. The app also has a document editor, which allows you to cut, copy and paste, as well as add your signature, and a full-featured file manager that makes it very easy to sort out your scanned files.
The 10 top #iPhone apps for #business via @lilachbullock
Click To Tweet
Free, with in-app purchases
The Microsoft Office apps – Word, Excel, PowerPoint and so on – for iPhone have evolved a lot over the past few years. Not only are the apps intuitive and easy to use, but they also have more functions and tools. You can do most quick edits comfortably on the go with these apps, and they will look great on desktop as well when finished. You can also collaborate with your team on the same document, and your edits will be automatically synced with all of your other devices.
Free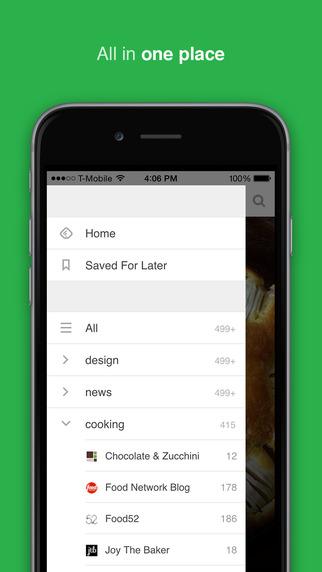 There's no better way to make sure you're up to date with all the latest news than with a content curation tool – and Feedly is one of the best. It's very easy to use and looks beautiful at the same time.
You can browse through categories to add sources, or add your own favourites, which you can then group into categories. Feedly can also be used to track keywords, brands and companies. It's also very easy to share whenever you like a post, via text, email and social media, as well as Buffer, Evernote, Zapier and IFTTT.
One of the 10 top #iPhone apps for #business @Feedly via @lilachbullock
Click To Tweet
Free
With Slack, you can easily communicate with your team, wherever you are. But the best parts are the other features: you can also share files with your team, easily search through archives, and it all syncs across all of your devices, and has notifications for phone, desktop and email. You can also integrate Slack with other apps, such as Dropbox, Google Drive, Twitter, Asana and much more.
£4.99
iTranslate Voice does exactly what it says on the box – it translates whatever you want to say in over 40 different languages. This is a really useful tool for those who do a lot of business with people from other countries. The app is very easy to use: all you have to do is speak into your phone, and you'll instantly be able to hear yourself speak in the language of your choice. You can then send the translations via text, email or social media.
You can also use iTranslate Voice's dictionary to look up common words and phrases by voice. They've also recently introduced a new feature, Phrasebook, which allows you to keep a list of different phrases in the languages you want, at hand.
One of the 10 top #iPhone apps for #business @iTranslateApp via @lilachbullock
Click To Tweet
£3.99
GoodReader is an iOS PDF reader that you can also use to manage your files and to make annotations. You can even use it to sign your PDF files with just 3 taps of your finger, and have it read the text to you with the text-to-speech feature. As I mentioned before, it also allows for annotations, such as making highlights, adding sticky notes, making drawings and more.
£3.99
The Outlook app for iOS is not very good, but Mail+ for Outlook works beautifully. You can use it to access both your Outlook Email and your calendar.
Use the app to also check your email, respond to them and send new ones and open PDF, XLS, DOC and JPG attachments.
Free
Nowadays, it's extremely important to make your passwords complicated, long and, to be honest, difficult to remember. And, of course, you shouldn't use the same password for any two accounts, which makes it almost impossible to remember all of your passwords and the corresponding accounts.
1Password allows you to save all of your passwords and credit card numbers in one place; you can only access the app with your Master Password. In terms of security features, 1Password automatically locks as you exit your device and the app is protected with AES 256-bit encryption.
One of the 10 top #iPhone apps for #business @1Password via @lilachbullock
Click To Tweet
Conclusion
I hope you've found some useful apps in this list. Please share if you liked it and let me know in your comments if you have any other suggestions for great apps that improve productivity and efficiency – would love to try some more!