(updated May 2021)
Are you using Facebook advertising to promote your business on social media? Want to find better ways of managing your Facebook ads? In this blog post, I'm going to share the 10 best Facebook Ad tools that will help improve your ROI.
Facebook advertising is getting increasingly popular, its usage growing year by year. The reason for this? Quite simply, it's because it's cheap, it's easy to control your budget, it's highly targeted and it gets results.
For example, Facebook can even have a lower CPA than Google search ads; one test found that even though it's 72% cheaper to gain a transaction from Google Search Ads than with Faacebook ads, when you also count boosted posts, Facebook's cost per acquisition actually turns out 24% cheaper than Google's. This is because the creativity of Facebook ads is slightly higher, as Facebook ads use videos more often. And in order to stand out from the competition, it's worthwhile to leverage social sharing sites to boost traffic. You can also use additional services, such as a video ad maker or tools for selecting trending music.
So, without further ado, here are the 10 best Facebook ad tools that will help you achieve better results from your ads and help you improve your ROI (in no particular order):
1. Facebook Ads tools from Facebook
It would make sense here to start with Facebook's own advertising tools and apps. Apart from the obvious Ads Manager, you can also use their smartphone app, the Facebook Ads Manager App to manage your ads on the go:
The app is available for both Android users and iPhone users and it lets you manage anything from budgets to your target audience.
If you're having to use Facebook Ads for multiple accounts, or you simply have to create a landing page and lot of ads, you also have the option of using the Facebook Ads Power Editor, which was designed to help those marketers who need to create and manage multiple ads at the same time. You can get the Facebook Ads Power Editor here.
10 #Facebook Ad Tools that Improve your #ROI via @lilachbullock
Click To Tweet
2. AdEspresso
AdEspresso by Hootsuite is a tool designed to help you easily optimise your Facebook Ads. First off, you can create extensive A/B Testing with thousands of different variants of your Ads, with just 3 clicks. They also provide strong Ads analytics, with customisable dashboards, so that you can focus on the metrics that matter the most.
As you start using AdEspresso for your Facebook Ads, the tool with use the results from your campaign to give you suggestions that will help reduce your PPC, so that you can improve your ads ROI by 43%.
10 #Facebook Ad Tools that Improve your #ROI @adespresso via @lilachbullock
Click To Tweet
3. Stiddle
Stiddle is a tool made to help you easily create and optimize your Facebook Ads and entire funnel. You can easily create and target your Facebook ad campaigns using Stiddle's AI-Targeting – over 50k+ AI-Audiences, design your ad graphics with their Canva integration, and create a landing page to collect your leads, all without leaving the platform. They also provide easy-to-understand analytics, with customizable dashboards and tons of metrics, so you know exactly how your campaigns perform. A very sought-after feature is the auto-budget allocation, allowing you to allocate budget to ads that are performing well and automatically stop the ones that aren't, with the quick toggle of a switch.
After running ads with Stiddle, you can see the exact CPA, ROI, and ROAS after collecting leads through their native landing page forms, e-scheduler integrations, or by using their native integration with Shopify and MailChimp.
Stiddle also has many great free resources, including marketing blogs, ebooks, and community marketing discussion groups.
10 #Facebook Ad Tools that Improve your #ROI @stiddleapp via @lilachbullock
Click To Tweet
4.    Qwaya
Qwaya is a professional advertising tool for both Facebook and Instagram. Another Facebook Marketing partner, Qwaya has all the tools you need to get started with and manage a successful Facebook advertising campaign.
For example, you can create A/B tests for both your ads, as well as your audience. You can also schedule your campaigns for certain times and days, set automation rules for your campaigns and create an ad rotation system.
Qwaya also offer tracking and reporting features, so you can add tracking URLs to your ads, and there is a Google Analytics integration for better reporting of goals achieved and the number of e-commerce transactions.
10 #Facebook Ad Tools that Improve your #ROI @qwayasocial via @lilachbullock
Click To Tweet
5.    AdStage
AdStage is an ads tool that allows you to optimise your AdWords, as well as your ads for Twitter, Facebook, Bing and LinkedIn.
It's an especially useful tool for those who run digital ads on multiple platforms and want to not only save time with managing and optimising, but also want to get better results from their advertising campaigns.
The tool offers powerful automation with rules, alerts, A/B testing and much more. You can also use their powerful management tools to edit in bulk and create ad variation testing across search and social.
10 #Facebook Ad Tools that Improve your #ROI @adstage via @lilachbullock
Click To Tweet
6.    Pagemodo
Pagemodo is a Facebook tool with all kinds of features, but here, we'll only focus on their Facebook ads capabilities.
You can use Pagemodo to design your ads, using their professional design tools, as well as their royalty-free images and selection of fonts and you can also use them for targeting your audience by different metrics. You also get detailed reporting and analysis so that you can see how your future Facebook Ads can be improved and optimised.
10 #Facebook Ad Tools that Improve your #ROI @pagemodo via @lilachbullock
Click To Tweet
7.    AdSpringr
AdSpringr is another Facebook Ads tool to help you manage the process from inception, with ad creation, to the end, with analysis and reporting. What's great about AdSpringr, though, is that you can also use it to automate a lot of your tasks and helps you save time with your ads set-up.
For example, you can automate the creation of your Facebook Ad Campaigns and create ad clones, and, when it comes to optimisation, you can also use their intelligent auto-bidding features.
With AdSpringr, you get all the features you need, from ad creation, to optimisation and target, as well as analysis and reporting.
10 #Facebook Ad Tools that Improve your #ROI @adspringr via @lilachbullock
Click To Tweet
8.    DriftRock
DriftRock is a Facebook Ads tool with an interesting approach. The tool has 4 main features: create, flow, trigger and lead response.
Create, as you can probably guess, is all about the Facebook ads creation – you can create an ad in less than 60 seconds, and you can also use DriftRock to create multi-product ads.
With Flow, you can start automating your Facebook custom audiences; basically, it uses your CRM tool or your database to sync your lists with Facebook, so that you can target the right people.
DriftRock can also be used to set triggers for your ads; namely, you can use signals like the weather, time or TV schedules to trigger your Facebook ads:
And finally, their lead response feature let you generate, manage and convert leads from both Twitter and Facebook. So, if you're using Facebook or Twitter lead cards, you can push your leads directly to your CRM system so that you can immediately get started on converting them.
10 #Facebook Ad Tools that Improve your #ROI @driftrock via @lilachbullock
Click To Tweet
9.    AdRoll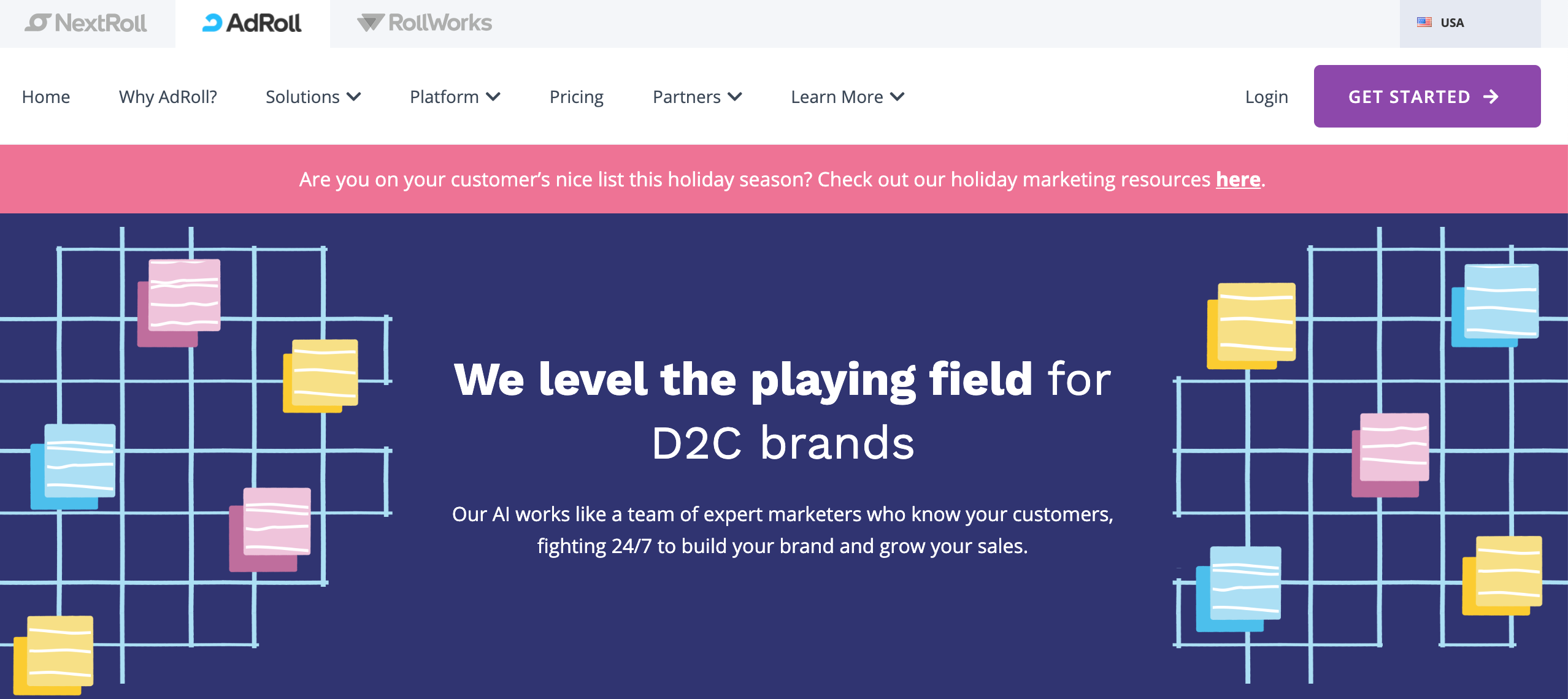 AdRoll is an advertising tool for Facebook, Instagram, Google, mobile apps and more.
The way it works is, AdRoll starts by analysing your website visitor behaviour to gain better insight into your target audience.
The tool will be better equipped then to target the right people and potential customers and with full-funnel advertising, you will be able to make more sales and conversions.
10 #Facebook Ad Tools that Improve your #ROI @adroll via @lilachbullock
Click To Tweet
10. Perfect Audience
Last, but not least, here's a tool dedicated to remarketing: Perfect Audience.
With this tool, you're basically targeting your Facebook Ads to those who left your website without converting or buying from you.
This way, you can bring back potentially lost customers and actually turn them into customers.
10 #Facebook Ad Tools that Improve your #ROI @perfectaudience via @lilachbullock
Click To Tweet
11. Agorapulse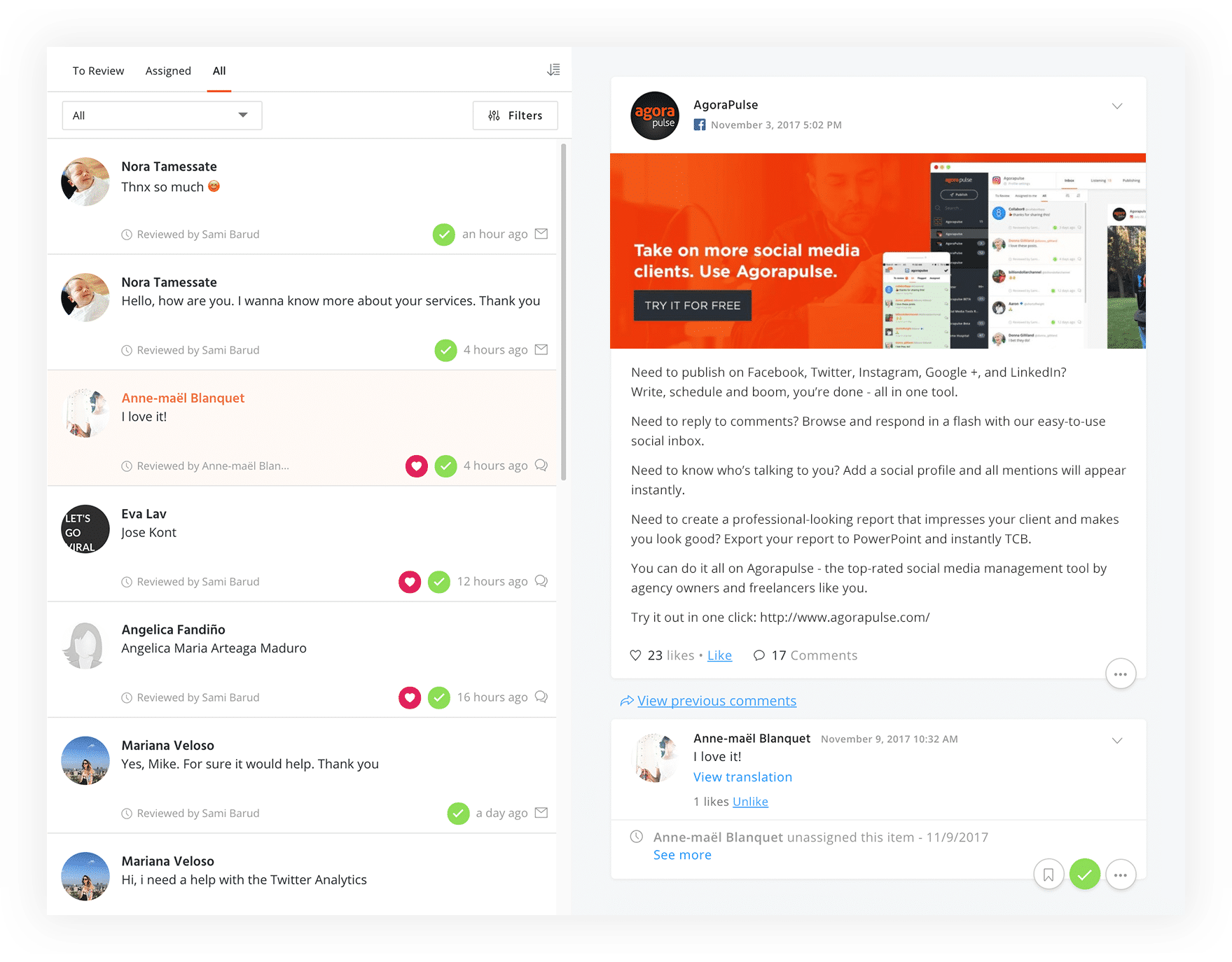 So, you've posted a new ad on Facebook. How do you manage the comments you receive?
That's where Agorapulse comes in – a social media management tool – to save the day with a bunch of very handy comment management features.
First of all, you can use it to make sure you never miss a comment and always respond in a timely manner.
Secondly, it's great at handling negative comments. Negative comments – snarky, troll comments, and so on – are, unfortunately, quite common on Facebook and pretty much any social network. Not only that, but you also might get some legitimate concerns from people. One of the really cool things that you can do with Agorapulse is that you can automatically hide (temporarily) comments that you're not ready to reply to, by setting up automation rules:
These comments will be hidden from your ad until you have the time to compose a reply.
Other useful features include team collaboration (you can easily add different members and assign comments to the right people on your team), a handy mobile app for iPhone and Android so you can manage your comments on the go, and if you use Instagram ads as well, you'll be happy to know you can use Agorapulse to manage those comments as well.
Plus, make sure to get their new tool dedicated to Facebook Ads, AdsReport; this free tool allows you to easily access your Facebook advertising analytics in an easy-to-understand, straightforward manner:
Bonus tool: Whatagraph
Reporting is vital – and ideally, you want to keep all of your campaigns' reporting in one place to make things as easy as possible for you.
And that's what Whatagraph does – this powerful tool will help connect all of your marketing data in one place so that you can track all of your campaign including, of course, your Facebook ads.
All you have to do is set up your data sources – anything you want to track, across different channels – using widgets and templates to create your reports.
The tool will then automatically pull all of the data you want and create your reports so that all you have to do is check and monitor your KPIs and metrics and adjust your strategies accordingly.
Plus, you can easily customize your reports so that you only focus on the metrics and KPIs that matter the most to you:
12 Wask
WASK
is an online software that enables you to easily manage all your digital ads accounts in a single platform. Users start to design, create, manage and optimize their Facebook, Instagram and Google ads immediately after connecting their ads accounts into WASK.
It has a AI-based target audience finder feature that gathers data from your website, your social media accounts and Facebook Pixel to give you the best target audiences. Other features are Autopilot, Scheduler, A/B Test, AI-based Targeting, Performance Comparison to optimize and automate the ads. These and many more features help users to increase ad efficiency, therefore, provide a better ROI in digital advertising. Also, it has a free design tool as a plus.
So, there we go – the 10 best Facebook Ad tools that will help improve your return on investment. In such a saturated market, we can use any help we can get; whether it's with optimising your ads for better results, or for helping you save time with bulk ad creation and edition, there's a tool for any and all needs.
Are you using Facebook advertising to promote your business? What are your favourite Facebook Ads tools? Let me know in your comments and please share:)