If you're using Google Analytics for your website, then you've probably heard of goals. These are personalized stats that you have to set up manually, and will help you see how well your website is doing – are your visitors going to the pages you want them to? Are they watching that ad video you just put up? In this post, I'll try to show you how to set up goals in Google Analytics, but first, let's go through what they are – and why you need them.
Step-by-step guide on How to Create Goals In Google Analytics via @lilachbullock
Click To Tweet
What are Google Analytics Goals, and how do they work?
Google Analytics goals are specific statistics that you want Google to gather for you, so you can see if your website is doing its job – mainly, converting visitors into customers.
There are four types of goals that you can set up in Google Analytics, and you can also set them up with a monetary value so you know exactly how much money your goals are bringing in:

Specific link/destination: know when people are visiting a particular page on your website
Duration/time spent: track all visits that last a specific amount of time or more
Number of pages visited per session: see when a visitor has viewed a specific number of pages in one session
Event: find out when one of your website visitors has done a specific action on your website, like viewing a particular video, or clicked on an ad.
Aside from these four types of Google Analytics goals that you can set up, there are also Smart Goals. These kinds of goals should be used by Adwords advertisers who aren't measuring their conversions, as Google will automatically evaluate any visits to your website and turn the best into Smart Goals, which can then be used to optimize your AdWords performance.
Step-by-step guide on How to Create Goals In Google Analytics via @lilachbullock
Click To Tweet
Why you need to set up goals in Google Analytics
Setting up goals in Google Analytics is not just extremely important – it is essential. By setting up goals, you keep track of what truly matters for your business.
With Google Analytics Goals, you'll know if your visitors are doing what you want them to do once they are on your website. With this information, you can then try to alter your website, whether it's the design or the wording, so that you can improve your results.
Simply looking at your basic stats, like page visits, or a few demographic stats will not help you that much with finding better ways to improve your traffic and conversions. But if you set up goals, you make sure you measure the exact stats that really matter to you and your business.
I've mentioned earlier how your goals can have monetary values – this means you're going to know exactly how well your website is doing, and if it's bringing in enough revenue, or you need to make some changes.

How to set up goals in Google Analytics
Now let's go through the process of setting up goals in Google Analytics:
Go to your Google Analytics main page
Click on the Admin button
Under the View column, click on Goals.
Click on +New Goal
Step-by-step guide on How to Create Goals In Google Analytics via @lilachbullock
Click To Tweet
Now, you can start setting up your first goal. First, choose between the different goal templates, and creating a custom goal: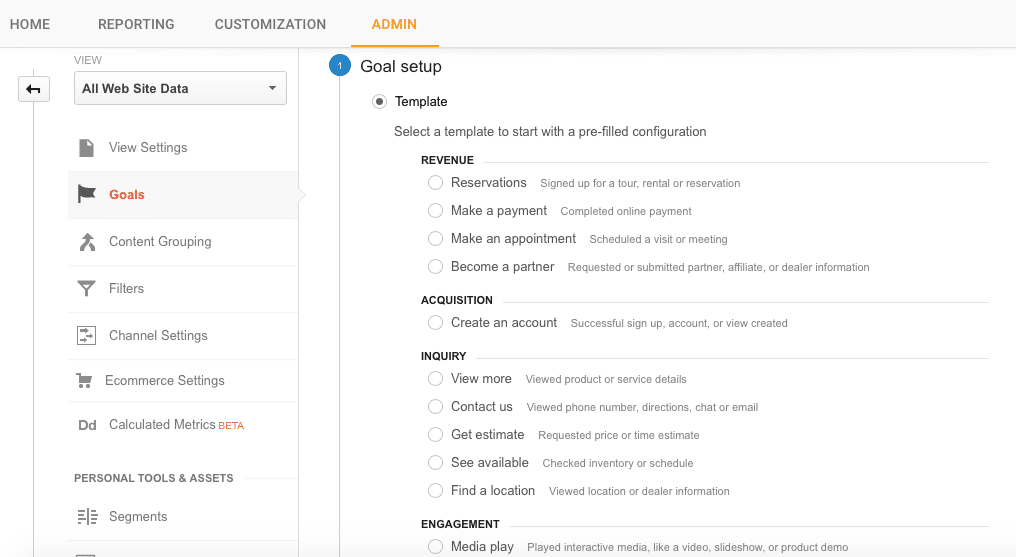 As you can see from above, there are plenty of great templates to choose from. If you want to create a custom template, that's also a possibility. And if you want to set up Smart Goals, this is where you select them, so long as your Google account meets the requirements.
The next step is the Goal Description. Here, you select which type of goal you want to set up of the four I mentioned earlier, and give it a name:
The third step is "Goal Details". Here, you set up the destination, and you have the option to set up a value for the goal, and a funnel, if you wish to.
If you've started to create a destination goal, then you'll notice you have three different options to choose from:

Let's go through each of the options:
Equals to: only the exact URL will count towards the goal when people visit it.
Begins with: any URL that begins with the URL you entered will count
Regular expression (Regex): this is the most complex of the three, but it will allow you to track very well targeted links. Regex however, has it's own "language", with a few symbols that you need to know in order to set up a regex. Also make sure your Regular Expression link doesn't match another links and goals.
When you're finished setting up your goal, you can click on Verify this Goal to see if it would have converted anything based on the data from the last 7 days.
Step-by-step guide on How to Create Goals In Google Analytics via @lilachbullock
Click To Tweet
Assigning a monetary value to your goals
If you set up your goals with a monetary value, it makes it much easier to see how well your website is doing, and how much money it's bringing in to your business.
Every time someone takes an action on your website, that action can be then converted into a monetary amount. Which is a pretty great feature in my opinion. How that monetary amount is calculated though, is up to you.
First, you can select the currency you want to use easily by going to View -> View Settings.
As you can see from the image below, you can enter the value you want for each goal in the third step of the goal-setting process, Goal Details. Simply set up your goal as normal, and when you get to the third step, click to select ON under Value, and then enter the number you want to assign as value:
The monetary value is completely up to you. Since you're setting up a goal, then it probably means you're trying to measure an action that usually brings you conversions.


If you're not sure what value to attribute to a goal, try this: figure out how many of the people getting to the goal you set up turn into customers. For example, what percentage of the people viewing your video is also going to buy something from you? Once you know that, think of an average transaction number – how much do most conversions spend on your business? Once you have these two numbers, you can calculate the percentage out of how much the average transaction on your website is – and then put that as your Google Analytics goal value. The more products you sell, the more difficult it will be to determine the value to enter. But if you can manage to determine an average, it will at least help give you a better, more tangible idea of how well your website is converting.
Step-by-step guide on How to Create Goals In Google Analytics via @lilachbullock
Click To Tweet
Goals Reporting
To see your goals reports, all you have to do is go to Reporting, click on Conversions and then Goals. From there you'll see all of the Goals reports available:
Conclusion
Are you using Google Analytics to track your website stats? And if so, are you using goals – and which types are the most effective for your business? Let me know in the comments section and please share this post if you've found it useful 🙂
Step-by-step guide on How to Create Goals In Google Analytics via @lilachbullock
Click To Tweet