Are you thinking of employing a content writer to help you manage your content marketing schedule? A good content marketing strategy implies long hours spent on content creation and promotion – so, by getting a content writer, you can save a lot of time, while also ensuring you are providing high-quality content. In this blog post, I'm going to show you what to look for when hiring a content writer.
Why get a content writer?
There's no denying the power of content marketing; currently, it's one of the most effective forms of digital marketing, helping businesses boost awareness and trust among their audiences, and even help them generate and nurture more leads and conversions.
That being said, it also means a lot of work; you need to plan and strategize, write and create amazing content on a regular basis, and you'll also need to spend hours at a time promoting it to get the best possible results from each piece of content.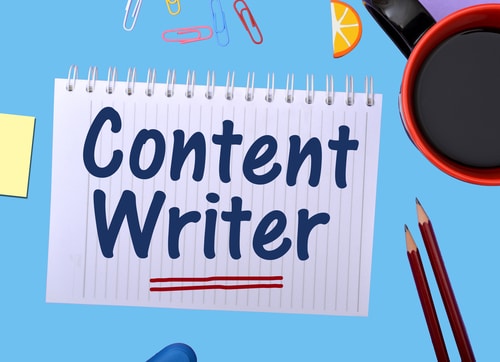 With a good content writer though, you could get amazing content, while also freeing up a lot of your time. And while sure, it is an extra cost that not every business can easily afford, when you think about it, all the hours you're freeing can be used to focus on nurturing leads and getting them to buy from you.
Another reason why you could benefit from getting a content writer is that they likely have a lot more experience writing the type of content that gets results – that is if you find a good writer!
So, if you're struggling to keep up with content creation, or you're not getting the results you'd hoped for, why not try getting a content writer to help?
Why should you get a #content writer? via @lilachbullock
Click To Tweet
Here's what to look out for:
Quality of writing: grammar and spelling
The first thing to look for in a content writer is their grasp on the language, namely grammar and spelling, as well as their usage of different terms. Someone could have great ideas, but if their writing is riddled with grammar and spelling mistakes or they seem to have forgotten the existence of punctuation, then they'll probably cause more harm than good, as you'll find yourself constantly having to edit their writing to ensure it's up to par.
Not to say that any little mistake means they should be disqualified (we all make the occasional typo!) but if they're constantly making basic grammar and spelling mistakes, it's best to look for a different writer.
Quality of writing: readability and flow
Even if a writer makes no spelling blunders, that doesn't mean they're good to go to the next evaluation step.
A good blog post needs to be easy to read and follow and it needs to capture the attention of its readers. After all, the writer could be saying all the right things, covering all the right subjects and issues, but if their article is difficult to read and to follow, it won't do you much good.
Blog posts should be an easy read, as most people don't exactly want to read a complex essay when they're clicking on a blog post link on Twitter. They want something that they can easily read on the go, while on their phone or tablet, something that will give them a quick answer to their question or something that will entertain them for a few minutes.
The writer's niche: can they write about YOUR niche?
You also need to check whether they can write about your specific niche. What is their knowledge and expertise of the subjects you usually cover? Are they familiar with industry terms? The common issues encountered in your niche?
Although many writers can be very versatile with the subjects they have to write about, you need to check and make sure that they actually know what they are talking about.
What to look for when hiring a #content writer via @lilachbullock
Click To Tweet
The writer's niche: what is their knowledge level?
If, like in my case, you want to provide a lot of educational, informative blog posts, such as guides and how-to's, you also need to check the writer's knowledge level.
Do they have a basic understanding? Or, can they write about expert subjects as well? You know who forms your audience, so you need to check that the writer knows more about a subject than your audience does.
Knowledge of your business
How much does the writer know about your business? Since they are going to write for your blog or website, they need to show that they've done their homework and are truly familiar with what your business is, what it is you sell, who are your main competitors, as well as what your business values are.
If they are able to demonstrate their knowledge of your business, this also shows that they have the enthusiasm and drive to create the kind of content that you are looking for.
Tone of voice: how versatile are they?
Every blog and generally, every piece of content that a business creates should be consistent with an established tone of voice. You can't change up your tone of voice and confuse your audience; this will usually do more harm than good.
Because you're writing for a particular audience, your content should be specifically geared towards them and remain consistent throughout. So, if you're looking to hire a content writer, you need to make sure that they can respect that tone and write in the same manner as all of your other content.
That's why you should ask them to give you a sample of their writing that was created specifically for you. Give them the subject and let them write it – you will be able to see if they can respect your overall tone of voice, as well as if they have the knowledge to write about your preferred topics.
What to look for when hiring a #content writer via @lilachbullock
Click To Tweet
Time is of the essence: how quickly can they write?
A good content marketing strategy implies a pretty strict schedule. You need to be consistent with the content you provide, not just in terms of its quality, subjects covered or tone of voice, but also in terms of how often you publish new content.
Can your writer deliver content in time? In some cases, you might also find yourself needing new content in hours – can the writer deliver if that is the case? Normally, it's best to have a clear schedule with planned blog posts and so on, but that doesn't mean you won't find yourself needing an un-planned piece of content overnight. If that is likely to be the case with you, you need to check that the writer is ready to deliver.
Conclusion: what to look for in a content writer
If you're thinking of hiring a content writer, ask them for plenty of examples of past writing to get an idea of how they write, how versatile they are in terms of tone of voice and subjects covered and what types of content they can create. If you feel like their tone of voice is quite different from yours, or that they can't demonstrate knowledge of the subjects you usually cover, it would also be a good idea to ask them for an article where they can show that they can mould it to your particular needs.
Before you get a content writer, do your homework instead of leaping for the first one you encounter. It'll save you a wealth of time and energy further down the line. Do your job right and then you can relax while they do theirs, safe in the knowledge that your blog is in safe hands.
For content that's highly readable, relevant and shareable, get in touch. I'll whisper this gently, but I might just be able to help☺