(Updated May 2021)
Social media marketing often involves a lot of repetitive daily tasks that consume a lot of your valuable time. Thankfully, there are lots of great social media marketing automation tools that can help you cut down on the time spent and even help you get better results for your marketing campaigns. In this blog post, I'm going to share the 10 best tools to help you automate social media posts – and save time and get more results for your business!
Here are the best tools to automate social media posts, in no particular order:
Agorapulse
ContentCal
NapoleonCat
IFTTT
PostPlanner
Buffer
SocialOomph
SocialFlow
Zapier
SocialPilot
Dlvr.it
11 best tools automate social media posts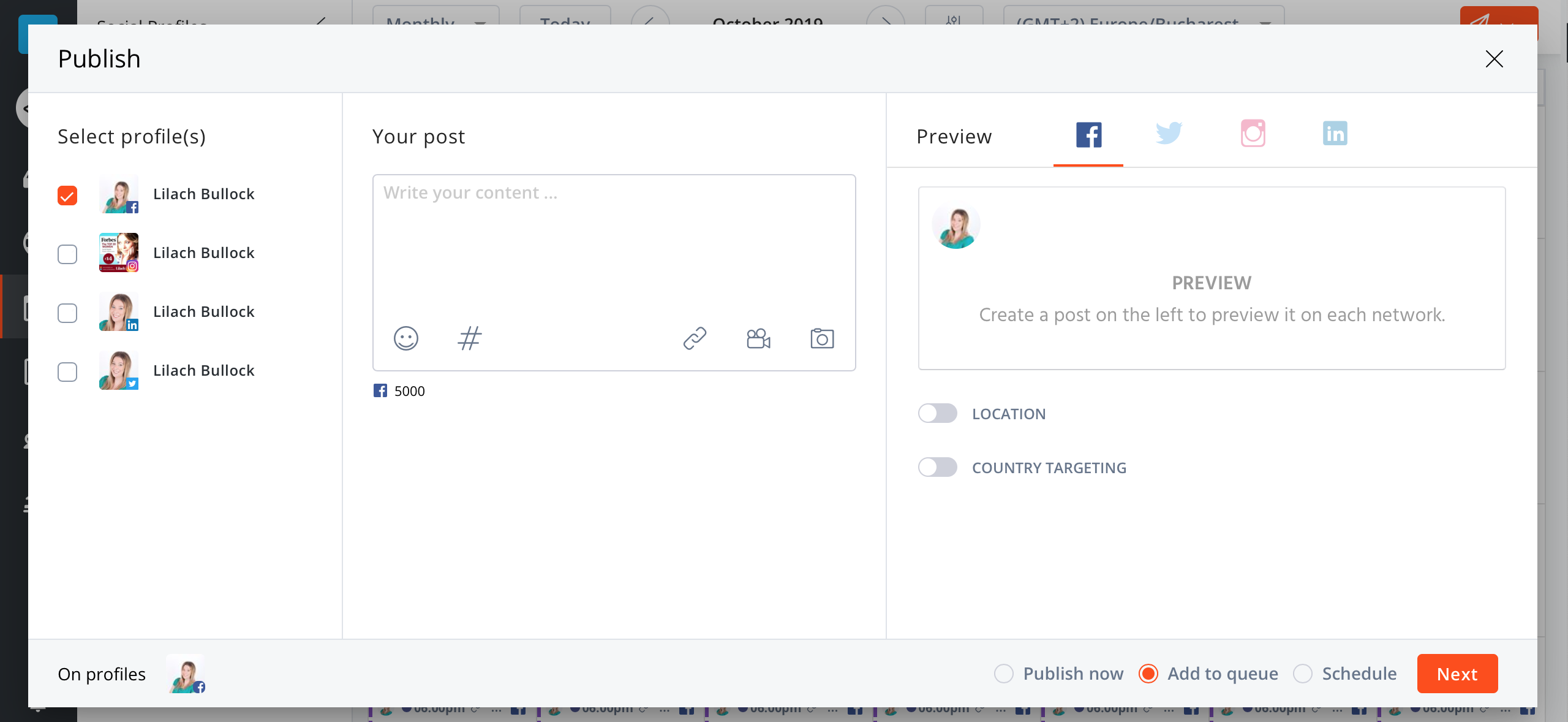 If you're looking for a tool that has social media automation features but also has the other tools needed for social media management, Agorapulse is a great option.
It's a social media management tool at heart, but it has some very nifty automation features. For example, if you set up monitoring searches, you can also set rules so that Agorapulse automatically tags, flags, assign or deletes any matching queries. You can also do this for any mentions you get in your social inbox, so as to make your job easier when you have lots of mentions to go through every day.
In terms of publishing, you can easily schedule content and organise it in an editorial calendar and it also has an evergreen feature, where you select the times you want your updates to go out, add the content to the queue, and the tool will automatically re-publish them on a regular basis. Plus, you can schedule updates in bulk to save even more time.
Agorapulse also automatically qualifies your followers, so that you can easily identify any brand ambassadors or influencers in your list.
Top 10 tools to automate your #socialmedia marketing @agorapulse via @lilachbullock
Click To Tweet
ContentCal is a powerful social media calendar and planning and scheduling tool. It's perfect for agencies or brands who want to effectively plan their social media with an easy-to-use tool and schedule their updates, all with one dashboard.
You can add multiple team members to your calendar and create clear workflows, with everyone having specific user permissions (so only certain people can actually decide which content to automate).
The calendar is highly intuitive and easy to organize; add any ideas you might have (and drag and drop them anywhere on the calendar), add images and videos (there's automatic video and image compression too), and organise and tag your updates.
You can, of course, schedule all of these updates and if there are any posts that you want to publish a number of times, they've also added a "repeat" feature to help you save time.
It's also worth noting that ContentCal has a few other time-saving features for social media marketing, such as saved hashtags and a built-in emoji picker. Oh, and in-depth analytics: find out which posts work best so you can then schedule them to be re-published numerous times.
Top 10 tools to automate your #socialmedia marketing @contentcal_io via @lilachbullock
Click To Tweet
3. NapoleonCat
NapoleonCat is your number one choice if you want to publish content across many social media profiles and platforms. Having the ability to upload images and create a caption just once and then only adjust your content to each platform will save you hours every week.
The scheduling tool from NapoleonCat works for Facebook, Instagram, LinkedIn, Twitter, and Google My Business. You can tailor your content to each platform by adding platform-specific elements such as location tags or external links. What's more, all your posts are organized into a color-coded, cross-platform content calendar that will help you assess where you're at with your strategy at a glance.
NapoleonCat offers social media automation for other aspects of your social media activity as well. You can automatically reply to your comments and messages using the Auto-moderation feature. It will help you deal with huge volumes of repetitive questions, but also you can use the feature to automatically delete spam from your comments section. Bonus! It also works on Facebook and Instagram ads!
But there's more – with NapoleonCat's reporting tool, you can stay on top of your social media progress by scheduling automated weekly and monthly reports that get sent via email. You can design custom reports showing key metrics for any Facebook or Instagram page, not only yours but also your competitors'. In this way, you'll get an overview of the whole industry, check the standard, and then set the standard.
IFTTT have numerous collections of so-called 'applets', all designed to make your life easier and in some cases, more fun. Since we're talking about social media automation though, I'll focus on those here.
There are 15 applets for social media that help you automate all kinds of tasks. For example, you can set it up so you save and share your Instagram photos across your other social media channels, automatically post tweets containing a certain hashtag to Facebook, share your new WordPress blog posts to your Facebook Page, sync your Instagram photos to a Pinterest board and much more.
What I love about IFTTT is that it's not only a very useful tool (quick tip: check their tools for business owners as well), but it's also quite fun to use. Discover more interesting IFTTT recipes in my blog post here.
Top 10 tools to automate your #socialmedia marketing @IFTTT via @lilachbullock
Click To Tweet
Years ago, Post Planner used to be a Facebook tool with few features. Now though, it's grown and evolved into a powerful social media tool, including great social media automation features.
You can use it to discover awesome content as well as to create content streams with your own content that the tool will automatically share for you. They have an algorithm that finds the best posting times, as well as automatically re-publishes your most popular content so you can make the most out of it.
What's great is that Post Planner will automatically share the best content from your niche as well, so you can become a top content curator.
Top 10 tools to automate your #socialmedia marketing @PostPlanner via @lilachbullock
Click To Tweet
Buffer helps you publish more and better content to your social profiles, automatically. You can add all of your content to their queue and then Buffer will automatically publish it at the best possible times, for maximum impact. It works with most major social networks, including Facebook, Twitter, Pinterest and LinkedIn, and you can also use their other tool, Pablo, to create beautiful images to include in your scheduled social media updates.
Top 10 tools to automate your #socialmedia marketing @buffer via @lilachbullock
Click To Tweet
SocialOomph has multiple automation features to help make your life easier. You can schedule blog posts, as well as set it up so your latest blog posts are automatically published. They also provide follow back and auto-DM features for Twitter users, so called "mimic follow" where you can follow the same people as other users and you can create automated social updates from RSS feeds.
That's not all they have, though – but it would probably take forever to go through their multitude of features.
Top 10 tools to automate your #socialmedia marketing @socialoomph via @lilachbullock
Click To Tweet
Social Flow helps you get more out of your social media publishing in a similar way to Buffer or PostPlanner, for example. All you do is add all of your content in a queue, set up any rules you want to set and Social Flow will make sure your content gets published at the best possible times so that you reach more people on Facebook, Twitter, Google+ and LinkedIn.
They also have a good social media advertising platform that I would recommend checking out if you're using social media ads to promote your business.
Top 10 tools to automate your #socialmedia marketing @socialflow via @lilachbullock
Click To Tweet
With Zapier, you can connect your different apps easily and use that to create automated workflows. It works similarly to email marketing automation – you select a trigger, then an action based on that trigger.
Zapier works with over 750 different apps, including popular social networks, Google apps, and much more.
Top 10 tools to automate your #socialmedia marketing @zapier via @lilachbullock
Click To Tweet
SocialPilot is a social media scheduling tool that allows you to connect up to 200 different social profiles from one account. Not to worry if you have hundreds of updates, as you can use bulk scheduling to upload them all in one go.
They also provide content suggestions for you to share, and there is a social media scheduling calendar where you can view all of your scheduled social media campaigns in one place. There's also a mobile app to use for when you're on the go and it works with multiple networks, including Twitter, Facebook, Pinterest, LinkedIn, Google+ and Instagram, among others.
Top 10 tools to automate your #socialmedia marketing @socialpilot_co via @lilachbullock
Click To Tweet
Dlvr.it has multiple useful social media automation features. You can auto-post your content to the top social networks by using RSS feeds and you can also create a queue and have dlvr.it automatically post your content at the best possible times.
Dlvr.it also provide a useful content curation tool; you can search for and categorize your favourite content sources so that you then automatically share awesome content that your audiences will love.
There are also some fine-tuning features for automation, for example you can choose to share based on author, tags or keywords.
Top 10 tools to automate your #socialmedia marketing @dlvrit via @lilachbullock
Click To Tweet
Conclusion
Social media marketing is much easier to deal with when you have a good tool to help you. Are you using social media automation? What are your favourite tools to automate your social media posts? Let me know your thoughts in the comments section and please share if you enjoyed the post:)