As a blogger, I'm always on the lookout for useful tools that will help me write better content – and now, I want to share some of my favourite discoveries with you. From tools that will help you make sure your blog posts are properly edited to apps for making sure your headlines work, there's a little something for every stage of the blog post creation process. Read on to discover the 5 tools that will help you write better content.
5 tools that will help you write better content
1. Grammarly
Most popular word processors don't have the best eye for errors; popular tools like Word only find some of your mistakes and they don't really get context to be able to spot many common errors. That's where Grammarly comes in – this useful tool can catch over 250 types of writing mistakes (with the paid version), such as grammatical errors, spelling errors and poor vocabulary.
Grammarly have a lot of extremely useful features that make the tool stand out; for one, it is very accurate at understanding the context of your phrases, so it can spot a lot of mistakes that would otherwise slip by. Plus, it actually tells you where you went wrong, so that you can learn from your mistakes and be better at avoiding them in the future:
Or: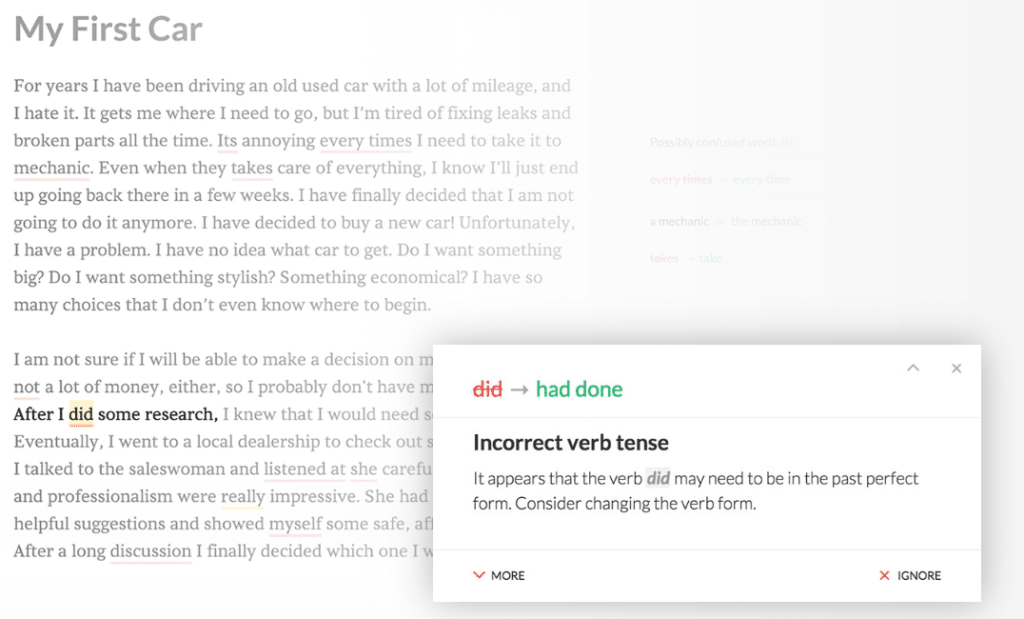 When you make any poor vocabulary decisions, Grammarly will also provide useful vocabulary suggestions with plenty of synonyms so that you can use the best possible wording:
Another big benefit of using Grammarly? It can be used wherever you're writing content: directly on your browser when you get the extension (Both for Safari and Chrome) so that you can correct any emails, social updates and anything else you might write online, as well as on your desktop, for anything you write offline.
The top 5 #tools that will help you write better #content @Grammarly via @lilachbullock
Click To Tweet
2. The Hemingway App
Hemingway, one of the most popular writers of all time, known for his succinct and powerful writing, served as inspiration for the popular content editor, the Hemingway App.
This tool is different from Grammarly, in the sense that, instead of checking your writing for any type of mistake, it helps you write content in the same vein as Hemingway: clear, bold content that gets to the point – and is easy to read.
As The New Yorker puts it, the Hemingway Editor will help you get back to the point whenever it looks like "vanity seems to be getting the better of things."
Obviously, the need for this tool will depend on the type of content you're writing. But, let's face it, more often than not, we're all sometimes thinking, "just get to the point already!" when reading some blog posts.
The tool will grade your text in terms of readability and it will also help make your text clearer and more powerful by highlighting uneccessary adverbs, any passive voice usage as well as any complicated, yet dull words. And, if you worry about formatting (or about having to use a different tool for that), Hemingway does offer basic formatting features, such a bold and italics, different headline types, quotes, bullets and numbers and linking.
The Hemingway Editor can be downloaded and used on your desktop whether you have Internet or not – plus, it even integrates with WordPress and Medium, so that you publish or draft a blog post directly from the editor.
The top 5 #tools that will help you write better #content @HemingwayApp via @lilachbullock
Click To Tweet
3. CoSchedule's Headline Analyzer
I've talked about headlines – and their importance – quite a few times on my blog. At the end of the day, if your headline is not good enough and it doesn't make people want to read your content, you're going to lose a lot of traffic and opportunities.
Writing powerful headlines that drive a lot of shares, clicks and traffic (and I'm not talking clickbait!), is somewhere between an art and a science. Thankfully for us, though, it tends to lean more towards a science – which is where tools like CoSchedule's Headline Analyzer come in.
Before using it to check your headline, scroll down the page to see CoSchedule's tips for writing powerful headlines – or, even better, check out my guide to writing better headlines here.
Next, it's time to check out how powerful your own headline is; simply enter the headline in the box provided, enter a few details when prompted and wait while they calculate your headlines' score:
As you can see, your headline gets a total score and then it goes into a deeper analysis of the words use: common and uncommon words used, emotional words and powerful words used (these are great as they attract peoples' attention and they get them to take action).
When you scroll down, you'll get a more in-depth analysis of your headline. For example, whether it's long enough (or too long):
Or whether you've picked the right word to start and end with, as people tend to read the first 3 and the last 3 words from a headline:
As a plus, the analyzer also evaluates the sentiment behind your headline, as well as the top, most relevant keywords in your headline – the ones you should focus on and use in your content as well.
The top 5 #tools that will help you write better #content @coschedule via @lilachbullok
Click To Tweet
4. Byword App (for Mac users)
There really is something to be said about simply taking a pen and paper and writing your content the "old school" way – no distractions, no emails notifications popping up while you write, no pings from a new message on Facebook…you can actually just write.
That's why I love the Byword app for Mac – it allows you to write your content in a full screen, dark on light (or the opposite, for when you're writing in a low light), with no distractions surrounding your word processor – it's no pen and paper, but it's much better than some of the other word processors I've tried.
Byword has all the main features you could look for in a word processor (spelling and grammar checking, editing features, formatting features and so on) and a few very useful extras: you can publish your content directly from within the app to WordPress, Medium, Tumblr, Blogger and Evernote and the app can be used on different devices, so that you can access your content from wherever you are.
The top 5 #tools that will help you write better #content @bywordapp via @lilachbullok
Click To Tweet
5. Readable
You might love what you write – and think it makes sense all the time – but that doesn't mean your readers will think so, too.
Readable attempts to help you figure out exactly how readable your content is. You can simply paste your content directly in the app, upload the document or provide the URL for the content you want to examine and the tool will get to work. Readable will then perform a host of readability tests (for e.g., the Flesch-Kincaid Grade Level, the Gunning-Fog Score and the SMOG index):
You'll also find out how long the reading and speaking times are, what the keyword density is like and what the sentiment behind your text is like.
Once you find out what your score is, you'll also get some help for improving it; the tool identifies any sentences that are too long, it highlights any passive voice, any long and difficult words, as well as the adverbs used. As a plus, it even tells you if you've used any clichés:
The top 5 #tools that will help you write better #content @readableio via @lilachbullok
Click To Tweet
Conclusion: 5 tools that will help you write better content
If you want to become more productive and most importantly, to write better, more engaging and more readable content, you're sure to find a useful tool in this list to help you. Writing great content on a regular basis, consistently, is no easy feat – so whenever I find a tool that can help me become a better writer, a better blogger, I just need to try it.
What are some of the tools you're using when creating content? Let me know in the comments section and please share:)