Follow Lilach
8 Common blogging mistakes to avoid
Wondering what blogging mistakes you're making that might be hindering your success?
I've been a blogger and worked with other bloggers for years now; over time, I've noticed a lot of the same mistakes being made over and over again by different blogs.
In this article, I'll be going through 8 of the most common blogging mistakes to avoid.
So if you're thinking about becoming a blogger, struggling to keep your blog afloat or have just recently started blogging, this is a post for you.
Before we go into each mistake individually, here's an overview of the 8 most common blogging mistakes:
Not knowing your audience
Not collecting emails
You're inconsistent
You're not optimizing for search engines
You're making it all about you
Your blog posts aren't readable/are badly structured
Your headlines are bad
Your blogs are poorly edited
1. Not knowing your audience
One of the most common mistakes bloggers make is that they don't know who their target audience is.
They will create content about everything and anything, with no regards towards what their readers (or potential readers) would want to read, see or hear.
Before you start writing, you have to have a clear image of who it is you want to target.
Afterwards, you need to research what your target audience wants to read about.
The trick here is that you need to strive to only provide value to your readers – which means you need to do some research before putting pen to paper. Or rather, finger to keyboard.
In other words, you need to:
Research your target audience
Create personas for each reader type (i.e. a short documented outlining their interests, needs, passions and so on); here's an example of a very basic audience persona document:
Research these audiences to understand what type of content they want to read, what formats they prefer, what pain points they have, etc.
Create content specifically for that audience
If you really want to get amazing results from your content, I recommend you check out my guide on the content creation process here – it clearly outlines all the steps you need to take to create amazing content.
[clickToTweet tweet="8 Common #blogging mistakes to avoid via @lilachbullock" quote="8 Common #blogging mistakes to avoid via @lilachbullock"]
2. Not collecting emails
Another common mistake that bloggers make is that they don't start gathering emails as soon as possible; or, that they simply aren't doing it right.
Email marketing, as much as some predicted its doom for years now, is still going strong.
It's a great way of building relationships with your readers, making more conversions and getting a dependable stream of traffic.
Many new blogs fail to add opt-in forms on their blogs from the beginning, which means they lose a lot of readers and repeat costumers.
Others do use email marketing, but they aren't using the right incentives in order to get the best possible results.
Here are some tips to help you get more out of your newsletters:
Advertise your newsletter throughout your blog/website so that it's very easy for readers to sign up
Create incentives based on your research: what questions does your audience have? What kinds of resources do they need? Offer a blog-wide resource that appeals to a large proportion of your audiences, such as a guide to getting more traffic or a handy checklist
Create in-blog downloads: for example, if you wrote an extensive guide about Facebook ads, you could also offer it as a PDF to be downloaded – in exchange, readers will sign up to your list. This is a very simple (and quick) tactic that can help you generate some great results
3. You're inconsistent
Many new bloggers start strong, but as time passes, they start to become inconsistent: not blogging often enough, not engaging with their readers, writing sub-par, filler articles just to publish something and so on.
Considering the number of bloggers and the content that bombards us every day, being inconsistent can be a fatal mistake as a blogger.
Your readers will forget about you quickly and you will lose all of the hard-earned traffic sources.
Before you start blogging, try to organise your tasks in a realistic way so that you always know what you have to do.
Create an editorial calendar – grab a template here to get you started – weeks or even months in advance. This also gives you time to properly research any content before you create it so that you can make the most out of every blog post you publish.
After publishing a new blog post, make sure you have enough time to properly promote it – generally, you should spend just as long promoting your content as you do creating it!
[clickToTweet tweet="8 Common #blogging mistakes to avoid via @lilachbullock" quote="8 Common #blogging mistakes to avoid via @lilachbullock"]
4. You're not optimizing for search engines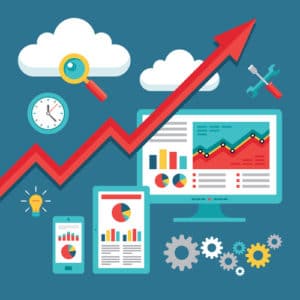 One of the biggest, most reliable traffic source is…Google. Or, well, search engines (so yeah…mostly Google).
But, if you're not researching keywords and keeping search engine optimization in mind when creating your blog posts, you're going to miss out on a lot of opportunities: organic traffic and website conversions.
However, you don't want to overdo it either.
Some bloggers will write solely for SEO: targeting specific keywords and sprinkling them everywhere they can.
But, if the content doesn't read well and if it doesn't offer value to the reader, it won't help you.
Writing a keyword-heavy article just for the sake of SEO will not get you a top spot for a good keyword. The competition is way too fierce, search engines are way too smart and there is way too much great content out there.
5. You're making it all about you
This is a bit of a difficult one; on one hand, injecting personal stories into your content is a great idea. Plus, many people follow certain blogs simply because they want to know more about the person writing that blog.
But at the same time, if you have a business blog or you offer some kind of service on the back of your blog, then making it all about you and your business or your products/services will almost certainly have a negative impact on your success.
For example, there are so many business blogs out there that only talk about themselves; they use the blog as some kind of press release service exclusively focusing on their business – why would anyone want to read that? There's almost no value for people to read those posts, particularly for someone who isn't familiar with your business.
Likewise, if you're constantly promoting yourself or your products/services in your content, it can put people off.
On the other hand, brands like Hubspot and Buffer are great examples of content marketing/blogging done right: while they certainly promote themselves, they only do it occasionally and when it makes sense.
And most importantly, they make sure that their content isn't all about them: the goal is clearly to provide value first.
6. Your blog posts aren't readable
The way you structure your blog posts can have a big impact on your blog's success.
If a blog post is well structured, it helps with search engine optimisation and it also makes it easier for your audience to read it.
If it's just a huge chunk of text with long sentences and paragraphs and no subtitles… well, most people will just stop reading.
Whenever you write a blog post, make sure you follow these tips:
Use sub-headlines throughout your blog
Write using short sentences and paragraphs
Break up your content with relevant images, GIFs, videos and other visual aids
Just these few simple tips can make a world of difference to your blog's readability.
7. Bad headlines
Titles are what attract readers to your content so they need to be catchy and they need to show why someone should click on that link and read your article.
One of the things I've noticed with new bloggers is that they either don't make it clear what the post is about, or they're trying too hard to be smart and/or funny – and it just doesn't work 99% of them.
Read here for a full guide on how to write awesome, eye-catching headlines. (you'll also find lots of headline templates you can use!).
Once you've got a headline idea, you can use a tool like CoSchedule's Headline Analyzer to see if it's good enough:
[clickToTweet tweet="8 Common #blogging mistakes to avoid via @lilachbullock" quote="8 Common #blogging mistakes to avoid via @lilachbullock"]
8. Your blogs are poorly edited
This might sound like it's obvious – but if you spend enough time reading blogs, you'll notice it's a prevalent issue.
With many blogs, new and old, you can tell that they haven't been edited at all – in fact, they look like they were published immediately after being written.
Badly edited blog posts, with grammar issues, run-on sentences, unnecessary words and such, make for bad reading experiences and they also communicate that you don't pay enough attention to detail which can be very damaging for a business blog.
Just use a tool like Grammarly to help; it will highlight your errors and tell you exactly how to fix them.
Conclusion
Everyone makes mistakes, and bloggers are definitely not excluded from that list.
And many of these mistakes are very common – and oftentimes, very easy to correct.
What do you think are the biggest and most common mistakes a blogger could make? What are some of the mistakes you've made as a blogger over the years?

Follow Lilach