Follow Lilach
What is a content marketing funnel and how to create content for each stage of the funnel
With every year that passes, marketing in general and content marketing funnels, in particular, are evolving along with technology and the digital world. And it can sometimes feel like nothing is working as it should be – you create all of this amazing content, but it's not getting you the results you want.
A big reason behind this is the fact that you're not creating content for each stage of the content marketing funnel.
There will always be new challenges laying in store for marketers. They will never stop struggling with all sorts of dilemmas. However, the main problems that marketers have to face every year are:
Delivering the perfect content to engage the target audience
Converting website visitors into leads more efficiently
Increasing marketing ROI
Decreasing the allocated budget
Meeting the customers' expectations all the time
Keeping brand consistency
Let's cut to the chase and say that every content marketing strategy has to be personalized for each type of business to work perfectly at the end. So, each stage of the content marketing funnel has to have its personalized marketing strategy to be efficient.
In this guide, you will find out about all the basic elements of a content marketing funnel, catch up with the latest trends in content marketing, and see all the types of content that can be used for each stage of the funnel and how to use them.
What is a content marketing funnel?
We all know that a funnel is, at its basis, a tube that has a wide opening at the top and gets narrower at the bottom. This term is also used in a marketing process to describe the path followed by a person from a stranger to a loyal customer.
Actually, marketing funnels were developed to set up a more systematic approach that can direct potential customers straight into your company's container. The main idea is that, in the end, every new customer should turn into a longtime client for your company, and eventually an ambassador that spreads the word.
Unfortunately, not all prospects remain loyal to your brand, so you'll lose some customers along the way. This explains why the funnel gets narrower at the end.
Besides, a content marketing funnel is an online marketing strategy that allows you to create different content styles for consumers at various stages of the consumer lifecycle. This helps you to monitor the popularity of the brand and to use specially designed content to attract and transform visitors into customers and keep them.
Here comes the most interesting part. The relationship between content as the base of a content marketing strategy and the marketing funnel.
Why do you need to create content for each stage of the content marketing funnel?
There are still some issues that need to be solved about the types of content that could be effective and how to use them. Some marketers still have difficulties figuring things out. Each piece of content has to be perfect for certain clients in a specific moment in time.
If you don't fully understand your audience, there will be gaps between your company and your potential customers. It usually means you're offering content that has nothing to do with your readers and you'll lose them. This can be one of the common mistakes marketers make when it comes to developing that exact perfect content.
Every stage of a content marketing funnel has a purpose. In this case, you have to create specific content that relates to each of them. You have to remember that your content marketing funnel can be unique, so different than other businesses' funnels. It depends mostly on the market you are activating in, your business type, the products or services you are selling, your company's size, and, of course, your audience.
Perhaps you have heard of content that generates demands and nurtures leads, but the actual function of your content should be applied to all your sales funnel's stages. The fact is that your content marketing strategies should be optimized for retention and conversions for this whole process to work.
Conversions can only be increased if your content is accurate and precisely developed. Customers won't even read a text if it seems unlikely to offer them useful information. The headline and the first few sentences are enough for a person to realize if that is the right place to be. So, stay focused on the needs of the clients that enter your content marketing funnel because they might never reach the bottom.
So far so good. Now let's drive through the types of content and how can they be paired with the marketing funnel's stages:
How to create content for each funnel stage?
Let's have a look over the main stages of the content marketing funnel, shall we?
The marketing funnel can be divided into these three stages, with no connection to food:
TOFU or Top of the funnel – includes the methods used to raise public awareness.
MOFU or Middle of the funnel – contains the techniques used for leads generation.
BOFU or Bottom of the funnel – consists of the measures taken to generate customers and maintain their level of satisfaction.
In addition, comes AIDA, an acronym that stands for the four phases of a client's evolution, from awareness to direct action, in which your company should invest its marketing resources:
Awareness – attracting the target audience, for example, generating relevant website visitors with a business blog
Interest – generating new leads through content downloads or live chats.
Desire – offering each prospect a good reason to stay by your side through demos, free trials or something relevant to your target audience. In return, you will receive signups.
Action – convince people to turn into customers
The content marketing funnel consists of:
Awareness – people find out more about your company and establish their needs
Consideration – this stage is all about providing a viable solution for that person's problems
Decision – at this point, you have got a new client
Satisfied clients – keeping your clients satisfied has to be a top priority for you because they will remain your clients in the future, too
Spreading the word – happy customers will always tell their relatives or friends about your company and how satisfied they are of your products or services
Now, let's go through each stage of the content marketing funnel and the content you need to create in order to generate more leads and sales for your business:
Awareness (TOFU)
This stage is crucial because the client becomes aware that your company exists. You are striving to generate brand awareness and make your company visible for potential leads. The content used for this part of the process has to be engaging and trustworthy because possible clients will analyze it to see if it fits their needs.
In addition, you shouldn't offer everything on the plate just yet. Let your clients discover you, make them want to know more about what you do or represent. Draw them slowly to the next stage of the funnel.
At this point, you should also consider creating social media accounts and start posting and sharing fascinating information daily. Keep in mind that tons of people can see your content and get in touch with you every day through this type of platform.
Here are the types of content that can be created at this stage:
Blog posts – they are a great opportunity to generate brand awareness. In this way, you can offer the exact information that your client is searching for and, at the same time, attract possible leads. Take, for example, this blog post from HubSpot. Besides the reliable information, they are also providing a free tool to connect with their readers.
Webinars – a webinar contains valuable information about your brand and subjects might that matter to your possible clients. It is a good choice to start building your brand.
Guides – this type of content will always be a great source of knowledge, which makes it a very powerful tool – your audience gets a lot of value out of them. Guides are also practical instruments that help consumers better understand specific terms and processes like the one from this example: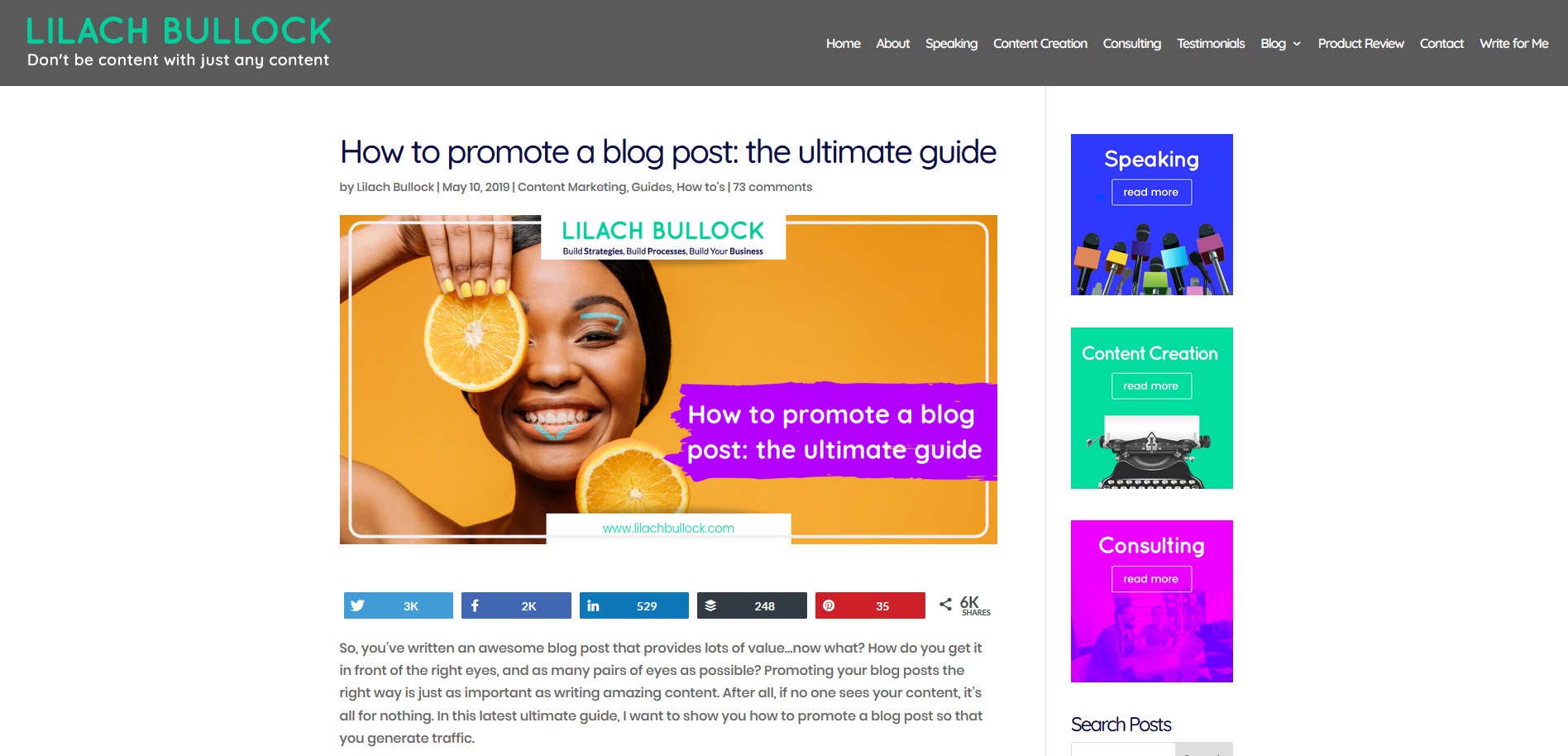 Videos – you can choose to engage your audience through videos. At this stage, you can make use of social media videos with fun stuff. Make your clients want to watch more every time.
Guest posts – guest posts are a great way to reach out to your target audience. If can post an amazing article on a well-known industry blog with tons of visitors, you're increasing your chances of being seen by your target audience. Plus, by contributing to top blogs in your industry, it will also help grow your influence in your niche. For example, I like to contribute to my favorite digital marketing websites. This is one of my guest posts I did for the Content Marketing Institute:
eBooks – eBooks are a great way to offer valuable information and generate brand awareness.
Infographics – Reading them is a lot faster and easier, not to mention the fact that they can be shared anywhere in a jiffy. Great infographics will travel around the world in no time.
Quizzes – this form of content is interactive by nature. Quizzes make a person take action to complete them and can also generate brand awareness at the same time.
How-to content – most people rely on how-to articles when they want to get something done, but they don't know how. The step-by-step instructions have to be easy to understand and Show readers/viewers exactly what they need to do in order to achieve the results they want. Here is an example of one of my how-to articles:
Social media posts – the least, but not the last. Social media posts are quite important for the first stage of a content marketing funnel. They make your brand visible in an online environment where tons of people search for different things.
As you might've noticed going through this list, the awareness stage is mostly about providing value to your audience – giving them something they want/need in the format they prefer, in order to build brand awareness and show your audience that you know your stuff (and therefore, work on their trust!).
To better understand this stage, you can have a look at these examples:
In this first example, Farmers Insurance has chosen to create the 15 Seconds of Smart campaign including 15 videos of 15 seconds each with insurance opportunities for their customers. These videos were entertaining, educational and shareable at the same time.
As a second example, I have chosen an interesting ebook about Cybersecurity offered by Microsoft on their landing page. They got it right from the beginning with a perfect headline and the word "free" placed strategically under it so it stands out.
Consideration (MOFU)
This stage is all about showing your products and services to your target audience. At this point, you can start placing your merchandise under the spotlight and convince them you are the best choice on the market.
This is the moment when you can start addressing your leads directly and showcase all the possible ways in which your business can come up with solutions for their needs. The content you create here has to bring to life everything your company stands for.
The types of content you can rely on at this content marketing funnel stage are:
Case studies – these research reports contain valuable information about a problem, its solution, and the final results. They refer to the reason and the way your company has helped one of your clients and because of that, they're an amazing tool for showing potential clients what you can do for them
White papers – white papers are an elevated form of guides. They are a long-form type of content that offers researched statistics, documented facts, particular information about a specific subject, quotes, and citations. A well-researched white paper can help you gain your clients' trust. Here is an example of a white paper template I consider interesting:
Webinars – in comparison with the webinars from the TOFU stage, these should contain more information about your products or services and other valuable knowledge to attract an audience.
Videos – showcase your products and services through demo videos. Make people understand that you can provide them the most reliable offer on the market. Create engaging videos and reach out to your target audience. Keep in mind that people love to watch videos more than reading an article, so make this count. This video example shows that video content is highly appreciated by the audience:
How-to content – this time, you should show the customers that you can manage to do the task for them. Some people may consider that too much work is more than they can handle, so if you make them see you can solve their problem, you will only have to gain.
Testimonials – this type of content can transform you into a trustworthy company. If your previous clients leave you positive comments, then you are officially in the business.
In-depth blog posts – conduct keyword research and make a list. Use the most relevant keywords to your industry and create an amazing blog post that shows you can handle your clients' needs.
Checklists – creating an organized checklist can offer the answers your clients were looking for. Imagine yourself in their position and think of what you would do to solve that issue. Here is an example of a checklist I have created:
Ebooks – they can also represent a great way to generate leads at this point. An attractive ebook with lots of important information might respond to a more complex problem.
Guides – this type of content can help you show your deepest knowledge in your industry. With a step-by-step set of instructions, you can manage to offer an interesting solution for a client's problem.
Templates – most people want to simplify their work as much as they can. This is why they are always looking for the fastest solution to finish the job. Sometimes, a template is exactly the thing you need to make your possible customers engage. Take for example my content marketing calendar template.
Microblog – most companies are usually choosing to implement their blogs directly into their websites. Sometimes, the best solution to reach your target audience is to create a microblog on another blog platform like Medium or Reddit.
Slideshows – this type of shareable content can be effective in some situations like when you need to illustrate complex topics or processes.
This example will help you better understand the MOFU stage:
Zendesk is offering a live product demo to describe its product family. They are also offering answers to any question the client might have about their company.
Coming up to the final stage:
Decision (BOFU)
This is the actual battle, the one where you struggle to convince potential buyers to choose you over all the others in the industry. They have to make a final decision and it's up to you whether you manage to influence them or not.
Here you can use a direct pitch to gain their attention but without aggressive content.
At this point, clients already know what their needs are and how they can solve their issues, but they have to choose a specific product. It is very important to offer your target audience a direct path to your business, without hitting them too hard with too much information.
These types of content are ideal for this stage of the content marketing funnel:
Free trials – free trials will generate leads in no time. If a customer wants to see for himself how your service works, you can provide this opportunity through a free trial that lasts several days. In the end, a happy customer will pay for a full subscription, just because he received something free from the start.
Demos – demos are important here as well because they show how your product or service works and the way they can solve the clients' problems. People like to know what they are buying before they pay the price. There are 50-50 percent chances a purchase will actually be made, but you have to risk before gaining something.
Testimonials – to convince a customer that your company is reliable, you have to offer at least a few testimonials from previous customers.
Reviews – feedback is very important in any type of business. You can find out if something is wrong with your services or if everything is ok and your customers are happy. On the other hand, you can motivate new customers to purchase your products.
Webinars – webinars showcase your performance as a company. The fact that they are live has sometimes a great impact on the target audience. They get to see the way you talk, how you describe things, and what you have to say about that specific subject. Keep it short, compiling everything in a maximum of 5 minutes or host a longer webinar of 20 to 30 minutes or more, but stay on the subject.
Case studies – a great case study can convince possible customers to engage in no time, as case studies are about other clients with success stories to tell about your company. The solution provided in this type of content might be helpful for more than one potential buyer.
Coupons – this is an interesting way to attract visitors and convert them. Coupons will always be appreciated by anyone because they represent discounts or free stuff.
Videos – most of the time, videos are fun to make. Customers enjoy them because they can see interesting content and not read it. You can take advantage of this type of content to convince those customers to purchase your products because they do this and that, as seen in the video. Everyone gains in the end.
Here is an awesome example of content for the BOFU stage:
The Free Forever pricing plan from Zapier is a great demo for possible buyers. This package has limited features, but it is a clever way to promote your products.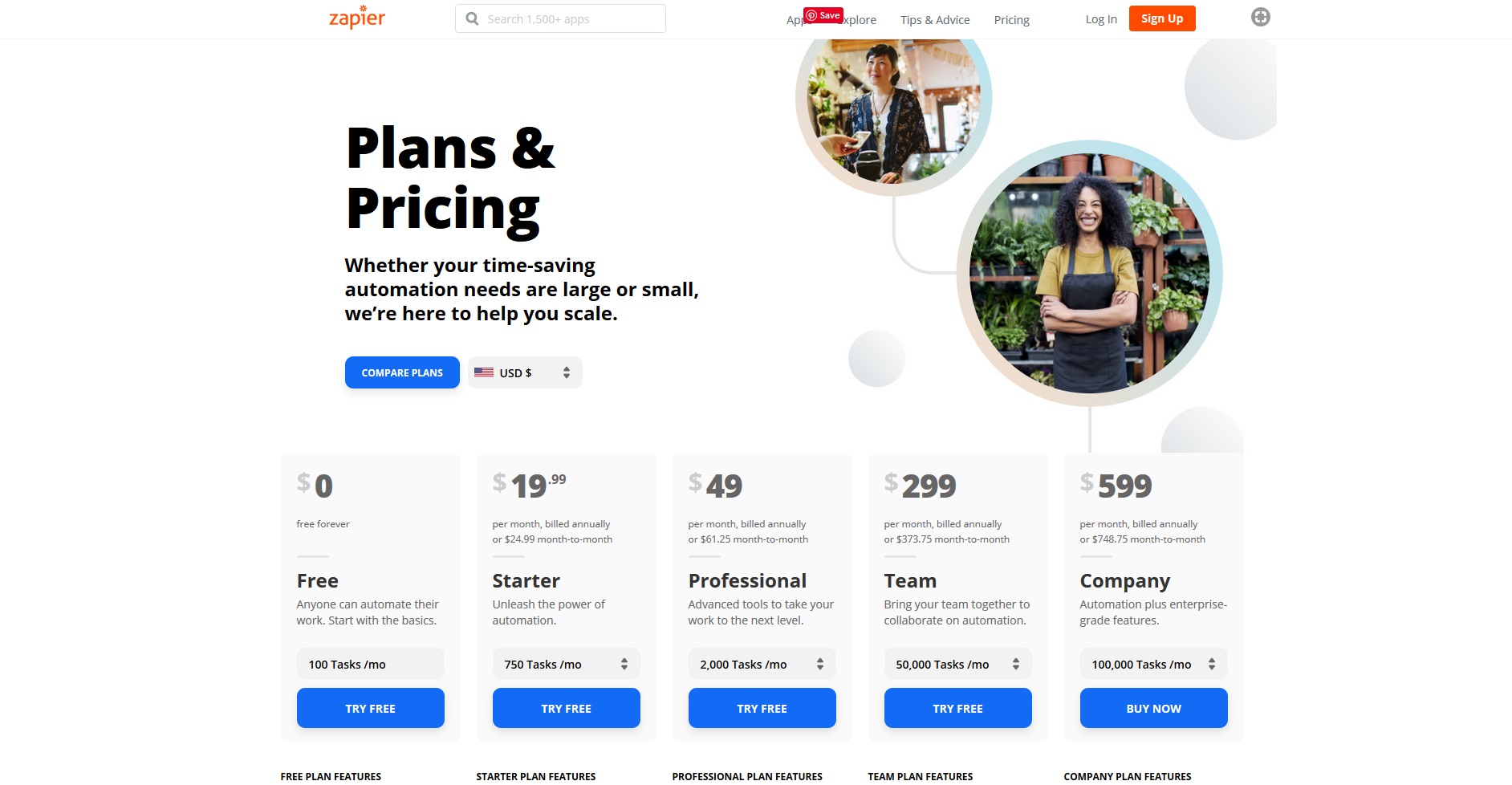 Hubspot has chosen to use case studies to reach out to as many customers as they can. This content offer includes a great number of case studies available for any customer.
BEFU
Did you think this was all? Well, guess again. We've got another stage to go through.
Once you have gained new leads, you also have to keep them and transform them into ambassadors that tell your story further.
This stage is sometimes called BEFU or Beyond the funnel. Retention is also an important process because once you have loyal customers, they can write referrals and testimonials while making new purchases.
You still have to deliver amazing content to keep the image of your brand vivid in the minds of your customers.
Here are some types of content marketing that you need to focus on further:
Specific email newsletters based on your customer needs – you have already figured out what your clients desire most, so you can keep them close to your brand with newsletters with specific content.
Special offers or upgrades on new products – once you have launched a new product or you have an upgrade on the table, you should create special offers for your existent clients.
Tips and insider's guides for your existent products or services – release new tips and guides for your products and services and make them available for your clients. New content is always appreciated.
Contests – organize contests with prizes to offer your clients an opportunity to win free stuff.
Videos – create storytelling videos to highlight positive messages from particular clients or some of their specific activities.
Conclusion
Creating content is not an easy task, especially if you have to deal with all three content marketing funnel stages in a short period. First of all, you have to think of your target audience and serve them tiny pieces of your company, but not everything from the beginning. Then comes the part where you describe your business and state what you are offering to solve the possible clients' issues. In the end, you have to convince them to convert and buy your products. Finally, keeping your clients is the key to a successful content marketing funnel.
[box type="download"] Do you want your content to convert? Contact us here to see how we can help you develop content that gets results.
Don't be content with just any content.
[/box]

Follow Lilach