Follow Lilach
How to develop a content marketing strategy: an ultimate guide
Want to start a content marketing strategy from scratch?
Creating a great content marketing strategy can help a brand achieve awareness in its industry, boost sales, bring more traffic to the website, target the right audience, and earn thought leadership.
This ultimate guide will lead you through all the information you need to know about a content marketing strategy and help you create one:
What is a content marketing strategy?
Nowadays, most companies plan content marketing strategies to boost their sales and online traffic. It is one of the best practices taken into consideration in the marketing field. Before wondering how to start your strategy, you have to better understand what it is about.
Some marketers consider content marketing strategy as being part of the larger process called content strategy. Part of this is true because a content strategy consists of developing and maintaining the content, while the content marketing strategy is focused on marketing that content. This can be a little confusing because the latter also involves content creation and maintenance.
However, here is the best definition of a content marketing strategy:
A content marketing strategy can be defined by the process of defining and building an audience through frequently-published content that can educate, inspire or entertain. Its final purpose is to transform new-comers into first-time users that become customers at some point.
In other words, it's a documented plan where you outline your entire content marketing strategy from start to finish: from establishing and outlining your target audience to setting goals and to establishing the process to help you measure the effectiveness of your goals.
Some might think that simply creating and publishing content as a business is in fact a content marketing strategy, but that is essentially creating content and hoping for the best.
Developing a strategy, on the other hand, will allow you to plan all of your content strategically so that with every new piece of content you create/publish, you're one step closer to reaching your marketing and business goals.
Now that this point was cleared up, we can get to the next step.
Why do you need a documented content marketing strategy?
Even if you have a small business or an enterprise, or anything in between, you need to develop a documented content marketing strategy – first of all, because content marketing is unarguably one of the most powerful marketing tools we have at our disposal and secondly, because if you're going to leverage content marketing, then you need a documented strategy to help guide you along.
Most people start with a few words written on a small piece of paper and expect huge results out of thin air. It doesn't work like that. You have to focus on elaborating a more complex plan to make this type of strategy bring the results you are hoping for. Take into consideration every step this process required, to avoid losing precious time and money.
At this point, the online world is full of content, both interesting and dull. Creating clear and concise content that can be assimilated and searched for by a target audience is not that easy. Any person can write a story and consider it worthy of attention, but this is not an accurate way to do this.
You have to put yourself in the shoes of your customers and think of what they would like to read about before creating the piece of content. You need to know what your business, sales, and marketing goals are so that you can create content that will help you reach those results.
In short, here's why you need a documented content marketing strategy:
To set your goals and make sure you can reach them – this can help you have a better picture of what you want to achieve through a content marketing campaign and the way you can manage to make it real.
To manage the resources you assign for each step of the way – if you take into consideration the most important elements of a content marketing strategy, you will find out exactly where you have to assign a resource and what type of resource you need. In this way, you will spend less time and money to get everything done.
To have a clear view of your target audience – the target audience is the key to develop a great content marketing strategy. You need to focus and build a target audience persona for each type of audience you might want to target. Find out who they are, what would they want, age limit, location, and the place you can reach them.
To understand what type of content you should develop – as long as you have a target audience profile, you can easily set up the most effective type of content you should develop. You can choose from articles, social media posts, white papers, ebooks, infographics, podcasts, videos and so on, as long as you keep track of your content's impact on the target audience.
Let's move on and see what an actual content marketing strategy implies and what its steps are:
Defining your content marketing goals

The best way to start planning your content marketing strategy is to set a mission statement. It can help you understand what your main focus should be so that you can create content that will help you reach your marketing goals.
The mission statement outlines:
The target audience
The type of content that can be used to reach that audience
The benefits that the audience gets
Next, you should focus on what your business has to gain from this process. Here are some typical goals:
Creating a successful SEO strategy that can lead to more traffic
Obtaining more traffic on the website so your products or services can be seen by more people
Social media engagement because it brings more traffic and helps you gain authority
Reducing marketing costs through content effectiveness
Gaining authority and influence and becoming a thought leader
More sales and a larger number of high-quality leads to improve revenue
Improving revenue as a final goal
A very important step of a content marketing strategy is setting up your goals. After all, your main target is to reach your goals at the end of your campaign. Knowing your goals offers you the possibility to be more focused on a specific target, and they can also help you measure the level of effectiveness of your campaign. Your content should be created based on your goals so it can reach the intended target.
Each piece of content you create can bring you closer to reaching your goals, so you should always think of them as you move forward.
You can choose to set up your goals by using the SMART goals template:
Specific: One precisely defined metric will be the focus of your goal.
Measurable: You need a way to measure your published content against the metric.
Aspirational: Your target must move you toward that metric beyond the results the material can produce naturally or organically.
Realistic: Keep your expectations in line with the resources available to you in the same breath with what you can reasonably accomplish.
Time-bound: Your target must have an end date to meet the metric.
Once the goals have been settled, you can get to the next step.
Establishing your content marketing KPIs
Make your goals specific and measurable by setting KPIs or key performance indicators for the content marketing strategy you are creating.
Through these indicators, you will be able to understand whether you've achieved your content marketing goals because they offer landmarks that can be verified (each KPI is linked to a specific number).
To establish your KPIs, you should follow some simple steps:
Define the objectives of your business (this was already done in the previous step)
Think of the questions you want to get answers to – find out what data to gather and what KPIs to use.
Identify your ideal data needs – think of what you would like to achieve in an ideal world
Evaluate the real data – analyze your current data and compare it with what you would ideally want to have. See what should be changed, implemented or tweaked to get the needed answers.
Identify the correct supporting data – find relevant information like trend statistics, industry information or demographic data.
Decide the correct estimation procedure and recurrence – comprehending what you need is a certain something, turning out how to access and gauge that data is another.
Appoint possession for your KPIs – there are two sorts of ownership required. One deals with the responsibility for keeping track of the KPI and managing it, while the other is all about data collection.
Guarantee KPIs are comprehended by your employees – everybody in your business should know about what you're attempting to accomplish, and how you're estimating progress towards those accomplishments.
Define how to communicate your KPIs – find the ideal way to explain to them so that everyone understands.
Survey your KPIs to see if they are working properly
These tools can help you track your KPIs:
Google Analytics – a free web analytics tool that can help you track important traffic KPIs for your website.
2. YouTube Analytics – a free tool that measures the number of views of the videos from a channel, the watch time in hours, the number of subscribers, and the estimated revenue of the videos.
3. Facebook Page Insights – with this free tool, you can have a clear view of the most engaging content you have posted and determine what to post next, see your audience, and track down the number of views.
4. Funnelytics – this tool was created for mapping funnels, analyzing profitable stats, and offering results based on clear amount of data.
5. Hootsuite – a tool based on social media needs. It can help you schedule any social posts, manage your social media content so that it is always up to date, measure the results of your social media interactions, and see what your target audience is saying about your company.
6. Fullstory – with this tool, you can track and measure any data you want from your website, for example, custom conversions, user trends, slowest pages, on-the-fly funnels, and more.
7. Cyfe – a free business tool that offers you the possibility to connect other software and tools you use to track the number of app downloads, new sign ups, subscriptions, and other KPIs.
Create your audience personas
What type of audience do you have? Why is this step important for your content marketing strategy?
An audience persona represents the virtual sketch of your ideal customer. Since content sits at the base of a content marketing strategy, it has to be shaped around a certain type of audience to reach its target. Better said, if you want to create pieces of content that are taken into consideration, then you have to deliver what your audience is searching for.
You should consider creating between three and five audience personas to cover most of your clients. The most valuable information you need to find out and evaluate is: who the customer is and what tone to use in your content to communicate properly.
This is how you can harvest your data:
Check the website analytics – see the keywords that led to your website, the time spent on the website, where they came from and so on.
Social media research – look for questions related to your industry or problems that people posted to which you can offer solutions.
Ask the audience – create surveys or conduct interviews.
Ideally, you should go into as much detail as you can about each audience persona – not just how old they are and where they work, but what their specific needs and interests are so that you can create content that is truly suited to their needs.
Here is how an audience persona template looks like:
Perform content research
This step is essential for your content marketing strategy. It will help you figure out what content is most successful for your type of business and what topics you should be focusing on to get your audience's attention.
Source: https://www.semrush.com/blog/content-marketing-strategy-guide/
There are two sorts of metrics that can help you decide if a specific content is successful or not:
Buzz metrics – they can measure the level of content sharing on social media platforms and are easy to find.
Impact metrics – these are harder to find, but they are measuring the performance of the content outside social media shares.
This is a test that allows you to understand which content best suits the needs of your company in terms of blog posts, articles, listicles, social media and so on. Let's take a closer look at these metrics to figure out how they can be helpful.
Buzz metrics
Buzz metrics help you discover the number of likes and shares from top social media platforms like Facebook, LinkedIn, Instagram and Twitter. BuzzSumo is the perfect tool to use when you want to find these types of metrics.
If your target is to be visible on social media you should look for the type of content that clients interested in your industry share the most.
BuzzSumo offers you the possibility to conduct a search based on domain, author or topic and gives you the top content results. Besides, this tool can show backlinks from other relevant posts by clicking the View Backlinks button or enlist the people that shared a specific content on a social media platform by pressing the View Sharers button.
That said, these metrics are not always accurate because people tend to share content they have not even read just to remain active on social media. It is also a known fact that there is a possibility to ensure the number of likes and shares, boost each post or promote the uploaded content through paid services.
In this case, you should try to make use of the other type of metrics.
Impact metrics
Manipulating these metrics can be challenging because they go beyond social media shares. Here you can use Impactana, a tool that can deliver the information you need based on impact metrics.
This tool can deliver:
Backlinks
Views
Comments
Downloads
When you get to the research content step you have to be aware that it is crucial to deliver the right type of content to get results. Think of your audience personas. What would they prefer to read? Or maybe they would want to watch a video instead of reading. The main focus should not be on the content you like the most, but on that specific content that people engage to.
Here is a list of tools, besides BuzzSumo and Impactana, that can be of assistance in your content research process:
Topsy – analyze Twitter trends.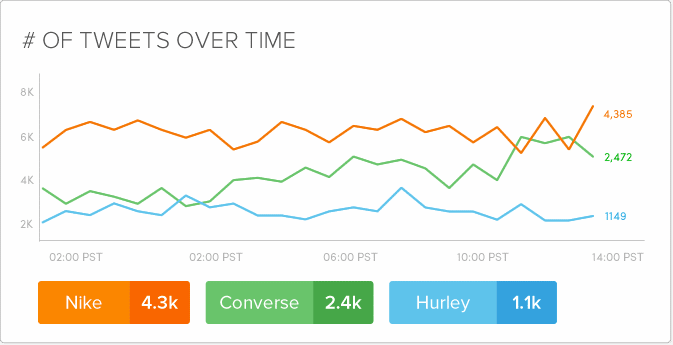 Google Trends – discover current topics of interest to your audience based on keywords.
More information about content research can be found here.
Conduct a content audit on your own content
In order to get better results in the future, you first need to understand the past. While that might be true about many different things in life – we're not here to philosophize though! – in the case of content marketing, it's important as it can tell you a lot about what works for your audience and what doesn't. Not only that, but it's also useful to look at your competitors too so that you can gain an even better understanding of your niche and audience.
A great tool to use and have a look at some specific numbers is Google Analytics. It can offer relevant information about your most visited pages and the value of your content.
You can choose from these three types of content audit:
Competitive – it centers around what kinds of content your rivals have distributed, what types are drawing in quality connections and what type is playing out the best? Based on this information, you can concentrate on what they have and you don't.
Qualitative – this assesses your content based on meaningfulness, content structure, tone, branding or other subjective criteria.
Content performance – it evaluates your website with the help of several factors like bounce rate, organic search, links acquired, and so on. The performance is set by a combination of the number of links that transfer traffic from other valuable websites to your site, the way visitors interact, and how useful the content is.
To keep everything in good shape, you should make regular content audits. This way you will be able to learn about new things at any time and keep your content marketing strategy on track.
Establish your budget
A content marketing strategy is created for present and future purposes and it can bring favorable results only if all the cards are on the table. Unfortunately, many companies don\t know how to calculate and optimize their budgets and end up in complicated situations.
By far, content marketing is the greatest choice for boosting your business, but be aware that results come slower than you might expect. This is one reason why you have to analyze your budget opportunities carefully so you won't be caught off guard.
First of all, you have to check the list where you noted your targets and goals. Evaluate each goal to see the type of content you need and how many words will be written to achieve it. Afterward, decide how much are you able to spend to make it happen.
When you have an idea about some numbers, you should think of a team to create and deliver the content. You should have at least a project manager, a content editor and writer, a content strategist, and a distribution specialist. However, it's your choice whether you give more tasks to your in-house employees or hire an outsourced content creation team just for this specific purpose. Choose well because the final budget will also have to include this part.
The final step is to think of what tools and technology you will need for your content marketing strategy. If you have decided to outsource the content creation process, then you won't have to worry about new hardware and software because your partners will have this covered. On the other hand, if you want to work with your team, then you have to consider purchasing several useful content tools to ensure the success of your campaign.
Thinking in numbers and planning new budgets can be stressful, but it is necessary. It is a point that can't be skipped if you want to ensure that your money is well-spent.
Decide what type of content suits your strategy
Content can be classified in several different types, but each of them has its purpose and interested audience. The best way to please everyone is to use more than one type of content.
Here are the options you can choose from:
Blog posts – most brands use this type of content as a key part of the marketing strategy. This isn't a surprise because basically, they are easy to write, search engines find them in a jiffy, they are read and shared by the audience, and they can offer value at a lower cost. Regular blog posts can create a strong relationship between the brand and its clients, bring more traffic to the website, and develop conversions and lead nurturing.
Longform content – this type of content, for example, 3,000 – 15,000 words ultimate guides, is available online and free of charge. They have enormous value because they can increase the number of subscribers and build thought leadership.
Case studies – they provide knowledge and unique information about a specific subject based on in-depth assessments. Their importance consists in the possibility to establish thought leadership, their originality, and shareable properties. Case studies can be considered interesting only when they are following a specific path: summarize the idea, subject explanation, offering a solution, and list the results with benefits.
White papers – they can offer a lot of information and solutions about a specific subject, taking more time to be written. The details are the things that matter. White papers can help a brand earn respect and thought leadership within a particular industry.
Ebooks – with so many other types of content that can take less time to be published and read, ebooks may seem a little discouraging at first. Despite this, they are still powerful lead magnets that can maintain their value over time.
Infographics – people love images and getting information easily from funny or memorable images. Infographics can offer valuable information and may end up going viral. If their design is clean and simple, they will be shared along with your backlink embedded within them.
Templates and checklists – offering the possibility to download a checklist or a template can bring new leads. They are easy and cheap to make, but they grant action (subscriptions) from your customers.
Video – this is a dynamic and engaging content preferred by most online users. Videos should be uploaded on a Youtube channel and embed on your relevant posts from your website or social media platforms. The final part of each video should include a call-to-action that leads users to a landing page or your website.
Each type of text may be of assistance in different stages of your content marketing strategy, so try to remember to try them all.
Decide what content channels to use
Once you have decided what types of content are the best to use in your situation, you now have to decide where you will post them further.
There comes a point when you have already established a powerful online presence and when you'll be aware where you can find your audience. The best way to get going from this point is to focus on the things that bring you results and avoid trying everything at the same time.
If you take a quick look at the sources of your main website traffic, you will find the channels you have to focus on next. You should keep publishing your content over there to keep bringing positive results for your business.
You can focus either on publishing on your blog and share each link on social media platforms like Facebook, Twitter, Instagram, and LinkedIn or you may want to publish some guest posts on other blogs with an already powerful online presence. You can also make use of email marketing to deliver your content to your audience. Despite the type of channel you choose, you have to be very careful with the content you develop. It has to be relevant, concise, clear, and informative.
Establish several content ideas to begin with
This is the point when creativity and your previous research are needed. For a short moment, everything seems to stand still. You might feel that all subjects have already been written and you have nothing more to say.
Fortunately, you have already done some research about the best content that could suit your needs and attract more customers at the beginning of your content strategy planning. At this point, you can also decide what type of content to use to create new leads and bring more traffic to your website. All you need to do next is to brainstorm several ideas, to begin with.
You can always check on Google Analytics to see the best keywords that lead your audience to your website in the first place. If you decide to write educational content, you must plan it wisely to avoid missing important parts.
Besides, you can always use a few content writing tools to make sure your content is flawless. You could check out this list of tools to help.
Create an editorial calendar
The entire process of planning a content marketing strategy can sometimes be overwhelming. There is a lot of work to do and never enough time to execute it. To start being as efficient as possible, the content has to be published regularly and this also requires a thoughtful strategy of its own. The best thing that can help at this point is an editorial calendar.
These steps will help you develop a great editorial calendar:
Establish all the topics you want to be written and published
Audit the existing content (this one is already checked)
Plan your content based on the Buyer's Journey
Decide how often you want to publish based on how much content you can produce
Fill the actual editorial calendar with information
Adjust anything you find necessary at any point so that everything works perfectly
Get to work following your editorial calendar
An editorial calendar includes the content ideas and themes you came up with, the plans for future social media updates, and all the internal and external contributions to your website, blog, content strategy or publication.
This is also an important step because it helps you be consistent in writing and publishing relevant content.
My free editorial calendar template can be of great use when you arrive at this point in your content marketing strategy. You can start building your own calendar in no time.
If you need help developing a powerful editorial calendar – one that gets results – contact us here to find out how we can help.
Publishing and promoting your content
This is the final and critical step. You already have everything set up, several content pieces created, and ready to be published and promoted.
Promoting your content is not an easy task. It is a long and continuous process that starts from the minute you wrote the first word and ends when the audience has found your content. If you don't play by the book, all your work was for nothing. Keep in mind that the Internet is a crowded place nowadays and as amazing as your content is, it won't surface in searches unless you give it a hand.
In fact, many top marketers claim that promoting a piece of content should take you just as long as creating it – if not more.
The time when you start publishing and promoting a piece of content is also of great importance. There are several time intervals when people are active on social media channels for example. If you upload your content outside that zone, it might not reach your target audience. To avoid this, try to share your content twice when you publish it, in the morning and the afternoon.
Here are some of the best channels to promote your content:
Links to your content in your email signature
Send an email to all your list of contacts
Make use of push notifications
Send an email to those people that you have mentioned in your content, maybe they will share it
Develop a social media publishing schedule to help you reach more platforms at the same time
Conclusion
Creating a content marketing strategy is a complex task, but it's also extremely important: it will help you stay focused and organized and ensure that your marketing budget is spent the right way.
[box type="download"] Do you want to work for your content, or do you want your content to work for you? Contact us here to learn how we can help you develop a content marketing strategy that gets results.[/box]

Follow Lilach