Follow Lilach
Productivity hacks for small business owners
(Updated March 2021)
Looking for productivity hacks that will actually work?
Time is an asset – it's not just that time means money (although that's certainly true in many respects!) but that it's a precious commodity: it's your time, your life and ideally, you want to make the most of it.
And because I'm obsessed with time – and being as productive as possible – I've done a tonne of research and experiments over the years to help me become more productive.
I've learned a lot – and I want to share it with you as well.
Be aware, some hacks might contradict themselves – but that's because everyone is different and depending on your personality as well as your actual job, certain productivity hacks and techniques will work better than others.
Check them all out below:
1. Eat something nutritious & delicious every morning
A good, nutritious breakfast wakes you up like nothing else – I'd say it's even better than a cup of coffee.
Take the time to plan your breakfast the night before, especially if you're a foodie – this will help give you something to look forward to in the morning and helps you start your day the right way.
2. Get a better chair
If there's one thing you should invest in to make your days go smoother, is a good chair. If you're uncomfortable the whole day, it will most likely have a negative effect on your work. Your back and neck will hurt, by the end of the day you won't be able to sit still, and you'll find yourself taking more breaks just to alleviate all different kinks in your body.
3. Pick your outfit the night before
Mornings are always hectic – especially if you also have kids to feed and take to school – so the more you can prep the day before, the better. Your outfit is one of those things – just take a few minutes before going to bed to put together your outfit, leave it somewhere easily accessible and dressing will only take minutes every morning.
4. Prioritize your tasks every day
Before you start working on anything, take out a pen and paper and write down a list of all the tasks you have to do that day.
However, don't overdo it – take a minute to consider how long these tasks will take, so you focus only on the tasks that you can achieve; if you finish the day with a plethora of tasks remaining in your list, it will leave you feeling like you haven't done enough and you're going to start the next day on the wrong foot.
Once the list is finished, start prioritising your tasks:
Urgent time-sensitive tasks
Important tasks
And non-urgent tasks.
5. Assign a monetary value to your tasks
One of the ways that you can prioritize your tasks is to assign them a monetary value and the tasks that generate the most ROI can be the tasks you focus on first.
For example, sending a sales email could be worth $100, or even $1000 depending on the potential outcome, while creating a marketing automation campaign for your email list, $20, since you might need to hire someone to do it for you. This isn't an exercise in accuracy – it's just a way to help you prioritize and understand which tasks can bring in the most return on investment, as well as to help you decide which tasks you should outsource.
6. Always perform at least one task a day that makes you money
You always want to finish the workday feeling good about yourself and about your work; one of the ways to do this is to tackle (and finish) at least one task that will actually help you make more money for your business. For example, reaching out or following up with a high-quality prospect that showed a lot of interest in your business. It really depends on your particular business what kinds of tasks bring you money; make a list of these tasks to help decide which ones to tackle each day.
7. Start your day with a task you enjoy
If you've peeked at the tip below, you'll notice how these 2 tips pretty much butt heads. It's one of those cases where it really depends on your own personality and work style.
In this case, starting with a task you enjoy is a great way to motivate yourself for the rest of the day. If you feel like you've accomplished something right as you started work, it will give you a more positive outlook on the rest of the day and make you want to finish even more tasks before the day is over.
8. Or…start your day with a task you hate
Just eat that frog, as Brian Tracy explains in his very popular book. As a business owner, there will always be very important tasks that only you can do that you…well, you hate doing. There's just no way around it.
So, why not just get it over with first thing? It will make you feel liberated to have finished with the tasks you didn't want to do, and the only way from there is up – so long as there aren't any more tasks you hate in your daily task list.
9. Break down big tasks into smaller, more manageable tasks
As a business owner or entrepreneur, you'll often find yourself having to work on big projects that require a lot of work – even entire weeks' worth of work. The big problem with these types of projects is that they can be very daunting because of the workload they imply, which can have a negative effect on your morale.
Instead of looking at it as a huge project though, why not break it down into smaller tasks that you can then prioritize, as explained earlier? So for example, if you were working on building a marketing campaign, you could break down into tasks like: setting goals, establish campaigns' KPIs, content creation, delegating tasks, and so on.
10. Do you really need to do that?
Some of the things you think you have to do or supposed to do, sometimes just aren't necessary. Whether it's being too much of a perfectionist or you're doing things that aren't necessary, sometimes you need to ask yourself:
"Do I really need to do that?

Do I really need this?

How will doing this help me or my business?"
If you don't have a good enough answer to these questions, then perhaps it's worth considering leaving them altogether and focusing instead on the tasks that really matter.
11. Outsource repetitive tasks and save time & money
Outsourcing tasks can actually save you a lot of money in the long run – and it's a great productivity hack. That is because it frees up your time, time which you can then use to handle the tasks that only you can handle.
Some of the things that you can outsource include: admin tasks, bookkeeping, data management, and content creation, among many others.
Take the time to consider what repetitive tasks are taking up too much and find a VA or a freelancer to help.
12. Use a pro tool to handle your accounting and bookkeeping
If you'd rather handle any accounting/bookkeeping by yourself, get software to help (check out this list of accounting software tools to find one that is right for you). It's so much easier to handle your finances this way and not to mention you can automate a lot of your tasks (like adding your bills automatically to the system, automatically sending invoices to clients, and so on).
My accounting software is probably one of my most important tools – and one of the tools that I rely on the most and a productivity hack that has saved me a lot of time and headaches. You can even integrate an automated invoice processing solution to your accounting software, and avoid any possible human errors.
13. Schedule your social media updates
Why post each update in real time when you can just get it over with, in minutes? You just need to come up with all the content in one go and then easily schedule the updates – it will save you quite a bit of time.
14. Use evergreen queues for repeat sharing on social media
Another productivity hack to save time with social media marketing is to use evergreen queues – preferably, with categories. There aren't that many tools that do this – Agorapulse is a good one – but it's an amazing time-saver.
Basically, you can create all kinds of different queues based on the content of your updates, upload the updates in their corresponding queues, set time slots for each queue and your posts will be automatically shared, in order and if choose so, even re-shared unlimited times automatically.
All you'll need to do is keep adding content to each queue and that's it!
15. Save replies
If you get asked similar questions all the time (on your blog, social media, etc.) or get the same comments, use your notes app to create some replies that you can just copy and paste to reply – you'll only need to make small changes each time.
16. Use a good scheduling calendar and block out times
If you're in a business where you find yourself having to take meetings constantly with prospects and clients, use a good booking calendar – you'll avoid confusions and never-ending discussions on trying to find a time that works for all the parties involved.
Use a booking calendar to schedule all meetings and block out the times when you can't be available so that the person booking can choose the best time for them based on your availability.
If you want to take things one step further, you can block out entire days to wait for other days to fill out first – so you can do all of your meetings in one go.
If you want to add this calendar to a WordPress site so others can book your free time directly, you can use a WordPress booking plugin. For a full list of online booking and scheduling tools, check out my post here.
17. Use IFTTT to automate small tasks
IFTTT – if this, then that – offer a truly impressive collection of small, but powerful automation, most of them designed to help with your productivity.
Explore the platform to find great applets (automation) or use this list of 20 IFTTT recipes that will make you more productive.
18. Reserve a chunk of time every day for the tasks you hate doing
There's no way around it – there will always be some tasks that you Just. Don't. Want. To. Do.
Look at it as a necessary evil – and don't spread them out throughout the day (you're just spreading out your bad mood by doing this). Instead, try to 'reserve' a chunk of time each day, however long you need, to get all of your unpleasant tasks done all in one go.
19. Use the Pomodoro technique
The Pomodoro technique – named after the tomato kitchen timer – was developed back in the 1980s.
The thinking behind it is that by breaking down your tasks into chunks of time, you'll be more focused and more productive.
Here's how it works:
Make a list of your tasks (and prioritize)
Set the timer to 25 minutes and start on your tasks
End your work when the timer rings, 25 minutes later and place a checkmark next to your task
Take a short break, about 3-5 minutes
Set the timer again and get back to your next task (or continue the previous task) for another 25 minutes
And so on, and so forth. When you get 4 checkmarks – i.e. 4 Pomodoros, take a longer break of up to 30 minutes to relax and come back energised for your next Pomodoro.
20. Hold more meetings online
Meetings can be such a waste of time sometimes, especially if you have to actually leave your office. You need to dress up, travel (and sometimes for long distances) and chances are, unless you're leading the meeting, it will probably last much longer than you hoped her.
With all of this amazing technology at our fingertips, these in-person meetings just aren't such a necessity anymore. Sometimes it's important to meet people face to face but when it isn't, try to push for an online meeting instead of in-person.
21. The two-pizza rule
If you do have to hold a meeting in person, try to avoid having too many people participate. Too many people at the same time can lead to chaos and a lot of time lost.
So, instead, you can try Jeff Bezos rule for meetings: the two-pizza rule.
What it means is, if 2 pizzas aren't enough to feed everyone participating in the meeting, then there are simply too many people in the meeting.
22. Schedule meetings on the same days
Where possible, try to schedule as many of the in-person meetings on the same day, to get them all out of the way. Why lose time commuting every day or every few days, when you can do it all in one day and kill 2 – or more – birds with one stone?
23. Stop sitting down on short meetings
If you need to hold a quick meeting, try to hold it somewhere where there aren't many seating options – you'd be surprised how quickly everyone will want to get things done so that they can go back to sitting.
24. Use a tool to block distractions
The rabbit hole that is the Internet would even make Lewis Carroll's head spin –social media websites, emails, instant messages, Skype, blogs, funny videos, all of these (and many others!) present huge distractions that can take you away from your work, constantly interrupting you.
Sure, we can pretend you can stay strong – but realistically, it's very difficult not to get distracted by constant pings and rings and other notifications.
Instead, use a tool that can block all of these distractions – like StayFocusd (a Chrome extension) or Cold Turkey.
25. Always finish at least one task every day
This is one of those things that can make a big difference to your overall morale. Every day, make sure you finish something, whatever it may be – leaving things unfinished will make you feel like you haven't really accomplished anything that day and will make you start the next day on the wrong foot.
26. Group similar tasks into chunks
Another thing you can do to help you manage your daily tasks more effectively is to group them into chunks; so for example, send all emails in one go, make your calls, and so on.
27. The 2-minute task rule
The easiest and quickest tasks are usually the easiest ones to avoid and postpone.
The 2-minute rule is very simple: if you get a task that only takes you 2 minutes or less to do, then just do it. No excuses.
28. Schedule daily times to check your email
Everyone is different with their email-checking habits but generally, checking it constantly and responding to every single email as it comes in is counterproductive. The reason is, you get distracted by the notification, you're taken out of the flow you were in before as you're interrupted and then you'll have to get back into the task you were working on before the email – until another email will certainly break your concentration again.
29. Use folders to organise your emails
Before I started organising my email inbox properly with folders, I was close to an anxiety attack every time I checked it and saw the mess.
With folders though, you can not only clean your inbox, but it will also make it so much easier to find important emails when you need them.
So, whenever you finish with an email, just move it over to its corresponding folder.
30. Create email templates for yourself
As a business owner, you often send pretty much identical emails and replies all day. Instead of actually writing the same email every time, create a google Doc with email templates for yourself that you can just copy and paste in the email – all you then have to do is customize the email a bit and it's good to send!
31. Finish the day with a clean inbox
If you don't want to have small anxiety attacks every morning when you open your email and see dozens or hundreds of new emails, try to finish every day with a clean – or cleanish – inbox.
My rule is pretty simple and it's worked very well for me so far: every day I finish work, I make sure there are never more than 50 emails in my main inbox – all the other ones are in their folders, all dealt with already.
32. Use relaxing ambient sounds for a better working environment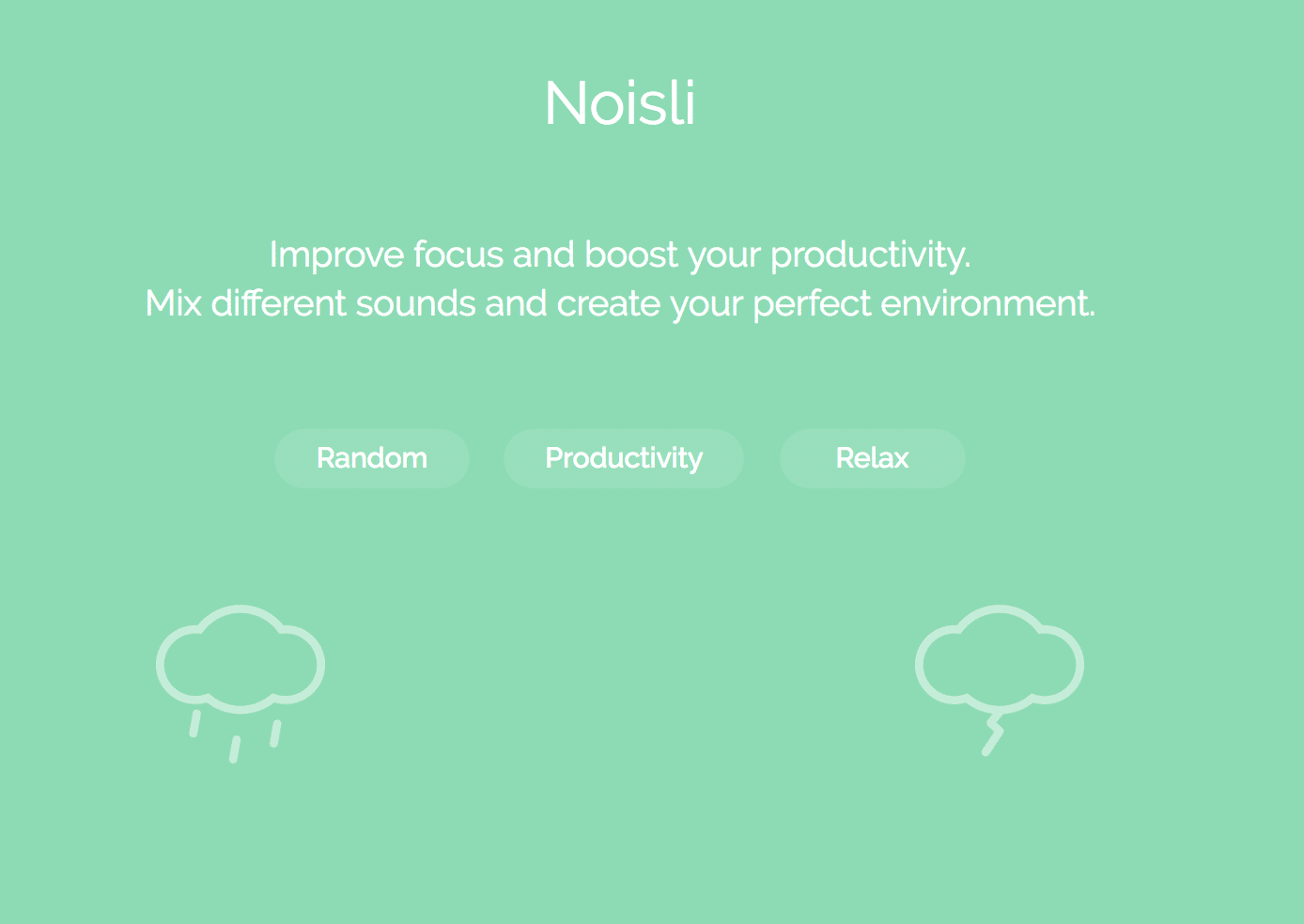 Some people work better when there's music in the background (I've even met some that work best with loud music, which is still a mystery to me). Another option though is to use ambient sounds that make you productive – like the sounds of a bistro in Paris, a busy coffee shop in New York, or the sound of steady rain hitting a roof.
Some great services that do this are Noisli and Hipster Sound.
33. Find templates to save time
All of management and marketing tasks require quite a bit of planning – instead of doing all the work yourself, spend some time first to research quality templates that you can use for your projects. The internet is absolutely full of these types of templates which will make you more productive.
34. Use a task manager for your team
A good task management tool can make a world of difference to your overall productivity. My personal favourites are Slack and Trello – which are also great for working with a team.
35. Use one platform for team communication
Centralising all conversations will help everyone on your team be more productive – plus, it will be so much easier to find conversations when you need them.
Whether it's Skype, WhatsApp, Slack, or any other tools, ask your team to only use the tool you decided on for all work-related conversations.
36. Use a tool to store and manage your passwords
If you're serious about your security and your businesses' security, then you need to have numerous unique passwords, preferably complex enough that you never even remember them yourself.
Keep all of these passwords in one place, using a pro tool that helps keep them secure – definitely don't write them down in some file on your computer.
Some great password management tools that you can try are Sticky Password and 1Password.
37. Use cloud computing for easy access to files
Plus, make sure it's well organised so that everyone can easily find what they're looking for. However, it's best to use more protection for your most important files and not share them out with everyone on your team.
38. Use Grammarly to check writing as you write
Grammarly immediately finds your grammar and spelling mistakes as you write them; the browser extension can help you make sure that anything you write online (blog posts, social media updates, emails, etc.) is correct.
39. Make full use of browser extensions
Browser extensions are there to help you either save time or enhance your online browsing experience – check out this list of 15 browser extensions to increase productivity to find the most helpful extensions for your needs.
40. Say NO!
I've always struggled a bit with a fear of rejection and a need to please people. And while it's not like it's a bad thing to want to be helpful, but it can become a bad thing when you're a business owner.
You have to be able to say no sometimes – as the boss, people will always come to you with questions and requests, so if you don't have the time, don't think something is a good idea, or simply don't have the energy to do something, then just say no.
41. Don't respond immediately to every message you get
Just like with emails, you don't need to respond to every message as soon as you get it – save it for a break or for when you've finished the task you're working on.
These small distractions that only last minutes might seem innocent at first; but while might not take too much of your time, they do take you out of the flow and momentum you managed to build working on your task.
And, in fact, better yet…
42. Turn off notifications on your phone
Especially when you're working on something that requires your full attention or a difficult task.
For the same reason as before, it might not take up a lot of your time, but it's very distracting and it will definitely affect your productivity in a negative way.
43. Store interesting articles in Pocket to read later
Found an interesting article that you want to read? Or a funny videos that everyone is talking about on Twitter?
Instead of stopping every time you find an interesting piece of content – and there will always be something to catch your eye – to read it, create a Pocket account to save everything for later, when you're off work or having a break.
Conclusion
Your time is one of your most important resources. There is so much that you can do to help you grow, like creating more content, being more active on social media, reaching out to more prospects, and so many more strategies – all of them doable. If only you had the time to get to them.
Use this list to experiment with different productivity tactics and hacks to see which work for you – and do let me know what your best productivity hacks are as well.

Follow Lilach