Follow Lilach
How to create marketing videos your audience will love
Videos have rapidly become one of the most popular content formats over the years; and marketers love them: they generate more leads, they boost traffic and they help convert more leads into customers.
In order to get the best results possible, you need to keep some vital points in mind while creating your videos:
Define your target audience: when you create a video, you need to connect with your audience. To achieve this, you have to define your ideal audience.
Make a script: having a script before your video helps to hone the message you want to send to your audience. It also keeps your video more focussed on your messaging.
Create short videos: very few people will watch long videos. In fact, Wistia found that the best length for your video is 2 minutes or shorter. Beyond that, engagement rates drop sharply.
Create simple videos: while creating a video, you need to focus on getting your message across. A simple video without distractions is likely to achieve this aim.
Creating engaging videos can help your business get your message across to your audience and convert more of them to customers.
In this blog post, discover how to create marketing videos that your audience will love, within minutes, using InVideo.
How to create winning marketing videos with InVideo
InVideo is an easy-to-use tool to create professional videos for marketing and other business purposes. So even if you have little design skills, InVideo has features that will help you create videos in no time.
In fact, it's created for marketers and businesses that don't know how to create videos or edit them, but don't want to spend a fortune on video production.
Basically, all you have to do is pick a template from their library of over 3,000 templates, make a couple of customizations and your video is ready to go.
Once you log in to your account, you'll see a dashboard with different options to create your video:
As you can see, it's not just a tool for creating one type of video – in fact, it has some really useful features that not a lot of other video creation tools offer, such as the ability to convert an article into a video, or make a video with just a URL. Plus, you have lots of pre-made templates to choose from, monthly calendars with videos for every day of the month and other useful resources which I'll tell you all about.
The idea behind InVideo is to make video creation as easy and as quick as possible; in fact, if you prefer, you can just grab a template, change the text to suit your messaging, replace the images and videos with your own – and you're good to go!
Article-to-Video
The article-to-video feature is useful when you need to repurpose already existing content such as a blog post or a Medium article.
InVideo provides a wide variety of templates to every category such as technology, business, entertainment and so on. The best part? All of these templates are available across YouTube, Facebook and Instagram story sizes so you can easily replicate the same video to natively fit all 3 formats:
When you select any of the templates, you'll see a preview of the video and you can change the video size here depending on what you're using the video for and its audience. Start with the aspect ratio that's best for the platform you're primarily creating content for. Wide is best-suited for Youtube, vertical is best suited for Snapchat and Instagram stories, and square is ideal for regular Facebook and Instagram posts.
If you like the preview, the next step is to use any of the 3 starting points provided by InVideo. You can either start with a script that you've already formulated, or you can insert the URL for an article that you've already published in the past and start building your script on the fly with InVideo's in-built summarizer. You can also start with your media files if you've shot some images/footage and want to simple add text and supers to them.
You can choose to start with any one of the three options and arrive at your final script which is the objective for this step.
Once you have your script in place, you can move onto the second step which is storyboarding. As the name suggests, this step will primarily help you to visualize your text by breaking your script down into scenes and adding the right set of images and video clips to bring each scene to life.
You have access to an in-built library of more than 3 million royalty-free images and video clips from premium sources like Shutterstock.. To make it easier to find a video or an image, there's a search box to enter your preferred keyword. And if you have a media file on your computer you'd like to use, you can upload it too.
Apart from images and videos, you can also add a music track that will best suit your video's narrative from the media panel on the left. Once, you're done storyboarding, you can add your final finishing touches with the advanced editor which is extremely flexible and powerful and will allow you to manipulate transitions, layers, and durations of elements. Once done, you can preview the whole video and if everything's good to go, hit export to get a downloadable copy of it.
You also have an option to connect your social media with InVideo so you can directly push your videos to your respective channels. This is useful if you're creating a video for your social media campaigns.
Pre-made Templates
Whether you're creating a social media or a business presentation video, InVideo has enough templates to meet all of your marketing needs. Some of the use-cases and formats that you'll easily be able to create videos for are:
Facebook and Instagram Story Ads
YouTube Videos
Instagram and Instagram Posts
LinkedIn and Twitter videos
Snapchat videos and ads
Brand promos
Channel intros and logo animations
Testimonials and offer videos
Topical content marketing videos
With over 3,000 templates, you're bound to find one that you'll absolutely love.
When you hover on a template with your mouse, you'll see the video preview. So before you select one, you'll have an idea of what the template looks like and if it can fit your objective.
This template is a promotional video for a travel company marketing their travel package. You'll observe that here you directly come to a fluid timeline with all the advanced editing features here without needing to storyboard your scenes since the template itself comes with pre-built scenes that you can use.
Here are some additional options present here:
Text: here, you can add text of different sizes and edit the font, style, and other aspects. Alternatively, you can use any of the ready-made text-boxes.
Stickers: to spice up your video, You can use the stickers library to add things like emojis , CTAs and animated icons
Effects: you can also leverage the effects library to add visual overlays on an entire scene.
Shapes: You can use all kinds of shapes from transparent boxes to solid circles and squares to bring your videos to life
Enhancers: You can also use enhancers like collage layouts and masks to give your videos more visual depth and create some really cool scenes.
More so, you have the option to add scenes to your video. Apart from these, InVideo has built the world's first intelligent video assistant- IVA, that can scan your scenes and give you real-time feedback, and help you avoid the most common hygiene errors.
Furthermore, you can add your voiceover by clicking the "Add" button in your editor. This can be useful for explainer or tutorial videos.
There's also an option to generate an automatic voiceover. To achieve this, InVideo uses its text-to-speech engine to convert the text on your scenes to voice. According to your preferences, you can select a voice and even an accent.
Also, you have the option to apply an automated VO to all your scenes, adjust the level of background music, or fade. Other options include recording on your computer, uploading from computer, and importing from uploads.
Once you're done editing your video, you can preview and export, and get a file that you can download and share with the world.
Logo Revealers
If you're launching a new logo, it's a special occasion. Think of companies such as Nike, Apple, Microsoft, Samsung, and other iconic brands. You probably remember their logos clearly.
That's how important a logo can be. InVideo provides more than 50 templates for creating a logo reveal video. And to even make it better, there are templates for industries such as e-commerce, healthcare, fitness, food, real estate, tech, and more.
After you pick a template, you can edit it and add necessary images and words to make the video unique.
Another feature you'll like is the ability to add your social media handles at the end of the video. This can help you attract more followers.
Blank Canvas
If you want to create a video from scratch, you can get started with a blank canvas. Even though starting from scratch may sound like a daunting task, InVideo makes it easy.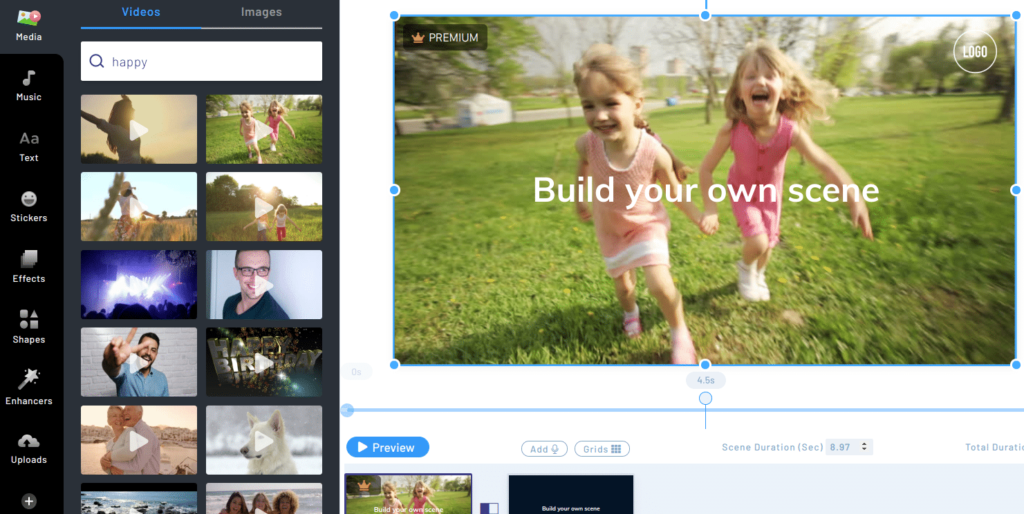 If you already have your videos, images, music, and other files you want to add to your final video, you'll get your completed video within minutes.
Monthly calendar
The more videos you post, the better – there really is no such thing as too many videos.
Instead of brainstorming for hours, InVideo has templates that can help fill your content calendar with videos, every single day of the week.
Basically, every month, they create a new calendar, packed with a template for every day, based on what holiday (including novelty holidays) and other important event might be happening that day.
With these templates, it's easy to create relevant videos within minutes and connect with your audience. In fact, you can just grab the video, change the branding and post it up – or, alternatively, you can further customize it if you prefer.
Team members
If you have a team of marketers, you'll inevitably need to collaborate on some videos. During the process of creating your video, different team members might have different duties.
For instance, a team member might create music and voiceovers for your videos while another member design images. InVideo has the "Team Settings" section which enhances collaboration with your marketing team.
To access the settings, click on your profile at the top right corner of your page. InVideo also allows you to select a role before you send an invite to the team member.
Customer support
No matter how simple a video tool may be, you might still need help to execute some tasks. Apart from that, you might just have a question you need to ask about InVideo.
Fortunately, InVideo provides 24/7 support which means you can get your issues resolved whenever you face them. You have access to their customer support through:
Live chat
Help articles
Email
Facebook community
Even if you have an issue while using the editor, you can use the live chat button at the bottom right corner of your page and get a reply almost immediately. For instance, when I sent a message to them, I got a reply within a minute.
With InVideo's customer support, it becomes easier to use the tool and get your intended videos.
Conclusion
Creating videos is a must; however, as a small business or marketer with little experience, creating marketing videos regularly can be both time-consuming and expensive.
However, with a tool like InVideo, creating videos really is as easy as it gets: it literally takes minutes to create and publish a new video.
Ready to become an ace video marketer? Just use the coupon code LILACH25 to get 25% off on all plans – click on the image below to use it:

Follow Lilach