Follow Lilach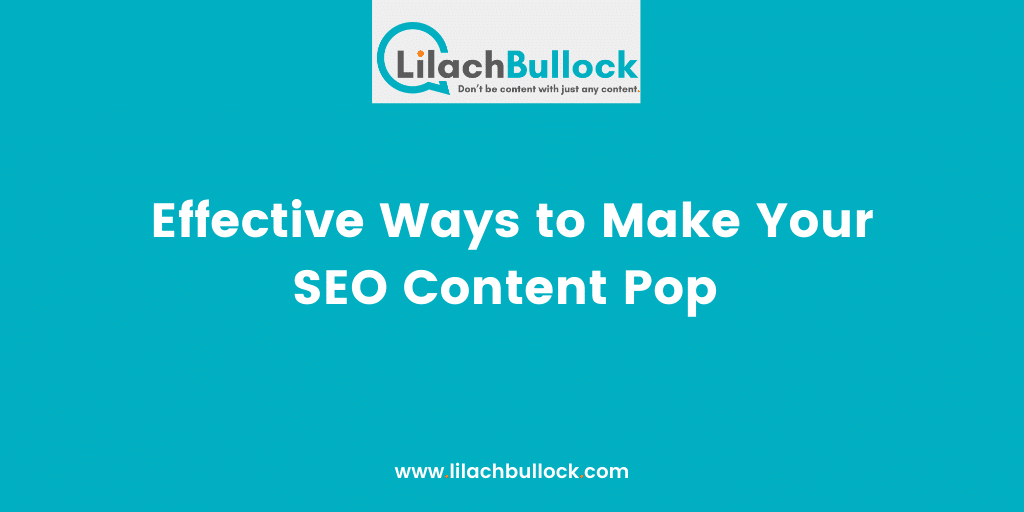 Effective Ways to Make Your SEO Content Pop
There's little wonder as to why search engine optimization factors so heavily into the digital marketing endeavors of small businesses. Good SEO content can effectively increase visitor numbers and bring your enterprise to the attention of scores of prospective clients. Of course, "good" is the operative word here, and not all businesses are equally adept at crafting engaging, informative content. Small businesses looking for actionable ways to make their SEO content stand out in an increasingly crowded marketplace will be well-served by the following pointers.
Working with Professionals
Any business looking to give their promotional efforts a shot in the arm is urged to get in touch with a good web marketing company. Among other things, these enterprises offer invaluable SEO services that can effectively boost your site's search ranking and reel in thousands of new visitors. In addition to providing insightful tips on crafting winning content, the right web marketing company will help you identify the best keywords for your business and the most effective ways to get your content seen.
Some web marketing companies even provide clients with full-on content creation services. So, if no one in your enterprise has much experience with content creation or writing in general, outsourcing your SEO content to seasoned pros may prove the best course of action.   
Top agencies such as delseodublin.com have in-house content writer experts who can do all of this for you.
Identifying Effective Keywords
Since keywords are a crucial part of SEO content, it behooves you to identify the most effective ones for your business. When setting out to find the best keywords for your content, there are a number of factors you'll need to consider. For starters, you'll need to research the types of terms your target audience is liable to search for. Secondly, you'll need to identify the types of topics your audience is liable to take an interest in and determine the best ways to organically infuse your keywords into content based around those topics.
You'll also need to determine the desired reach of your content. For example, if you're primarily concerned with reaching a local audience instead of a national one, take care to tailor your keywords accordingly. Additionally, if a local audience is what you seek, consider creating locally-focused topics in addition to locally-focused keywords. You should also avoid limiting yourself to a small number of keywords and consistently look for new search engine-friendly words and phrases. If keyword research is uncharted territory for your business, reaching out to a dependable web marketing company is sure to prove tremendously helpful.
Making Content Engaging
The primary goal of SEO content may be to market your enterprise, but that doesn't mean the content you create can't be engaging, entertaining and informative. If content holds no purpose outside of marketing your business, both your audience and the search engines you're seeking to impress are bound to take notice. With this in mind, you should seek to craft content that holds readers' attention and keeps them coming back. If this type of writing isn't your strong suit, consider outsourcing your content creation to experienced SEO writers. You can also promote your enterprise and add an air of authority to your content by enlisting the aid of prominent guest bloggers.
Consistently Producing New Content
In addition to creating thoughtful, well-researched content, you should make an effort to produce new content on a consistent basis. The more content you put out there, the greater your odds of connecting with your target audience. Furthermore, popular search engines tend to show favor to sites that are updated on a regular basis. Producing several new pieces of content per week can be a boon to your SEO efforts, but if you lack the time or inclination to take on such a commitment, farm this task out to writers whose abilities you have faith in.
As any digital marketing expert can attest, search engine optimization is here to stay. That being the case, any business that hasn't hopped abroad the SEO bandwagon is robbing itself of recognition and missing out on scores of prospective clients. If your enterprise has yet to fully embrace search engine optimization or get serious about crafting engaging SEO content, there's no time like the present to get with the program. In the interest of maximizing your business's content creation efforts, put the previously discussed measures to good use.

Follow Lilach