Follow Lilach
How Communication Tools Changed The Way Businesses Engage To Their Customers
Effective communication is an elemental and key criterion for businesses to survive and scale in this ever-growing competitive world. No matter how big or small a business is, an excellent communication platform always serves to engage customers more effectively and to streamline many organizational processes.
Having the right communication tools can give a business the much-needed competitive edge and surely helps an organization to stay ahead of the curve.
Here's how communication tools changed the way businesses engage with their customers:
1. Marketing Campaigns Through Voicemail And SMS
Gone are the days when marketing is all about billboards, television, or radio ads. Today, businesses can just create an SMS marketing campaign or record a voicemail message and effortlessly send it to its contact list.
Thanks to platforms like Drop Cowboy Ringless Voicemail, a business now has the ability to engage with their prospective and existing customers without disturbing them. A ringless voicemail appears on the phone of customers, and they can respond to the message by texting or calling back at their leisure. Check this video to learn how to create a campaign using the ringless voicemail platform of Drop Cowboy:
Today, ringless voicemail is one of the best communication and marketing tools. The organizations that are using it are seeing impressive improvements, not only to their subscriber engagement but also to sales conversion rates.
Aside from ringless voicemail, a mass text app is another tool that makes it easy and quick to send multiple texts at the touch of a button. SMS marketing campaigns become more efficient with the help of a mass text app since it enables businesses to send multiple marketing messages at once.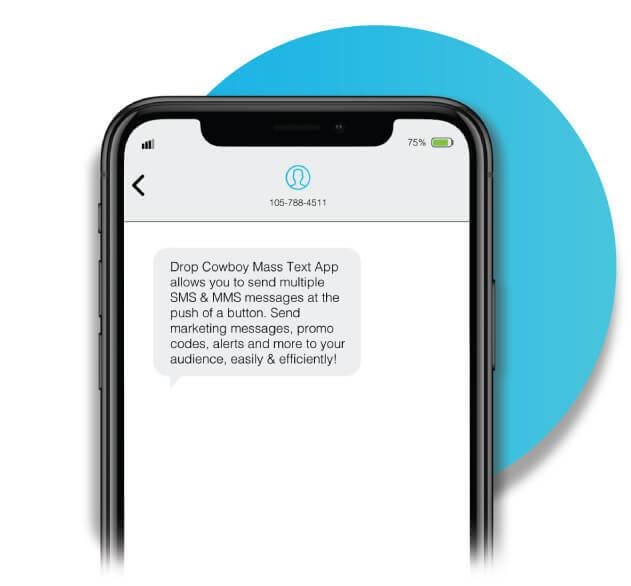 However, please take note that an app like this should be utterly customizable and reliable. Of course, when you're going to communicate with a large number of individuals at once, getting your message across accurately and properly is vital; don't leave room for mishaps or mistakes.
2. Obtaining User Data Through Social media
Social media networks, like LinkedIn and Facebook, are not only platforms for people to connect with each other. Yes, these social media platforms are primarily for that purpose, but businesses also use them as tools for achieving better results.
Consumer behavior in this age is rapidly evolving, which means social media marketing is more useful than ever. When people like your Facebook page or follow you on Twitter, they take such an action because they believe you can help them. These people have problems, and they need urgent solutions, so don't make the mistake of ignoring them.
Businesses have begun to see social media sites as a tool, not just mere platforms. This means they're already using them to connect, share, research experts and influencers, identify questions, and create content that their audience will love.
Today, when it comes to consumer trends, companies use social media in obtaining customer data and analyze them to get ahead of their competitors.
3. Reaching Out To Customers Through Live Chat
Live chat is one intuitive way of reaching out to your customers. Nowadays, a lot of businesses integrate live chat to their websites. A live chat integration pops up immediately when someone visits their website. It's one of the fastest ways for businesses to reach customers in real-time, giving them a sense of importance and priority.
Live chat also helps build trust for a business or brand. It also instills confidence. With this tool, a company can handle multiple customers easily at one time.  You can use tools as Sendbird, Getstream to integrate live chat function in your app, or an alternative to Sendbird Sceyt.
4. Providing A Smooth Onboarding Process To New Customers Through In-Product Messaging
When it comes to notifying customers about a new product, there are several channels that businesses can use, such as email, mobile, social media, customer care/support, and in-product messaging. Out of those channels, in-product messaging has the best conversion rate.
Many businesses have improved their conversions by using in-product messaging simply because that's what intimate customers are exactly looking for.
So, what's in-product messaging? This tool is all about content and other related media delivered directly to your customer's software application or internet-connected device. Its purpose is to inform, gather feedback from, engage with, or market to that specific customer or segment of users at a higher rate than other online marketing and digital marketing channels.
From its definition, you can learn that when a business sends a targeted message to a specific user or a segment of users, it results in higher engagement rates. Adopting in-product messaging is one viable strategy because there's a market fit – the direct correlation between market and product.
A lot of companies agree that it's a good idea to leverage in-product messaging to provide a seamless onboarding experience to new customers. That way, the use of email will focus on engaging customers who are stuck on a step.
5. Automating Support Through Chatbots
Chatbots are a new communication tool that has recently been getting all the hype. And, yes, some are definitely justified.
Chatbots can automate support to provide help to customers at any time. When done right, chatbots can take over the boring, repetitive part of any organization's service. It gives businesses the chance to focus on working on other issues that require greater attention.
The best thing about chatbots is that they can work on their own.
6. Addressing Bugging Customer Questions Through Blogs
In the world of digital marketing, top brands, like QuickSprout, Search Engine Journal, Moz, and HubSpot have successfully mastered the art of leveraging content to inspire customers.
How do you think Shopify acquired and nurtured more than 165,000 loyal customers? Yes, you guessed it right, through blog posts, specifically content marketing funnels.
Shopify is more than just a provider of one of the best shopping cart software. The company has also embraced content marketing. They're very good at creating custom content that shouts out and addresses bugging questions from their existing customers.
The customers of any business will have questions bugging their minds. Every company knows that time is precious. If a business has a large customer base, answering every customer can be very difficult.
Custom blogs are the easiest way to address questions. Custom blogs are a type of content that one writes to customers who are already familiar with a service or product.
Businesses now create custom content to inform customers about new product features and how to set up or install a feature. Well, it doesn't even always have to be a new product feature. The new content could be something that highlights benefits, an upcoming event, and other information that's of interest to the customer base of a company. All of these are examples of content that businesses deliver through the blog section of their websites.
The sole objective of blogs is to engage customers and give them a valid reason to stick to your brand.
7. Facilitating Knowledge Sharing Through Discussion Forums
Discussion forums might seem like old technology to some, but it's still a communication tool that many businesses prefer to use today.
A discussion forum brings management, employees, and customers together. It allows for a helpful open discussion on any topic that usually gets set up and moderated or monitored. It helps in disseminating knowledge and is effective in archiving service or product knowledge that anyone can use as a reference. Customer morale also gets boosted by participating in discussion forums.
Facilitating knowledge sharing is also possible with discussion forums. That way, companies won't be wasting time answering the same questions over and over again. Businesses now integrate their discussion forums with enterprise search to allow people to discover every forum information when they need it.
8. Obtaining Customer Feedback Through Customer Survey Software
The importance of customer feedback can't be overstated. Customer survey software allows businesses to collect it consistently and on a targeted basis.
Customers are the most valuable asset of any company. Thus, investing time and resources to really understand them and what makes them tick is essential. Getting to know the ambitions, fears, hopes, and struggles of customers allow businesses to better deliver their products and services.
Depending on the software solution that a business uses, it can limit surveys to its existing customer base or extend its reach to a larger group of people outside its customer base but possesses the same demographics.
9. Resolving Customer Issues Through A Case Tracking System
An online help desk integrated with a case tracking system allows customers to submit a support ticket or case. This communication tool helps companies in assigning the issue to the right person and have it resolved in time.
Centralizing customer support queries and tracking any open issues are possible with a case tracking system. This enables businesses to prioritize the most important and relevant questions or issues and collect customer feedback to help improve their products, services, as well as customer relationships.
A case or issue tracking system generally gets utilized in the customer support call center of an organization to create, update, and resolve all reported customer issues quickly and effectively.
Conclusion
Engaging with your customers can be challenging, but it can be done. You only need to explore the different technology available and pick one that you think is right for your business.
Keep in mind that you don't need to settle for just one tool. You can start by choosing a communication tool to become the base for your company's communication needs and add more later on.

Follow Lilach