Follow Lilach
How to Leverage Cold Email for Content Promotion
Promotion is more important than creation. Hopefully that doesn't come as a shock to you. We've long heard that content is king, and that content marketing is the only 'real' marketing left. While that was and remains true, if you're not promoting what you've created as if your (professional) life depended on it, you might as well not be doing it at all. In this blog post, I'm going to show you how to leverage cold email for content promotion.
"You need to be good at what you do. And people other than yourself (and your mom) need to know about it. Promote your work." ~Derek Halpern
Derek Halpern of Social Triggers advocates the 80/20 rule for content: spend 80% of your time promoting your stuff, and only 20% creating it.
If you spend x number of hours or days working on your latest blog post, infographic, or video and only share it once to your social media profiles, the vast majority of people are going to miss it.
Why? Here's the harsh reality:
So unless your audience is constantly on watch for your content, chances are they won't see it.
A simple way to increase your odds is posting more than once. Share it, share it an hour later, the next day, next week, and next month. Don't just post the same exact message each time, though. Mix it up a bit.
Content promotion deserves that 80% because it's easier to get more eyes on content you've already created than to create more content. You're spoiled for choice: social media, paid ads, bookmarking sites, repurposing to other formats, internal linking, SEO, Quuu, Mix, Outbrain, and many more. There are dozens of content promotion tactics to try.
If you're looking for maximum ROI – for those with little budget (or more brains than dollars, as Guy Kawasaki likes to say) – influencers and email outreach are the way to go.
Cold Email + Quality Content = 10x Promotion
It goes without saying that cold email is affordable, efficient, and effective. It's possible to connect with virtually anyone if you know where to look and the tools to use.
Why's that important? Because there are hundreds or thousands of influential people in your niche that need a steady supply of high quality content to share with their audience.
You just need to find them.
Identify the Influencers
You may already have a few names and websites in mind. These are the influencers in your industry, and you can absolutely reach out to them … later.
Just don't start there.
It's best to find the small-to-medium-sized influencers first. These are the people and brands looking to grow and expand. They'll be ready, willing, and able to help you because it helps them (more great content for their audience to consume).
To identify them, seek out relevant content with plenty of engagement (likes, comments, shares).
How? Try this: conduct a keyword Google search and look over the SERPs.
Remove the sites and names you recognize, focusing instead on those you don't know for now. Click a few of them. Browse the content and site. Is it a good fit for you, your content, and your desired audience? If so, jot it down.
You've got the start of a powerful email list.
Next, head over to a tool like BuzzSumo or NinjaOutreach. They can find the most popular (i.e. shared) content for any keyword or site. Collect a few more names and blogs. Add them to your list.
You may need to get email addresses to go with the names you've collected. There are several ways you could find them, but for ease, speed, and convenience, try Voila Norbert. Enter a name and domain, and Norbert goes on the hunt for you.
Armed with names and addresses, it's time to connect.
"Ask yourself this crucial question: Is my content shareworthy? No influencer is going to risk their reputation by sharing bland me-too content. Even if you woo an influencer with an enticing subject line, relevance, personalization, the whole shebang, it all boils down to this: is this stuff good enough to share with the world? If the answer is no, you won't get a yes even if you've done everything else right. So better create tiptop content." ~Qhubekani Nyathi, Founder and CEO at Wholesome Commerce
Email Outreach Blueprint
When cold emailing, you need to personalize as much as possible. 82% of marketers see an uplift in open rates through email personalization.
No one wants to receive a cookie-cutter message that was clearly sent to hundreds of others. They want to see that you took the time to research and understand them specifically.
You could do this manually. It's effective but time-consuming.
Or you could automate and personalize at scale with a comprehensive email service. Collect personal details, segment your list (CEOs, marketers, freelancers, and so on), and create a corresponding template for each one with a few merge fields to automatically customize your message.
A great personalization tip from Adam Grant is to highlight uncommon commonalities. The more unusual, the better. It creates instant affinity.
The trick is to offer them something valuable, something that benefits them. Yes, ultimately you're hoping to leverage their audience for your piece, but that's a mutually-beneficial proposal when done right:
Offer yourself as a possible resource for them in the future

Share your link with creators you've quoted or linked to (they'll want to share with their audience because it makes them look good)

Share with creators whose blogs deal with the same topic, as it would make a good piece for

their

readers
"Focus on developing a mutually-beneficial relationship, rather than asking a one-off favor. We always propose to give something in return when asking for content promotion: the promotion of their content by us, a free subscription to our software, or a mention in one of our articles. In this way, the first outreach email is the start of a relationship where both parties regularly promote each other's content." ~Stefan Debois, CEO, Survey Anyplace
You get the idea. Give more than you take. Help them or make them look good, and they'll be happy to help you.
Email Outreach Best Practices
Beyond segmenting your list and personalizing your messages, remember these tips and tricks to maximize your success with email outreach:
K.I.S.S.
Keep it simple, short, and friendly. We receive a lot of email, and influencers receive even more than average. Get to the point.
Subject Lines
Your subject line is crucial. In fact, 47% of emails are opened or discarded based solely on their subject line. It's got to be great. Testing and optimizing it can increase open rates by 50% or more.
Be Valuable
Make sure your content is relevant to them and their audience.
Tis Better to Give
No sales. No pitches. Just offer them something easy to accept or say 'yes' to (i.e. your high quality piece of relevant content).
"You might even consider writing a pre-prepared post for them, so that all they need to do is copy and paste and post it on their blog or social media. While it adds a little work to your outreach, it really helps with making it easy for them to say 'yes.'" ~Sophie McAulay, Growth & Content Strategist at AND CO
If At First You Don't Succeed
Follow up when you don't get a response to your first message. Follow up more than once. One study saw a 30% open rate for the first email, but 21% for the second, 18% for the third, all the way to 7% for the tenth.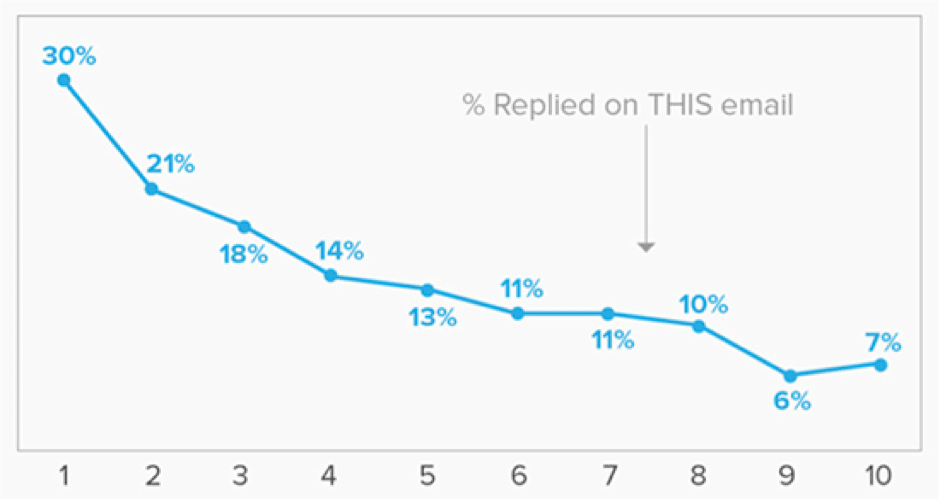 Another study found campaigns that sent 4-7 emails per sequence had 3x more responses than those with only 1-3.
The takeaway? Always follow up. Then follow up again. And again.
You're starting a conversation. Include your name and contact details. Give them a sincere compliment or uncommon commonality – and a valuable asset – and you're going to get a response, a share, and a relationship for your efforts.
Maintain a strict "help them" approach for maximum impact, and they'll not only help you, they'll do so without being asked moving forward. They'll automatically share your content when you publish it because they know you and trust it'll be top-notch.
That's the best kind of promotion possible.
What cold email promotion strategies do you use with your content? Share in the comments below.
About the author:
Sujan Patel is a partner at Ramp Ventures, makers of Mailshake, Pick, VoilaNorbert, and Right Inbox. He has over 14 years of marketing experience and has led the digital marketing strategy for companies like Salesforce, Mint, Intuit and many other Fortune 500 caliber companies.

Follow Lilach