Follow Lilach
The best way to strategize and streamline your social media
Social media marketing is a time-consuming process. Planning, strategizing, scheduling, and most importantly, getting approval for social media updates, can be a frustrating, arduous process. In this blog post, I want to show you the best way to strategize and streamline your social media marketing.
The basics of social media planning & strategizing
A good social media strategy has several different steps:
Setting goals: you need to be clear about what you want to achieve through social media by setting clear goals; using these goals, you can then come up with the mix of updates needed in order to achieve them
Idea stage: once you're clear on what your goals are, it's time for the ideas – not all of them will be great, but it's worth putting them all down on paper (so to speak) – you never know what other great ideas they might spark
Content approval: in many cases, there is more than one person involved in creating and executing a social media campaign. All ideas need to be approved before being published; this can prove to be a bit of an issue if you can't keep track of who approved what and when, so as to avoid any confusion, and especially to avoid posting something that wasn't approved
Content scheduling/publishing: arguably the easiest, most straightforward task of the bunch – particularly if you have a good tool to help
Measuring the campaigns' success: after your campaign is over, or your goal deadlines are reached, all results need to be measured in order to evaluate the ROI of the campaign, and so you can optimise your future campaigns
[clickToTweet tweet="The best way to strategize and streamline your social media @ContentCal_io via @lilachbullock" quote="The best way to strategize and streamline your social media @ContentCal_io via @lilachbullock"]
The whole process usually gets more complex the more people there are involved; scheduling content is easy enough, but when each social media update needs to go through a number of people before getting approved, that's when things start to get complicated – and potentially very frustrating, too.
Whether you're a business with multiple people handling your social media marketing, or an agency that deals with clients on a regular basis, you need a tool that can help you plan and strategize social media campaigns, as well as make the whole update approval process run as smoothly as possible.
Gone are the days of multiple spreadsheets and numerous back and forth emails – with the right tool in your arsenal, you can not only save a lot of your time, but also improve your results. Usually, most use several different tools to put together their social media schedule; they use spreadsheets or a tool like Trello to plan their calendar, they use email to go back and forth to get approval on content and to make changes to it, and finally, they use a tool to publish and schedule the content. Not only is this difficult and time-consuming, but it can also lead to confusion and mistakes – posting content that wasn't ready yet, posting on the wrong days, not getting approval from the right parties before posting an update, and so on.
And that's where ContentCal comes in – one of the new kids on the block when it comes to social media calendars, but definitely one to keep an eye on, as they have created a calendar that allows you to handle all 3 processes with one tool.
What is ContentCal?
ContentCal is, first of all, a social media planning and publishing tool. However, there's much more to it than meets the eye:
Jot down your ideas – you don't need to use the calendar just for scheduling updates, but also for adding any update ideas to be looked into later on
Create different calendars for all of your clients or projects, if you wish
Visualize all of your social media updates in a colour-coded social media calendar
Connect your social networks (Twitter, Facebook, LinkedIn, Instagram, and Google+ and Pinterest coming very soon) and schedule/publish your updates directly
Collaborate with other users – plus, leave notes and comments on different updates, for easy collaboration
Minimise risk – you can see a full audit trail for every update you add to your calendar so that if someone complains about an update, you can clearly show them the approval process (this is a particularly invaluable tool for agencies)
Organise all of your marketing – this is one of the features that, for me, turned ContentCal from "ooh, I want this" to "I need it, give it to me now!" Basically, you don't need to stick to just your social media channels; if you wish, you can add multiple custom channels to your calendar – but I'll get more into that in a bit
Check your analytics – ContentCal recently introduced a huge new feature: content analytics; easily filter your analytics for each of your different calendars and get analytics for your Twitter, Facebook, Instagram, and LinkedIn content.
[clickToTweet tweet="The best way to strategize and streamline your social media @ContentCal_io via @lilachbullock" quote="The best way to strategize and streamline your social media @ContentCal_io via @lilachbullock"]
Planning and scheduling your social media marketing
As I mentioned earlier, ContentCal's main feature is their social media calendar for planning and scheduling your updates.
Creating a calendar
First of all, though, you need to create your calendar: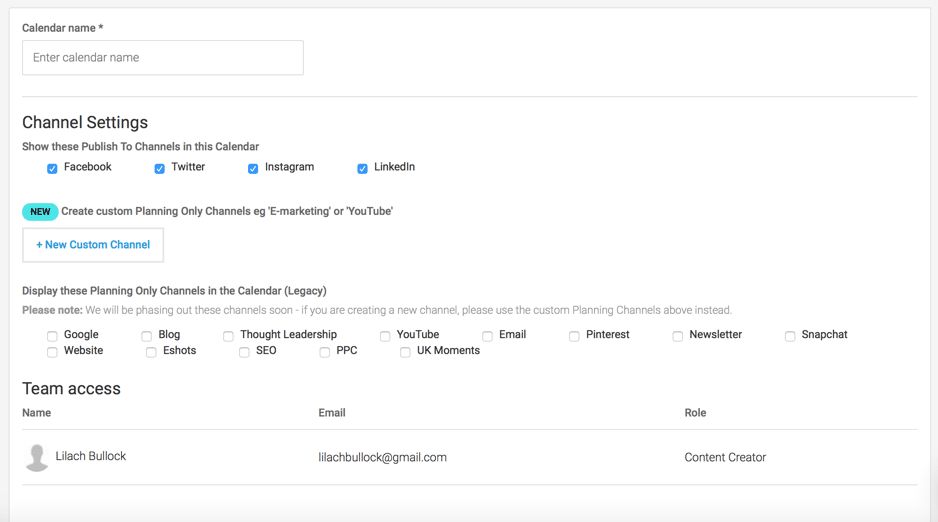 Give your calendar a name, add the social networks you want, as well as create any custom channels you wish. Furthermore, you can also set up the approval scheme at this stage and set your update categories with their corresponding colour scheme:
This is one of those features that might seem small, but it can make your life much, much easier. You can basically categorize and colour code all of your different update categories, which then helps you make sure you're diversifying your content enough, and that you're constantly offering something different to your social media audiences and not just posting the same types of updates over and over again:
In terms of the approval scheme, you have 4 options for each step:
Content creator
Editor
Manager
Director
[clickToTweet tweet="The best way to strategize and streamline your social media @ContentCal_io via @lilachbullock" quote="The best way to strategize and streamline your social media @ContentCal_io via @lilachbullock"]
The terms are pretty self-explanatory; first, you have the content creator who, of course, puts together the ideas and updates, then the editor, who will check the content, and finally, the manager and the director, who could be the client, for example (or the boss), who checks and approves the updates.
This is all completely optional, though – and can be set however you like and customized for each of your different social media calendars.
To start adding content to your calendar, click on "new post" or click directly on the date/social network you want:
You can set the date and time, write the update, add media, and set the categories.
Once done, all of your scheduled posts will follow a clear colour-scheme, to make things easier on you:
Green for published updates
Red for declined updates
Orange for updates pending approval
Plus, you can also add colour-coded category tags to all of your content to make it more organised and easy to understand and go through:
If you want to see a clear view of your calendar looks like for the next few weeks/months, you have 2 options: weekly view or monthly view. With the weekly view, you can see all of your individual scheduled and planned social media posts in detail. With the monthly on the other hand, you can see everything you've got planned for the month, for each social network and custom channel:
This helps you see whether you've diversified your content enough and whether there are any gaps in your schedule.
And if you notice any post in your schedule that you want to re-use on a different channel (or repost it on the same one), you can easily do so by clicking on the update and then on "re-use post".
Organize your calendar: planning tools
Once your calendar is created, you can set your campaigns by clicking on the space right under the date (at the top of your calendar):
Here, you can name your campaign (and it will show at the top of the calendar), set the dates for it, add a description and any comments, as well as add all of your media for the campaign (images, videos, GIFs) so that you have easy access to it when creating your updates.
[clickToTweet tweet="The best way to strategize and streamline your social media @ContentCal_io via @lilachbullock" quote="The best way to strategize and streamline your social media @ContentCal_io via @lilachbullock"]
Channel notes
Another useful way that you can organise your calendar is that you can add specific channel notes by clicking on the top space for each social network:
This way, it's very clear what the goal of the day is for each social network; for example, if you have an event coming up, make a note of the days when you want to promote it, or if you want to promote an upcoming product launch.
Updates backlog
To start putting together your ideas for updates, click on 'new post'. At this stage, you can set all the usual's – the social network, the calendar to be added to, the date and time, the category, add media – and then save your posts to the backlog (or add them directly to the calendar).
When you add updates to your backlog, they are saved as an idea, and will be available on the left-hand side of your dashboard:
You can then search through your post backlog using the search feature, and easily drag and drop the updates you want directly in your calendar to be scheduled to be published.
Placeholders
Another nifty little productivity tool is the placeholder feature. What this means is that you can add notes to your calendar – just click on 'new post', write your note and then click on "add as placeholder":
They're basically sticky notes, there to help you remember what needs to be done for the day – whether it be a new product being launched, a blog post that needs promoting, or a national event that you need to know about in order to create content for it.
[clickToTweet tweet="The best way to strategize and streamline your social media @ContentCal_io via @lilachbullock" quote="The best way to strategize and streamline your social media @ContentCal_io via @lilachbullock"]
Collaboration tools
As I mentioned earlier, one of the big draws of using ContentCal is that it makes it so easy to collaborate with others, as well as to minimise the risks that come with social media marketing.
You can add multiple users to your account and give them different powers; then, once the content creator has put together the updates, they can send them for approval to the appropriate parties, which will be notified by email.
You have 2 main options here: select specific updates to be sent for approval, or send them the entire week worth of social media updates to be approved – it's so much quicker than through more 'traditional' methods.
Not to mention, you can keep track of all of this – in detail. Every change, every note, every comment, and every approval is kept track of, which is particularly great if you're handling social media marketing for clients.
This way, you can avoid any blunders or misunderstandings, as you can rest assured that you're only publishing content that has gone through the appropriate channels and was approved by the right people.
All you have to do is go to your "activity feed" – there, you will be able to see every little action taken by anyone on your account.
Other ways of using ContentCal
Earlier, I mentioned the fact that you can also add custom channels to your calendars. What this means is that you can use ContentCal for more than just social media marketing – but also your other marketing efforts.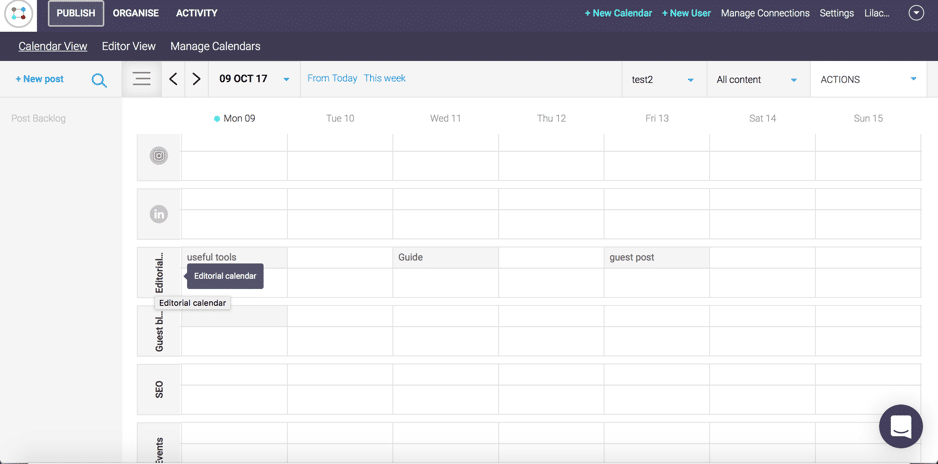 This way, you can use your calendars to plan and visualize all of your marketing:
Editorial calendar: create a custom channel for your blog where you add all of your upcoming blog posts. By visualizing your editorial calendar this way, you can make sure that you're posting new content often enough, as well as that you're diversifying it enough
Content calendar: plan of your marketing content – videos, images, landing pages, online courses, webinars etc.
Events: any upcoming events? Jot them down in your calendar – this way, you can also clearly see when it's time to start promoting each event
Guest blogging: if you're a regular guest blogger, you can create a channel to keep track of all your upcoming guest blogs so you don't miss any deadlines
Email marketing and newsletters: make sure you don't forget to send your list newsletters and marketing emails
SEO: keep track of all your SEO efforts
Ad campaigns: if you've got any ad campaigns coming up, you can use ContentCal to stay on top of their start and end dates
[clickToTweet tweet="The best way to strategize and streamline your social media @ContentCal_io via @lilachbullock" quote="The best way to strategize and streamline your social media @ContentCal_io via @lilachbullock"]
There are plenty of other ways that you can use the 'custom channels' feature – basically, anything that has to do with marketing and promoting your business (or others' business, if you're using ContentCal for clients).
Content Analytics
As I mentioned earlier, a big part of a social media campaign is the measurement phase, when you find out how your campaign has performed and whether it's achieved its goals or not.
Most importantly, you'll learn what works and what doesn't so that you can optimise your future social media campaigns and get better results in the future.
ContentCal have recently introduced analytics to the tool; to get started, you can use the filtering options to see the analytics you want: choose the calendar and then choose the social network:
Additionally, you can also choose the time period – either the last day, the last week, or the last 30 days of activity.
At the top, you'll see an overview of your results (likes, retweets, numbers of engaged users and video views, and so on) and to get more information on individual posts, scroll down. You'll then be able to see more detailed analytics for each of your posts, such as the number of likes and comments, the number of people who've seen your post and engaged with it, number of shares, and so on (depending, of course, on each social network).
Or, you can go directly to your top performing posts – just check the 'view top performing only' box:
One of the things I really like here is that if you find a post that has performed particularly well, you can click a button to re-add it to your backlog. This way, you can re-use your best performing content across any of your different calendars and social media channels, easily.
Schedule Instagram posts with the mobile app
Another very welcome addition from ContentCal is their iOS app for planning and publishing your Instagram updates.
Instagram doesn't allow you to use third party to schedule updates, but there are ways around that.
The simplest way of planning your Instagram updates is to use a tool like ContentCal to 'schedule' your updates.
You start by preparing and scheduling your Instagram updates on your desktop app; then, you can use the smartphone app to quickly view all of your scheduled and overdue posts, as well to get a reminder whenever you need to post one of your scheduled updates to Instagram.
Another cool thing about the app is that it integrates with tools like Slack, Gmail, the Notes app, and Facebook Messenger to create some useful shortcuts.
Conclusion
The internet is full of social media planning and scheduling tools; however, most of the ones I've tried so far don't have the flexibility, or the features needed to take them beyond 'just a scheduling tool'.
ContentCal, on the other hand, does; not only is planning and scheduling incredibly easy and convenient (have I mentioned how much I love drag & drop?), but it also allows you to minimise risk with the way the approval scheme is set. Plus, I absolutely love the fact that I can plan more than just my social media, all in the same calendar. Oh, and best of all, you can get started for free, for one user – just create your account here; or, quote "Lilach" to get 10% off any plan 🙂

Follow Lilach