Follow Lilach
Spreaker: the easy way to publish and distribute your podcasts
Nowadays, people have a lot of things to do and little time to do them.
So, there's a huge push to optimize activities to do more in less time. What is the implication for you as a marketer?
It means you need to produce easier-to-consume content pieces that will take less time for your audience. Perhaps, one of the best content formats to achieve this is a podcast.
A podcast is an engaging piece of audio content where you can interview industry experts and ask insightful questions. In turn, your audience will gain vital knowledge without having to sit for hours reading content.
One big advantage podcasting has over other content formats is that listeners can engage in other activities while listening to podcasts. So, your follower can listen to a podcast while running on the treadmill or driving to work.
How popular are podcasts? In 2020, Edison Research and Triton Digital found that 37% of Americans listen to podcasts. That's 104 million Americans!
With that said, how do you create a podcast show that subscribers itch to download and listen to?
Here are some tips to keep in mind:
Define your ideal audience: podcast listeners are just as diverse as people in the world. You need to define your ideal listener and topics that will interest them.
Deliver a valuable podcast show: if your show doesn't meet your audience's needs or solve their problem, they'll stop listening. It's as simple as that.
Invite influencers as your guests: beyond being influencers, your guests should be people your audience knows and trusts.
Promote your podcast to your guest's audience: if you've featured a guest in your industry, their audience will likely be interested in your podcast. This is an opportunity to promote your podcast to their audience. Your guest can also promote
Involve your followers in your podcast show: this could be by suggesting the next guest, sending questions to guests, or competing for a chance to feature. This way, you can increase engagement in your show.
Feature on other industry podcasts: just like guest posts, featuring on other industry podcasts will give you a wider reach. As a result, you can acquire more subscribers for your show.
Use quality podcasting tools and software: one of your audience's basic expectations is high sound quality. With a quality microphone and other equipment, you can produce sound quality that's easy to listen to. Also, using podcast software can make it easy to distribute and track your show statistics. However, you need to note that great sound quality doesn't trump valuable content.
Talking of podcast software, I use Spreaker for my podcast show. I recently launched my podcast, The Lilach Bullock Show, where you can get motivation and inspiration from the world's top entrepreneurs to re-engineer your business mindset for success!
And in this post, I'll be writing a Spreaker review to explain all you need to know about this tool and how you can use it to host your podcast show.
Robust podcast hosting with Spreaker
As one of the most popular podcasting software today, what makes Spreaker a popular tool, and why is it worth your consideration?
Let's go into Spreaker to see its features and benefits. Once you log in to your account, the first page you see contains your podcasts.
The first impression here is how simple the page looks. Here, you have access to the most important elements for your podcasts.
First, you'll see the number of hours you've used. For instance, I have used 2.44 hours out of 500 hours in my plan.
Below that, you'll find options for your podcasts. Click on "Create a New Podcast" to set up a new show.
You can enter details such as your podcast title, language, category, and picture. If most of your audience is non-English speaking, then you can select your preferred language from the options.
Furthermore, the category drop-down allows you to select categories such as arts, business, comedy, education, and more. Below each category, you'll find sub-categories.
For example, there are sub-categories such as investing, management, and marketing below the business category. Next, you can upload an image for your podcast.
Scrolling down the page, you have the option to upload a cover image. Then, you can set the visibility and write your podcast description. For example, if you want to create a podcast for an exclusive audience such as clients or premium listeners, you can select the "Limited Access" option.
With your description, it's easy to create a hook that will convince subscribers to tune in to your podcast show. Once you're done with the settings, click on "Create" to finish your setup.
After creating your podcast, then you can use the second option which is "Upload a New Episode." Clicking on that will take you to the next page to upload your audio file. Even if you have a few episodes, you can upload them all and plan their publish times.
If you host more than a single podcast in your account, you'll have to select a podcast. This is a unique feature as Spreaker is one of the few podcast tools that allows you to have multiple podcasts in one account. Luckily, Spreaker supports popular audio extensions, and you can upload a file of up to 300MB in size.
The third option is to import your podcast from an RSS feed.
All you have to do is paste the link of your RSS feed and click on "Send Link." However, you only need to use this option if you have your podcast on another software and want to move it to Spreaker. In that case, you can contact customer support or read articles in the Help Center to make the process hitch-free.
Spreaker podcasts
On the podcasts page, you'll see your podcast shows.
By hovering on a podcast, there are options to view and edit your podcast or see the podcast statistics. When I click on the "View & edit" button, Spreaker takes me to the podcast's dashboard.
On this page, there are many actions to take concerning your podcast. By clicking on "Basic Info" at the left sidebar, you'll see details of your podcast such as title, permalink, picture, and more.
Just like traffic on your website, you want more listeners for your podcast. Spreaker has done an excellent job with the distribution channels available on the platform. To access these channels, click on "Distribution" at the left sidebar.
Here, you'll find more than 10 major listening platforms to enlist your podcast. If you click on the drop-down beside each platform, you'll see your podcast URL. You can share the link with listeners who use these platforms.
Once you upload a new episode on Spreaker, it will automatically appear on the listening platforms you've added here. This is a feature I really love as it makes it easy for me to reach a larger number of listeners.
Beyond that, the podcast page settings allow you to upload your cover images and add links to your website, iTunes, and social media pages. Likewise, you can use the auto-sharing options to share your podcast automatically once you publish a new episode.
In some cases, you might need to publish your podcast transcript on your website. In this case, you'll have to embed your podcast so that visitors to this page can listen right there.
To do this on Spreaker, click on an episode and then "Embed" at the left sidebar.
Here, you'll see the codes to copy and instructions on how to insert them into your website. Consequently, you'll have your podcast playing on your pages.
Going further below, click on "RSS Customization" to edit details about your podcast RSS feed. This is one of the features you have access to on a paid hosting solution.
These include summary, iTunes categories, cover art, website, copyright, owner, author, and more.
Another option you'll find on your sidebar is "Sort Episodes."
Apart from sorting your episodes, you can also manage seasons. If your podcast runs for long enough, say years, you'll have to split them into seasons for easy management. If you organize your podcast by seasons, it will display that way on Apple Podcast too.
To group your episodes into seasons, all you have to do is click on "+ Add Season." Then, select the episode(s) you want to move and into which season.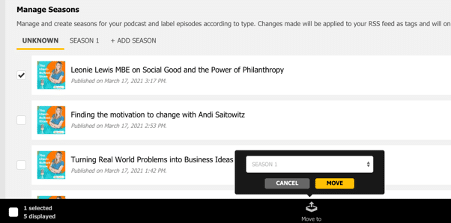 Other options you have on your podcast page is to import episodes and delete your podcast. With the "Import Episodes" option, you can add an RSS link that contains your podcast episodes, and the episodes will appear on Spreaker.
Podcast statistics
Having information about your podcast downloads and your listener demographics can influence your podcasting strategy. For example, if most of your listeners are from a particular location, you can invite an influencer from that location as a show guest.
What are the types of insights you can derive from the podcast statistics on Spreaker? To access the statistics, click on "Podcast stats" when you hover over a particular podcast. This will show you the statistics for that podcast.
Alternatively, click on "Statistics" at the left sidebar to see the statistics for all podcasts. Here, I'm looking at statistics for The Lilach Bullock Show alone.
Since I'm on the Broadcaster plan, there are some statistics I can't see in my account.
At the top of the page, you'll see the number of listenable episodes in the podcast, total downloads, and total live plays. Below that, you can select the period for your stats, and you'll see the total downloads and live plays for that period.
When you scroll further down the page, you'll see even more information.
If you click on "Downloads," you'll see the number of downloads and live plays in the selected period. There's also a breakdown of the number of downloads of episodes.
Better still, Spreaker provides the option to download your report as a .CSV file. Apart from downloads, you can see the other tabs that contain information about your podcast.
In the screenshot above, there's the geolocation of my listeners. This includes both the countries and cities of the listeners. In the statistics section, you can obtain as much information as possible about your podcast and listeners.
Spreaker podcast monetization
If you want to make money from your podcast, then the monetization feature can help you achieve that. To begin, click on "Monetization" at the left sidebar.
How does it work? Spreaker will insert ads into your podcast episodes at the times you specify and you'll earn via cost per mille (thousand impressions). You'll also select the ad categories to ensure you have an ad relevant to your audience. You only have access to all the options on the Publisher plan though.
This platform makes it easy to track your earnings on the monetization dashboard. You can see your current balance, impressions and earnings report, and more. Once you reach $10, you can withdraw your money into PayPal.
In the case where you're migrating your podcast to Spreaker, you have the option to monetize your past episodes. Even though I've not implemented monetization for my podcasts, I see it as an essential feature that podcasters will find helpful.
Customer support
Spreaker offers customer support mainly through its knowledge base articles and email. At different areas in the tool, you'll see light bulbs (that you can switch on/off at the top right corner) that link to relevant articles.
Likewise, there's an icon at the bottom right corner that allows you to search for articles based on the issues you have. If you can't resolve your issues through these avenues, then you can email their customer support.
Spreaker pricing
Spreaker has four pricing plans grouped into two categories: professional and enterprise. There's also a free limited plan with 5 hours of storage. The paid plans are:
On-air talent which costs $7 monthly and $6 if you pay annually.
Broadcaster which costs $20 monthly and $18 if you subscribe to an annual plan.
Anchorman which costs $50 monthly and $45 for an annual plan.
Publisher which costs $120 monthly and has unlimited audio storage.
You can pick any of these plans according to your needs.
Conclusion
Podcasting is a marketing trend that has been growing in the past few years and will continue to grow. As a marketer, if you have no podcast, then you should consider having a show.
That said, whether you're planning to start or you already have a show, using the right tool is vital. As the tool that I personally use, I've found Spreaker to be a robust and easy-to-use tool.
If you're looking for podcasting software today, Spreaker is a tool you should definitely consider.

Follow Lilach