Social selling is all the rage right now, whether you're an online business or you sell more traditional products and services. Social media is where your audience is, after all, so you need to get your sales team involved in your social media marketing process in order to get the best possible results for your business (and generate more sales!). In this blog post, I'm going to share the best social selling tools for business.
My 4 social selling tools of choice are:
1. Awario
2. Nimble
3. rFactr
4. LinkedIn Sales Navigator
Now let's take a closer look at each of these.
4 social selling tools to skyrocket your social media lead generation:
Awario
One of the essential tools you need as part of a social selling campaign – probably one of the first ones you need to get -, is a web an social media monitoring tool.
The reason for this is because it allows you to:
Discover opportunities, as people could be talking about your products or services, or looking for products/services like yours
Identify the best social influencers to reach out to and collaborate with
To gain more customer insights
Manage your social media engagement and ensure you're responding to everyone who mentions your brand
Manage your brand reputation by catching customer care issues as they arise
And Awario does exactly that; this web and social media monitoring tools allows you to listen to any and all conversations happening online about you, your business, a certain topic, as well as any other keywords you want to monitor.
Plus, Awario brings a very useful extra module for social selling to the table – something you don't get with just any social listening tool: Awario Leads. In short, this module brings prospects and leads directly to you.
But, better yet, let me show you how it works:
You start by describing your product and entering your competitors:
Then, it's simply a case of letting the tool filter through relevant results in order to find relevant posts from prospective customers: social media posts looking for similar product/service recommendations and posts where people are complaining about competitors (giving you the perfect chance to jump in)
You'll then always have a personalized list of targeted leads that you then need to engage with
That said, you can also use it as a social listening tool. By using Awario, you can create complex monitoring searches online – one of my favourite features of theirs along with the new Awario Leads. Apart from the usual options of monitoring certain keywords (and excluding negative keywords from your search, you can also use the Boolean search features so that you can make sure you don't miss any relevant mention:
With Boolean search, you can pin down your search to the smallest details, by using all the different search operators.
For example, if you were to monitor "content marketing", you might miss a result like "I want to hire someone to help with my marketing, especially for writing content". By using a certain search operator, you can make sure that you get every result mentioning your keywords, so long as they're not separated by more than 10 (for example) other words.
Back to the other features though, Awario monitors all major social networks (Twitter, Facebook, Instagram, Google, YouTube), as well as news websites, online publications and blogs, forums, and so on.
When you create a new monitoring search, you can also create a regular alert/notification to receive by email. And if you find any mention that needs responding to, you can easily do that directly by using the tool.
Plus, you also get analytics for your monitored keywords, and you can set alert comparison (basically comparing 2 monitoring searches you've set up):
As for identifying influencers, simply go to the "influencers" tab in your dashboard and click on each different network/platform at the top to see a list of the top social influencers for your keywords: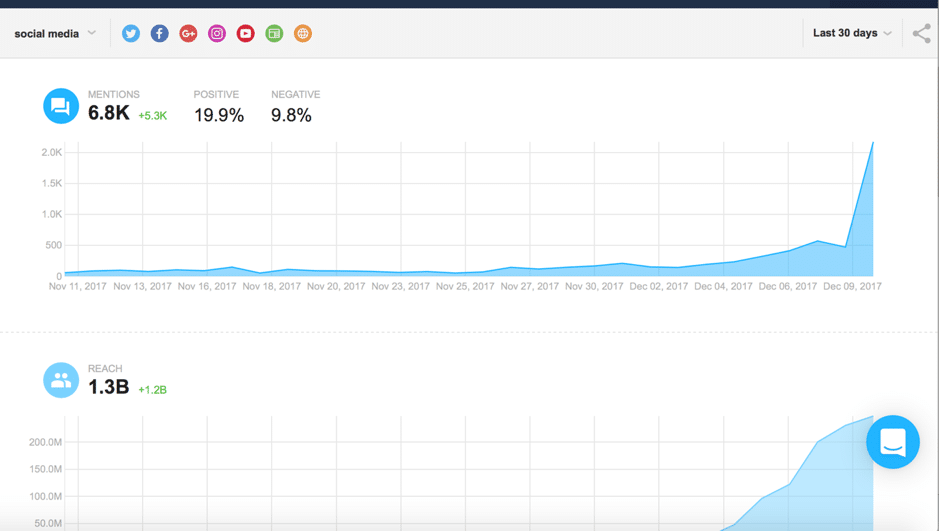 The 4 best #socialselling tools to skyrocket your social media #leadgen: @AwarioApp
Click To Tweet
Nimble
The next tool you need in your social selling arsenal, is a social CRM tool. This is because the way we talk with customers has changed a lot over the past few years. Sales people have to interact with leads and customers on all kinds of platforms, not just by phone and e-mail, but also through social media.
Nimble is a social sales and marketing customer relationship management tool that allows you to keep track of all your leads and customers, as well as all conversations held with them online: emails, social interactions, and any other conversation happening between you and the customer.
Each new lead logged into your CRM will feature a complete customer profile, pulling data from all kinds of different sources:
Another cool little feature is that you can instantly pull up information about any people or companies you might encounter online.
Once you've found someone you want to add to your list or simply want to learn more about, you can get the "live profile" report, which gives you all kinds of relevant information, such as:
Their location
Their place of employment
Revenue
Number of company employees
Social profiles and contact info, among others
The 4 best #socialselling tools to skyrocket your social media #leadgen: @Nimble
Click To Tweet
rFactr
rFactr is hard to define; on the one hand, it is a social CRM tool, but on the other hand, it also has quite a few other big features that aim to help with social selling.
Their aim is to help in 3 different areas:
Increase your leads
Improve your sales teams' productivity
Monetize your content and use it to improve sales
In short, it helps B2B companies with using social media to generate more leads and increase their revenue:
Use their high-performing suggested content to provide your leads with the right content, at the right time – plus, you can segment your audience, so that you can make sure the right person is receiving it
Social media scheduling
Track your social media prospects, as well as your competitors
The 4 best #socialselling tools to skyrocket your social media #leadgen: @rfactr
Click To Tweet
LinkedIn Sales Navigator
LinkedIn is an amazing lead generator (as well as great for nurturing leads!) and if you want to increase your results, the LinkedIn Sales Navigator is the tool to help.
This tool from LinkedIn aims to help you in 3 different areas:
Find prospects and companies faster
Keep track of all your LinkedIn leads and companies
And engage with your leads to nurture them and turn them into paying customers
One of the best features, in my opinion, is their advanced search:
As you can see from the image above, you get a plethora of search options and filters to help you find the best possible leads, such as job titles and years of working at their company, the company size, a leads' security level, the groups they've joined, and so on.
It's an invaluable tool because it helps you be more proactive and find the leads yourself, instead of waiting for them to connect with you.
Additionally, you'll also get suggestions for more prospective leads for your business:
And depending on the plan you get, you'll also be able to integrate with a CRM tool, so that you can automatically log any conversations and developments with your LinkedIn leads.
The 4 best #socialselling tools to skyrocket your social media #leadgen: LinkedIn Sales Navigator
Click To Tweet
Conclusion
By developing a social selling strategy and using your sales team to be involved in your social media marketing strategy, you can go beyond the usual benefits of social media marketing (boosting brand awareness, driving traffic to your website, etc.) and actually generate new leads consistently and nurture them more effectively so that you can results quicker.
By using the right social selling tools to help, you can discover more opportunities, and better manage your social media accounts and leads. The main tools you'll need are:
What social selling tools are you using for your business? Let me know in your comments and please share the post if you enjoyed it 🙂