Follow Lilach
Scale-up! The ultimate business game to learn business operations before you get started
Starting a business is easier than ever – with the Internet to help, there are numerous avenues you can take to start a business, depending on your idea and your initial budget.
However, while starting a business might be easier than ever, actually running a business requires a lot of knowledge, just like always and perhaps even more so, considering the level of competition and innovation.
Even if it's a small business idea, in an industry that you're very familiar with, the actual ins-and-outs of running a business can get overwhelming very fast: from handling supplies and manufacturers, to managing employees and to running successful marketing campaigns, there are numerous aspects that you need to get a good handle on before you start.
Put simply, your business has the best chance of success when you have the right knowledge and apply it. So what are some of the best ways you can acquire knowledge to grow your business?
Books: many successful business owners and investors have distilled years of knowledge about running businesses into books. By reading these books, you can get vital tips to apply to different areas of your business
Websites/Blogs: the internet has made information readily available to entrepreneurs and aspiring entrepreneurs. By following these types of sites regularly, you can learn from people who are running businesses successfully
Conferences: business conferences are avenues to learn more about business operations from experts. Furthermore, it's an opportunity to build relationships with other entrepreneurs and investors
Games: simulating some situations on games can provide needed experience before you execute those steps in the real world. And the beauty of games is that there's no risk of losing money even if you fail. That's why I want to tell you about Odoo Scale-Up! – it's a super fun and effective way to learn what it takes to run a business before you get started
In this guide, I'll show you how to prepare to be an entrepreneur and business by leveraging Odoo Scale-Up!
And even better, I'm giving away 10 Scale-Up! games for free!
If you want to win, all you have to do is email me at [email protected] and:
Use the subject line: "Yes please, I want to win the game!"
In the email, tell me how many people you think will apply for the contest – the closest answers will get the prize 🙂
What is Odoo Scale-Up?
This is a game that helps you to gain experience without the risk of losing money. Whether you're just planning to start a business or you've started one, Odoo Scale-Up! will provide knowledge about different scenarios while running your business.
To cover all the bases, the business game has 7 business cases that players can play to test their knowledge about that aspect of a business. For each scenario, there are 8 to 10 cards that represent tasks for each business case.
The 7 business cases are:
Buy & Sell
Run a Store
Sell Services
Manufacture
Use Barcodes
Sell Online
Create your App
From the list, you'll see that no matter the type of business you run, there are beneficial cases for your business.
The business game rules
With the 7 business cases and 8 to 10 cards each for the tasks, how do you calculate your score for the game?
First, you'll have to read the task on each card. Then, you'll execute these tasks online on www.odoo.com. Once you're done, you'll check the back of each card to see if your solution tallies with Odoo's.
If your solution tallies, you'll place the front side of the card up. Otherwise, you'll place the back side of the card up. The number of points you have is the number of stars at the bottom right corner of the card.
At the end of the game, you can add up your scores to get the total score. Look at this example of a task:
All you have to do is execute these tasks online without checking the back of your card. After the task, check the back of the card:
Here, there's an additional point if you executed the tasks in a particular way.
Buy & Sell
If you're going to sell specific products to your customers, then buying and selling are vital actions. First, you have to buy the best products at the best prices possible and sell to your customers at profitable prices.
The Scale-up! game is using MyOffice Inc., a furniture company, as a case study you can learn from.
In this scenario, there are 9 activities which include:
Create a product
Purchase large desks
Receive products
Control the bill
Sell products
Deliver to customer
Invoice customer
Record payment
Analyze profits
To simulate the Buy & Sell business case (or any other business case), you'll have to register your company's database on Odoo. Then, you'll select relevant apps to execute the tasks.
In this case, these apps are purchase, sales, accounting, and inventory. Once you select these apps, you can start to configure them for your game.
If you want to buy and sell, one of the most important steps is to source for products to buy. How well can you find the right suppliers? Furthermore, which supplier will give you the best deal?
By making the right decisions here, you can purchase your products at the lowest cost possible. Beyond that, you need to decide your stock level based on how many products you can sell.
When you receive your product, you need to sell and deliver your products to customers. Also, you need to invoice them and analyze your profits after sales.
How well can you do these? By the end of the tasks, you'll find out.
Run a Store
While buying and selling through your sales catalogue is good for a start, you can grow your business by running a store. This way, you'll have your products on display for prospects who need to check your products before making a purchase.
For this business case, you'll have to perform 8 tasks which are:
Import products
Sell 3 LED lamps
Close session
Configure cash control
Sell with an invoice
Return 1 LED lamp
Control cash
Analyze the PoS Sales
To run a store, you'll have to undergo some processes. Are you aware of these processes and how well can you execute them?
For instance, you have to manage more products on-site when you import them from the manufacturers. How do you accept payments? How do you prepare an invoice for your customers?
Another important issue you have to deal with is product returns. When a customer returns a product, you need to balance your account. Going through this business case will provide valuable knowledge if you're planning to sell through a store.
Sell services
What if your prospects need your expertise to achieve some results for them? In this case, a customer might need your expertise as a furniture maker to help them furnish their new office.
Apart from this, there are businesses that offer just services to their customers. To play the game for this business case, you'll have to perform the following tasks:
Set up a project
Create a task
Perform the job
Configure a product
Sell the design service
Record timesheet
Invoice customer
Before you can perform these tasks, you'll need to install Odoo apps such as project, timesheets, and sales to track these activities. With these tasks, you'll learn how to present your services, carry out the job, record timesheet, and invoice your customer.
Manufacture
So your business is booming and your products are flying off the shelves. This creates a new opportunity for your business. Rather than continue to operate at thin margins, you can cut costs by manufacturing your products in-house.
However, you'll need new skills to execute the vital tasks to make manufacturing successful. The tasks for manufacturing include:
Define the bill of materials
Purchase raw materials
Receive products
Manufacture 3 tables
Set up routings and work centers
Plan a manufacturing order
Add a quality check
Check your quality test
Control cost
To play this game, you need to install apps such as manufacturing and quality from Odoo.
Through these tasks, you'll learn how to purchase the necessary raw materials you need, set up work centres for the manufacturing, and plan a manufacturing order. Furthermore, you can add quality checks to ensure you're creating the best product possible and control cost to increase profitability.
Use barcodes
As you manufacture more products in your work center, it can become a pain to locate and move products in your warehouse. Therefore, using barcodes becomes necessary to manage your inventory effectively.
Also, having a USB barcode scanner or installing the Odoo mobile app on your smartphone will allow you to play this game. The tasks you need to perform include:
Configure the barcode scanner
Set up your product
Receive products
Sell products
Deliver products
Adjust inventory
Define locations
Move products
Before you begin, you need to install the barcode app from Odoo. After playing this game, you'll learn how to set up your barcode scanner and your products in the store.
In addition to that, you'll be able to sell and deliver your products more effectively as the barcode makes product identification much easier. More so, you can arrange your inventory according to your needs.
Sell online
With the internet, businesses can now serve customers across various locations worldwide. When it's time to grow your business beyond your location, selling online is one of the most important steps you can take.
The tasks for selling online are:
Design your homepage
Create a product
Improve SEO
Set up a product configurator
Test your eCommerce
Upsell customers
Write a blog post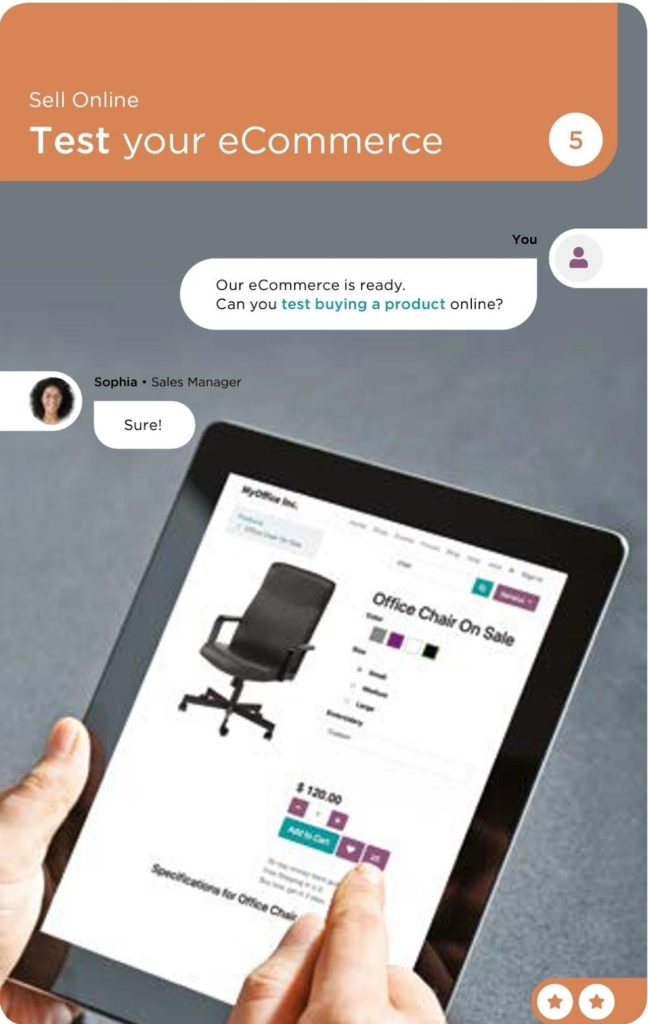 To play the game, you need to install Odoo apps such as eCommerce, website, and sales. In this game, you can design a website that is easy to use for customers trying to buy your products online.
Moreover, you can market your products effectively through blog posts, upselling to customers, and search engine optimization (SEO). If you have little knowledge about eCommerce, this is a valuable lesson you'll find useful.
Create your app
Today, creating a website might be insufficient to capture the maximum number of sales. With your app, you can promote your products and your services. Also, it becomes easy for customers to interact with you.
For this game, you have to execute tasks such as:
Initialize your app
Design office form
Manage rental status
Record your offices
Improve the list view
Add a Kanban view
Create statistic reports
Design a report template
To go about this effectively, you'll need to install the studio app on Odoo. Through this game, you'll learn how to promote properties and obtain statistics about your performance.
Conclusion
Starting and running a business can be a daunting task. But it's worth all the effort when you build a successful business.
With Odoo Scale-Up!, you'll simulate different business processes before you execute them in real life. Furthermore, Odoo apps make the game an even better, more interactive experience.
And don't forget, I'm giving away 10 copies of the game; if you want to win, all you have to do is email me at [email protected] and:
Use the subject line: "Yes please, I want to win the game!"
In the email, tell me how many people you think will apply for the contest – the closest answers will get the prize 🙂

Follow Lilach