Online forms are essential business tools, no matter the industry or niche you're in. From giving people a way to easily reach you to using forms internally to improve processes, online forms can be used in a variety of ways. And that when you also integrate with a powerful business tool like Salesforce, your web forms can prove to be even more valuable tools. In this blog post, I'm going to show you how to get more out of your online forms with a Salesforce integration.
Why you need online forms on your business website and blog
If you have a business that you're promoting online in any way – your website or blog, on social media, etc. – online forms are essential to your success.
There a plethora of different ways to use online forms to your advantage, depending on your particular needs. For example:
Contact forms: you need to give people an easy way to contact you in an easy, convenient way (without crowding your email inbox either!) while also asking for the information you need from them to help you learn more about the people who are interested in your products or services.
Order forms: if you sell anything via your website, products or services, online order forms offer an easy and secure way for the user to buy from you
Sales leads forms: forms are the best way to collect sales leads for your list. You can ask for the exact information you want so you can better qualify your sales leads
Event registration forms: promote your events and make it easy for people to register their attendance
Another big benefit or using online forms? The reporting! A good online form builder will track all of your form submissions so that you can make better decisions on how to improve conversion rates and, plus, track all of this data generated by the people completing your forms. For example, you can track data such as your form abandonment rates (which can then show you how to improve your forms to boost the number of submissions), see which forms work and which don't, and easily interpret the results of your quizzes and surveys.
How to get more out of your online forms with a Salesforce integration
123FormBuilder & Salesforce integration: why should you care?
If you follow my blog, you might've already read my review of 123FormBuilder; but they've recently announced a partnership for a Salesforce integration through their AppExchange that's gotten me very excited.
And if you use Salesforce for your business, then you're probably going to love hearing about this Salesforce integration too.
Why? Because if you have a business, then web forms are pretty much essential to your success:
You need to give your visitors an easy and convenient way to contact you directly
Customers need a quick and secure way to order products and services from you
Online sales forms allow you to collects sales leads for your list
Give your customers and fans and easy to register for events
Plus, you also need them internally, for example, to quickly register new employees and collect their data
There are dozens of different ways that you can use web forms to your advantage, especially depending on your industry.
But then the Salesforce integration comes in to help you get even more value out of your webs forms, such as improved accuracy and dynamic prefilling of forms. But most importantly, this integration allows you to both create and update the records of any Salesforce object (both standard and custom objects).
Before I get into the specifics of this union, let me show you first what 123FormBuilder can do for your business and website.
How to get more out of your online forms with a #Salesforce integration @123formbuilder
Click To Tweet
Everything you need to know about 123FormBuilder
The name really says it all – it's a form builder. And the 123 at the beginning suggests speed and efficiency; which, I'm happy to say, is definitely true because it's a very quick and easy-to-use platform and you can easily create web forms in just a few minutes.
First of all, you have a huge selection of different types of forms that you can create; for example, you can create a web form for your contact page, a registration form for an event, a sales leads form to collect data on your leads, an entry form for contests to help you build up engagement, a booking and appointment form, and even surveys and questionnaires.
And although the drag-and-drop builder is very easy to use, you're probably going to find you won't need to use it that much considering all of the free form templates that are available to use.
With over 770 free templates for most popular industries and departments (like education, events, finance, medical, HR, non-profit e-commerce businesses, and more) you can find a ready-built web form template for pretty much any occasion you can think of:
And not to mention, as you might notice above, there are also plenty of template options for very specific types of businesses and jobs, like call centres, yoga classes, spas, all kinds of different sports, and much, much more.
Once you decide on a template, you can quickly preview it and if it's the right choice, start customizing it to your liking:
On the left-hand side of your builder you have a list of all the different fields you can add; there are dozens of field types available:
Basic fields (add text, dropdown questions, single and multiple choice options, file uploading, and other basic fields)
Specific fields (fields such as name, addresses, phone numbers, date and time, email, and so on)
And then the "other" fields (the "special" fields, like embedding a PDF, adding a Google map to your form, adding social sharing buttons, images or videos, and a few others)
To customize your form, all you really need to do is drag the field you want from the left-hand side of the screen towards where you want to place them in the form. That's it!
Plus, you can also move fields around by dragging and dropping them where you want them, and easily resize fields to your liking.
Another option is to customize the actual look and feel of your web forms, their design:
You can change themes (and add custom CSS too), add images, change colours and background, and customize the design of any element on your form.
Apart from the actual form builder and design options, you also have a lot of useful settings that you can make; for example, you can:
Determine what the person will see after completing your form, or where they'll be redirected:
Connect with popular applications, including, of course, Salesforce (which I'll tell you all about in a bit)
Set up payment details if necessary for the form:
Change security changes, such as adding password protection for your form, adding a submission limit to help combat spam submissions, add all kinds of different types of captchas, accept or reject submissions from certain countries, and select who has the ability to upload a file
Set field rules, autoresponder rules, and form rules to automate certain tasks:
If you operate worldwide, you can create different versions of your form in different languages
And explore all kinds of advanced settings like allowing respondents save and resume later on submissions, or to later edit submissions they've made, add JS script to your forms, and who countdown timers on your quizzes (these are just some of the settings though, because it would take a whole book to go through all the customizations and settings that you can make on your forms, quizzes, surveys, and so on)
How to get more out of your online forms with a #Salesforce integration @123formbuilder
Click To Tweet
As for publishing, you can publish the forms you create pretty much anywhere you want. For example, you can share it on social media:
As well as embed it only website or webpage, publish on Shopify or BigCommerce, Blogger or WordPress (there's a plugin 123FormBuilder plugin available too) and, of course, you can also publish on Salesforce Marketing.
And that brings me to the awesome new 123FormBuilder and Salesforce integration…
123FormBuilder and Salesforce: better together
So, you already what you can create with 123FormBuilder and how to use it.
Where exactly does Salesforce come in?
If you have a Salesforce account and use it for your business, you can easily set up this integration within the Salesforce AppExchange Store, here.
And once you do, you'll be able to improve functionality across the board; most notably, you'll be able to send collected to Salesforce, automatically – to any standard (Lead, Account, Opportunity, Case, Task, and more) or custom Salesforce object (the Salesforce objects that you create).
Or, in easier terms, you can automatically send any data you collect from web forms directly to the standard or custom objects you want to.
This is a highly secure process as they use strong data encryptions so you can rest assured that your data is always safe even when it's sent to Salesforce.
One of the really cool features you get thanks to this integration is dynamic prefill; what this means is, they have real-time access to data, on the move, so that the form can automatically be filled based on a certain key identified.
For example, in this case, the respondent started writing the email address in the sales lead form: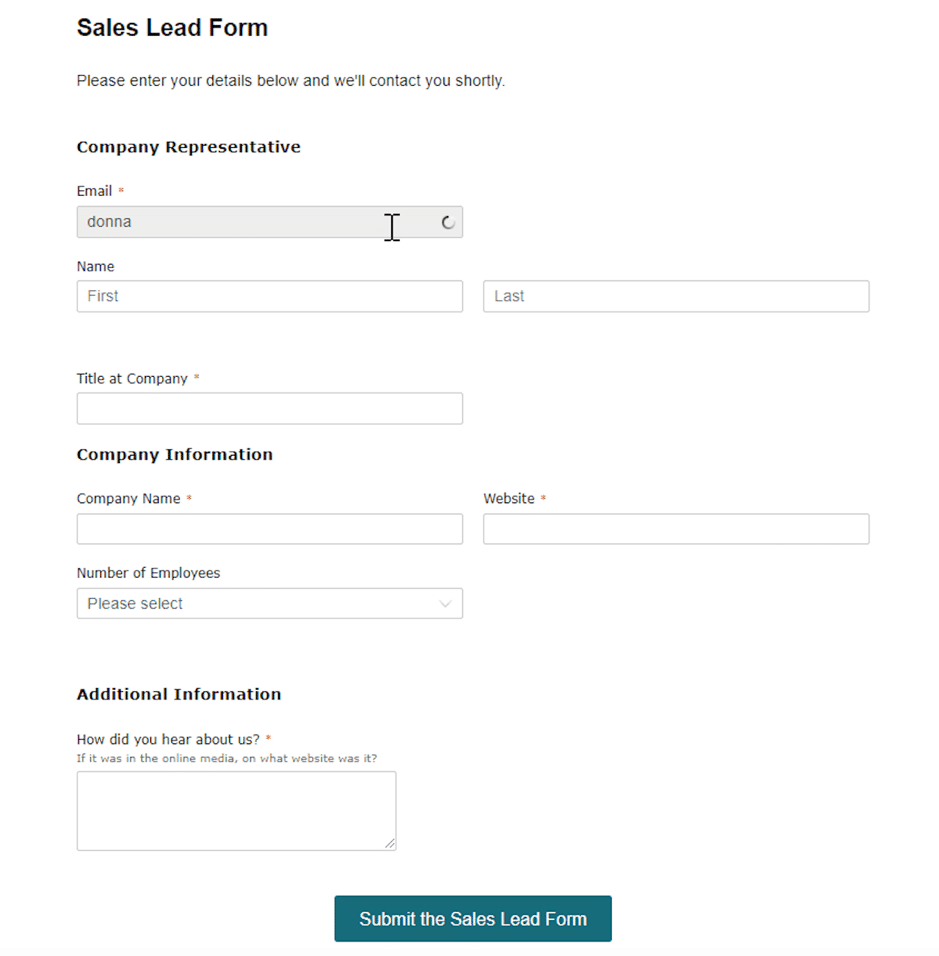 And the tool pulled up relevant information about the person using this email and added it to the form:
So basically, after you complete a field in a web form, the tool will look into existing account records so that it can pull this data from Salesforce in real time; thus saving you time, and most importantly improving accuracy, for example when updating records on Salesforce accounts.
Another useful feature is that you can also use offline forms so you can collect (and store) data while offline if you're not connected at that time. Once you do connect to a network again, the data will automatically be synced.
And as I mentioned before, you can send or update data to any Salesforce object, standard or custom, which helps you collect valuable data automatically and thus saving time and improving business results.
For example, you can map a Salesforce field with your form fields:
And basically send collected data to your Salesforce objects in real time; as you can see in the screenshot above, you can add as many fields as you want by clicking on "add new mapping".
As I was saying earlier, you can also do the same thing with custom objects. When you go to the custom objects category, you'll be able to see all of your custom Salesforce object and start mapping the fields just like earlier with standard objects.
Another useful feature is that you can update records in Salesforce:
Once you've selected the action (to update existing records, in this case) you need to select the what the "lookup" field will be. This way, whenever the lookup field value matched one of your previous entries in Salesforce, the entry will be automatically updated.
If it doesn't match anything, you have a couple different options: that new entry will be registered as a new record or you can skip the entry entirely so the tool won't create any new entries for it.
How to get more out of your online forms with a #Salesforce integration @123formbuilder
Click To Tweet
Conclusion
It's no secret I love 123FormBuilder all on its own: it's super easy and intuitive to use, you create pretty much any type of web form that you can think of, and it has an impressive selection of form templates to make creation even easier.
But then you also bring in Salesforce and there is so much more that you can do: creating a better user experience for the user or respondent, while also making your job easier and helping you get more out of both your CRM tool and your web forms.