Employee advocacy is all the rage right now – and for good reason. After all, your employees know you best; why not get them to become an even bigger part of your business?
One of the ways that you can improve your results and reach more people on social media is to leverage your employees' social reach: have them share quality content, news about your company, interesting industry stats, and so on.
So, how do you turn your employees into brand advocates? How can you get started leveraging their social media reach?
Read on…
What is employee advocacy – and why should you care?
In the age of the Internet – and, particularly, of social media – employees hold more power than ever; and what's more, they can actually be of more help than what you're already paying them for.
One of the ways that companies can use their employees in this digital age, is to leverage their social media and online influence. Because in this day and age, a regular person's word means so much more than all the advertising in the world; and when it comes to social media, your audience is much more likely to trust your employees, rather than your company account.
How to kickstart your employee advocacy program with @BeSmarp via @lilachbullock
Click To Tweet
In fact, research from Nielsen suggests that 90% of customers trust recommendations from people they know, while only 33% of buyers trust brands. Not to mention, employee messages get more traction; brand messages are re-shared 24 times more frequently when they originate from an employees' account, rather than the companies', and they also get 8 times the amount of engagement.
So, what is employee advocacy? In short, it's a way for brands to grow their following, their sales, and their overall success, by leveraging their employees' social media accounts. Look at your own employees: how many followers do they all have in total, compared to your brand accounts? How much engagement are they getting?
Chances are, they not only have more followers than you (put together), but their audiences are much more engaged. They actually care what they have to say. And, most importantly, they trust them. Can you really say the same about your following? Because at the end of the day, no matter how engaged and trusting your audience is, you are still a company on social media. You have your best interests at heart and you can never be trusted as completely honest – because, well…you have to follow your company's best interests.
Your employees, on the other hand, have real relationships with some of their followers and friends on social media; close friends, family, acquaintances, long-lost friends from school, and so on. That's why brands are increasingly trying to get employees to help support their message and share content about the company they work, news, and even marketing materials. This way, the brand is reaching more people, and (and this is where it gets really good) they are reaching these people through someone they trust.
So, why try to get your employees involved in your company communications?
To reach more people
Because people trust regular people more than they do businesses
Humanize your brand
Increase your employees' thought leadership
Increase your brand loyalty
Reach and engage more people on social media
Basically, enough benefit to make you start thinking about how you can get your employees on board.
How to kickstart your employee advocacy program with @BeSmarp via @lilachbullock
Click To Tweet
What is Smarp?
One of the top services that provide an employee advocacy tool is Smarp. In an interview with The Next Web, one of the Smarp cofounders mentioned how back when they first started, they noticed looking at one of their clients that their employees actually had 26 times more connections on LinkedIn than the company had followers – this, I'm sure, is a reality for many businesses all over the world.
A great majority of people are extremely active online, on social media; some have hundreds, if not thousands of friends – and some of them are your very own employees.
So, why not tap into this amazing well of reach, engagement, and word of mouth, to promote your business?
With this realisation, Smarp started working towards building the app that we see today – the employee advocacy platform.
Smarp now helps companies get their employees involved by providing them with quality content on an easy-to-use platform that is easily shareable, and with the tools they need to grow their thought leadership – and their influence.
How to kickstart your employee advocacy program with @BeSmarp via @lilachbullock
Click To Tweet
Smarp's main features:
The news feed: Just like on the social networks themselves, Smarp's news feed is the main dashboard where all the content suggested for sharing and discussing resides.
Gamification: Ine of the really cool features that Smarp has, is that your employees can actually have some fun while reading and sharing; basically, they can compete with their colleagues and get top spots on the leaderboard.
Company analytics: Find out important company-wide social sharing information, such as the best performing content items, topics and most influential users.
Personal analytics: Everyone can track their progress so that they can improve engagement and reach and ultimately boost their personal brands along with their employer's.
Integrations: Sync your Smarp account to WordPress, Dropbox, Evernote, Gmail, MailChimp and many more content, notification platforms and publishing-related tools.
Mobile apps: Mobile browser app, as well as iOS and Android apps, so employees can share on the go.
How to use Smarp to boost employee advocacy
As I mentioned earlier, the platform's main feature is the news feed. Depending on your role, you can use the news feed in different ways.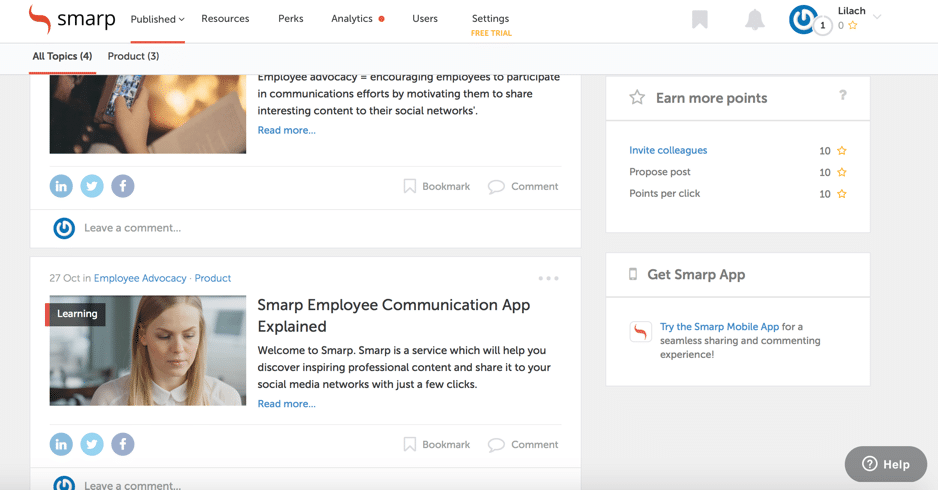 The admin:
You can schedule and publish content designed either for internal use or for sharing online.
Automatically push content in your feed through RSS.
Edit the content and organize it as you wish.
The employee:
The central hub of the latest company news and industry stats/news.
Use the news feed to find and easily share content online, on social media.
Save and organize your archive of content.
Create/propose content.
Engage by leaving comments and interacting with others on posts.
How to kickstart your employee advocacy program with @BeSmarp via @lilachbullock
Click To Tweet
The news feed is very easy to get the hang of and start engaging on.
Once the user finds an article they like, for example, they can easily bookmark it to save time, click on one of the social network icons to share it, or leave a comment for others to see.
As the admin, you've got different options for setting up the content in the News Feed.
To create a post from scratch, simply click on Resources.
You can also choose whether to allow comments on the post.
Additionally, you can post a link directly in your news feed.
If you click on Note, however, you can create a quick note for internal reading only.
This is great for sending out announcements to your team, especially as you can automatically notify users by email and push notifications.
But what happens if you can't be online to publish the note? Or if you only want to reach certain employees and not all of them? Just access the Advanced Settings; that's where you can schedule messages, select who sees it, what the campaign is and more:
It's all designed to make communication as easy as possible for all employees in a company; and what's more, it also helps to turn them into brand advocates for your company.
Apart from the content they get their news feed to share online, they're also encouraged to improve through gamification.
How to kickstart your employee advocacy program with @BeSmarp via @lilachbullock
Click To Tweet
Gamifying employee advocacy
Gamification is a great way to make something that is a bit boring (if we're being completely honest) and turning it into something fun; or, perhaps more importantly, something motivating.
Smarp's gamification features allow companies to give their employees a reason to participate and the motivation to keep getting top scores. One of the reasons to participate? So you can beat your colleagues, of course. The second reason? That depends on your company – but admins have the power to offer some extra rewards as well. Rewards can be set up using the Perks feature.
Add a title that describes the reward, an image to get people more excited, and a description, if needed. Then, set up a number of points the employee needs to reach in order to get it – and voila, your reward is set.
To keep employees motivated, engaged and sharing content, it's a good idea to set up different rewards, for different point-goals. Because, as with all games, we need to get something in return every once in a while, as it helps us justify investing more of our time and energy on playing.
The gamification features are a very big part of the Smarp platform; in fact, you can clearly see the leaderboard on the right-hand side of your news feed:
Plus, you can also see what your SmarpScore is, which is basically an influencer score but based on the activity within your company community.
Your SmarpScore can be anywhere between 1 and 100, and it's calculated based on a multitude of factors, such as the influence of your previous shares, the reactions your shares got, as well as the performance of other users, among other factors.
Back to the news feed, though, as you can see in the previous screenshot, you also get a snapshot view of different ways to add more points; these are set up by the admin (as I showed you earlier) and help your employees get more points apart from re-shares and so on.
By setting up these opportunities for getting more points, you're not only making it easier for your employees to grow, but you're also getting more positive results for your business.
How to kickstart your employee advocacy program with @BeSmarp via @lilachbullock
Click To Tweet
Company and Personal Analytics
The analytics features are a wonderful bonus; and what I like about these analytics, is that they're geared towards helping you, as a company, and you, as an employee, to improve your results.
Company analytics
This is where you get your company-level analytics on user engagement:
Find out who your most influential users are
What content worked best
Estimated earned media value (estimates the ROI of your campaign, by the value of the clicks your posts get – compared to the price of cost-per-click ads on the respective social network)
Through integrations with Google Analytics and other tools, find out how your employee advocacy programme affected your traffic and conversions
Personal Analytics
This is what each individual user can see and use to improve their influence and SmarpScore:
Track the performance of your shared content (clicks, shares, and engagement)
Influence score: how has your influence changed/evolved?
Just click on 'view insights' under your SmarpScore in your News Feed, to understand how your posts have performed – and so you can learn how to improve your future SmarpScore:
How to kickstart your employee advocacy program with @BeSmarp via @lilachbullock
Click To Tweet
Conclusion: should you get Smarp?
As far as employee advocacy goes, Smarp have found the way to make it both easy and fun. One of the things that make Smarp stand out from other similar tools, is that it's a very inclusive tool; employees can get involved too and share/propose content they think would work and engagement and conversation is encouraged on the platform.
So, if you want to get your employees tweeting for you, posting Facebook updates with the latest company news, and so on, Smarp is definitely one of the best solutions out there.