Follow Lilach
101 Best Instagram Tools and Apps
There are so many Instagram tools and apps that it can be quite difficult to find the right ones for your needs.
Instagram has rapidly become one of the top social networks in the world and that, of course, means that there are a plethora of tools out there to help users and businesses get the most out of their experience. So how do you find the right one for you? Easy – just browse through this list of 101 best Instagram tools and apps of 2019. You'll find all kinds of Instagram tools and smartphone apps, from management and scheduling tools to user-generated content tools and influencer marketing platforms.
In this blog post, discover the 101 best Instagram tools and apps of 2019.

Instagram management tools
Instagram Scheduling tools
Instagram Follower and Growth tools
Instagram analytics
Hashtag tools
Instagram content creation and editing apps
Instagram video tools and apps
Cool Instagram tools
Instagram shopping
Instagram influencer marketing tools
Instagram Ads Tools
Instagram contest tools
User generated content tools
[click_to_tweet tweet="101 Best #Instagram Tools and Apps of 2019 #instagramtools #socialmedia" quote="101 Best #Instagram Tools and Apps of 2019 #instagramtools #socialmedia"]
Instagram management tools
If you're serious about Instagram marketing, you need a management tool to help: something that allows you to plan your posts, schedule them directly, manage your comments and check your analytics. Here are some of the best Instagram management tools that you can try:
1.     Agorapulse
Agorapulse is an all-in-one Instagram management tool (although it also works with several other major social networks), meaning you get to fully manage your account/s from one place:
Schedule and publish your Instagram posts directly, including video posts
Monitor your comments and reply to them
Monitor your Instagram insights
Set up monitoring searches to catch relevant mentions
These, of course, are the biggest highlights; that said, you get a lot of other extra features that will make managing your accounts less time-consuming, while also helping you improve your results: add geolocation to posts, tag users, save hashtags to easily add them to your updates and collaborate with team members (and assign roles), among other features.
2.     Hootsuite
Hootsuite is another top social media management tool that works with most major social networks – including, of course, Instagram.
You can use it to post and schedule your images and videos directly to Instagram, as well as measure your results and the performance of your posts.
Plus, you can work as part of a team and use a single dashboard to monitor and manage your accounts; and, also worth noting, you can set up listening searches for your brand, your customers, your competitors and any niche hashtags that you need to keep on top of.
3.     Sprout Social
Like the two previous tools in this list, Sprout Social is an all-in-one social media management tool for Instagram and other major social networks; because of that, the features are quite similar too:
Publish and schedule your Instagram posts directly
Monitor your comments and respond to them
Create monitoring searches for keywords or hashtags that are relevant to your marketing efforts
Monitor your Instagram results and analytics
If you work as part of a team, you can easily collaborate on your messages and comments, as well as assign tasks.
4.     Buffer
Buffer is another great option, with 3 main features you need to know: direct publishing and scheduling, Instagram analytics and team collaboration.
This makes it better suited for those more interested in the post planning side of things: you can collaborate with your team to plan your updates and then schedule them (directly). Plus, if you want to use any Instagram native features (such as a certain Instagram filter), you can have Buffer upload the full post to Instagram and send you a notification when you need to make the finishing touches – and post it up.
To help you improve your content, Buffer provides post performance analytics as well as insights into audience growth.
5.     Sendible
Sendible is a full-suite social media management tool for anything from solopreneurs to large agencies; it works with several social networks, but when it comes to Instagram, you can use it to:
Create Instagram content directly in Sendible with the Canva integration
Publish and schedule images and videos directly
Collaborate with your team on planning your content and managing your accounts
Monitor your comments and respond to them
Track your Instagram insights
6.     Social Bakers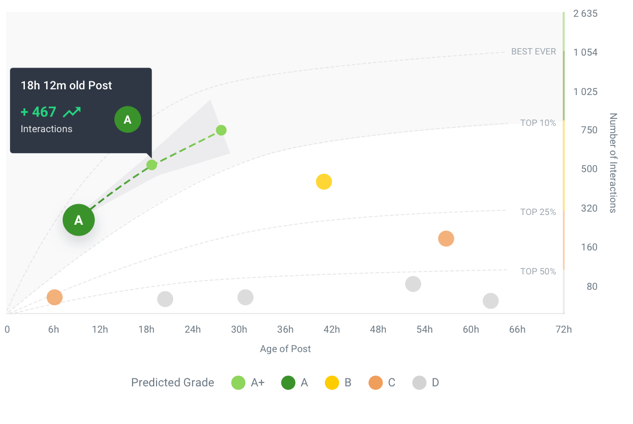 Social Bakers is actually a bit different to the other tools in this list so far; as an AI-powered (Artificial Intelligence) social media marketing tool, it offers some very interesting features, including having the tool identify and define different audience personas and using AI to monitor and analyse millions of conversations.
In terms of social media management, you can do pretty much all you expect (and need) from such a tool: publishing and scheduling features, team collaboration tools, social listening features and analytics.
But, it is, after all, an AI-based tool; so that means you get some interesting 'extra' features: leverage AI to understand and optimize your performance and get AI recommendations of influencers you should collaborate with, among others.
Plus, make sure to check out their free tools as well.
7.     Curalate
Curalate is a social media management tool with a twist: a focus on shopping. Basically, it doesn't just allow you to schedule your updates and manage your account: it also lets you make your channel shoppable and helps you leverage user-generated content (UGC).
To start with, you can use Curalate to plan and schedule your Instagram updates, including Stories. To help you improve your strategy and posts in the future, leverage the Instagram insights to understand your performance and optimize it.
Another great feature is that you can see all of your recent mentions and tags; this then helps you find great content to re-share – a.k.a., user-generated content. Plus, you can also monitor your campaigns, certain social influencers and your competitors.
And last but definitely not least, you can turn your Instagram into a shoppable gallery – and your Instagram Stories into… well, shoppable Stories.
Instagram Scheduling tools
Sometimes, you might not need a full suite social media management tool for managing your Instagram accounts. If you're more interested in the planning and scheduling side of things, here are some of the Instagram scheduling tools that you should know about:
8.     Sked Social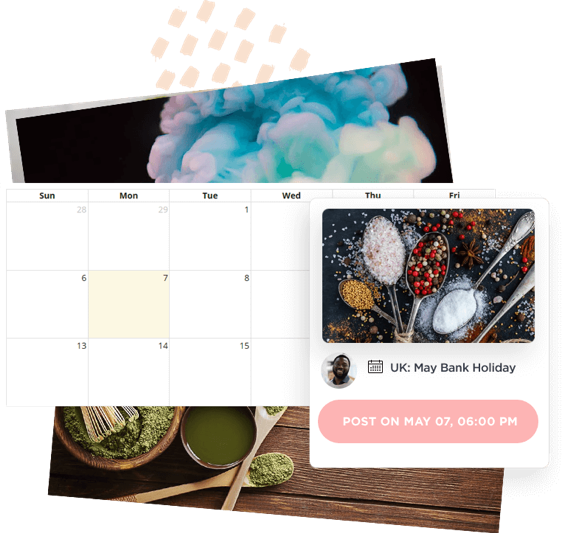 Sked Social – formerly Schedugram – is a powerful Instagram planning and scheduling tool that can be used by entrepreneurs, agencies and everything in between.
You can pretty much use it for every stage of the planning and execution stages, from creating content to scheduling it and to analysing your results.
[click_to_tweet tweet="101 Best #Instagram Tools and Apps of 2019 #instagramtools #socialmedia" quote="101 Best #Instagram Tools and Apps of 2019 #instagramtools #socialmedia"]
And you can use it as a team – as many users as you need, for free.
But, back to its planning features, once you know what types of posts you want to create you can use the built-in photo editor to customize your posts: use one of over 60 different filters, including barbie, retro, fantasy, cartoon and even gender swap filters, crop your images and add stickers and text overlay.
Once you've created your content, you can easily post it up or schedule it directly – including adding your content to a queue to help you save even more time.
9.     Later
Later is another top Instagram scheduling tool; this one is all about helping you manage your media more effectively and helping you visually plan your Instagram content:
Use the visual content calendar to schedule your Instagram posts, directly
Plan your entire Instagram feed and re-arrange your feed with drag and drop
Upload and manage all of your media content from one place
Find great user-generated content to repost on your accounts
Monitor your Instagram insights
Create a Shoppable Instagram feed
10.  Preview
The Preview app isn't just a scheduling app – it's a tool that you can use to visually plan your Instagram feed and grid; here are some of the things you can get with Preview
70+ different filters to help you plan your feed
Hashtag search in-app, plus you can save hashtags for later use
Repost Instagram photos and videos
Plan your feed with drag and drop and schedule your videos and photos
Check your Intagam analytics
11.  Tailwind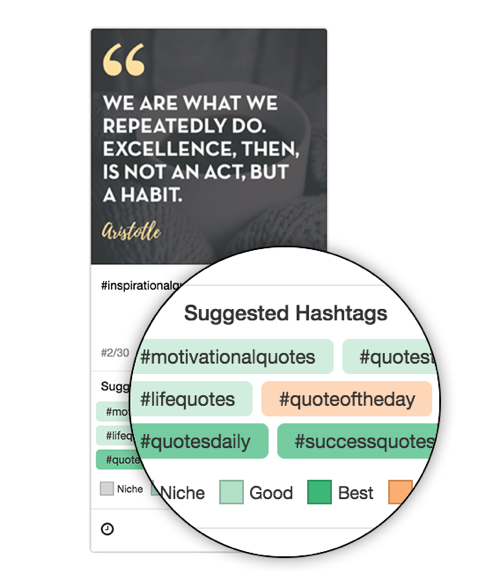 Tailwind is a monitoring and scheduling tool that works with Instagram and Pinterest; the tool is built for teams and offers several time-saving features:
Instagram scheduling for posts, videos and Stories, including a browser extension that lets you schedule multiple posts from any site/page
Handy Instagram "shortcuts" such as a hashtag finder and the ability to automatically schedule your updates for when your audience is most engaged
Bulk image uploading and hashtag lists
Instagram analytics on post performance, audience and so on
Automatic re-sharing of your best content
12.  Crowdfire
Crowdfire is a publishing app that features some very interesting features.
Most notably, it's not just about scheduling your content; it also helps you discover new and relevant content to share with your audience.
Use it to:
Find quality content based on the topics that interest your audience and share them on your profile
Connect your website, blog and/or shop to easily create and schedule updates promoting any new content or products
Publish and schedule your updates (plus, you can easily optimize your posts for several different social networks)
13.  Social Insight
Social Insight is an Instagram-only marketing platform, offering several useful features: scheduling/posting directly from your computer, follower management and Instagram analytics.
Here's a thorough rundown of its main features:
Direct posting/scheduling for Instagram
Follower insights and follower management: sort your followers based on various factors, see top insights for each follower in your list and easily identify any brand advocated or influencers in your list
Team collaboration features
In-depth Instagram insights on engagement, followers, your posts and more
14.  Plann That
Like many other tools in this list, Plann That is all about Instagram scheduling and analysing your results; that said, there are some other great features worth mentioning. Here's a look at some of its top features:
Smart Instagram scheduling with built-in best times to post feature
Plan your Instagram feed and its look and feel; you can use drag-and-drop functionality to arrange your Instagram feed
Find and use the best hashtags to reach more people, then save them as sets so you can easily use and reuse them
Monitor your results with advanced Instagram analytics, as well as monitor any relevant competitor metrics
15.  Plann + Preview
Plann + Preview for Instagram is a scheduling tool that you can get in the App Store; perfect if you want to be to manage your Instagram from your phone. Here are some of the things you can achieve with the app:
Plan your feed and schedule posts
Editor images with the built-in photo editor
Manage your comments and mentions
Repost user-generated content
Check your (and your competitors') analytics
16.  Autogrammer
Autogrammer, despite its name, actually works with several social networks: Instagram, Twitter and Facebook.
[click_to_tweet tweet="101 Best #Instagram Tools and Apps of 2019 #instagramtools #socialmedia" quote="101 Best #Instagram Tools and Apps of 2019 #instagramtools #socialmedia"]
And for each network, you can use the tool to easily and quickly create and schedule your posts:
Direct scheduling features
Bulk upload your images
Built-in photo editor for editing your posts: cropping, filters, colour fixing and more
Instagram Follower and Growth tools
Want to grow your Instagram? Then you need to work at it – not just in terms of what you're posting on your Instagram, but in terms of actively engaging your audience, finding new people to follow and engage with and so on.
Here are some of the best Instagram follower and growth tools out there:
17.     Combin
Combin is an easy-to-use Instagram marketing tool with some amazing features for growing your followership as easily and as quickly as possible.
Here's what you get:
Advanced Instagram search by hashtag and/or location to help you find relevant people to follow and engage with
Enable user analysis to leverage machine learning to only see the best and most relevant accounts (effectively skipping spam-y accounts, celebrity accounts and so on)
Audience management tools: see who isn't following you back, track all followers and take/schedule bulk actions for following/unfollowing multiple accounts
Easily and automatically comment and like Instagram posts in bulk
18.     Kicksta
This nifty little Instagram growth tool will help you generate targeted followers for your account with very little effort on your part. All you need to do is add accounts whose followers form your target audience and Kicksta will then start engaging with them by liking some of their recent posts – this way, more people will check out your account and some of them will follow you – helping you boost your followers organically (but faster!).
19.     Instazood
Instazood is another top Instagram growth tool, one that lets you automate pretty much any task you can think: following users, liking and commenting on posts, unfollowing, DMs. Just set targets (i.e. accounts whose followers you want to target), select the actions you want the tool to take and you're good to go! Plus, you can even manage your accounts from your dashboard, including responding to messages and managing and scheduling your posts.
20.     Social Rank
Social Rank is essentially a tool that helps you find and analyse your social media audience; all you need is a public Instagram and/or Twitter account that you want to examine in more detail and the tool is good to go:
Filter and sort audiences, as well save /export them
Demographic and psychographic customer research
Competitor research for Instagram (and Twitter), for examining your competitors' audiences
Social Rank doesn't have a lot of features – but that is their goal. Instead of overwhelming you with too much information about your Instagram followers and your performance, this tool focuses solely on the people.
21.     Social Captain
Social Captain is a follower growth platform that is all about helping you grow your Instagram through automation and AI – emphasis on "automation".
Here's how it works:
Choose the hashtags, locations and usernames you want to target with your campaign
Add filters to help you automate your follower searches
Send messages to new Instagram followers or username lists, automatically
Track your results and progress in real time
22.     Kenji
Kenji is an Instagram bot that uses AI and machine learning to help you get more followers.
The tool offers several options for better targeting, including hashtag targeting, the HyperTarget feature (if there are any competitor accounts that you want to emulate, you can use this feature) and location targeting. Once you've set all this up, the tool does pretty much all the rest of the work for you.
Instagram analytics
The more you understand your performance, the better equipped you will be to optimize it and improve your results. Here are some of the top Instagram analytics tools out on the market:
[click_to_tweet tweet="101 Best #Instagram Tools and Apps of 2019 #instagramtools #socialmedia" quote="101 Best #Instagram Tools and Apps of 2019 #instagramtools #socialmedia"]
23.     Iconosquare
Iconosquare is a tool that primarily focuses on analytics; that said, it's worth mentioning that it also offers monitoring and publishing features as well.
The tool works with Facebook and Instagram and it can be used as part of a team, each team member with their own roles.
In terms of analytics, here's what you get from Iconosquare:
Advanced analytics on your posts and followers
Analytics for Instagram Stories
Best time to post for maximum reach and engagement
Tags and mention analytics
Hashtag and competitor tracking
24.     Social Blade
Social Blade is a social media analytics tool that works with several major social networks, including, of course, Instagram. Simply look up any business account you want to check and see data such as follower growth over time, daily image uploads over time, and even future projections for that account.
25.     Union Metrics
Union Metrics is a social intelligence tool built with marketing teams in mind. To start with, you can use their free Instagram account check-up tool to see your accounts' analytics, as well as get suggestions on how to improve your strategy.
If you want to go more in-depth, Union Metrics offer very complex social media analytics, including competitive benchmarking and detailed post analytics.
26.  Square Lovin
Square Lovin offers a few useful Instagram tool, including of course Instagram Insights. The analytics are very detailed: metrics on all your recent posts, a clear overview of your follower growth, best and worst times to post, top hashtags and filters and much more.
27.  Quintly
Quintly is a complex social media analytics tools with powerful competitive benchmarking features. It works with most major social networks; when it comes to Instagram, you can track pretty any KPI you want to, from follower growth over time to your content's performance and to your interactions with your followers.
28.  Brandwatch
Brandwatch might be better known for its social listening features, but it's actually a very powerful analytics tool too. You can create complex listening searches throughout the web (including Instagram!), as well as generate reports and gather data about your audience, your performance and your niche in general.
29.  Minter.io
Minterio is another powerful analytics tool, this one focused exclusively on Instagram; here are some of the things you can track and the insights you'll gather:
Monitor and measure follower growth
Hashtag analytics (great for hashtag campaigns, but also for tracking your competitors)
Best times to post and best post types to use in your strategy
30.  Command for Instagram
Command for Instagram is an iOS app that's all about analytics – plus a few cool extras like the ability to plan your feed, edit your photos with the built-in editor and plan your posts.
[click_to_tweet tweet="101 Best #Instagram Tools and Apps of 2019 #instagramtools #socialmedia" quote="101 Best #Instagram Tools and Apps of 2019 #instagramtools #socialmedia"]
Beyond all that, you also get a bunch of useful analytics for your account: track follower growth, make sure you post at the right times, get demographics insights and much, much more.
31.  Keyhole
Keyhole is a hashtag/campaign tracking tool, complete with Instagram analytics. Use it to monitor your own performance, including post performance and follower growth, plus to monitor your competitors and examine their strategies in more detail. And, well, since it's a hashtag tracking tool as well, you can also use it to monitor your branded hashtags, as well as any other hashtags you're using on your posts.
Instagram Hashtag tools
Hashtags are an essential part of a winning Instagram strategy – hashtags help you reach a wider audience and they help you generate more engagement on your posts and even more sales, conversions and traffic. Here are some of the top hashtag tools for Instagram to help you find, research and track hashtags:
32.     Hashtagify
Hashtagify is a tool that you can use for pretty much all your hashtag need:
Search for hashtags and understand their popularity
Monitor specific hashtags
Analyse the success of different hashtags
Create custom reports
33.     TopTager
TopTager is a very useful tool as it allows you to find quality hashtags as quickly as possible – as well as get suggestions of hashtags which you can copy in bulk to add to your posts. Use it to see the top 100 trending hashtags of the moment, as well as to look up hashtags in order to find similar hashtags and other relevant suggestions.
34.     Display Purposes
Display Purposes is quite similar to the previous tool – a quick way to find hashtags that you can immediately add to your posts (in bulk). See top hashtags and look up keywords to get suggestions and quickly copy 30 hashtags at once.
35.     AutoHash
If, on the other hand, you're looking for a tool that you can use on your phone, you're in luck – AutoHash is here to save the day (well, at least for those who have Android). Grab it from the Play Store and use it to get suggestions of location-based hashtags, as well as to get suggestions automatically on any photo.
36.     Keyword Tool
Keyword Tool is a keyword and hashtag research tool that works for some of the major social platforms, search engines and online store – including Instagram.
To start, just enter your keywords and the tool will list out unique hashtags that are relevant to your search, together with each one's statistics (i.e. number of posts per hashtag).
37.     Webstagram
Webstagram starts by listing out the most popular Instagram hashtags and users; beyond that, you can also search for hashtags and get suggestions of similar hashtags, along with the number of posts per each hashtag.
Instagram content creation and editing apps
Want to get amazing results from Instagram? Well, you can't do that unless you have great content to share. Without great content, there's no point in working for results – here are the best tools out there to help you create amazing, beautiful and engaging visual content for Instagram:
38.     Canva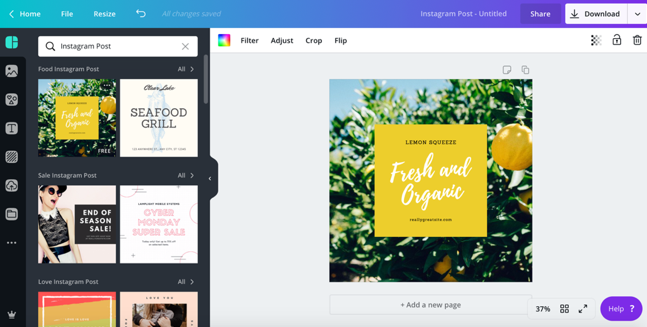 Canva is a super easy to use image creation and editing tool that features numerous templates for Instagram posts and Stories (along with all popular visual content formats for social media and the web) – just select the template you want (or start from scratch), customize it to your liking with text, different images and so on and you're good to go.
39.     Crello
Another top visual content creation and editing tool, Crello is quite similar to Canva – you choose a template or start from scratch, you edit the text, the imagery used and any other elements you want to change (or add) and your post is good to share.
40.     VSCO
VSCO is an iOS and Android app that you can download on your smartphone to help take your photos to a whole new level. Use it to look up other creators' content and get inspired, edit your photos with standard editing tools and if you get the subscription, you'll get access to all kinds of awesome filters and advanced photo editing tools (plus video editing features too!)
41.  Afterlight
If you want to make your fellow Android users jealous, Afterlight is an iOS exclusive editing app that can help you turn your photos from just OK to stunning. Use it to edit your images, add effects and filters (and create your own too!), blend 2 images together and much more.
42.  Photoshop Express
Photoshop might be a tool for the pros, but don't worry if you haven't got the knowledge – Photoshop Express is a nifty little app available in the App Store, Google Play Store and the Windows Store which you can use for quick edits (all the basic editing features you'd expect), to add cool effects and to create beautiful collages – among plenty other features!
43.  Layout from Instagram
Want to simply create a collage of your photos?  Then grab Instagram's own Layout app from the App Store or Play Store, choose a layout, edit your image and share your collage on your Instagram account.
44.  Adobe Spark
Another super easy to use tool from Adobe, Adobe Spark, is a content creation app that's all about those all-important visuals: social media graphics and even web pages and short videos.
[click_to_tweet tweet="101 Best #Instagram Tools and Apps of 2019 #instagramtools #socialmedia" quote="101 Best #Instagram Tools and Apps of 2019 #instagramtools #socialmedia"]
To create a photo post, just pick a photo, add some text and then add a design filter or animation as a finishing touch.
45.  Overquick
Want to add text over your photos? All you need is the Over Quick App – just pick a photo, add text, customize the look and font and you're good to share your photo with a message.
46. Instasize
Instasize – an app available for both iOS and Android users – is a photo editing app that you can use for any social network. Add filters to your photos to make them look instantly better, add backgrounds create collages, as well as make basic editing adjustments as needed (such as sharpness, brightness and so on).
47.  Made
From the same creators of Instasize comes Made, a Story-editing app, available in the iOS App Store. This powerful Story editor features dozens of templates, background customization options and photo filters – plus add text to your Stories and share directly to Instagram.
48.  WordSwag
WordSwag is very similar to OverQuick – an easy-to-use iOS and Android app that you can use to quickly add text over your photos, whether it's a quote, a call to action or anything else you might want to say.
49.  Prisma
Want to create unique and stunning images on your Instagram? Prisma is here to help – available in the App Store and the Google Play Store, this app turns your images into paintings. There are literally hundreds of art styles available and more added every day –and they will turn a boring photo into something truly beautiful.
50.  Enlight
Enlight is another powerful editing tool that turns your images into something completely different – and unique, as you can see in the above images.
Unfortunately for Android users, this is another iOS exclusive; if you've got an iPhone, though, what are you waiting for? Go grab the app and turn regular photos into truly artistic creations.
51.  Lensa Photo
Another app from the afore-mentioned Prisma is Lensa Photo, a photo editing app available in the iOS App Store only. Unlike other photo editing tools though, this one is all about selfies – specifically, making you look as good as possible. Use it for yourself, for models you're using and pretty much any selfie you share on Instagram.
52.  Hype Type
Something as simple as the text you use on your posts can have a big impact on your success, and this is where Hype Type comes in – or Hype Text for Android users. Use this nifty app to quickly and easily add animated text over your images and videos to grab people's attention. Plus, you can also edit your photos before you post them up.
53.  Font Candy
As I said earlier – text is very important on Instagram. The right font, the right style, can make a huge difference to your post – and that's where Font Candy comes in. There are over 45 different artistic fonts to choose from plus all kinds of powerful text editing features to truly make it your own.
Plus, get built-in custom artwork and quotes, colour and filters to apply on your posts, add fun animations to your text and quite a few more interesting features worth exploring.
54.  Pixlr
If you'd rather edit your photos online – as opposed to downloading anything on your computer or smartphone – Pixlr is another great alternative. You get all the basic features you'd want from an editing tool, plus you can draw on your photos, retouch them and add awesome filters and various elements to make them stand out.
55.  Superimpose App
The Superimpose app doesn't exactly what it says in the name – it allows you to superimpose one photo on top of another in order to create some really stunning visuals – like the one in the above screenshot. It's available in both the App Store and the Google Play Store and it's extremely addicting to use! After all, it allows you to create images like this:
56.  Snapseed
Another handy editing app available in the App Store and Play Store, Snapseed offers a huge host of editing featured and filters – from the basic editing tools you need and want from a photo editing app to beautiful filters and vignettes. Plus, you can save your brand "looks" to reuse later on other photos you share.
Instagram video tools and apps
Sharing images is well and good – but if you want to make the most out of your Instagram and drive even better results, then you also need to create and share more videos: short, punchy videos that entertain and get people to take action. Here are some of the best video creation and editing apps and tools for Instagram:
[click_to_tweet tweet="101 Best #Instagram Tools and Apps of 2019 #instagramtools #socialmedia" quote="101 Best #Instagram Tools and Apps of 2019 #instagramtools #socialmedia"]
57.     Wave.video
Wave.video is one of the most powerful video creating apps you'll find online: it's super easy to use, it has a huge library of stock video clips and images (and you can also upload your own!), it features numerous templates and it has over 30 different sizes and formats. And the really cool thing is – and this is something unique to this tool – that you can watermark your videos even using the free plan.
58.     Impresso
Another big favourite of mine is Impresso – an iOS app that you can download for free and use to create beautiful social media videos in all kinds of sizes. Check out the templates, choose one that you like and the simply change the imagery or video, upload your own, customize the text overlay and add text animation, add more scenes to your videos and so much more – all directly on your iPhone.
59.     Boomerang from Instagram
Boomerang is a really cool app from Instagram, available App Store and Play Store that lets you create a specific type of video: short looping videos that are (usually) hilarious.
60.     Hyperlapse
Hyperlapse is another cool tool from Instagram and arguably the opposite of Boomerang: use it to create time lapse videos.
Unfortunately, Android users will have to make do without it though as it's only available in the iOS App Store.
62.     PicPlayPost
PicPlayPost is a smartphone video editing app that you can use to create all kinds of videos, easily and quickly, such as slideshows and video collages. Easily add transitions to your videos, add text and voice over, add GIFs and GIF stickers and much more. Available both in the iOS App Store and the Google Play Store.
63.     Pond5 Social Studio
Pond5 is a free video editor that allows you to upload your own images and videos and turn them into powerful videos.  Plus, they also have an impressive collection of templates which you can easily customize with text, music, your logo and with animations.
64.     Quik by GoPro
Quik is a super easy to use video creation tool from GoPro; available in the App Store and Play Store video, the app is free to download and use. As I mentioned just before, it's very easy to create your own video; in fact, it takes a few minutes to create one:
Select the images and videos you want to include in your video and GoPro will work its magic to put them all together
Use one of 26 themes to customize your video
Add text overlays to your video
Add music from their library of 100+ free songs
65.     InShot
InShot is another awesome smartphone video editing app; you can get it from the App Store and Play Store video and easily start editing your video: trim and delete parts of your video, adjust speed, make it square ready for Instagram add music, effects and voiceover, and text overlays and emoji and use various filters to further improve your video.
66.  Clips
Clips is a really cool video tool that is only available in the App Store video – it is, after all, an Apple tool; what it does is help you make your videos truly stand out. For example, you can:
Add fun filters from all kinds of brands like Disney and Pixar
Use animated posters and add text overlays
Transport yourself in various animated scenarios (like in a Disney movie!
67.  Videoshop
Videoshop is another tool that can help you stand out with videos, and best of all, it's available in both the App Store and the Google Play Store.
[click_to_tweet tweet="101 Best #Instagram Tools and Apps of 2019 #instagramtools #socialmedia" quote="101 Best #Instagram Tools and Apps of 2019 #instagramtools #socialmedia"]
The tool is quite complex and offers a lot of really useful features: ad filters to your videos, customize videos text overlays, music and voiceover, merge videos together, add sound effects to your videos and much, much ore. You can even create stop motion videos – if you're up for it!
68.  Filmaker Pro Video editor
Filmaker Pro Video Editor is another very complex video editing tool that is perfect even if you're not an experienced video editor yourself.
In terms of features, well, there are a lot: almost 20 different transition options, awesome filters, picture in picture, 4K video support, text overlays, illustrations, labels and animated stickers, drawing tool… and these are just some of the best features!
69.  Gip.hy Cam
Want to create your very own funny GIFs? Gip.hy Cam allows you to create and customize your own GIFS; grab it from the App Store or the Play Store and start creating your own GIF using various filters, stickers, text, special FX and more.
Cool Instagram tools
Some tools just don't…well, fit into any specific category. They stand out in terms of features – and there aren't many other tools like them. Check out these cool Instagram tools:
70.  Shorby
Shorby is a really interesting tool that essentially helps you optimize your Instagram traffic (although it's worth noting that it works with other platforms as well). You can create multiple clickable links (which look something like: shor.by/yourkeyword) to send your followers anywhere you want to and track your link clicks easily.
71.  Linktree
A similar tool, Linktree allows you to optimize your Instagram traffic with one bio link which can direct your followers anywhere you want them. As they put it, "let your content live longer than the feed."
72.  Tagboard
Tagboard is a really cool tool that essentially allows you to pull content from your Instagram and other social media channels and broadcast them on a screen. Basically, you're pulling user-generated content automatically and sharing it out with the world.
73.  Snapwidget
Want to boost your social proof while also engaging your website audience? SnapWidget is an Instagram widget that allows you to display Instagram posts and videos directly on your website (but also Twitter, Facebook and YouTube). There are multiple types of widgets to choose from, such as Instagram pop-ups, grids and banners.
74.  Bio.fm
Your Instagram bio is extremely important; not just because it's the first thing people see when they visit your profile but alse because it houses your link. Bio.fm is a tool that can help you get a lot more out of your bio:
Never change your bio link but only change where it directs people
Add different blocks to your bio to customize it and show the content you want
75.  Kicksta engagement calculator
I've already told you all about Kicksta earlier, but this is a separate tool that you can try for free: an engagement calculator that you can use to measure the average engagement rate for any account you want. It's great for checking your own engagement, as well as for researching competitors and potential influencers to work with.
76.  Phlanx engagement calculator
Not much to add here – it's a great and quick tool but it does the same thing as the previous tool I mentioned. Type an Instagram handle in the search box and Phlanx will tell you what their average engagement rate is like.
77.  UNUM
UNUM is a great tool for visually planning your Instagram grid: with easy drag and drop, you can move things around and create a beautiful and engaging feed. Plus, edit and filter your photos, analyse your results and share your content on Instagram. You can get it on web, but also for your iOS or Android device.
78.  Yotpo
Yotpo, in partnership with Instagram, offers a range of handy features for retail and e-commerce brands that want to boost their Instagram social selling. Use it to create shoppable galleries, Instagram ads and to find and share awesome user generated content.
79.  Snoopreport
Snoopreport is an Instagram that basically allows you to snoop into other user's activity so that you can better understand their interests; for example, you can see who these users are following, what posts they're commenting on, what they're liking.
[click_to_tweet tweet="101 Best #Instagram Tools and Apps of 2019 #instagramtools #socialmedia" quote="101 Best #Instagram Tools and Apps of 2019 #instagramtools #socialmedia"]
This can help you a few different ways: learn more about your audience and what they like, what types of posts they most engage with, which influencers they engage with the most and other valuable information to help you develop better campaigns and strategies.
80.  Flume App
Just to get this out of the way from the start – this tool is for Mac users only. Flume is a tool that view -and in some ways, manage – your Instagram account from a beautiful desktop app instead of your phone. You can even add multiple accounts, view and respond to DMs and if you have a business profile, get statistics about your activity and promote your posts.
81.  IG:dm
Maybe you like DM'ing a lot. Or maybe you use Instagram direct messages to talk to your customers. Whatever the reason, IG:dm will let you manage and respond to your Instagram DMs directly from your computer.
82.  Embed Social
Embed Social is a tool that aims to help you increase your conversions with social proof. There are several ways you can use this tool:
Display social media feeds on your website, as well as photo galleries reviews
Aggregate photo albums to display on your website
Capture, store and display your Instagram Stories
Display user-generated content from several social networks on your website
Instagram shopping
If you're in retail or e-commerce, then Instagram shopping is a great way to boost your sales through social selling. Here are some useful tools to help you deliver a great Instagram shopping experience:
83.     FourSixty
FourSixty have a plethora of useful features that you're going to love if you have an online store:
[click_to_tweet tweet="101 Best #Instagram Tools and Apps of 2019 #instagramtools #socialmedia" quote="101 Best #Instagram Tools and Apps of 2019 #instagramtools #socialmedia"]
Turn Instagram and user generated content into shoppable galleries for your online store
Secure rights for UGC
Track your influencer marketing and gifting campaigns and programs
Check Instagram insights and analytics
84.     Soldsie
Another way to sell on Instagram (and on Facebook, for that matter) is with your comments – using Soldsie.
And well, that's pretty much it: using Soldsie, you can allow your audience a much easier way to buy from you: through comments on your posts.
And another thing worth mentioning; if you don't have a website of your own yet, you can use their system to manage your inventory as well as your customers, your orders and your emails.
85.     Shopify for Instagram
Another great option is Shopify for Instagram, which essentially lets your audience both discover your products and buy from you, all directly on your Instagram posts and Stories.
What's even cooler is that you can use only one product inventory for every place you sell online, from social media to your online store and to various online marketplaces.
If your audience is on Instagram and you're in retail/e-commerce, then this is a must-have.
86.     Have2Have It
Have2Have It is another Instagram shopping tool from Soldsie but it does things a bit differently than the previous tool; in a nutshell, you can create a Have2Have It bio link which takes anyone who clicks to your shoppable page – one that looks and feels like your Instagram feed, where they can then explore your products and, ultimately, buy from you.
87.     Showcase
Showcase is an Instagram shopping tool that allows you to monetize your Instagram presence; you can add a link on your bio that goes to your Showcase (shoppable) gallery. There, your followers can explore your products and, if they want to buy something from you, taken directly to the right place to buy.
Instagram influencer marketing tools
Instagram influencers are some of the most famous in the world; people with incredible numbers of followers but also smaller influencers that see a lot of success on the platform. If you want to find and connect with Instagram influencers, check out the following tools to help:
88.     Upfluence
Upfluence is a very powerful, full suite influencer marketing platform that helps you every step of the way:
Search for influencers across platforms, based on a plethora of filters like location and audience metrics
Influencer marketing software for managing your campaigns, from reaching out to influencers to the actual collaboration process
And finally, detailed influencer marketing analytics to help you gauge your ROI
89.     Tap Influence
Tap Influence is a complex influencer marketing tool that can help you through various stages of an influencer marketing campaign:
Find influencers based on keywords, audiences and categories
Plan and manage your influencer marketing campaigns
Create and deploy campaigns with the built-in content distribution tools
Analyse your campaign's performance and measure your results
90.     Klear
Klear is another powerful influencer marketing tool, one that focuses on helping you find the right Instagram influencers to work with. What's more, you can also research the influencers you find, easily as you have access to detailed account analytics for any influencer you find.
Once you've found an influencer – or several – to work with, you can track the success of your campaigns to evaluate your ROI.
91.     Ninja Outreach
The Ninja Outreach influencer marketing tool offers a full suite of features for finding relevant influencers and reaching out to them directly. This way, you'll have all of your influencer collaborations in one place.
[click_to_tweet tweet="101 Best #Instagram Tools and Apps of 2019 #instagramtools #socialmedia" quote="101 Best #Instagram Tools and Apps of 2019 #instagramtools #socialmedia"]
In terms of search options, you can find influencers based on location, category, as well as number of followers; and as you can see above, you can see at a glance what their stats are and even how much it would cost to collaborate with them. Next up, you can easily reach out to all influencers directly from your dashboard.
92. Hypr Brands
Hypr is all about helping you find the right influencers to work with; like with Ninja Outreach previously, you can also reach out to them directly, via the Hypr platform. What's more, you can also measure the performance of campaigns in real time.
Their database contains about 12 million influencers – but you have over 25 different filtering options to help you find the right influencer. I especially love the fact that you can filter based on their audience (age, gender, location…).
Instagram Ads Tools
Want to generate better results from your Instagram ads? Then make sure to check out these tools:
93.  AdEspresso
AdEspresso is essentially a full-suite platform for social media ads: Instagram, Facebook and Google.
To start with, you can use it to create all of your ad campaigns from one place; and, even better than that, you can manage all of your ads, across channels, from one place.
And finally, you can also use the platform to analyse the results of your campaigns and create reports.
94.  Stories Ads
Stories Ads does exactly what the name suggests: it helps you create Instagram Story Ads. In under 2 minutes. Enough said.
95.  Mailchimp Instagram Ads
Yes, Mailchimp isn't just a regular ol' email marketing tool; in fact, they found a way to connect email marketing and Instagram Ads. Now, you can create Instagram ads for your campaigns and target your contacts and even use your contact to find other people that have similar interests. These types of ads are great for retargeting – and getting people back on to your website and buying from you.
Instagram contest tools
Contests, giveaways and other similar promotions are a great way to boost your results from Instagram, quickly: whether it's brand awareness, engagement, traffic, conversions or sales, contests and promotions can help you achieve the results you need.
Here are some of the best Instagram tools for running great promotions:
96.  Easypromos
Easypromos is one of the top contest tools out there – helping you create promotions, manage them, pick winners and evaluate your results.
Easypromos works with pretty much any social network and website, including, of course, Instagram.
Use their templates (they've got some really great ones and are updated regularly) to create engaging Instagram giveaways and photo contests as well as automatically pick winners and create a page where the winners can claim their prize.
97.  Wishpond
Wishpond offers a huge suite of different types of contests, promotions, website popups…it would take a while to list them all!
Especially since we're here to talk about Instagram. So, with Wishpond you can create a fun and engaging hashtag contest, as well as fully manage the entire process: showcase all contest entries in one place, set up advanced voting options and connect with other Wishpond tools (like marketing automation and landing pages) to boost sales.
98.  Gleam
Gleam offers a selection of types of contests and promotions, including of course Instagram contests.
Once you grab and set up the Gleam widget, you can have your participants take all kinds of actions to participate in your contest – taking them through Instagram. Once your contest is up and running, you can also use Gleam to manage the contest.
User-generated content tools
User-generated content – or UGC for short is a big part of Instagram. And for businesses, UGC can bring in quite a few different benefits: like engaging and acknowledging your customers and leveraging it as social proof (for example, a customer who shared of photo of them using your product – or service).
Here are some useful tools to help:
99.  Pixlee
Pixlee is an Instagram platform dedicated to UGC and to helping you boost your sales. It helps you find user-generated content and fully manage your UGC campaigns, but even more than that, it allows you to turn Instagram into a shoppable experience and helps you find and collaborate with relevant influencers.
100.  Repost for Instagram
Another very aptly-named tool, Repost lets you easily repost any photos or videos that you want to – just copy the link, open up the Repost app (which, by the way, is available in both the App Store and the Google Play Store) and paste it; last but not least, add proper attribution so that you can send it back to Instagram and post it on your profile.
101.  Tack
If you're really serious about user-generated content, Tack is a great solution to help you fully manage the process and make sure you're always giving proper credit to the original poster. Use Tack to get notified every time someone mentions you, find relevant user-generated content, reach out to the posters to get permission to reuse their content and automatically add approved content to your library.
Conclusion
Instagram has proven itself as one of the top performing social networks from a business point of view; however, in order to stand out on this platform and generate amazing results for your business, you need to make use of all kinds of images to help you manage your accounts, create better content, plan your strategy, run promotions and so much more.
I do hope you found some useful tools in this list, and please share if you found this post useful 🙂

Follow Lilach