Follow Lilach
The ultimate all-in-one marketing and sales tool for small businesses
The easiest way to acquire, engage and convert customers for your small business
EngageBay: The ultimate all-in-one marketing and sales tool for small businesses
How to grow your small business using just one tool
Running a business involves a lot of work – from managing the day-to-day operations to developing marketing campaigns and to growing your sales, there's always so much work that needs to be done.
This is why I always recommend to businesses and business owners that they need to invest in tools and software to help; not only does the right tool help you save considerable time but it also helps you increase your results, whether it's regarding your marketing, sales or even your productivity. But that also means that you need to invest in a lot of tools, which can get both confusing and very expensive.
Which is why I wanted to talk to you about a tool that does it all: marketing, sales, CRM, appointment scheduling, landing pages and online forms – and much, much more.
A tool that you might never expect to afford as a small business – but you definitely can. Which is why in this blog post, I want to show you how you can grow your small business using just one tool:
What is EngageBay?
EngageBay is an all-in-one sales and marketing tool built specifically for small and medium businesses in order to help them engage and grow their audience.
To do this, it offers a set of sales and marketing features, separated into 3 main categories:
Marketing automation features, including must-haves like online forms and landing pages, marketing automation and email sequences, as well as detailed web analytics
Sales and CRM features, including a customer relationship management (CRM) database where you can organize and manage all of your customers, leads and contacts, as well as other very useful tools like appointment scheduling, deal management and sales automation
Live Chat and Helpdesk features, including a live chat tool, of course, as well as ticket management, service automation and email reports
Basically, it's a Hubspot alternative for small and medium businesses, including all the important sales and marketing features you need to run a successful business: in other words, it allows you to run and market your business just like a big company would without having to pay a fortune or need training to learn how to leverage it.
In fact, it even has a free forever plan.
And although it's packed with so many features, I've been genuinely surprised by how easy it is to use and how intuitive it all is.
Let's now take a more in-depth look at all the different features that you can find inside EngageBay (well, just some of the best ones – there are too many features to be able to go through them all here!)
How does the marketing automation stack work?
As I mentioned just before, the marketing automation features inside EngageBay include a plethora of useful tools, from form and landing page builders to numerous email marketing tools.
When you first log in to EngageBay, you'll notice that you can switch between dashboards from the menu very easily – marketing, sales, service and live chat:
On the first screen, you'll see your reports; the rest of the marketing tools are located in the top-bar menu and easily accessible. You'll also get a list of things to do to get started – as you might've noticed in the above screenshot.
After you've added the EngageBay script to your website, the next step is to add your contacts, aka your email list. You can do this very easily by uploading a CSV file of your contacts or add people manually, one by one.
And because EngageBay is so much more than just an email marketing tool, you also have a lot of control over how you organize these contacts and what information you want to see at a glance; to customize your view of these contacts, simply add and remove the columns that you want:
And if there's any other information about your contacts that you want to include in a separate field, you can easily create a custom field:
Once you've uploaded your list, you can use EngageBay to start sending out campaigns: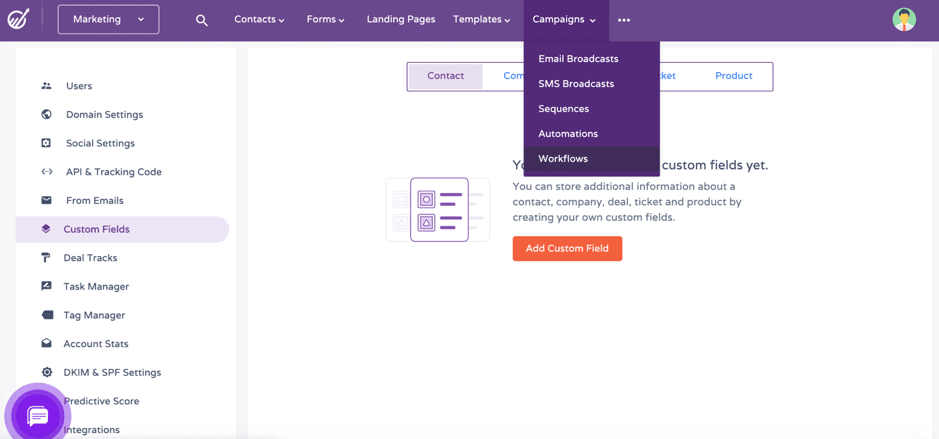 As you can see from the above screenshot, there are numerous options here: email broadcasts, SMS broadcasts, email sequences, as well as setting up automations and workflows.
Broadcasts and email sequences
If you want to send an email broadcast, you have several options that many free email marketing tools just don't offer as a standard, but that are incredibly useful:
Not only can you send a regular broadcast, but you can even add your blog's RSS feed to automatically send your latest content to all your subscribers, but most importantly, you can set up an A/B test broadcast: in other words, create 2 variations of your email broadcast and send them both to your list, while EngageBay figures out which versions performs best (and sends that version to the rest of your list!)
As for putting together your email, it's super easy to do and you get a few useful options here:
Personalization features, both for your subject line and the body of your email (and you can also add emojis in your subject line which isn't always the case!)
Easily filter through your contacts list to only send your email to the people you want to (great for personalizing your emails based on your audience)
And my personal favourite, you have the option to use a ready-made email template that's beautifully (and professionally) designed: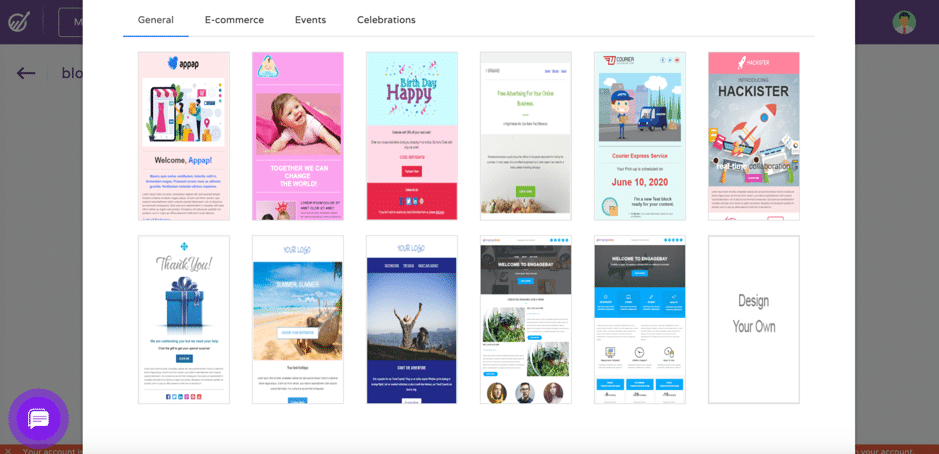 Or, of course, you can always design your email from scratch or create a plain text email.
If you do choose a template, it's worth noting that the editor is very easy to use; the elements in your email are organized into blocks and all you have to do is click on the block you want to edit to see your options in the right-hand menu:
You can add your logo, change the text easily, add call-to-action buttons and social media follow buttons, change the colours to suit your branding and so much more.
It's highly customizable while still being quite easy to use because all of your editing features are easily located and very clear.
As for SMS broadcasts, those are even easier to send; all you need is a short message and you'll be able to send your broadcast in a matter of minutes:
Email sequences, automations and workflows
Apart from sending one-off email broadcasts, you can also easily set up email sequences, as well as automatically add new contacts (based on triggers) to these sequences:
The email sequence builder is super easy to set up: write your first email, decide when to send it and then just keep adding as many more emails as you want to the sequence.
Recipients will then get these emails in the order and at the time intervals you set for them.
Another very useful feature is automation; here, you can set tasks that are done automatically; for example:
Automatically sending follow-up emails to your contacts
Automatically tag users based on their actions
Score leads automatically based on their actions
Automatically send a double opt-in email (very useful for countries with GDPR)
Or, you can even create your own automation from scratch.
And last but not least, there's the amazing workflow feature; here, you can set up highly complex workflows:
How cool is that?
Landing pages and online forms
Landing pages and online forms are an essential part of any business with an online presence; you need forms to capture your lead's information, as well as landing pages where you can promote your products and services and collect leads.
With EngageBay, you can easily create both in the same place:
For forms, you can create both in-line forms (that you place within your pages or content) as well as pop-up forms
And landing pages for any type of promotion and campaign
And even better, you also get access to a plethora of templates for both online forms and landing pages, so that you can just customize them and hit publish.
For example, here's a selection of the in-line form templates:
Once you pick one, you can easily change the text and imagery:
As well as the look and feel of your form and the fields used:
As for landing pages, the process is similar; first, you have the impressive array of professionally-designed landing page templates:
Once you choose one (unless you prefer building it from scratch or even coding your own template), you'll be able to edit it:
The page is built using blocks of content; to edit one of the existing blocks or elements, you simply have to click on it and then the edit button; this will open up the editor for that section:
As you might've noticed in the screenshots, you also have some further editing options on the left-hand side menu:
Add new content sections to your landing page, such as headers, call to action buttons, videos, forms and pop-ups:
Add new pre-designed blocks to your page, such as banners, testimonials, clients and pricing:
Page settings, including changing the background colour, width, font styles and colours:
Once you're happy with the result, you can preview your page in full, save it and publish it on your website.
The EngageBay sales dashboard
As impressed as I was with all of EngageBay's marketing features, it surprised me to see how many tools and features I still had left to explore – starting with the sales dashboard.
This is a truly all-in-one sales hub, complete with a powerful CRM, deal management, task management, automation, appointment scheduling and management and many others.
The first thing you'd want to do here is add your contacts, customers and leads; this is done just like with the email list, allowing you to bulk upload contacts and customize the fields as you want.
The reason why your business really needs this is because it offers a very holistic view of your leads, especially as you can add EngageBay to your website and track every interaction you had with a lead or customer.
This in turn provides you with the information you need to sell more effectively and close more deals, faster.
And you can even call your leads directly from EngageBay.
Another very useful feature is the deals section; here, you can create multiple deal pipelines with ease:
This way, you can better track your leads and deals, follow up at the right time and discover opportunities to upsell.
To further help with that, you can also create tasks for yourself – both manually and automatically – so that you never miss an important task:
It's also worth mentioning that they're also testing out some new and exciting features that are currently in beta; one of my personal favourites is the Proposal tool:
Not only can you create proposals and design them so that they look professional, but you can also track whether people are clicking on your links, how many pages they read from your proposals, how much time they spent reading them and other very useful insights.
Another super useful feature is the calendar; here, you can create a calendar and share with your leads and clients so that they can easily set appointments with you (or other team members); you can also connect it to your Google and Office365 calendars to sync them and see all of your events and appointments in one place.
And once you've set everything in the sales and CRM bay, you'll see detailed reports about your sales performance directly in the sales dashboard:
The Service Bay – aka the helpdesk software
Last but not least, there's the service dashboard and tools; this is for managing any customer service issues and questions and managing all of your tickets as efficiently as possible.
Once you've created your service account, you'll be able to receive and respond to all of your customer service tickets from one place.
You can even set up "canned responses" so that you can answer any common customer service questions as quickly and as efficiently as possible.
To better manage your tickets, create automations based on rules and conditions so that you can easily find the tickets you're looking for, especially any high-priority or urgent tickets.
Similarly, you have the ability to set up other automations to assign tickets to specific agents and departments, completely automatically, as well as closing tickets based on their status and sending notifications to specific agents, amongst other useful automations.
Another useful automation feature is the autoresponder; this allows you to set up an automated response to everyone who sends a support ticket so that they know that you received it and are working on it:
To further improve your customer service, you can also add a live chat widget to your website and manage it directly from the EngageBay dashboard:
And, just like with support tickets, you can easily set up canned responses to help save time when responding to queries and assign live chat queries to different members of your team.
Conclusion
EngageBay has got to be the most powerful all-in-one tool for small businesses: you just don't get this level of features with many tools (and trust me when I say, I've tried so many!)
It's even difficult to calculate how many essential business tools and software you're effectively replacing with just one software: landing page and online form builder, email marketing and marketing automation, reporting, sales CRM, deal management, live chat and customer support – and these are just some of the main ones.
And because this is all within the same tool, that means that you and your team will get an integrated view of all your activities across the board and track all customer and lead interactions in one place.
Which, in turn, will help you improve your marketing and generate more sales – all, for free. It really doesn't get any better than this.

Follow Lilach