Follow Lilach
How to use email signature marketing to grow your business
How much attention are you paying to your email signature? If your answer is something like "What? My email signature? What's that got to do with anything?" you might be in for a surprise – a professional email signature can actually be a way to promote yourself and your business and improve your results – read on and you'll find out exactly how. In this blog, I'm going to show you how to use email signature marketing to grow your business.
How to use email signature marketing to grow your business
Why does your business need a professional email signature?
If you're anything like me, you're probably using your email every day – most likely dozens of messages sent on a daily basis.
That means that a lot of people see your email signature; and if you make the most of it, this will also help you drive results for your business:
Establish your brand: everything you do as a company should be branded accordingly. People see your logo, your colours, and other branding elements and the more they see it, the more they'll come to recognize you as a brand.
Establish trust: a professional email signature will help prove your legitimacy as a business – especially if you use a similar design for your entire team
It showcases your personality as a business and shows the human faces behind the brand: you can design your professional email signature so that it reflects your brand values and personality (your brand colours, your logo, your brand personality – from fun and casual to serious and down-to-business). Plus, you can add a photo of you next to your info – so that your leads, your clients, and your connections can see the person behind the name
You can include a call to action: since you use email so much, why not make sure every email you send includes a call to action? Whether it's visiting your website, promoting a new sale or offer, or promoting a new piece of content from your blog or website, this is a great opportunity to drive more action
Basically, a professional email signature is like a digital business card– one that you're constantly handing out to everyone you speak with via email. It will help show your professionalism, as well as your personality, and it's a great way to boost traffic to your website, your content, and your landing pages or to determine people to take any other action you want them to.
What is email signature marketing and why should you care about it?
The business world is a highly competitive one and you need to leverage every channel and tactic that you can to reach more people in an effective way.
And while I'm sure my readers are familiar with email marketing, email signature marketing is not that popular of a term.
And yet, with little effort and time, it can yield some amazing results for your business.
So what exactly is email signature marketing?
Simply put, it's using professional email signatures to improve your branding and your lead generation as a company. This means that everyone in your company will use similar – but, of course, personalized – signatures, helping establish brand unity while also helping you drive more results as every email sent from someone in your company will include this branded pro email signature that features a call to action.
And unlike most other marketing practices, digital or otherwise, this will take up very little of your time, and few resources.
Ideally, this is a strategy that needs to be implemented company-wide, so that every email sent by someone in your company features a professional email signature and a call to action.
Just imagine how many people you'll be able to reach with this digital business card – you're effectively taking word-of-mouth in your hands and promoting your business with each and every email sent.
[click_to_tweet tweet="How to use email signature #marketing to grow your business #emailmarketing" quote="How to use email signature #marketing to grow your business #emailmarketing"]
What does the ideal professional email signature look like?
Good email signature marketing practice requires more than that just a signature that looks great – there are certain elements that you should include in every signature to make the most of it:
Your basic contact information: your name, your business name, your title within the company. If relevant, you can also include your phone number, your Skype handle, and any other preferred method of communication
Your website link: add a link to your business website or your blog
Social links: drive more followers and likes by including links to your social media profiles
Logo: like any business card, your professional email signature should also include your business logo. It's also a great idea to include a headshot of yourself, to give your signature that personal touch:
A call to action: as I mentioned earlier, you can use your signature as another platform for promoting your business or your content. Like in the above email signature, you can promote new content, gated content, a new sale happening, a new product, and basically anything you would want to promote
How to create a professional email signature
Creating professional email signatures is very easy – you just need a service like NEWOLDSTAMP to help.
Once you're in your dashboard, click on "add new signature" to get started:
You then have a wide selection of email signature templates to choose from:
From there, you can start entering the information you want to provide using the menu on the left-hand side. With anything you don't want to include, all you have to do is not write anything in the box.
And as you type, it will all appear in real time in your email signature:
You can customize the colours as you want to reflect your brand; plus, when you add a picture, you can choose the shape of the frame:
And if you upload a logo, you can automatically get the colours in your editor by clicking on a button. You'll then have them saved up and you can edit the colours in your signature.
Next, you can add social buttons to your business profiles, so that people can visit your profiles and (hopefully) follow you:
These too can be customized in terms of their size, their shape, and their colour.
And that's it, you're done with the actual contact information in your professional email signature; however, there are more goodies on the right-hand side menu – such as apps and banners.
In terms of apps, there are 3 big options: social, business, and promotional apps.
Social apps are basically social media calls to action:
Click on the networks you're interested in, enter the profiles' URL, and you can choose from a variety of call to action buttons: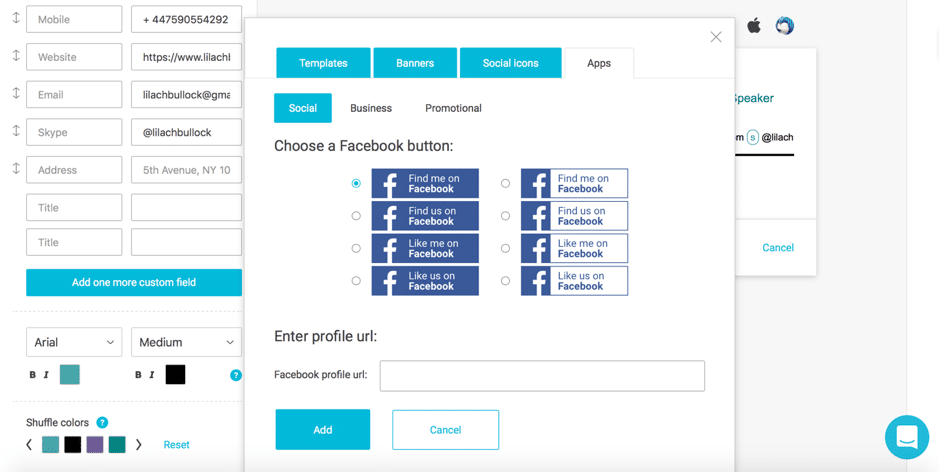 So if you want to grow your social media presence and get more followers and more engagement, this is a quick way to speed up your success. Especially if you get everyone on your team to get "a like us on…" or "follow us on…" button.
Next, there are the business apps:
This is super useful for businesses; for example, if you're selling anything on Amazon, you can add a "buy it now at Amazon" button:
Or, if you're hosting some kind of event, you can use your email signature to help promote it and get more people to attend.
You can even add a "green message" – something like "consider the environment before printing" – or a link to your app in Google Play or the App Store, or even just some additional text that you want to add to your email signature (a great way to use this is to add a disclaimer, such as the fact that that email is private and confidential).
[click_to_tweet tweet="How to use email signature #marketing to grow your business #emailmarketing" quote="How to use email signature #marketing to grow your business #emailmarketing"]
Finally, there are the promotional buttons – short and effective calls to action for all kinds of different situations and needs:
Choose the call to action you want, add a link to the content or landing page, and you're good to go.
But if you really want to catch people's attention with your professional email signature, you can add a banner to your email:
As you can see above, there are templates for different major holidays (after all, they're the perfect time for a sale or a good offer), as well as a wide selection of promotional banners:
You can use the opportunity to get people to visit your blog or your website, to download your book, sign up for your newsletter, or simply to get in touch. And, of course, you can then link to whatever web page you want.
If you want to use a different banner, you can always upload your own and use it on your email signature.
Once you've finished customizing your email signature, you can check what it would look like on different email client, such as Gmail and Apple's Mail:
If you want to implement a similar signature throughout the company, you can set up a "signature style" to make things easier:
Build an example signature, add any information that you want them to include, choose the fonts and the colours, add the logo, and so on – then, all that's left to do is fill up the personal info.
And, of course, to send them the signatures or invite people to create their own:
Back to your email signature, the only thing left to do once you've finished the design is to install it on your preferred email client, which is very easy and quick to do. And it works with most major email clients – such as Gmail, Apple Mail, Outlook, Office 365, and Exchange.
Understand and optimise the performance of your email signature marketing campaign
Like any other marketing campaign, you need to monitor your performance in order to optimise it and boost your results.
In the analytics section, you can check your email signature performance on the dates you want, and see how many views you've have, how many clicks you've generated, and what the CTR is:
These analytics can actually help you learn a lot about what works and what doesn't; it will help you understand what kinds of calls to action work best, what makes people want to click on a link you've posted, what gets their attention and makes them want to take action.
You can even learn more about what social networks your audience prefers and, if you use UTM codes in your links, you can track their customer journey even further and understand more about their behaviour and their interests.
[click_to_tweet tweet="How to use email signature #marketing and @newoldstamp to grow your business #emailmarketing" quote="How to use email signature #marketing and @newoldstamp to grow your business #emailmarketing"]
Conclusion
A professional email signature can be an integral part of your digital marketing strategy and it only takes minutes to set up – it's that easy. Using a service like NEWOLDSTAMP, you can ensure everyone in your business has a professional email signature that not only looks great, but also feature calls to action, links to your social profiles, and banners.
Do you use email signature marketing as part of your strategy? Let me know in the comments section and please do share 🙂

Follow Lilach