Follow Lilach
Cloud storage for a more productive way to work
When it comes to the most important tools I use on a daily basis, there is just one tool that I use so frequently and so seamlessly that I often forget how much I rely on it – and how important it is to my business, as well: Cloud storage.
Or, in my case, Dropbox, which I've used for years, both for personal and for business reasons: from saving the photos from my ever-changing phones to organizing and safekeeping my business files, Dropbox has been and continues to be a very big part of my life.
One I realized I don't really talk about – mainly because it's become such an integral part of my day-to-day life that I forget that maybe not everyone is leveraging it as I am.
In this blog post, discover how to improve productivity across your business using cloud storage.
What is Dropbox?
Dropbox is a cloud storage and file sharing service that lets you store your personal and work files, share these files with others – instantly – and collaborate with your team (as well as freelancers, clients and basically anyone you work with).
Plus, all of your files are instantly synced across all of your devices, yours and those you shared them with.
[click_to_tweet tweet="Cloud storage for a more productive way to work #productivitytips #cloudstorage" quote="Cloud storage for a more productive way to work #productivitytips #cloudstorage"]
Where can you get it?
Once you've created your account – and yes, there is a free plan – you can get a number of different apps to help you use your Dropbox account as seamlessly as possible on any platforms you use.
For example, I mostly use Dropbox on my MacBook and my smartphone; but you can get it for any device, from computers (Windows, Mac or Linux) to smartphones and tablets (iPhone, iPad and Android devices).
Plus, you can also access your Dropbox account from any browser, anywhere and anytime, using your login details (or your Google account).
Why do you need cloud storage?
There are some considerable benefits to using cloud storage, especially as a business; here are some of the biggest benefits of cloud storage:
Accessibility: you can access your files anytime and anywhere, so essentially, you can work from anywhere
Collaboration/sharing: sharing files and docs is much easier than via email and other methods; share specific files/folders only or share your entire account – it's completely up to you what you want to share and with whom. Plus, anything you share is automatically synced so that the people you share files with can immediately access them
Security/disaster recovery: no system is absolutely perfect in terms of security; however, cloud storage means that your data is stored and backed up. It doesn't matter if someone steals your phone or you destroy your laptop with a mug of hot coffee, your data will still all be up in the cloud and just as easily accessible. Plus, most cloud storage providers safeguard against losing your files accidentally and even if you do delete something by mistake, you'll still be able to recover those files for a certain period of time. For example, Dropbox stores your deleted files and folders for 30 days (or even up to 120 days for Dropbox Business users)
Back-ups: backing up your files and docs can be a tedious and time-consuming process but with cloud storage, it's all automated – just choose what you want to back up
Integrations: another big benefit of cloud storage is that you can integrate with the tools you use on a daily basis in order to automate more tasks and save time; for example, there's a Dropbox and Google Cloud integration which means you can store all of your Google Docs on Dropbox and even create new Docs, Sheets and Slides directly from Dropbox (which are also automatically saved to your Dropbox)
Plus, cloud storage can be easily scaled when and if your business grows – you can always get bigger storage and a plan to suit your particular needs, as and when it's needed.
Should you use Dropbox for your cloud storage needs?
I can't really tell you how long it's been since I've started using Dropbox; years, in any case. I've used it for personal reasons – mostly for safekeeping my photos – but most importantly, I've used it for my business: for storing all my files, backing them up, for easy access to my files (I usually work on 3 devices: MacBook, iMac and my phone) and for easy sharing with those I've collaborated with over the years.
As I mentioned earlier, you can access Dropbox on any browser (by logging in on dropbox.com) or you can get the app for your computer and/or for your smartphone and tablet.
The computer app integrates seamlessly with your computer; for example, I can easily access all of my Dropbox files directly in Finder:
There, I can access all my folders and the files within them, as well as work on them and they will automatically be synced across devices.
I can also see at a glance which folders were shared with others; if it was shared, the folder will have some "people" drawn on:
To add a file to your Dropbox, all you have to do is drag and drop the file/s or folder/s you want in the specific Dropbox folder you want.
If I want to delete something, I will immediately get an alert from Dropbox so I don't make any mistakes and delete something important:
Not only that, but if there are any files that are eating up space on my computer and that I don't need available at all times, I can make them online-only and simply store them online, and not on my computer's hard drive.
If I want to take any other action on a specific file or folder, I only need to right-click on the file or folder to see my options:
I can share it with someone specific, I can send it with Dropbox Transfer (which is perfect for very large files), I can see that version's history and what actions have been taken (by me or by others, depending on the case), check any comments made by me or others, and more.
I can also easily access my Dropbox dashboard from my computer; I just need to click on the Dropbox icon to see recent action in my Dropbox, as well as check and act on my notifications:
In Recents, I can quickly access the files that I've recently been working on (which is a huge benefit for me as I have so many files stored in my account!). Plus, if you collaborate with others, you can see recent activity from your team by clicking on "shared":
As I mentioned a bit earlier, Dropbox integrates with Google Cloud and Office Online which means you can create new Google Docs and Office docs directly from Dropbox:
This means that the files will automatically be synced to my Dropbox account so I don't have to add them myself manually.
As you might've noticed from the above screenshot, you can also create a Dropbox Paper; this is a tool from Dropbox that lets you collaborate with others on creative ideas. For example, you can collect images, content and links from the Internet, create to-do lists, assign tasks – basically, the features you need in order to brainstorm and collaborate with others on different projects.
Recently, Dropbox also released a new Desktop app; meaning, you can access all of your Dropbox files and take any actions you want, from a single app:
Another option for accessing my Dropbox account is through any web browser; it doesn't matter if I don't have my laptop with me or if my phone battery is dead. As long as there's a computer around or a smartphone or tablet, I can still access my files and take any action I need to:
I can see, at a glance, my most recent files, any starred items as well as any new notifications that I need to go through.
To access my files, I simply need to click on Files to find them (plus, I can filter them and search for specific files for easy access):
As you can see above, you can also upload files and folders, create shared folders and check your deleted files for anything that you want to save.
If you're collaborating with anyone, you can create file requests to have them send you those files easily and quickly, directly to your Dropbox:
Last but not least, you can also access your Dropbox account from any iOS or Android smartphone or tablet by grabbing the apps (here is the iOS app and here, the Android app); the app is very intuitive and easy to use, especially once you've familiarized yourself with Dropbox's desktop version.
Like with the other Dropbox versions, I can easily check my notifications and recent files, any shared or starred files, as well as create and upload new files and docs: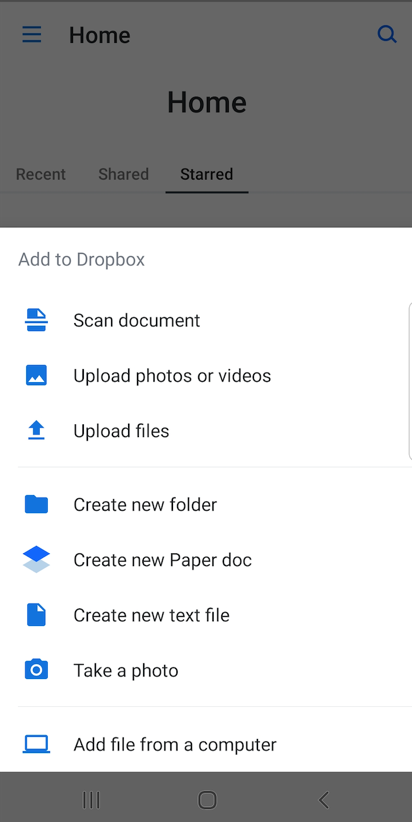 Another cool feature of the app is that I can scan documents and add them to my Dropbox; so, for example, if you're out meeting with a client, you can easily scan any important documents, such as contracts and agreements.
If you want to make sure you always have access to certain files, regardless of your phone signal or Internet access, you can easily make those files available offline and they will be organized in a specific folder for easy access:
Keeping your data secure
I've talked about the security benefits of cloud storage services already; but what security features does Dropbox have, specifically?
To start with, you can back up any file, no matter the size, easily
As mentioned before, you can recover deleted files (depending on your plan, the time period will differ for recovering these files)
If one of your devices was lost or stolen, you can remote wipe all the files or folders from that device before they get into anyone else's hands
[click_to_tweet tweet="Cloud storage for a more productive way to work: how to leverage #dropbox for your #business" quote="Cloud storage for a more productive way to work: how to leverage #dropbox for your #business"]
Dropbox integrations
I've already talked about some integrations – i.e. Google Cloud and Office – but there are well over 100 integrations available, with all kinds of tools and software you use on a regular basis.
For example, you can integrate with popular collaboration tools and keep all of your conversations in one place, as well as share files even more easily. Or, maybe you want to be able to easily access and collaborate on your content directly from your CRM tool – whatever tools you use for your business, make sure to check how you can integrate with Dropbox.
Conclusion
Cloud storage has become an absolute must-have for any size business. Good cloud storage services not only provide you with easier access to your content, but they also make it easier to collaborate with your team and helps make everyone on your team more productive.
So would I recommend Dropbox?
Definitely – I've used and loved it for years now and as I said right from the beginning of this article, it's become an essential part of my business. So essential, in fact, that I use it all day, every day.
What cloud storage providers do you use? Have you tried Dropbox yet and if so, why did you choose it over other similar services?
Let me know in the comments section below and please do share if you found this post useful 🙂
This is a sponsored post for Dropbox. All opinions are my own. Dropbox is not affiliated with nor endorses any other products or services mentioned.

Follow Lilach