Follow Lilach
How to keep track of your entire business with one smart dashboard
As much as I love tools and apps, the truth is it's frustrating and time-consuming to have to use so many tools. And as a business owner, you need a plethora of different tools, from accounting to sales and everything in between – and most of them, you need on a daily basis to boot. But, what if you could actually connect all of the software, apps and tools you use into one single smart dashboard? In this blog post, I'm going to show you how you can do that, easily.
This is where 9 Spokes comes in…
9 Spokes is a relatively new company, a New Zealand start-up with offices in both London and Auckland.
Their goal was to create a smart dashboard for small business owners that would make it easy for them to see how their business is performing, all in one place.
You can use it to connect all of your different business apps, so that you don't have to log in and out of multiple tools every day; all you'll need to do is open up and check your 9 Spokes dashboard to view all of your most important metrics and information.
And best of all, the tool is completely free to use – you're only paying for the tools you're already using or choose to connect, and there are no hidden costs down the line.
The reason for its name is that there are 9 different business categories that they focus on:
Money
Sales
People
Productivity
Marketing
Information
Specialist
Customers
Product
[clickToTweet tweet="How to keep track of your whole #business w/ 1 smart #dashboard w/ @9Spokes" quote="How to keep track of your whole #business w/ 1 smart #dashboard w/ @9Spokes"]
Each section has a selection of apps that can be connected to your smart dashboard:
You can browse through each category to see what apps can be connected – as you can see, many of the popular options are included – and if you can't find a tool that you're using, you can always use Support to ask them if they can add it to their roster of cloud-based tools and apps or wait to see what new tools they're adding regularly.
Once you connect the apps, you'll be able to see all of the important information about your business in your 9 Spokes smart dashboard; and I do mean everything – sales numbers, money-tracking, who is working today, website traffic and even social media, among many others.
Who is it for?
9 Spokes was primarily created for the tech-savvy small business owner who wants to be able to keep track of their business more easily. Whether you work in retail or hospitality, or you provide professional services and anything in between, so long as you use cloud-based software for your business, you would benefit from using 9 Spokes.
It's not just small business owners who can benefit from it, though; in fact, your accountant may just kiss you for using a tool like this. The reason why is because you can share your dashboard with your business advisers (for exampl, in this case, your accountant) so that they can get a much better idea of all of your business and marketing efforts:
Basically, this tool is for every business owner and the people they work with who want quick access to their information – and studies find that 84% of UK decision-makers need quick and constant access to the information that helps them run their business. And a lot of them are very open to new apps and software – 68% – but the irony is, 51% feel like they don't have enough time in a day to actually look for and set up new technology.
[clickToTweet tweet="How to get quick & easy access to your #business insights w/ @9Spokes" quote="How to get quick & easy access to your #business insights w/ @9Spokes"]
How does it work?
Start by creating an account – as I mentioned earlier, it's completely free, with no hidden costs and no credit card required.
Once you've created your account, you'll be able to access your dashboard:
You'll see an example of what your dashboard could look like and what you can do with it.
Then, you can start connecting the cloud-based apps you already use or find new ones to get. Click on "Browse Apps" or go to "Connect" at the top of your dashboard:
You have a few different options here: filter apps and tools by industry (you'll be asked about your industry when you initially create your account) or browse through the 9 different categories to find the ones you use or discover new ones.
Among some of the apps you'll be able to connect are:
One of the other things I like about 9 Spokes is that it's also a great tool for discovering other useful tools. When you find an app that sounds interesting you can click on it to see more information: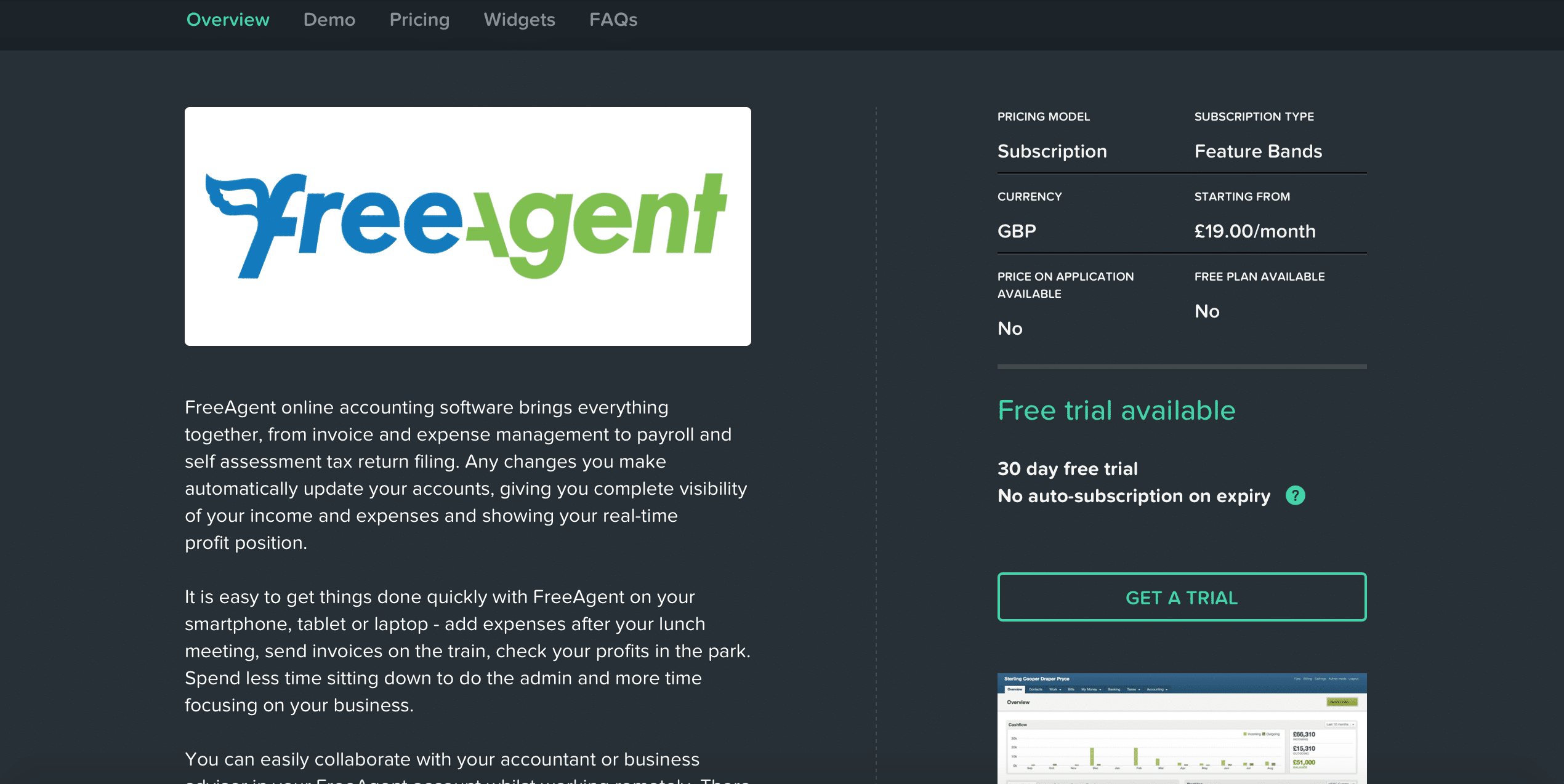 As you can see from the screenshot above, you'll get an overview of what the app is and what it can do, as well as pricing information: their pricing model and subscription type, their starting prices and currencies, as well as whether they offer any free plans or free trials – and if they do, you just need to click on the link to go directly to the trial offer.
Plus, you can also see a demo of the app in action when you click on "Demo", as well as all of the widgets provided so you can tell whether it's worth your time and money:
Once you've found all of the apps you're using, simply click on 'Connect Now' under each tool to get you started.
[clickToTweet tweet="How to get started with the @9Spokes smart #dashboard for #business" quote="How to get started with the @9Spokes smart #dashboard for #business"]
Next, you can start adding widgets to your dashboard – just go to your dashboard, click on "Add to my dashboard" and browse through your widget options to add them:
You can customize your dashboard as you wish, by moving around the widgets, so you can see the information you want most, first.
To manage all of your apps, go to "Manage" at the top of your dashboard and then click on "My Apps". Also in the "Manage" section, you can add more people to your dashboard – just add their name and email address and either set them up as power users (meaning, they get to also manage your dashboard and connect to new apps) or regular users that can just view the information – as I mentioned earlier, one option is to get your accountant on board and make their lives a little bit easier:)
Why get a smart dashboard?
Some of the biggest benefits to using 9 Spokes is that:
1, it will help you save a lot of time that would be better used in other areas of your business, but perhaps more importantly…
2, it will help give you a much better overview of your entire business efforts so you can make much better business decisions in the future.
In my opinion, one of the really big draws of using 9 Spokes is the fact you get a complete overview of your sales and business performance. All of the money you spend and receive can be tracked and is clearly visible on your dashboard, so you can access it any time you want:
Money Owed and Money Owing
Total Cash & Commitments
Product Gross Profit
Sales by Week
Top Selling Products
Website Traffic and much more.
This is something that I feel like I've been waiting for all of my life as a business owner: a tool that lets me see my email campaign performance, tells me what money I have, how much I'm selling and how my social media is doing – all in one place.
[clickToTweet tweet="How to keep track of your whole #business w/ 1 smart #dashboard w/ @9Spokes" quote="How to keep track of your whole #business w/ 1 smart #dashboard w/ @9Spokes"]
Conclusion: Smart dashboard
As I mentioned earlier, 9 Spokes provides a free-to-use tool for small business owners who use cloud-based apps and who want to be able to access the information in these apps more quickly and efficiently.
Use it to keep track of all your money, of your business website, of your social media, your team and employees and so much more – all with one smart dashboard.
Not to mention, it's so easy to set up and in fact, it will only take minutes of your time to create an account and start connecting your apps. And from there, just imagine your day – no more logging into 5 different tools and apps every day, no more panicking because you can't find the numbers you need immediately and no more confusion over the state of your business. All you'll need to do to find the answers you need is to log in to your dashboard and all of the information will be at your fingertips.
So, why wait and lose more of your precious time? Get started now, create a free account and start connecting all your different apps and tools into one smart dashboard.

Follow Lilach