Follow Lilach
Discover a better way to communicate with your team
Communication is extremely important for us, as humans; whether it's in our personal lives, or in our professional ones, good communication is essential to our well-being. In our professional lives, good communication can make a huge difference; it will make your life easier, your work run smoother, and your days less stressful. In this blog post, I'm going to help you discover a better way to communicate with your team using Zoho Cliq.
Communication tends to get more difficult the more people there are on your team. The bigger the team, the bigger the frustration – unless, of course, you have a tool to help.
This is an essential tool for businesses; without a smoothly running process, it's difficult to grow your business. Even worse, it can even impede your day-to-day schedule, as you're constantly having to look for conversations, sent files, and so on.
What to look for in a team communication tool
Ease of use: communication tools are there to make your life easier, not harder; if a tool is difficult to use, that defeats the whole purpose
Accessibility: we don't always have access to our computer, so we need to be able to use any device to access the communication app – smartphones, desktop, and tablets
File sharing: businesses need to be able to send different types of files to other team members; it's a bit of a pain to have to use 2 different tools for communication and for file sharing
Storage: not only do you need to store all of these conversations but also the files you share amongst you
Video calls: text is great most of the time, but sometimes you need to hold meetings – and video is always most effective in these cases.
Organizational tools: the bigger your team is, the more important it is to be able to organise different conversations depending on their subject or the department
Searchable: if you're going to hold all of your conversations on one platform, you need to be able to easily find any conversation you want
Security: and finally, you need to be able to rest assured that what you're discussing can't be hacked. Unfortunately, no one is truly safe from hacking – so, you need to make sure the tool you use to communicate is protected.
[clickToTweet tweet="Discover a better way to communicate with your team with @Zoho Cliq #business #tools" quote="Discover a better way to communicate with your team with @Zoho Cliq #business #tools"]
Enter Zoho Cliq…
Ever since I tried Zoho SalesIQ, I've fallen in love with the tools Zoho has to offer. And although I don't have a huge team, sometimes Skype and email just don't cut it (don't even get me started on the problems I have with Skype…) – and that's where Zoho Cliq comes in.
Zoho Cliq is a chat tool designed for teams who want to communicate and collaborate in a seamless manner. No more back-and-forth emails, no more messages on 3 different apps, and no more discussions where that file is.
Now, I want to run you through some of the best features that Zoho Cliq has to offer – if you want to create a better working environment for your team, read on:
Create your channels
The best place to start is, of course, to add the contacts you want. They don't necessarily have to be your employees; in fact, you can add everyone you work with to your Zoho Cliq, so that you can hold all of your conversations in one place; whether it's your accountant, your prospective customers, your partners, or your employees, there's a place for anyone you want.
Most of the conversations are held in Channels. You can create any channel you want from your dashboard:
Give your channel a name, add an image if you want, give it a description so people are clear what the channel is for, and select whether you want it to be private (by invitation only) or public (anyone in your organisation can join it).
Plus, add the members you want in the group and they will be notified immediately; otherwise, you can always add more later on.
Once you click on "create", your channel is good to go:
Here's what you can do with your channel:
Mention someone and notify them by using @theirname
Attach and send files from your computer
Use emojis and zomojis (ha!), as well as GIFs:
Mute notifications for specific periods of time, for when you're busy and don't want to be disturbed
Pin the channel if you use it frequently so it appears in your main menu and you can access it more easily
Take action on specific messages in your channel:
'Star' specific messages for safekeeping
That's pretty much all you need to know about creating channels; they're super easy to set up and use, and you can create as many as you want, on as many subjects as you want; for example, one for your blog content, another for your current social media marketing campaign, and perhaps one for discussing the latest football matches – we can't be all business all the time!
[clickToTweet tweet="Discover a better way to communicate with your team with @Zoho Cliq #business #tools" quote="Discover a better way to communicate with your team with @Zoho Cliq #business #tools"]
Another cool feature for busy people is that you can participate in several chats at the same time. Once you're in a chat, just click on the other channel or conversation to see them both on your dashboard:
Other chat options
You don't have to use channels all the time; in fact, you have a few other options.
One of them is to start a quick chat. Just click on the 'quick chat' button at the top of your dashboard to select a user or invite someone:
You can also send and receive direct messages if you want to have a private conversation.
Organizational tools
As I mentioned earlier, organizational tools are very important when you hold a lot of conversations, and especially if you have a bigger team.
First off, you can easily search through your channels and conversations using the search bar: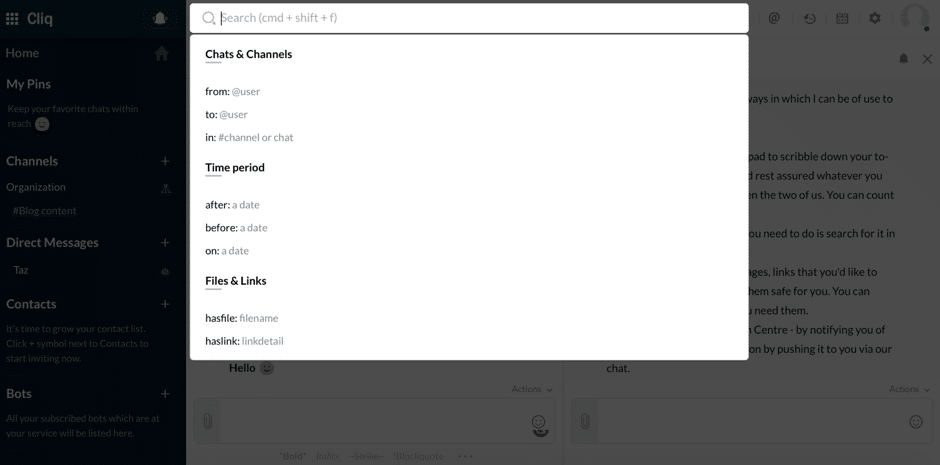 As you can see in the screenshot above, you've got a few different options for searching through conversations, to make your search as quick and easy as possible.
Another thing you can do is 'star' important messages; because once you do, you just have to click on a button to see all of your starred messages (this is super useful if you have a huge task load).
Additionally, you can easily check every mention of your name by clicking the @ sign in your dashboard. There, you will be able to see every instance of someone mentioned your name, so you don't have to look through channels to find it.
Group video calling
Although I love all features, this is the one that really makes Zoho Cliq stand out. In fact, there's no other chat tool (at least as far as I know!) that has such a complex conferencing solution.
For one, there is no limit of live video calling, even if you have the free plan. What's even more amazing, is that you can add up to 100 users to your video chat.
Most other tools only allow a maximum of 15-20 attendees, and usually only for their paid plans (or even their most expensive plans).
You might now think, well, 100 attendees do sound impressive, but it also sounds like a nightmare: how do you keep people from talking all over each other? This is a problem even with a 4-person call, what do you do with 100 people?
[clickToTweet tweet="Discover a better way to communicate with your team with @Zoho Cliq #business #tools" quote="Discover a better way to communicate with your team with @Zoho Cliq #business #tools"]
The answer, as Zoho found, is quite simple: only let the people who need to talk, talk. All you have to do is click on the Primetime icon in your chat to enable camera and microphone access:
Additionally, your participants can request to speak while on the call:
Whoever is hosting it will see your request immediately, and will be able to allow or deny your request.
It's as easy as it gets!
Personalization
Your Zoho Cliq account is all your own, so you can personalize to make things easier for you.
Just go to Settings and then Personalize to see your options:
Change and rearrange your left-hand side menu by dragging and dropping the elements you want
Select how you want to view your chat:
Personalize your notifications, so you only get the notifications you want, in the form you want them (desktop notifications, emails, etc.)
Personalize your Zoho Cliq theme with different colour schemes
Integrations and shortcuts
Apart from making chatting easier and less time-consuming, you can also create all kinds of shortcuts and automation to save even more time. Go to Integrations in Settings to get started:
As you'll see in the screenshots below, you've got a lot of options here:
Create 'commands' for your team to automate your daily mechanical tasks:
Apart from the usual message actions (reply, forward, etc.) you can add your very own customized actions
Create 'functions' (pieces of code) for performing tasks with the click of a button
Create bots to automate tasks:
Add extensions (bundles of bots, functions, commands, and channels)
App integrations
Zoho Cliq offers highly-rated apps both on the Google Play Store and on iTunes. Plus, you can get the desktop apps in Mac App Store, for Windows, and for Ubuntu.
If you used Slack before, you have the option to migrate from Slack directly, in your settings:
Additionally, you can visit the Zoho Marketplace to browse through extensions you can add: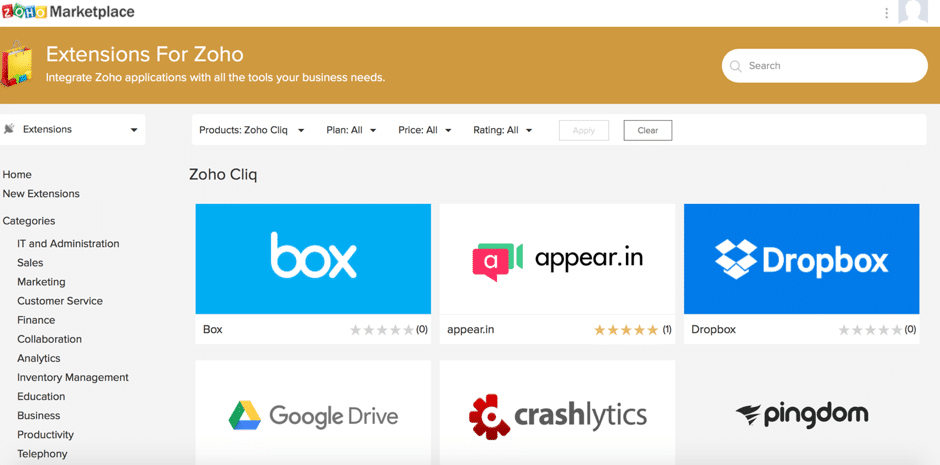 As you can see from the screenshot above, you've got a plethora of integrations to choose from, in a variety of categories; for file storage, you can integrate with Google Drive and Dropbox, for your accounting needs, integrate with Zoho Expense and Zoho Invoice – these are just some of the options available.
[clickToTweet tweet="Discover a better way to communicate with your team with @Zoho Cliq #business #tools" quote="Discover a better way to communicate with your team with @Zoho Cliq #business #tools"]
Conclusion
What I love about Zoho Cliq is that it's not just a communication tool, but also a great tool for managing your meetings and your contacts, as well as managing your business and marketing projects.
What's even better is that you get a lot of these features with the free plan, something that can't be said about just any tool.
Have you tried Zoho Cliq yet? Leave your comments below and please share if you enjoyed the post 🙂

Follow Lilach